Applications
Design all kinds of custom diagrams with wondershare edrawmax

The current software that we can install on any computer based on Windows, macOS or Linux, aims to facilitate our daily tasks, whatever they may be. With these programs that we use we try to gain productivity in addition to achieving our objectives in the most efficient way, and the program that we are going to talk about now, Wondershare EdrawMax, is a clear example of this.
When carrying out projects of all kinds, either individually or in groups, in professional or more personal environments, organization is key. For this, and with the aim of improving our work, many use diagramming programs such as EdrawMax, which we are going to talk about.
To begin with, we will tell you that we are facing a complete and powerful software solution based on diagramming. Here, any user looking to carry out their own structuring projects of any kind will find the most suitable solution. This is largely due to the sheer number of types of diagrams, formats, and layouts made available to you here.
Wondershare EdrawMax Main Features
Therefore, as expected, this is a software specially developed to meet the needs of any user, both professional and home, who seeks to structure their own project . In addition, the most interesting thing about Wondershare EdrawMax is that it adapts to any work environment. This is because as soon as we run the program on our computer we find a wide variety of diagrams of all kinds with which we can start working.
These are distributed up to a total of 25 types, each of them in turn distributed in their corresponding available formats. To give us an idea, in total we will have more than 260 diagram designs to choose from. Thus we can carry out, in a simple way, from a basic diagram, to much more specific ones such as organization charts, marketing, software development, project management, infographics, maps, flow charts, etc.
It is worth noting that another of the strengths of this solution is the enormous compatibility of formats that it offers. So we can work by importing Visio files or exporting the designs made to DOCX, PDF, PPT, JPEG, HTML, etc.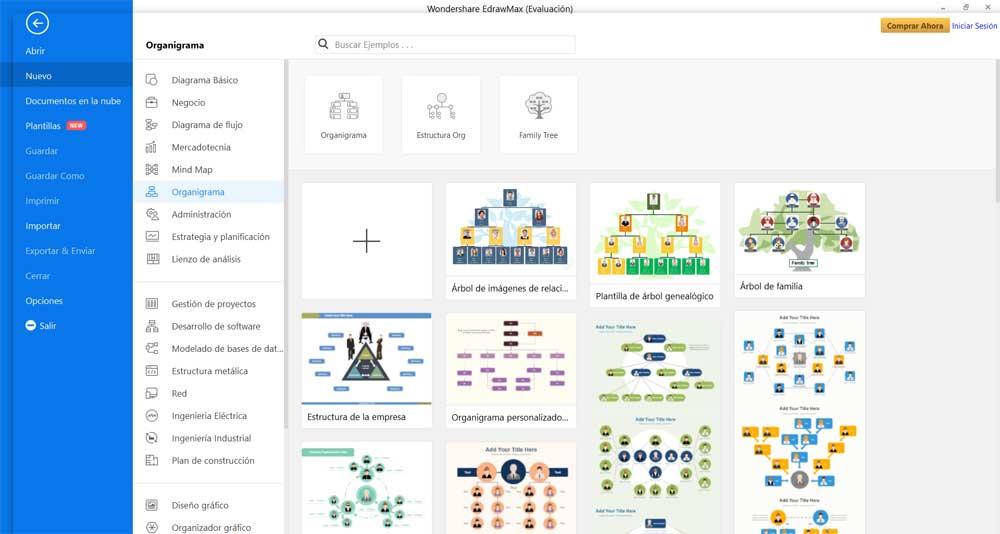 But that's not all, but despite the large number of structure options that we can choose from, their choice and use will not be complicated at all. The intuitive as well as complete user interface that Wondershare makes available to us in this case takes care of this. All the contents to choose from are sufficiently well differentiated so that we can choose between the type and design format that we need, at first glance.
How to choose and start working with a diagram in EdrawMax
Say that once we have downloaded the application as such, when we install it on the computer we find a first window. In this we select, on the one hand, the installation path, as well as the interface language from those available, including Spanish.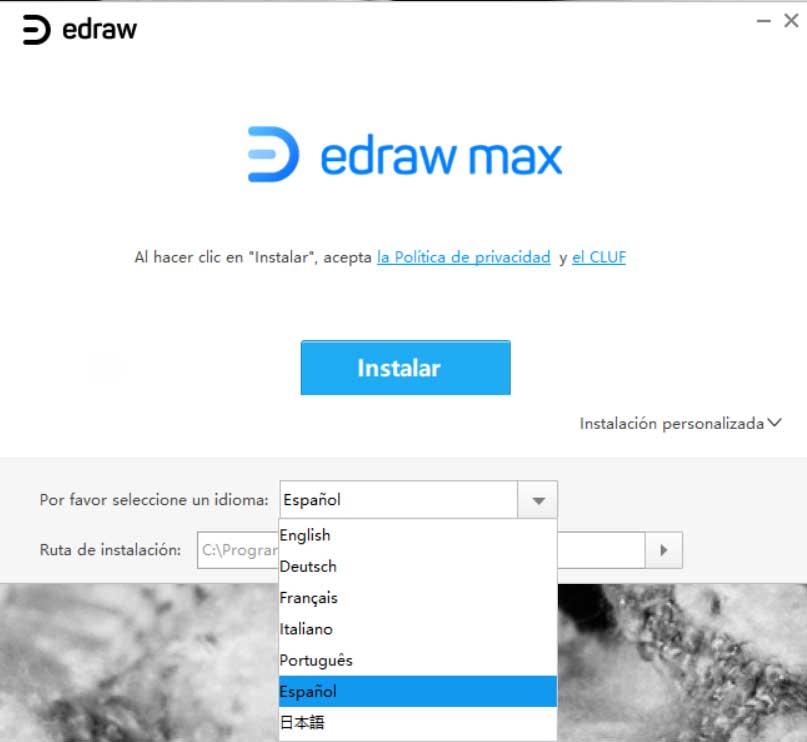 Once the installation process is finished, we will see the main interface of the program. A nice interface where the first thing we find are the aforementioned diagramming categories. These are distributed in the left panel of the main window, while on the right we find the types of diagram corresponding to each category. All this is clearly exposed through thumbnails as an example so that it is much easier for us to choose the design we need at that time.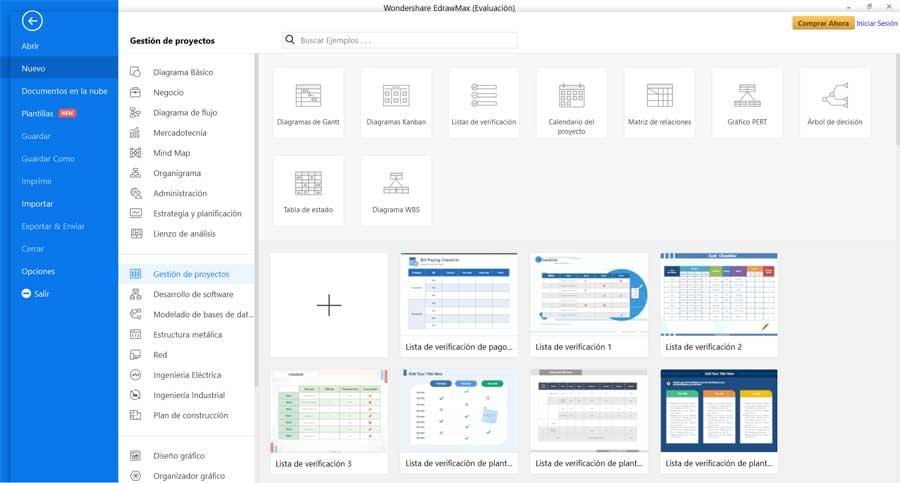 In turn, at the bottom of the right panel, we see a series of templates that we can use directly. Of course, what all these samples propose is an important saving of both time and effort when making our own personal diagrams. And is that unlike what happens with other solutions, here Wondershare EdrawMax takes away much of the work that otherwise we would have to carry out designing these diagrams from scratch.
Start designing our diagram
Well, once we have chosen the type and format that most interests us in each case, we only have to click on it in the right panel. The corresponding templates available for that design will then appear. It will lead us to the work desk.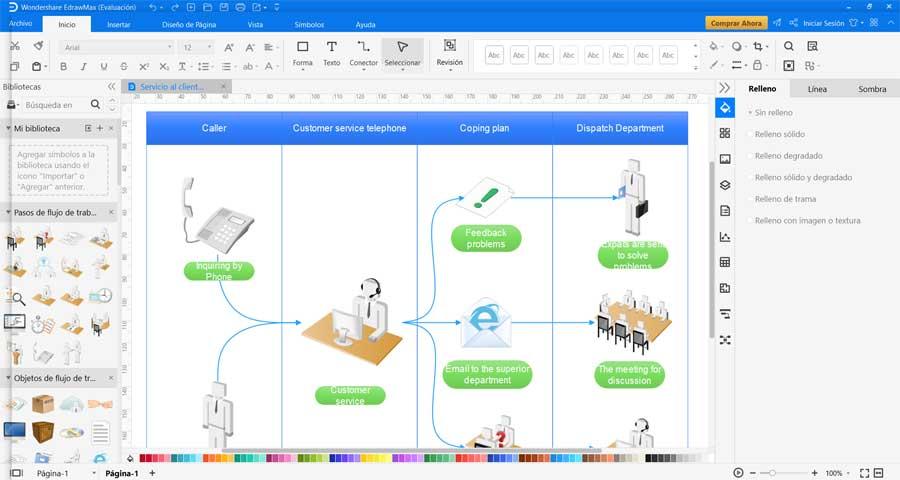 It will be then, once the template that serves as the basis of the project is loaded , when our work will really begin. But of course, as we can see, EdrawMax has done a good part of it for us in advance. Now, what we must start with are the tasks of adapting and customizing the diagram that we have on the screen. For this, the program presents us with a large number of functions and tools, many of them focused on design.
In this way we will have the possibility to customize texts and fonts or add new objects related to the template. At the same time we have the possibility to add our own images, graphs, tables, QR codes and a multitude of other objects.

Available versions of the program
This is a software solution that presents us with several versions to choose the one that interests us the most in each case.
Perpetual license
This modality has a base price of 129 euros for a user available on Windows, macOS and Linux and offers three years of free updates.
Lifetime license
On the other hand and with a price of 169 euros also for a user, an amount that we can increase, here we will have support for two computers, a control center, all without monthly or annual charges and free updates forever.
Annual plan
In addition, the company presents us with an annual plan for 7.92 euros per month with priority support and access to all platforms.
Download Wondershare EdrawMax
First of all, it is interesting to know that we can download Wondershare EdrawMax as a trial to see first-hand the virtues of the diagramming program. Once the trial period is over, we will have to go to the cashier and opt for one of the aforementioned modalities.