Applications
Create professional documents without adobe acrobat with master pdf editor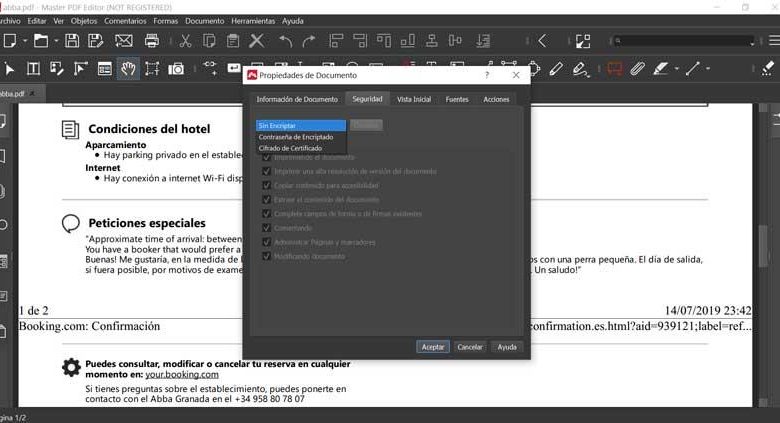 The use of PDF files has become completely common today. Whether we need to be able to view them or if we want to edit them, we will need a suitable program for it. This is where software such as Master PDF Editor comes into play, about which we will talk below.
When we talk about files in PDF format, we are talking about a type of document that was created and developed by Adobe System back in 1993 and that later, in 2008, became an open standard. This type of file has the advantage of being able to incorporate graphics, texts, signatures, multimedia elements, etc., without losing their shape once downloaded or modified. In order to use them, it will be necessary to have a suitable program that helps us both to display them and to be able to edit them easily.
Main features of Master PDF Editor
Master PDF Editor is a very simple application that will make it very easy for us to work with PDF documents. With it we can view, create and modify any PDF document. We can also merge several files into one, divide an original document into several documents, as well as comment, sign and encrypt PDF files.
This powerful program allows us to add text in any format to a PDF document, edit existing text or insert images, move objects, change the size of objects, save images in a file and copy them to the clipboard. It also allows us to edit form elements such as buttons, text fields or check boxes.
Among its features could not miss the optical character recognition that will allow us to quickly find text and edit scanned documents and images. We can add bookmarks for pages or paragraphs and thus achieve faster navigation and search for information more efficiently. The possibility of creating and verifying digital signatures will not be lacking . These signatures for a PDF document are equivalent to a handwritten signature on paper documents.
Perform any operation you need with your PDFs
Once we start the program, its main menu appears with a simple and easy browser interface, so it can be handled by both beginners and more expert users. In addition, it is fully translated into Spanish for a much more intuitive use. At the top we find the classic toolbar and just below two additional bars with direct access to its main functions. These bars can be divided and placed on the sides or bottom of the screen.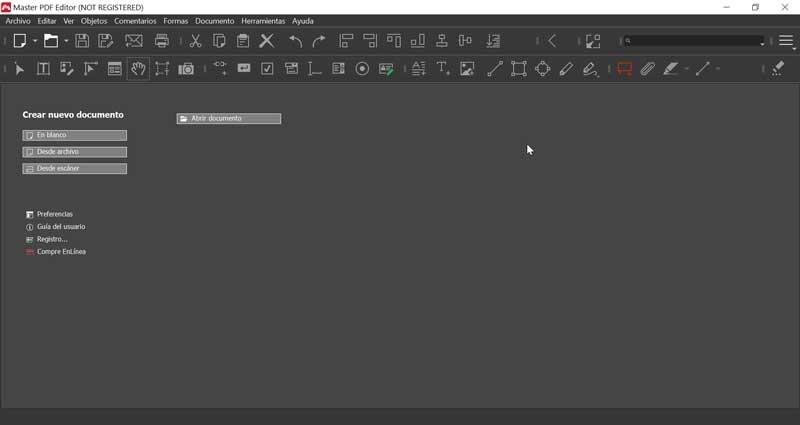 To add any file, it will be necessary to import them through the file explorer via the path «File» and «Open» or through the button «Open document» located on the interface. What we can miss is that the program does not support the ability to drag and drop files . From the "Tools" tab we can access the "Program Preferences" from where to change the background color or the editor theme. In the "Appearance" section we can select a light, dark theme or the one that comes by default in the system.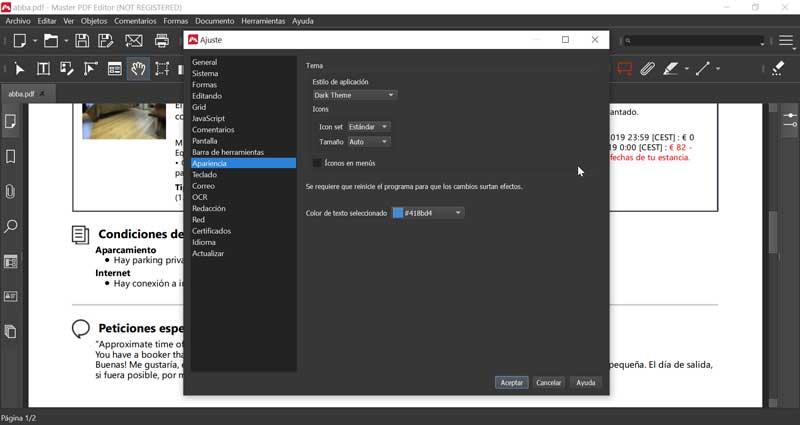 Once we have added a file, the work area will be divided into three parts . In the central part it will show us a preview of the document that we want to edit. On the left side it offers functions of pages, bookmarks, attachments, tree view of objects along with the links present in the PDF document and signatures. Finally, on the right side, we find a universal tool of the program called Object Inspector.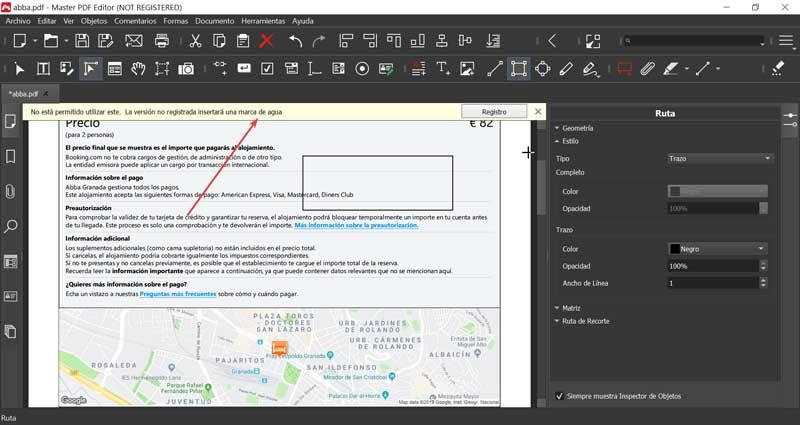 Through the "Object Inspector" we will have a variety of options to make changes directly. For example, we can choose the thickness of the line, the color of the border, the style of the line. We can assign activation actions to, for example, assign a user who can do when he clicks on a link in the PDF.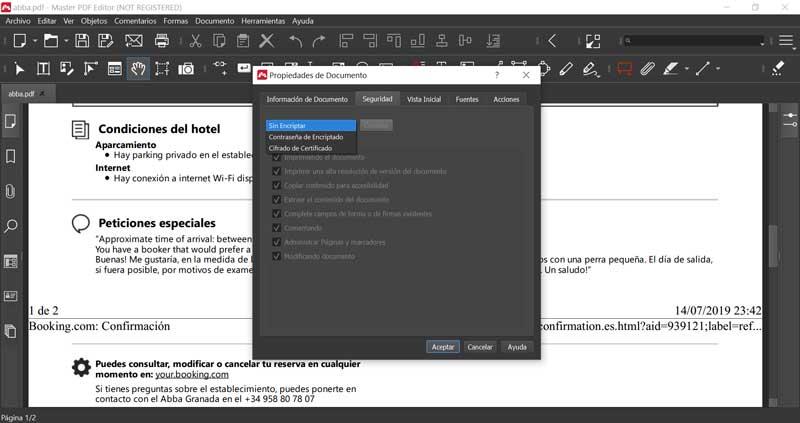 Regarding the security measures implemented in this editor, we will have two types of encryption . In order to select them, we must click on the "File" tab and select the "Properties" option. In it we will find two types of encryption, one is the "Encryption Password" and the other is the "Certificate Encryption". In addition, it has multiple levels of encryption, from RC4 bit, the lowest, to the most secure, 256-bit AES .
Conclusions
If we talk about the features of Master PDF Editor, we find that they are abundant and that they can cover both the most basic and advanced needs, positioning itself as a clear alternative to Adobe Acrobat. It is a lightweight program so it will not occupy large resources in our system, so it can be used by all types of computers.
Download Master PDF Editor
Master PDF editor is a PDF viewer and editor that has a commercial license, so in order to use it it will be necessary to purchase its license. As a test, we can download a free version from its website and it will add watermarks to our modifications. The program is multiplatform so it has a version for Linux, macOS and Windows, being compatible with 32 and 64 bit systems. Its latest version available is 5.7.20 and its price is 69.78 euros .
Alternatives to Master PDF Editor
If we are looking for a program with which to view or edit PDF, we propose a couple of alternatives to Master PDF Editor.
PDF BOB
With this online editor for PDF we can make modifications from our web browser without having to install any software. We can add text, annotations and it has highlighting tools and shapes such as rectangles, arrows and lines. In addition, it has the ability to rearrange PDF pages, changing their order and adding new pages. PDF BOB is a free tool, and to use it just access its website .
PDFsam Basic
This tool is open source, multiplatform and free with which we can easily edit PDF files. With it we can divide, rotate, merge and extract pages, as well as join and separate different elements. We can also combine two or more files in a single document. PDFsam Basic is a free application that we can download from its website .