Applications
Create, edit and keep your notes organized for free with notesman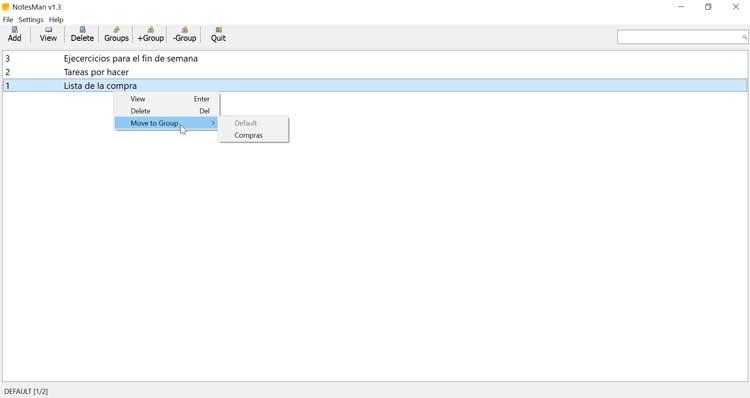 Surely on more than one occasion we have needed a program with which to be able to take notes quickly on our computer, without the need to look for a paper and pencil to write them down. On our Windows 10 PC we have the famous Notepad, which allows you to write plain text, which can be used for a specific moment. But if we need to have all our notes and notes well stored and organized, we can opt for a tool like NotesMan, about which we are going to talk to you today.
NotesMan is a completely free and Windows-compatible program that will not allow us to take all kinds of notes and annotations to keep our tasks well organized. This software allows us to write and manage all kinds of plain text annotations such as lists, articles, reminders, fragments, etc. All the annotations that we make can be edited, deleted and organized quickly and easily, all from the same program, without having to have several individual files.
Among its main features we can highlight the possibility of creating different groups to organize our tasks, whose content can be easily changed between groups. We can also move notes from one group to another and find what we need through its title search engine. In addition, we can search for text in the notes, save the notes automatically and run the software on any device since it does not need installation, and we can take our notes and view them from any computer.
Create and manage your notes quickly
Once we run the program, its main menu appears with a simple interface, although completely in English, which can be a problem for some users. In the interface we have a toolbar, a search bar and a menu.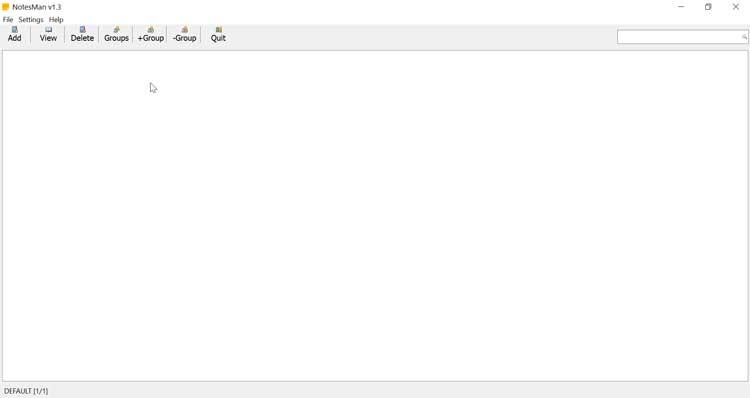 To start writing a note we cannot do it directly from its blank interface, but we will have to add a new note, using the «Add» button. Next, a new window appears that is the NotesMan text editor where we must add a title at the top. If we click on the blank area of ​​the window, we can start writing our notes.
Add, edit notes and organize them by groups
The application will allow us to go back steps and correct possible errors easily. If we right-click in the editor, a fairly standard context menu appears , except for the "Clear" option that allows us to remove all the content of the note. Once the note is finished, click on the «Save» button to save it. At that time it will appear in the main menu. To close the note, just press the "X" at the top right. NotesMAn saves all our notes as separate text files within the same group. Although it may seem that these files do not have an extension, it is possible to open them with Windows Notepad and edit their content.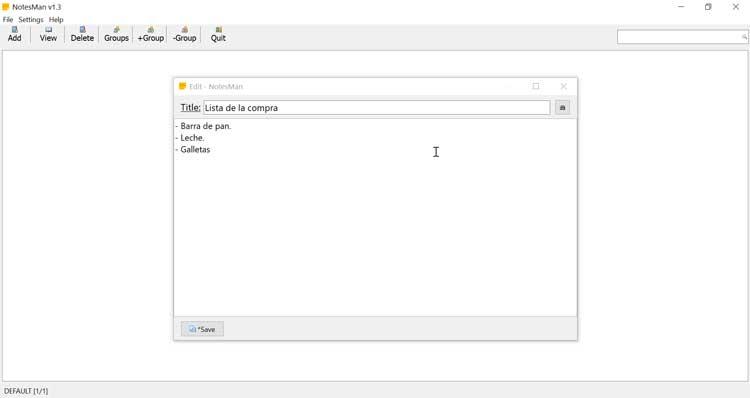 In the upper right part of the interface we find the search bar, from where we can filter the content of our notes based on your title. This is something that can be useful when we have the entire interface full of notes and we want to quickly find a specific one.
Activate the save to avoid losing your notes
One thing we have to keep in mind is that NotesMan does not warn us when we try to close a note that we have not saved, which can cause us to lose a large amount of data if we are not careful. To solve it, we must activate the autosave . To do this, we must go to the "Settings" tab and click on "Preference" to open a new window, where we must activate the option "Auto Know notes onExit" (save the notes before exiting).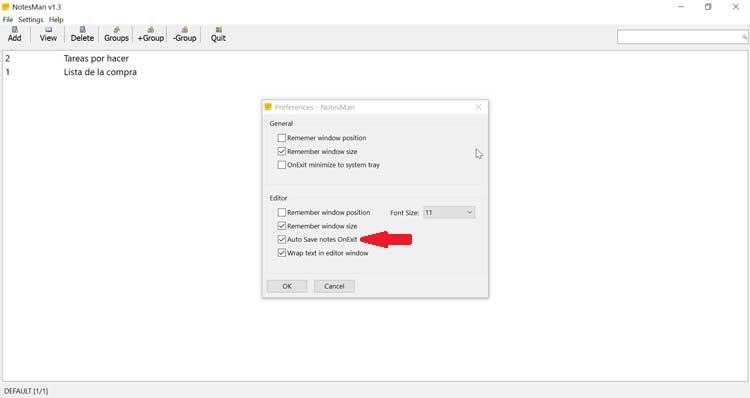 If we want to see or delete any note we can use the icons at the top of "View" and "Delete". We also have the group tools (Groups) that will help us to organize our notes. We can use the "+ Group" or "-Group" icons to create or delete our groups. To move any note to a group, we just have to click on it with the right button and select the group where we want to send it.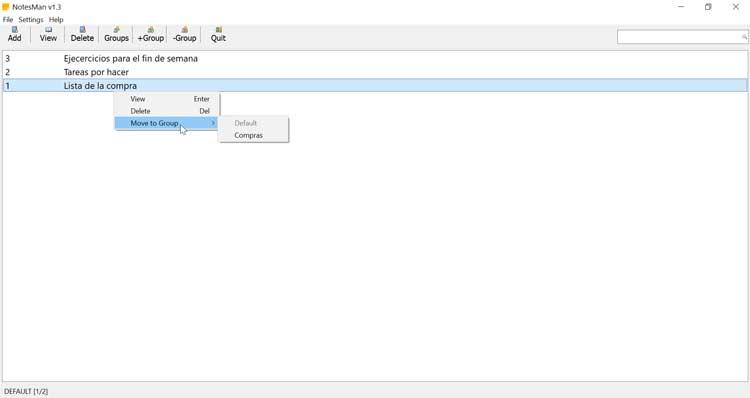 How to download NotesMan for free
NotesMan is a free and open source program with which we can create and manage our notes and that we can download directly from the GitHub page . In it we will have to go to the "Download" section that we will see right at the end of the page. It is compatible with the Windows operating system in its versions of XP, Vista, 7, 8, 8.1 and 10 for both 32-bit and 64-bit systems.
In addition, it is a portable application , so it does not want any type of installation, so it does not modify the Windows Registry and can be executed from any external storage device that we connect to the PC such as a pendrive, an external hard drive or a memory card. Its latest available version is 1.3.1 and corresponds to October 1, 2020, so it has a good update policy from its developer.
Alternatives to NotesMan
If we are looking for a tool to create, edit and organize our notes, we propose a couple of alternatives to NotesMan to consider.
QOwnNotes
It is an accessible note app for plain plain text files. Its main feature is that the notes can be synchronized through desktop or mobile devices with applications such as deCloud or Nextcloud, as well as with ownCloud Notes to edit our notes on the web. It also allows the possibility of organizing our notes through folders and subfolders, which can be linked to each other to obtain a broader structure. Download QownNotes for free from its website .
Ghostwriter
With this text editor we can create and edit texts in a simple way, customizing their appearance through themes. It even offers us the possibility of personalizing it with your own theme and giving it a unique look. Ghostwriter stands out for having an interesting feature such as the ability to display and use HTML code in its interface, which will be very useful for both programmers and web designers, and that makes it a tool to take into account. We can download it for free from the GitHub page.