Applications
Create and edit text easily and for free with mint pro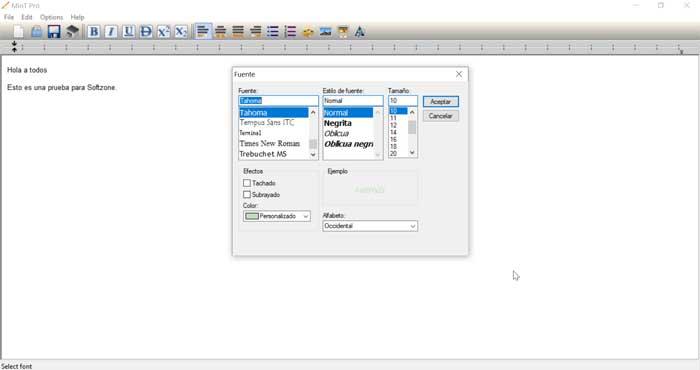 Sometimes we may need to write a letter or brief document on our computer in a simple way, for which it is not necessary to have a powerful large office suite, but a small text editing program may suffice. For this we can use free software such as MinT Pro, about which we are going to talk to you below.
MinT Pro is a free and simple word processor that offers us many text format functions, allowing us to create files in FTF format that are compatible with other word processing applications such as Microsoft Word. Its features include the ability to save encrypted documents.
This processor has different fonts, sizes and colors, being able to set the foreground and background color of the text. It also allows us to insert images into the document in BMP, PNG, JPG and GIF formats, as well as being able to export embedded images as BMP. Another interesting feature is the ability to insert links in RTF documents, display RTF code, export from RTF to HTML (images included) and export RTF to DOC, PDF and BMP format .
Simple, light but very effective and practical
Once we run MinT Pro, its main menu appears with an interface that closely resembles a common word processor such as WordPad. Of course, the program is entirely in English which can be an inconvenience for a good number of users when it comes to dealing with it. At the top we find a tab system and just below icons with the most important functions of this word processor. If we pass the mouse pointer over the icons, their function will appear, so they are easily interpretable.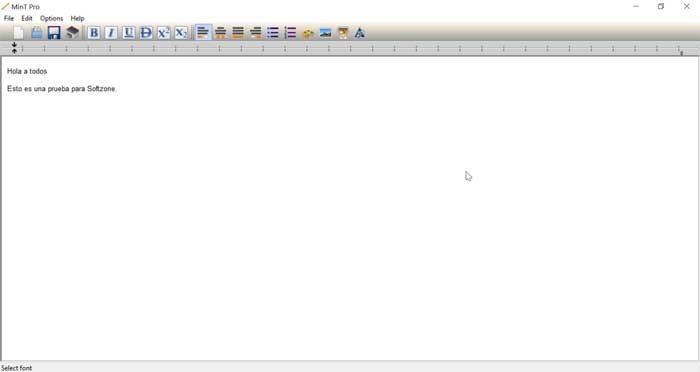 To create a new document, just start writing on its interface or create a new document from the icon with the shape of a sheet (New). In the event that we want to open files, we can do so through the folder-shaped icon (open file), either through the "File" tab or by dragging and dropping the file. We can open and edit files in TXT, RTF or HTML format . You can also insert images, switch between RTF and TXT format modes, edit font settings, and use a search and replace function. To save the document that we create, we can use the icon in the shape of an old disk (Save file) and if we want to print it we can do it directly from the printer button (Print File).
Basic functions to write and shape our documents
We also find the icons of "B", "I" and "U", which we can use to write in bold, italic and underline . Next, we find the button with a "crossed out D" that will help us write directly crossed out letters or words. Later we find the superscript and subscript buttons. Then we find the column buttons that will allow us to organize the place where to start writing either to the left, center or right of the page.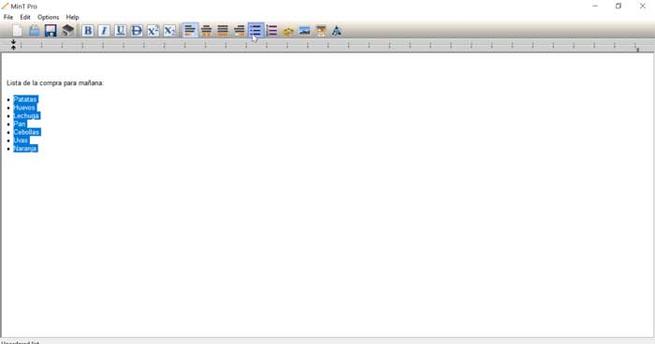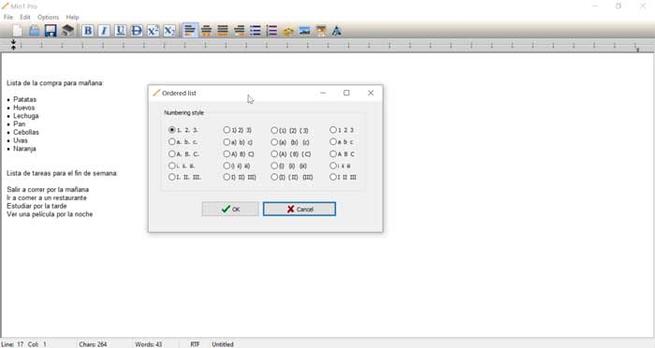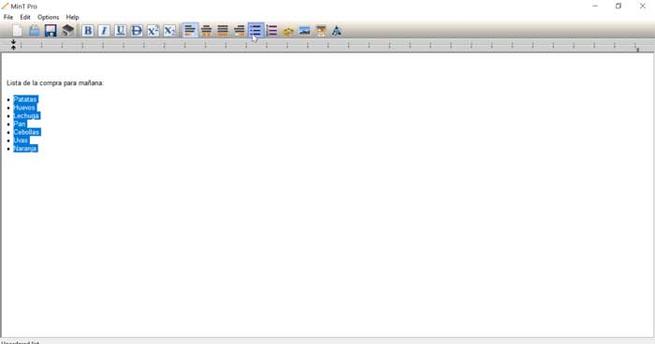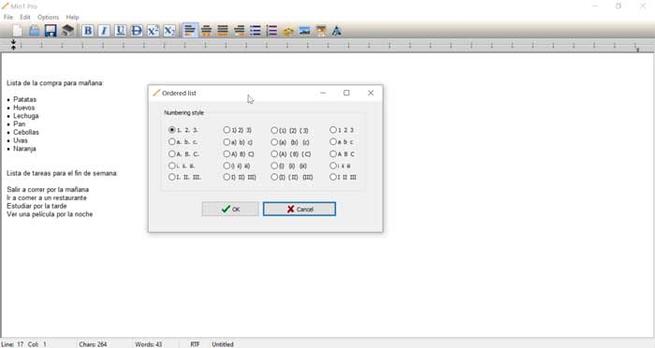 Another option that cannot be missing in a text editor is the list icon, which will help us organize words one below the other with a black point on the left. We can also make the lists using numbers, uppercase or lowercase alphabet, etc. Then, with an icon in the form of a palette, we can give a background color to a specific word or phrase. It also has the corresponding icon to be able to insert images into our document (BMP, JPG, PNG and GIF). Finally, the icon with a capital A with a magnifying glass will allow us to select the font, as well as its style and size. We can also add strikethrough and underline effects, as well as color.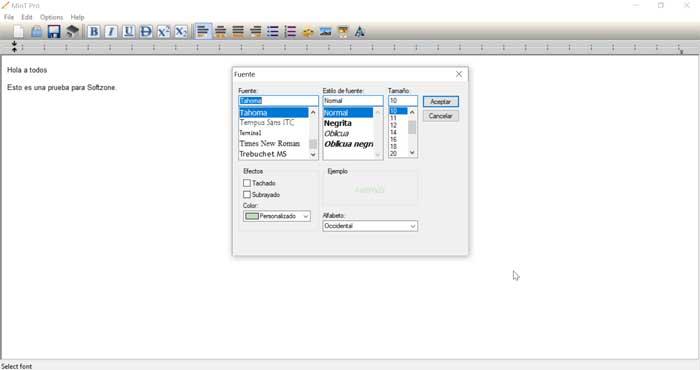 Conclusions
As we have seen, MinT Pro is a very easy to use word processor, which barely takes up space and consumes very few resources from our system, so it can be used by less powerful and old computers. If we do not need all the functions that a more complete word processor like MS Word incorporates, we may be facing a good free alternative valid for users of all levels.
Download MinT Pro
Mint Pro is a Freeware licensed program so it is completely free and can be downloaded directly from the developer's website . It is compatible with the Windows operating system, in its versions of XP, Vista, 7, 8 and 10, as well as with 32-bit and 64-bit systems . It has a version with an installer and another portable version, which we can use from any external storage device such as a pendrive, hard drive or memory card without the need for installation. Furthermore, the portable version does not create new entries in the Windows registry or in the Start menu, nor does it leave traces after deletion.
Additionally, this program is supported and licensed for companies . In this way, during an annual contract period, it offers email support (up to 5 users), updates and improvements and a version of the program compatible with 64-bit systems. Its price is 24.90 euros, allowing you to use the software without time restriction.
Alternatives to MinT Pro
If we are looking for a simple and free word processor, we suggest a couple of alternatives to MinT Pro to take into account.
Wordpad
It is a Microsoft proprietary word processor that is included in all versions of the operating system since Windows 95. Although it does not reach the level of more complete word processors such as MS Word, although with a very similar interface and has compatibility with .doc documents, so it can be useful to get us out of more than one trouble. To use it, simply type WordPad in the search bar of the Windows Start menu.
TextMaker
It is a word processor that we can find within the FreeOffice office suite, which stands out for being very light, since once loaded in RAM it only occupies 12 MB. It offers full compatibility with the original Office formats and has an interface similar to MS Word. In addition, it is portable so it can be run directly from a USB stick on any computer. We can download it from their website .