Applications
Create and design your own website with wysiwyg web builder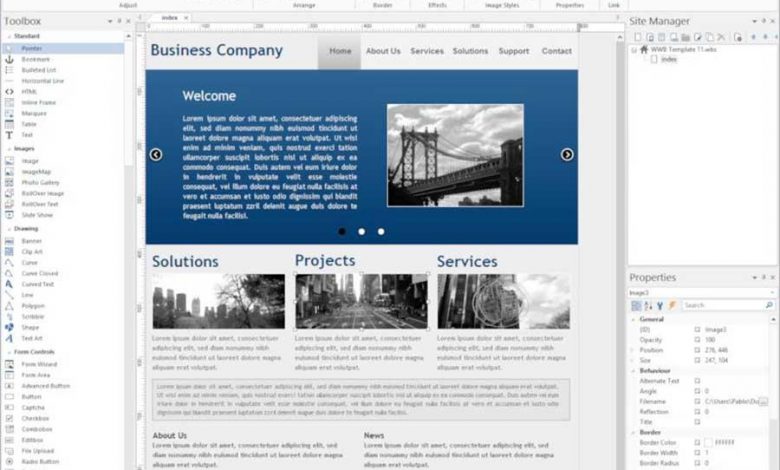 If we are interested in developing and creating our own website, we must know that it is a task that takes a lot of time and dedication if we want to obtain an attractive result. To help us do this, there are many software solutions, such as WYSIWYG Web Builder, a web page editor, about which we will talk below.
If we want to create and design our own website with all kinds of content we need a professional program that can help us with the work even if we do not have knowledge of HMTL. On the other hand, we will need you to have all kinds of elements to give our website a professional appearance.
WYSIWYG Web Builder allows you to create a website without HTML knowledge
WYSIWYG Web Builder is an application that has been created so that all types of users can develop their own web page . For this, it will not be necessary to master HTML to be able to use it. All its functions can be controlled from the mouse, so there is no problem in case we do not like to code too much, since it will be enough to drag and drop the elements that will make up each page.
This website editor includes all kinds of tools necessary to be able to develop our own website with total freedom, being able to insert and locate the elements to our liking. It is compatible with all kinds of elements that are often used on the Internet such as forms, banners, Flash video players, images, buttons, captchas, photo galleries, YouTube content, etc. In addition, it includes different models, in case we do not want to start from scratch and have a predefined design.
Main features highlight of WYSIWYG Web Builder for both beginners and professional developers.
It has web design adaptable to our needs, with built-in support for design grid.
Ability to add Google Fonts and other fonts to our website.
It has more than 150 predefined animations and it also allows us to create our own animations.
It has more than 150 models to start creating our website quickly.
It has tools such as emails, the possibility of uploading files, storing data in MySQL or CSV, automatic response, password-protected pages, form validation, etc.
We can add image filters, galleries, animations, YouTube and Vimeo video, video and audio in HTML5.
It has an icon library with support for Font Awesome, Material Icons and many other icon libraries.
Button navigation, drop down menus, full screen menu, navigation path, etc.
Hundreds of extensions are available to add additional functionality to the software. Includes slide shows, navigation, audio and video, web stores, data viewers, etc.
It has its own FTP to comfortably upload the final result of our page.
Create your page by dragging and dropping elements or using templates
Once we run the application, its main menu appears, with an interface divided into blocks with different functions and a central panel where you can start adding all the content. The main drawback is that it is exclusively in English, which can be a problem for certain users who are not familiar with the functions of a web editor.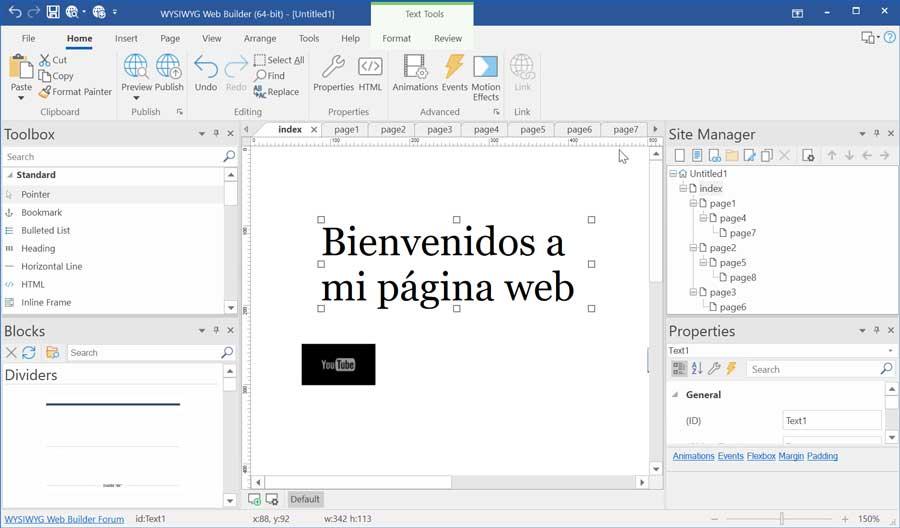 At first, the interface design can remind us quite a bit of a word processor like Office Word. Especially for its upper part where we find a taskbar in the form of a tab and we just have different direct access buttons to functions depending on the tab that we select. Around the central panel we find four columns, which can be removed and modified to our liking. By default we find the toolbox, dividers, site manager and Properties.
Add all kinds of objects from your tool panel
To highlight the Toolbox column, a real toolbox with which to shape the different pages that will make up our website. There we can find all kinds of elements that we can add to each page. Everything is organized by tabs that are displayed as we click on it.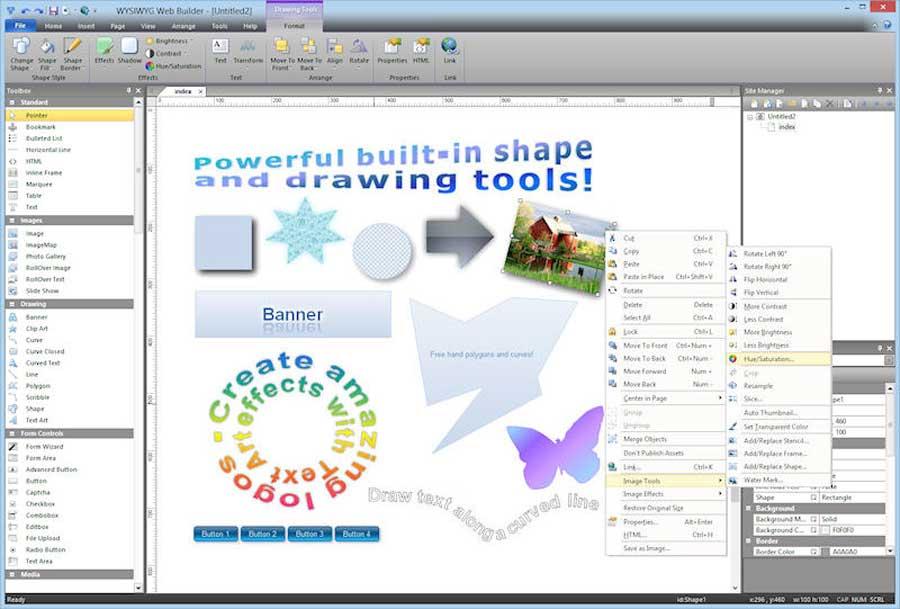 It will only be necessary to drag any element to the central panel for them to be added. It will be possible to add from text, images, YouTube videos, icons, navigation bars, tools for login, etc. It even has the integration of the famous e-commerce platform Paypal. This means that we can place a Buy Now button on our website or all other Paypal utilities such as Subscription, Donation, View cart and Add cart.
Manage the website by adding and removing pages
Another important section is the Site Administrator, which we will find in the upper right column. It is the one that we will use to add or remove pages to our website. We start from the cover page and we can add additional pages that will be displayed in the form of a tree. By selecting each, it will appear in the central panel so that we can design it and add the different elements that make it up.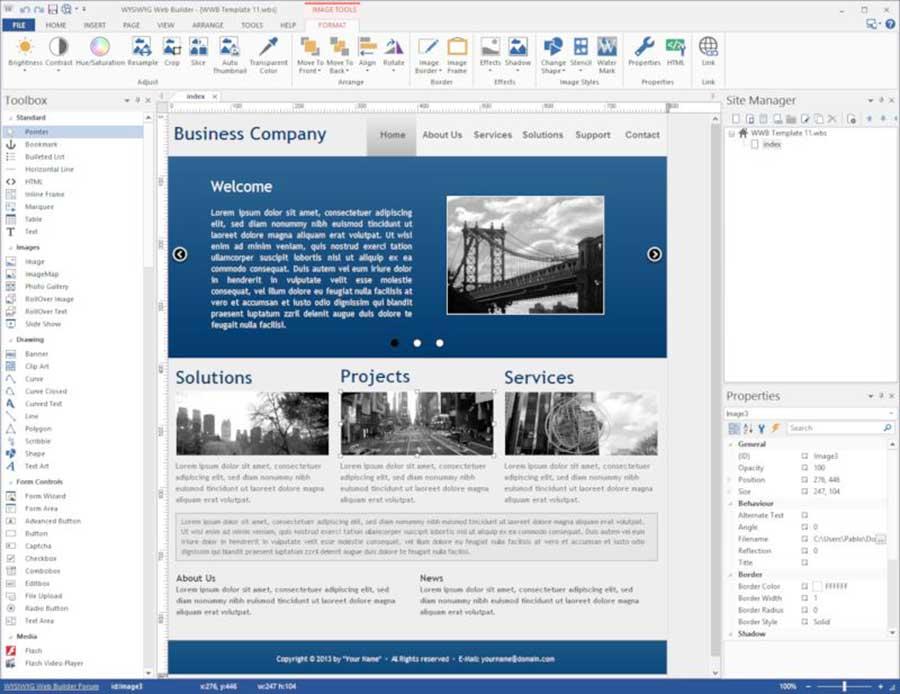 Final thoughts on WYSIWYG Web Builder
WYSIWYG Web Builder is an application that we must try if we want to design our own website. It has a wide range of options to have practically any function that our site should have. Of course, to obtain showy results requires basic knowledge, as well as a good dose of patience to test all its elements. This can also cause inexperienced users to be overwhelmed with so many options.
In addition, its interface is entirely in English, which can be a handicap, although the inconvenience can be solved by means of the icons. In addition, it does not have a free version, so to use it permanently it will be necessary to pay for its license.
Download WYSIWYG Web Builder
WYSIWYG Web Builder is a commercial application, so to use it it will be necessary to pay for its license, which costs $ 59.95 . Once purchased, they will send us a personalized registration key by email to start using it. It is also possible to download a free 30-day trial version from its page, in order to see first-hand the benefits of this program. It is compatible with Windows 7, 8 and 10.
The latest version available for this application is 16.3.0 corresponding to April 12, 2021, which indicates that it has a great support and updates policy from its developers.
Alternatives to WYSIWYG Web Builder
If we are looking for a program with which to edit our own website, we propose some alternatives to WYSIWYG Web Builder to take into account:
WordPress
It is one of the most popular platforms, since it is open source and completely free. It has dozens of designs to choose the one that best suits our needs and we can modify it as we need it. It is possible to manage our domain from wordpress.com and update the website from mobile devices or desktop application. If you want to start creating your website like WordPress, just access your website .
Prestashop
It is an open source platform that will allow us to establish an online or cloud store through our own hosting, being easy to use, accessible and customizable. It allows us to create discount coupons, sales statistics, discounts and prices based on geographic location, etc. The cost to launch the online store is low, and may increase as we need more advanced options. We can access the web from this link .