Applications
Create and design your comics quickly with these web applications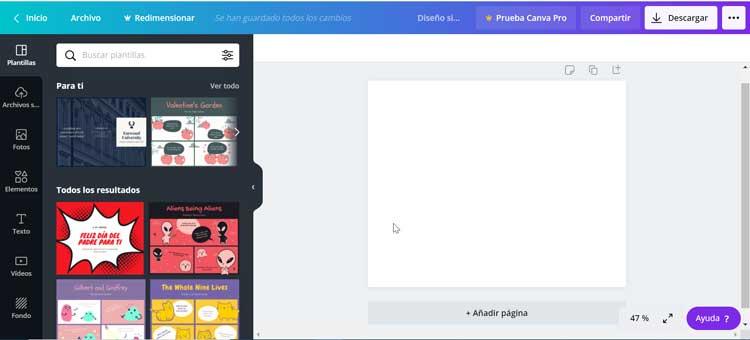 If we are fans of comics and we like the idea of ​​being able to write our stories without having to know how to draw, on the Internet we find a wide variety of pages aimed at those who have ideas, but do not know very well where to start creating. Thanks to these pages, we can unleash our imagination and create our own comics quickly and easily.
Comics are much more than simple dialogues with dialogues, because with them we can acquire a great capacity for reading comprehension, analytical capacity or the development of personal autonomy. It does not matter if we are or are not skilled with pencil and paper, it is enough to have the desire to develop our ideas. To do this, today we are going to talk about different web pages that have all the tools with which we can create our own comics .
Webs to design free online comics
When creating and designing our comics, we can choose some of the websites that offer this service for free, to practice with it without the need to pay a euro. It is true that some options have limitations or add watermarks to our final results, but they are still a good option to start the activity. We will find a wide variety of pages, with different styles, so that we can choose the one that interests us the most.
SuperAnimo, ideal for creating videos in comic format
It is a website from where we can create videos with comics, in which we need to explain something, using all kinds of characters and cartoon effects. In them we can include striking texts, objects, stickers or the classic thought clouds. We can also add GIF, JPG and PNG images, as well as sound and videos. To create our video, we just have to register and click on the "Create an Animo" button so that all the necessary elements to create our comics appear. Its main drawback is that we will not be able to download the videos created, since it will only be possible to share them on the web or we can record the screen using an external program.
To start using SuperAnimo for free, all you have to do is access its website .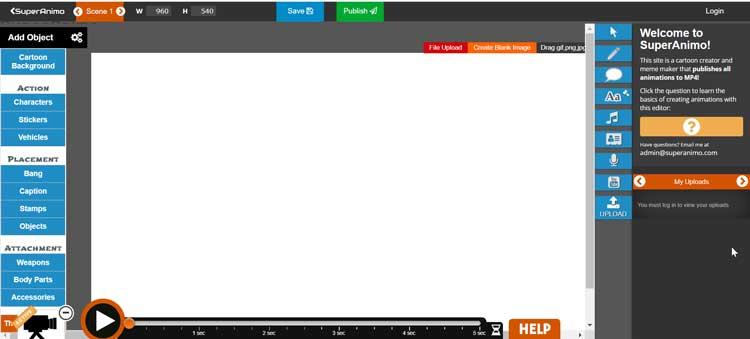 Strip Generator, generate black and white comics
From this website we can create our comics easily and for free . It has a wide gallery from which to choose our characters and objects for our stories, with their respective black and white backgrounds. At the top we will find a toolbar that divides the different drawings by categories. To do this, you just have to drag them using the mouse, modifying their size and orientation. Perhaps you can miss color options since the vignettes are developed in black and white and we must register to begin our creation. It should also be taken into account that it adds a watermark to its final process, which detracts from the professionalism of the result.
If you want to develop your own comics with Strip Generator, just go to its official website.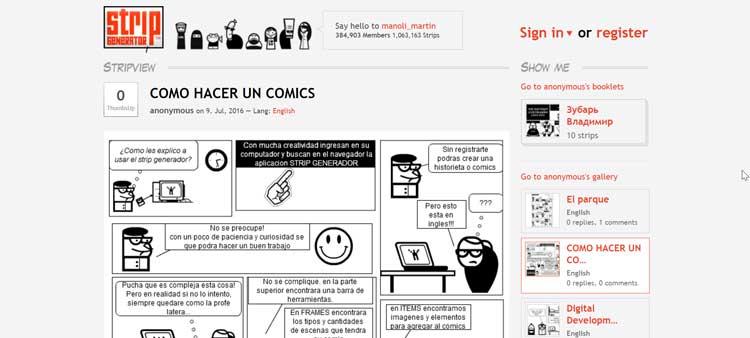 Marvel Create Your Own, for fans of superheroes
When it comes to talking about comics, one of the best known companies in the world is Marvel . Now the company has a website where comic book fans can post their own stories. To do this, we can choose the Marvel characters we want and choose our story based on our imagination. Its use is quite simple and we can change the background, modify the angle of the camera, select a background and write text in speech bubbles. Of course, we must bear in mind that the dialogues will not be able to connect abusive or rude text. We can also select vignettes, settings, characters and sound effects, among other functions.
Marvel Create Your Own is completely free, so to be able to use it it will be enough to access its website and register .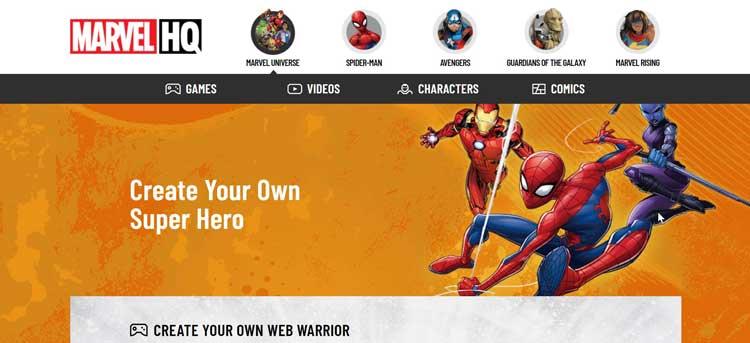 Witty Comics, with more realistic images and a more classic perspective
This page for creating comics is simple to use and features more realistic images from a more classical perspective. Once we access your website, three bullets appear where we can modify its different elements. We can introduce scenographic backgrounds, add a maximum of 2 characters and different speech bubbles and texts. This simplicity also has a negative part and that is not having as much variety of options as we find on other pages. Once we have the final result we can download it in PNG format.
To start using Witty Comics for free, just go to their website .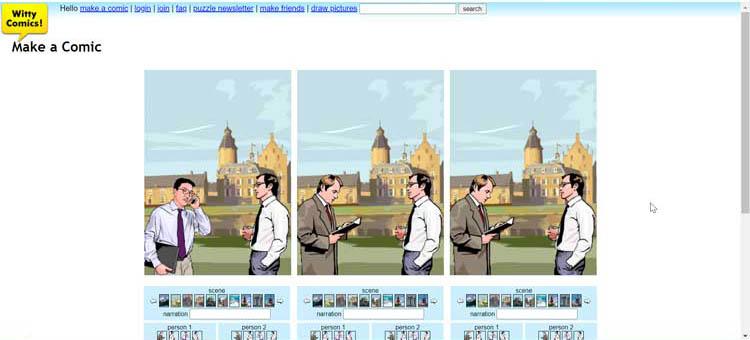 Make Beliefs Comix, ideal for the little ones
This website to create comics is tremendously intuitive and free, ideal for the little ones in the house. In the center of the screen there are three blank canvases with which to start working, with up to a maximum of 18 vignettes, where we will incorporate the different elements that compose it, such as characters, backgrounds and objects. Once finished we can save the result on our computer as a PNG image, send it by email or print it.
To start using Make Beliefs Comix, we will only have to access its website without registering, something that we will have to do in order to save the results.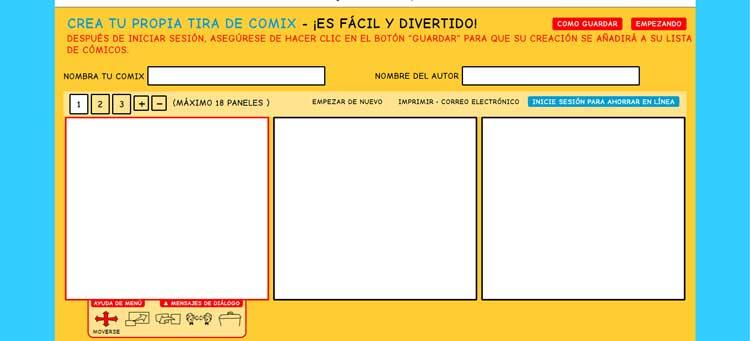 Stripcreator, the easiest way to create comics
It is a website which allows users to create and save our own comic strips, being able to choose from a wide variety of backgrounds and characters of all kinds. It is possible to make strips of one, two or three frames, to later save and share them. At the bottom of each vignette we will have all the necessary controls to be able to choose characters, backgrounds, dialogues and narrations. Although it can be said that it is in English which can be a handicap for some users, but in general its use is intuitive. It has a gallery full of very funny characters and settings, with a fairly high quality, so we can recreate our scene and accompany it with its corresponding text.
Using Stripcreator is free and you can start by clicking on this link .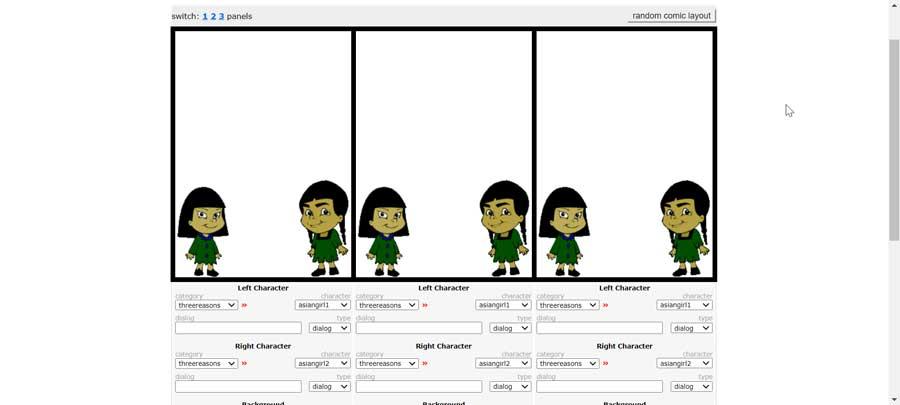 Paid websites to design online comics
If we are looking for a web application with which we can unleash our imagination and be able to design comics like a professional, in this case we will have to go through the box. This is something that can be worth it if we are going to give it the use it deserves. In addition, many of these websites have a free trial version to be able to get to know the application and later pay to take advantage of all the functions they offer us.
Pixton, the most popular website for creating comics
It is one of the most popular websites in Spanish with which to create our online comics. As soon as we enter, we must select if we want to use the service for education, students, parents or businesses . It has specific templates with drawings already created and allows you to create storyboards that help us create our story. We can start creating our character or avatar by choosing their gender, hair type, skin color and other characteristics that the web will guide us step by step. Later we choose the amount of vignettes, backgrounds, texts, elements … to be able to develop and customize our comic to the maximum. The results can be shared on your platform and seen by other users.
If you want to start using Pixton, we must register on its website to access its limited features of the trial plan for 7 days. To take advantage of all its functionalities permanently we will have to pay 8 dollars a month, or 6 euros a month annually.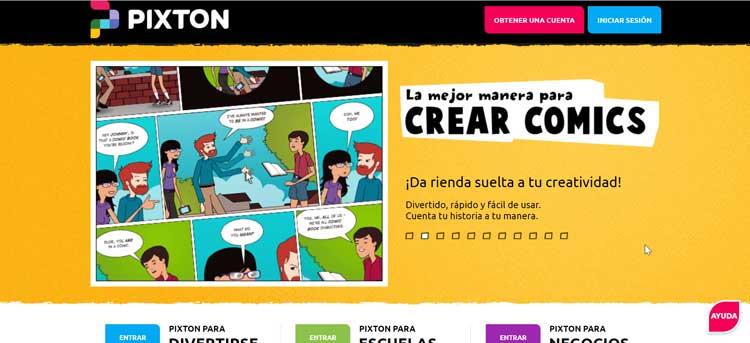 Storyboard That, create and personalize your comics
This is a free tool with which to create comics, through which to visually communicate ideas and concepts in a fast, simple and fun way. Once we log in, the platform will provide us with video tutorials on how to get started. It is a tremendously complete website, as it incorporates different options to customize the color of the backgrounds, objects and characters to our liking. It also orders the pictograms by category, to facilitate the search of the drawings. We can save the results for free up to a maximum of 6 vignettes, so its main disadvantage is that we must go through the checkout if we want to squeeze its tools to the fullest.
We can use Storyboard That for free by accessing its website, although this version is quite limited. If we want to get the most out of it, we will have to pay a subscription of $ 8.99 per month, or 7.99 euros in case we are teachers and 12.99 euros for companies and teamwork.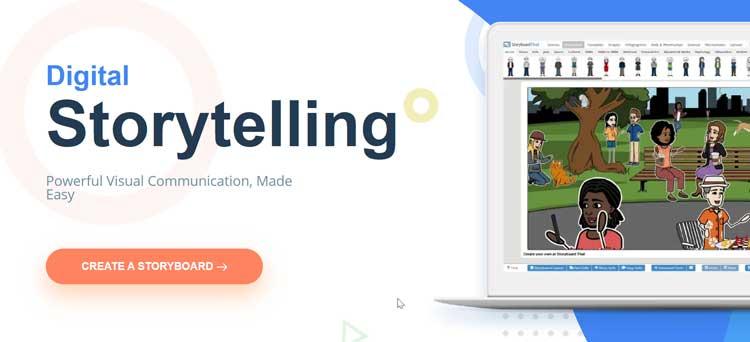 Canva Comic Strip, very complete and professional
Another very popular website used by design and photography professionals. It is a free application with a wide catalog of images and templates that will allow us to obtain great results without being an expert draftsman. It also allows us to upload our own drawings, as well as modify images, edit texts and use filters to improve the result. In addition, it allows the use of grids and the possibility of reordering stories by blocks to create different narrative effects. Its main disadvantage is that to take full advantage of the application we will have to pay for it, unlocking new functionalities.
To start using Canva Comic Strip, you only need to register for free on their website . In addition to the free version, it also has a Pro and Enterprise edition, both paid and that can be purchased from 8.99 euros per month, for greater productivity and level of customization.