Applications
Create and design your brand emblem like a pro with aaa logo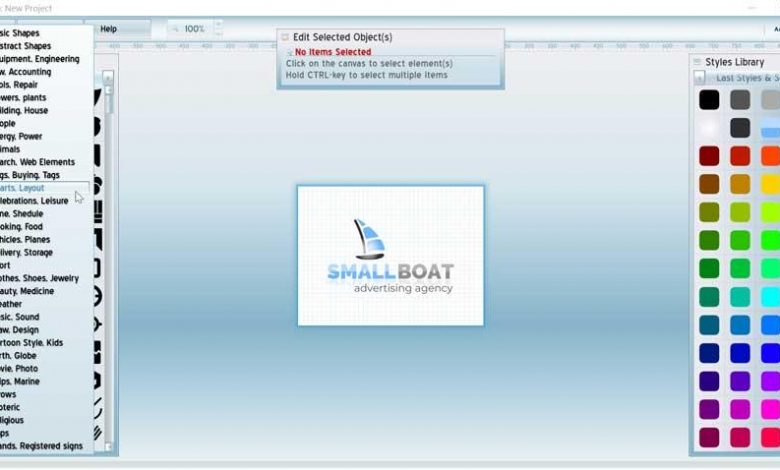 Surely if we are thinking of creating a company, opening a store or patenting a brand, we need a good logo for it. Likewise, if we are graphic designers, we will need a program with which to create and design logos. This is something we can do with an AAA Logo application , which we are going to talk about today.
A logo is nothing more than a graphic representation made up of images or letters that help us to identify any company, brand, products, etc., as well as everything related to it. This element is characterized by being a quality mark, which also provides an identity to the element it represents, so it is very important to make the right choice. It will be important that it has a great visual impact and that it is able to differentiate itself from its competition.
When it comes to obtaining a good logo, it is necessary to have some knowledge of designs, as well as to master graphic editing tools. Likewise, if we are creative users, we can obtain high-level results using software such as AAA Logo. This professional tool has been developed for the creation of logos and banners, which is based not only on an eye-catching interface but also on having a wide collection of templates.
And it is that this powerful graphic editing tool has more than 10,000 logo icons and more than 750 integrated templates with which to help us create new logos. With this we can create almost any type of website graphics or commercial graphics for high resolution printing. It is ideal for custom t-shirt, logo, banner, button, header and icon design for our website with rich colors, gradients, shadows and reflections.
Design an original logo for your company in a few steps
Once we run the application, its main menu appears with a pop-up window where we can view its wide catalog of templates ordered by categories. It has all kinds of styles, business, entertainment, 3D, multicolor, minimalist, cartoon etc. We can also create a new project or load one that we have previously created.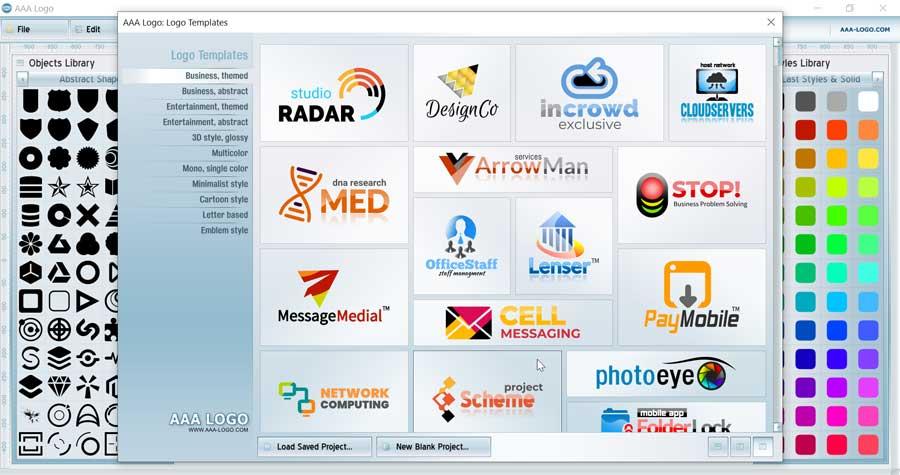 If we decide to launch a new project, we must choose the unit of measurement (pixels, centimeters, etc.), as well as the background color and its resolution. The application will allow us to insert images, shapes, effects, gradients and colors, each with numerous customization options. You can modify an image with various effects and colors. On the left side of the screen there is a library of objects and in the left column we have a library of styles with a multitude of colors to choose from to combine.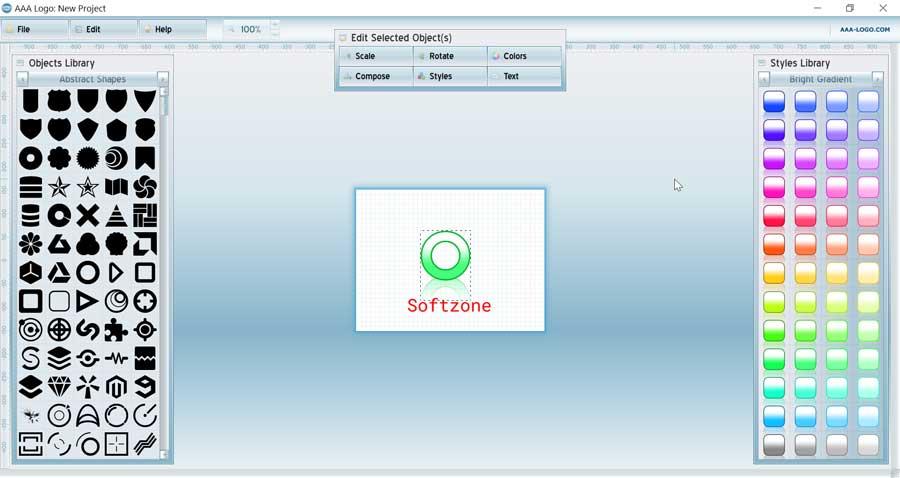 If we click on any of the elements that make up our logo, a tab appears at the top that will help us to edit the selected object. In this way, we can select the scale, the rotation, edit the colors that compose it, change the composition, the style and the text. Likewise, from the "Edit" tab in the upper left, we can add a new object, a new shape or a new text to the creation of our logo. That is why with these tools and a little imagination on our part we will be able to develop the desired logo without requiring advanced knowledge.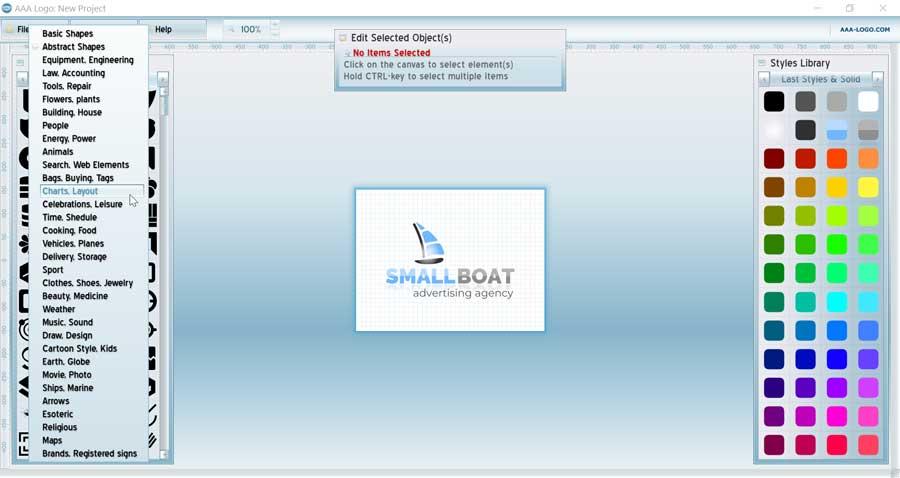 Once we have created our project we can export it to different formats such as JPEG, PNG and GIF, with various configuration options, resolution and image quality. To get to this point it will be necessary to acquire the license for this program, since with the free version it will not be possible to export the results obtained.
Conclusions
After our tests we can say that AAA Logo is not an excessively difficult program to use, but it does take some time to discover its potential, especially due to its huge collection of templates. Also keep in mind that the interface is completely in English, which can be a handicap for some users.
Keep in mind that we are dealing with a professional application, which, however, does not require large hardware resources to function and run on practically any version of Windows. Perhaps we can miss our own tools or pens, which you counter with a powerful color editor, a huge collection of vector shapes and logo images.
Download AAA Logo
AAA Logo is a graphic editing software specialized in the elaboration of logos for companies. If we want to test all its functions we can download a free trial version from its website . With it we will be able to thoroughly test all the functions that this tool has, although we will not be able to export any project. To do this, you will need to acquire your license which has a cost of $ 49.95. The program is compatible with Windows 7, Windows 8 and Windows 2000.
Alternatives to AAA Logo
If we are looking for a program with which to create logos, we propose some alternatives to AAA Logo to consider:
Sothink Logo Maker 
It is an application developed especially for beginner users who want to create their own logos. With it we can use a wide variety of logo design resources, various customization colors, text effects and graphics with one click. We can see a preview of all our actions and it has different output formats (JPEG, BMP, PNG, TIFF and SVG). It has a free version that we can download from this link.
Logaster
This web application allows us to create our own logos, being able to choose between different types of clipart to choose the one that best suits our idea. It features horizontal, vertical and text logos with or without a tagline. The result can be exported without a watermark in PNG format. We can test Logaste just by accessing its website .
LogoMaker
Another online application with which we can create logos using thousands of professional icons. We can also choose different ways to add the name or slogan, being able to choose between three logo style options. Once finished we can download the logo for free. If we want to create our logo for free with LogoMaker, just enter their website and register an account .