Applications
Create and customie your own pdf from word or wordpad with dopdf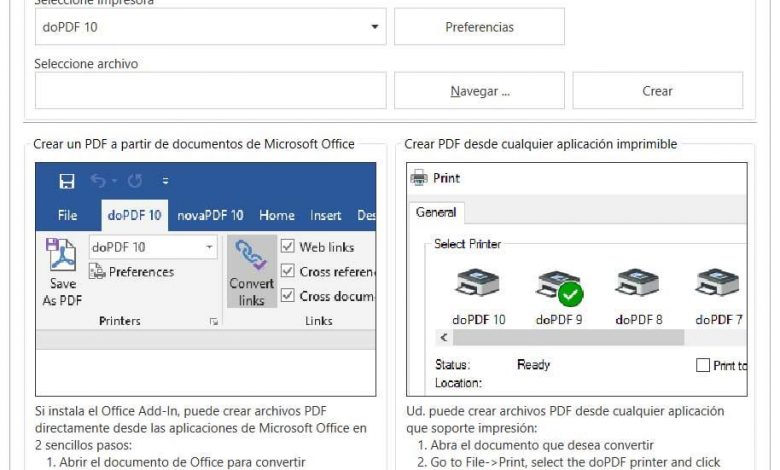 In the office automation sector , whatever the field, the choice and use of the programs that best suit our needs is basic. A clear example of all this can be found when working with documents in PDF format. For this, we have at our disposal a multitude of software solutions, as is the case with doPDF, which we will talk about below.
It should be borne in mind that when talking about programs related to the office automation sector that we are commenting on, Word or Excel come to mind for most users . These are programs that belong to Microsoft's office suite, Office, but there are many more. In fact we can affirm that another of the great protagonists, increasingly, in this way of working, is the PDF. This is specifically a type of file that is used in all types of environments, both professional and more personal, that does not stop growing.
Property of Adobe, files in PDF format can be found today in any place or type of document. They are also characterized by their versatility and everything they are capable of offering us to optimize their use. But of course, none of this would be possible without the corresponding programs that supported it. There are many that we have at our disposal, but we are going to talk about one that will be very helpful. This is the solution called doPDF that we will review below.
Installation and commissioning of doPDF
As its name suggests, it is an application that focuses on working with files in PDF format. To give us an idea, after installing this program, we find a powerful creator of files in this format in the most comfortable way. As an example of all this, in the same process of installing the program, it invites us to add its own add-on to use in Office.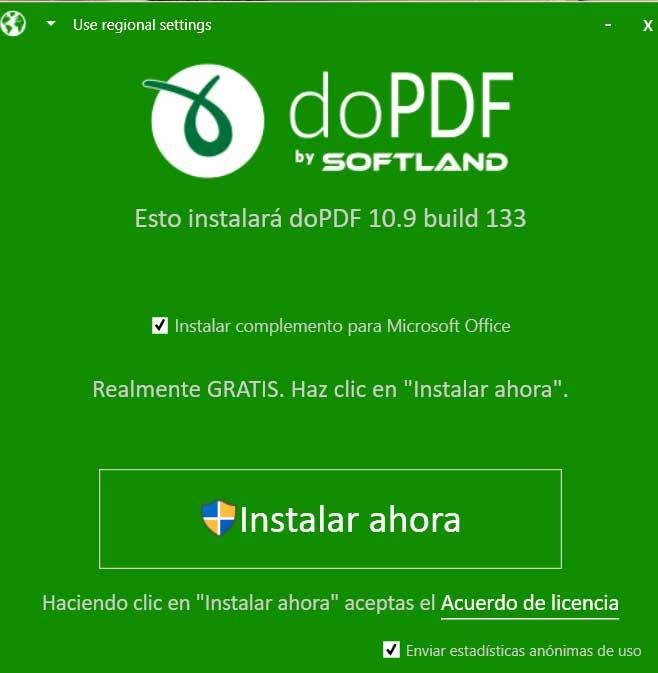 As you can imagine, this will be very helpful when creating these files that we are commenting on, directly from these Microsoft programs . What's more, this addition will allow us, after installing doPDF, to create documents in PDF format from almost any Windows application. Thus, in the event that these have printing capabilities among their menus, we can take advantage of the program we are talking about.
In the beginning and in order to facilitate its use as much as possible, many of the programs that make use of this extended function, will in turn be able to take advantage of doPDF.
How to use doPDF to create PDF from third party programs
We could say that this way of working that we are talking about in this case, is similar to the popular Microsoft Print to PDF that we find in many applications. Therefore, once we have downloaded and installed this program on your Windows-based computer, interacting with it quickly is extremely simple. To do this, all we have to do first is open a document or create it in programs such as Microsoft Word.
Of course, in the same way we can use other similar proposals such as LibreOffice Writer , or WordPad that is integrated into the same system as those of Redmond . In this way, in any text editing software, once we have the finalized document and want to convert it to PDF, we choose the program's Print option.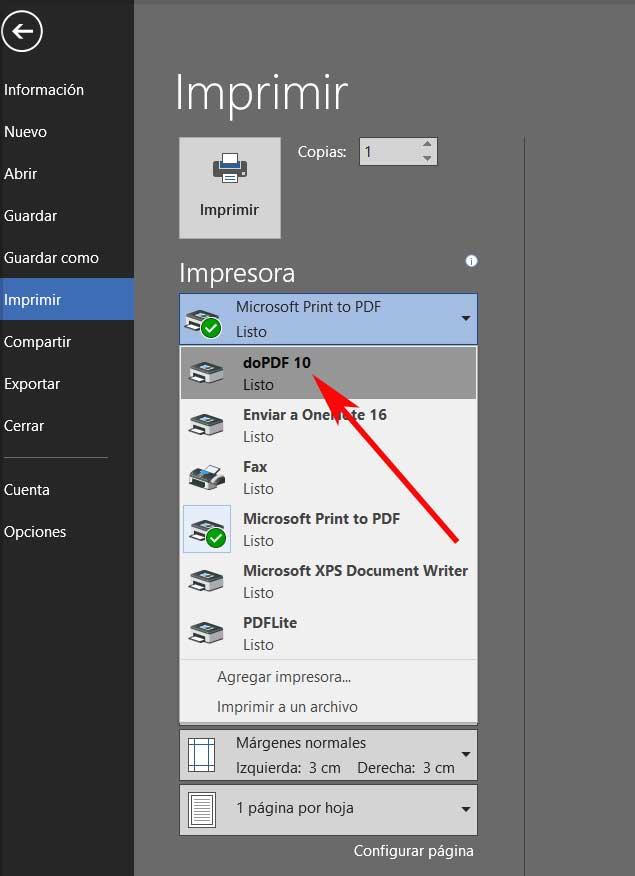 At this moment what we do is display the list of printers installed and available on the computer, so that we can choose doPDF as the default printer. From here, every time we send a new document to this element, a configuration window will appear on the screen for creating the file in PDF format .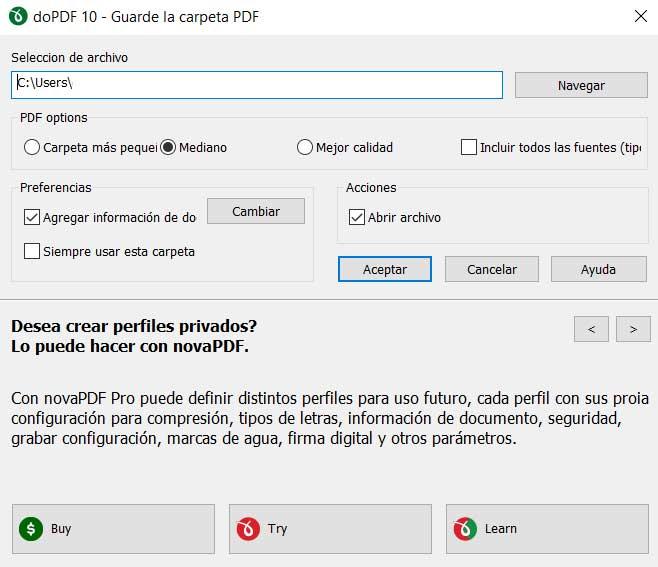 From there we will have the possibility to adjust some parameters of the new file such as its quality, its disk location, or the preferences for the file. Then and to finish the process, we just have to create the new file already in this format instead of the default one by the program, for example instead of DOCX.
Use the doPDF interface to create PDF
But of course, we must also know that this is a program that also offers us its own user interface to work with these documents from there. To access it all you have to do is look for the corresponding entry in the Start menu of Windows in order to run. Next we are going to find a simple interface that allows us to create these documents that we are talking about, from others.
In order to achieve this, in the Printer selections field we specify the program with which we are working, as in the previous case, doPDF. In the next field of the interface we already have the possibility to specify the input file that we want to convert to PDF. Here both text documents, such as photos, or multimedia presentations, among others, are included. To finish with the process itself, now we just have to click on the button called Create.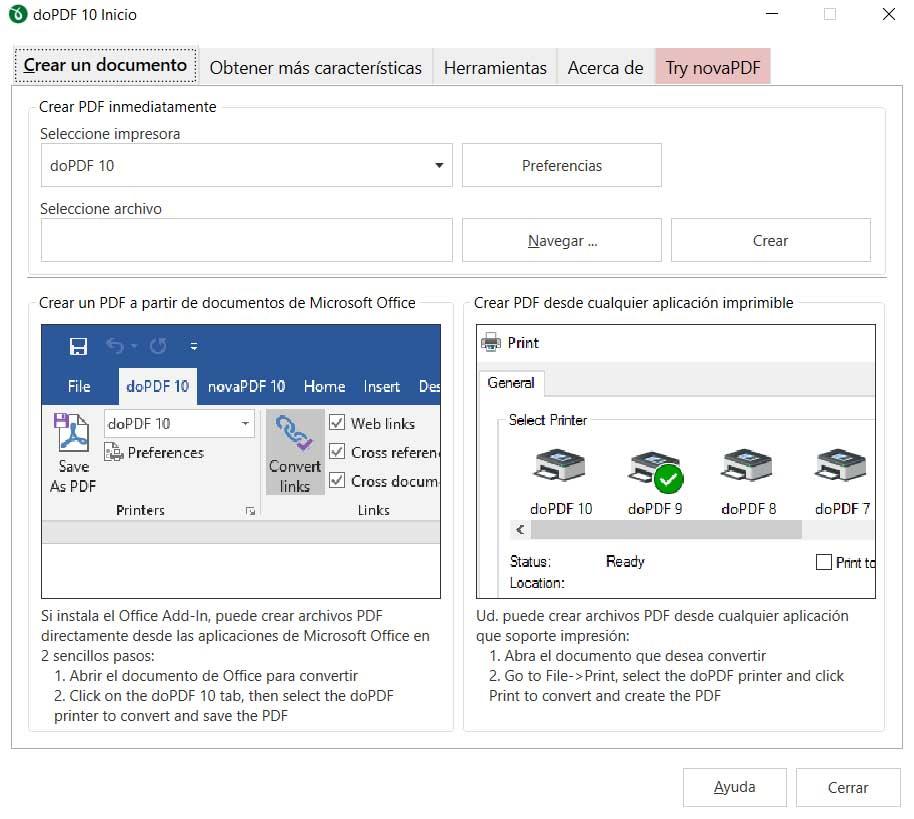 How to download doPDF for free
Well, as you may have seen, using this application to create new PDFs is extremely simple. Whether we use its proprietary interface, or from other office programs. To achieve what we have shown you, we only have to download the doPDF software solution from its official website. Therefore, it is enough for us to go to this link from our favorite Internet browser.
Alternatives to doPDF
PDF BOB
This is another interesting alternative when creating and converting PDF files of our choice. Actually here we are talking about an online editor that we can use from the browser to add texts to documents. It has some interesting tools such as a highlighting tool or to add shapes. To take advantage of everything that this proposal offers us, we can use it directly from here .
PdfFiller
Here we find another powerful proposal that will be very helpful when working with PDF files. It is a web application that allows us, for free, to edit PDF files in a simple way thanks to the tools that it offers in its interface. For all this we only have to upload the file to this online platform, which we access from this link .