Applications
Create and customie screen savers for your pc with before dawn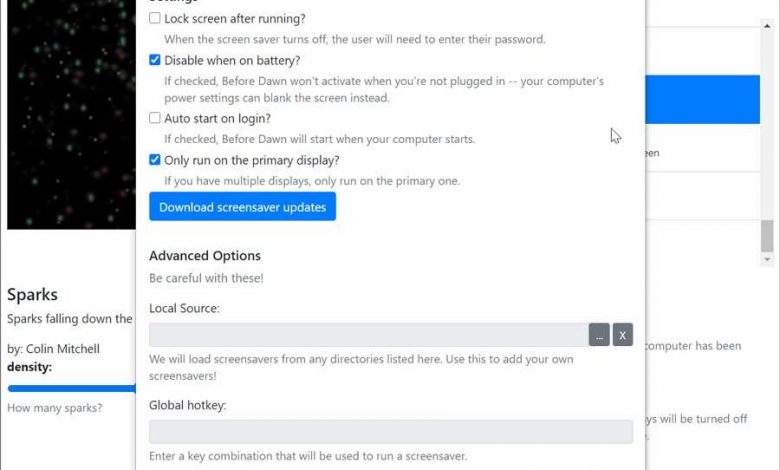 In the 90s it was common to have a screen protector for CRT monitors as it was responsible for protecting it from the so-called burnt effect that occurs if we leave the screen on and inactive for hours. Nowadays it has gone from being a necessity to a way of personalizing our computer with visual effects for when we are not sitting in front of the screen. In order to create our own screen saver we can use an application like Before Dawn, about which we will talk below.
Before Dawn is a screensaver application that is characterized by being open source, free and multiplatform. Through its use we can make our own screensaver using HTML, CSS, Javascript or any other resource that these technologies depend on in order to create screen savers. We can also use any of the 35 models that the program incorporates by default.
This application must be run separately on our computer. Therefore, we must disable any other screen saver that we have running in our operating system. The core of the application is based on Electron, a system that allows us to create desktop applications, which run in Node.js and are processed through Chrome.
Configure your PC with different screen savers
Once we have the application installed, we can access it either from a shortcut that is created on our desktop or from the system tray. The program resides in the background, so we can right-click on its icon and click on the "Preferences" option . Either from the direct access or from the task bar, we will access its interface, simple, although in English, without the possibility, for the moment, of seeing it translated into another language.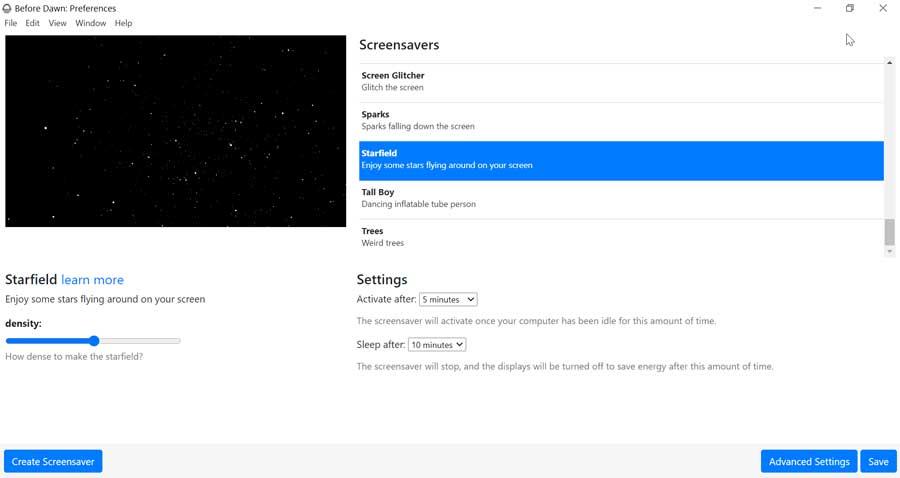 In the upper left part we find a small toolbar organized by tabs, with the functions of "File", "Edit", "View", "Window" and "Help". While on the right side all the screen savers that are available in the application are listed so that we can run them at our choice.
Choose from its 35 different screensaver models
At the moment there are 35 available screensaver models, including a C64 pattern, a blurred screen mode, a webcam mode or the poop emoji. We also found some relaxing backgrounds of rain or sparks, and some astronomy photography options among others. It is expected that, with time and future updates, the developer will incorporate more models.
To see each one it will only be necessary to click once on the desired design. Of course, it must be said that the image does not come out instantly, but it takes a few seconds before we can see a preview of it that appears on the right side. This can be a bit heavy if what we want is to go quickly between one option and another. In some cases we have the additional option of changing the intensity, something we can do from the "density" bar that we find just below the preview.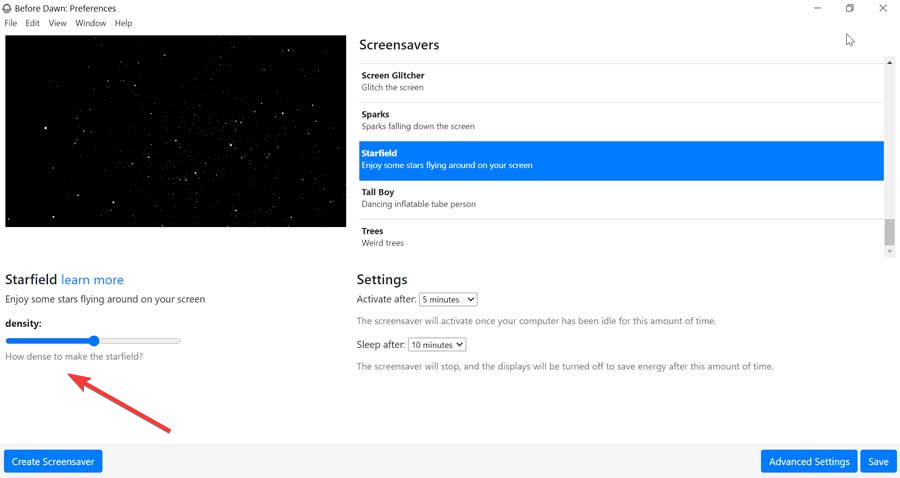 It is also important to note that this program is not responsible for replacing the Windows screen saver. Before Dawn runs separately, in its own window, and is configured so that it can be used in full screen. Simply move the mouse or press any key on the keyboard to close the screen saver.
Sets when we want the screensaver to run
At the bottom, just below the screen savers, we find the "Settings" option, where we will have two options to configure:
Activate after : with this function we can indicate when the screensaver should be activated once the computer is inactive for a period of time. This can be 1 minute, 5, 10, 15, 30, or an hour. It also has the option "never", so that it never starts. In this case we can run it manually from the icon in the system tray by activating the option «Run now2.
Sleep after : from here we can indicate when we want the screensaver to stop to save energy after an amount of time has elapsed, which can be 1 minute, 1, 5, 10, 15, 30 or an hour. We can also select "never", if we choose because it never turns off.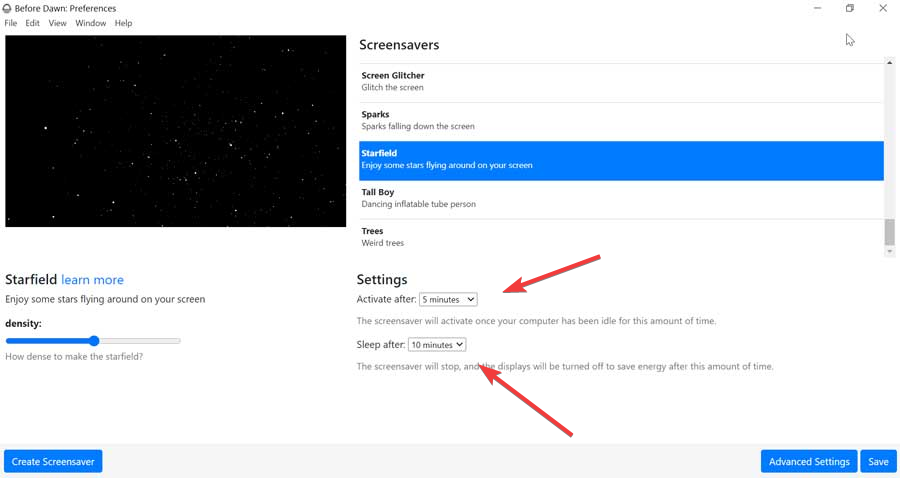 Access its advanced options and create your own screensaver
Right at the bottom of the interface we find the "Advanced Settings" tab . Here we will find some additional options to lock the computer with a password. We can also disable the program when we use a laptop and it is running on battery, run only on the main screen if we have more screens enabled, etc. In addition, it allows us to create a hotkey combination to run the program.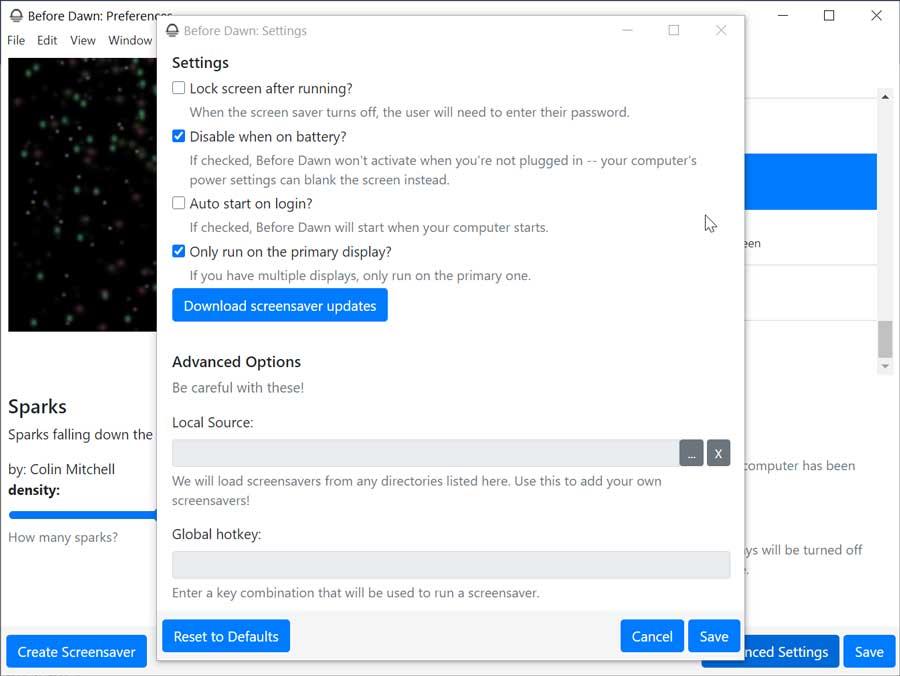 Finally, in the icon «Create Screensaver» we can access to create our own screensavers. For this, it will be necessary to have experience in coding, especially in HTML, CSS or JavaScript, so it is an option dedicated exclusively to advanced users.
Before Dawn free download
If we want to use Before Dawn to create our own screen savers, we must know that it is an open source and multiplatform tool, so we can download it for free from this link . We can use this application on our computer with Windows 7, 8 and 10, being compatible with 32 and 64-bit systems. The installation process is extremely fast and at no time does the wizard try to get us to install unwanted third-party programs, nor does it contain viruses or malware.
The latest version available to date is 0.15.0 published in February 2021. So it is a very recent application that will surely receive updates and improvements from its developer and the community.
Alternatives to Before Dawn
If we are looking for a program to establish or create screensavers for our computer, we leave you some alternatives to Before Dawn to consider:
Screensaver Factory Pro
This program allows us to create our own screen savers. It includes support for all types of image, video and audio formats (AVI, JPG, PNG, GIF, MP3, WMA, etc). It also has a wide variety of transition effects so that we can provide our protector with all the characteristics to our liking. We can try and download Screensaver Factory Pro from this link.
Easy ScreenSaver Studio
This application allows us to create personalized screensavers with our own photos, whether they are static or dynamic, and even with sound. It has its own assistant that will guide us through the entire process and create our screensaver from image files, flash files or audio files for background music. We can download Easy ScreenSaver Studio from here.