Applications
Create and convert any document to pdf with pdfcreator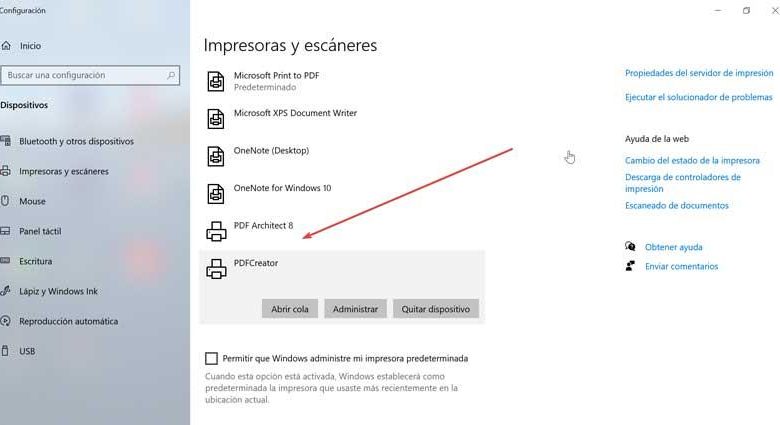 When working with various documents from our computer, we find PDF files, which for years have been gaining popularity and popularity for their quality and for never losing their shape. That is why on many occasions we may have the need to be able to convert a document to PDF that is in another format. For that we need to use a program that allows us to carry out conversions, such as PDFCreator, about which we are going to talk today.
PDFCreator is a program to create and convert any type of PDF file quickly and easily, as it has automated functions that will allow us to optimize our workflow. It also offers us compatibility with any editor that has support for printing documents. In this way, we can convert any printable document to PDF, either within the application or by printing directly from the original file. Likewise, it allows us to convert PDF files to image formats such as PDF to JPG, PNG and TIFF.
The application supports the use of tokens. It allows them to be used as placeholders for certain values, such as today's date or username, among others. This can be very useful to improve and speed up our workflow in case we need to print many similar documents. In addition, this software will also allow us to digitally sign documents, which will allow us to verify as an author, avoiding having to print and scan the document.
Another function of PDFCreator is to be able to send PDF by email, use several printers, create documents via command line, use various profiles and perform different preset configurations such as configuring the program's font, using automatic saving, printing after save, etc. In addition, we can combine different documents in a PDF file and protect it with a password.
Steps to convert PDF documents
Once we execute the application, its main menu appears with an intuitive interface and completely in Spanish, from where we can carry out the conversions in a few simple steps. For this we have three ways to do it.
Adding the file
The first method is adding a file, either by dragging and dropping or from the "Select a file to convert" button.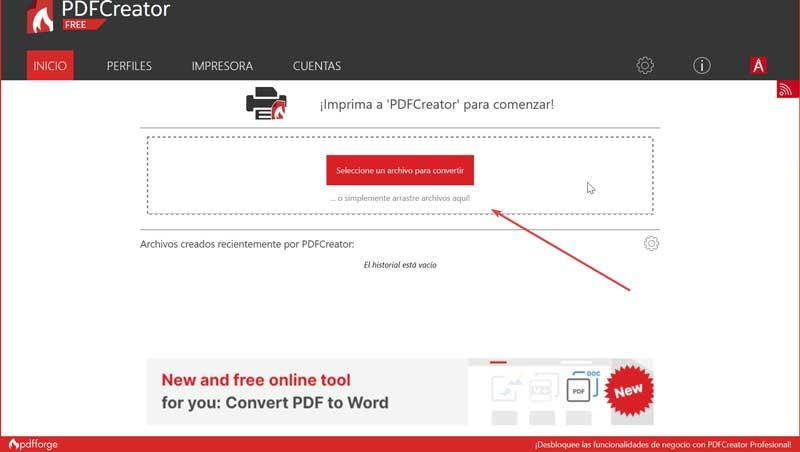 Once done, a new window will appear where we can select the profile that is predetermined by default. If we unfold it we can choose a higher quality, a higher size, print after saving, a secured PDF.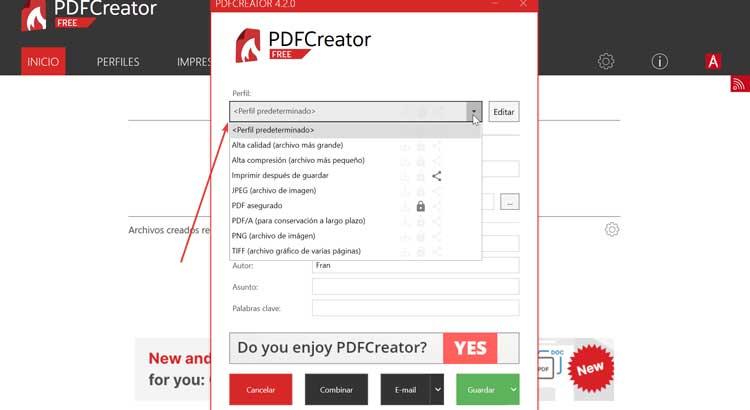 Later we can give it a new name and select the location to host the converted file. It also allows us to create documents in the following output file formats: PDF, PDA / A-1b, PDF / A-2b, PDF / X, JPEG, PNG, TIFF and TXT. Also, we can combine multiple documents into one PDF file and password protect it.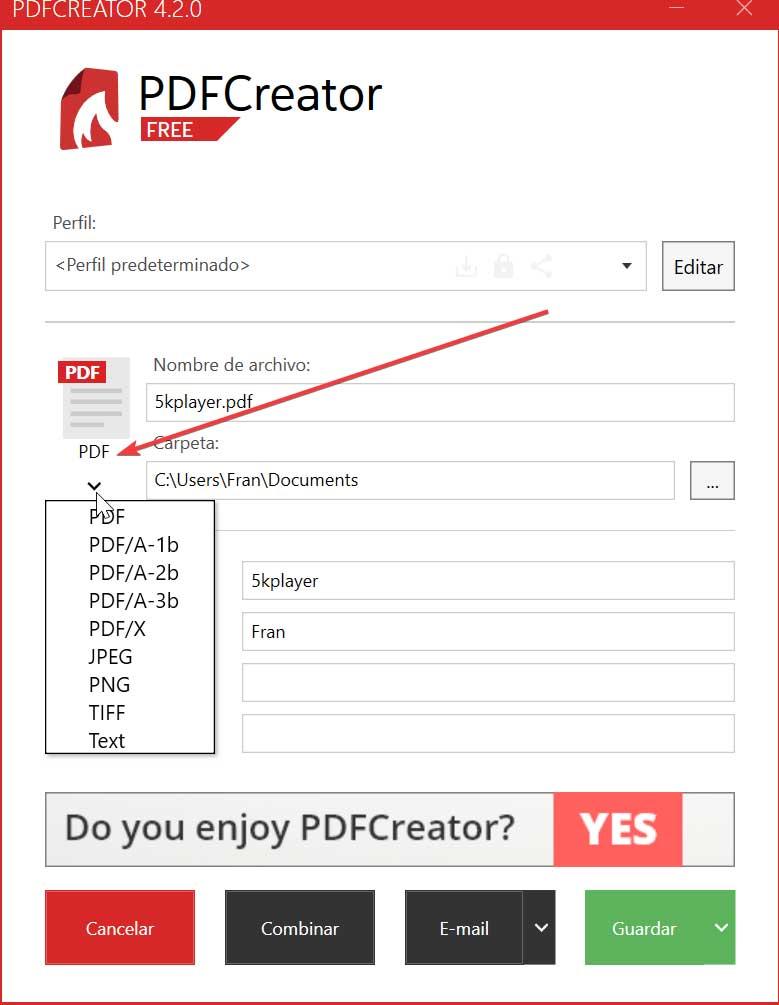 Once the settings are finished, click on the green "Save" button to carry out the conversion. Once finished, a new window appears from where we can open the file, send it by email or print it.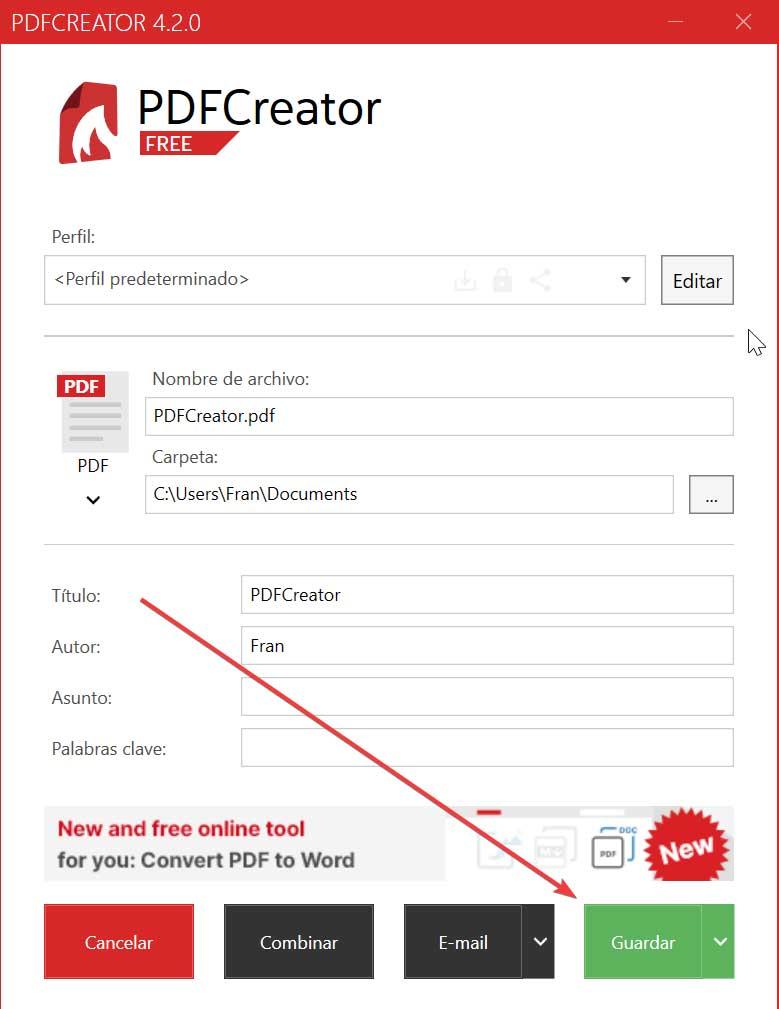 Using the context menu
Another method to convert a document to PDF is through the Windows context menu. We just have to select the document and right-click. The context menu appears and we select the option "Convert with PDFCreator." In this way, the window where we can choose the parameters to carry out the conversion that we have seen previously will appear again.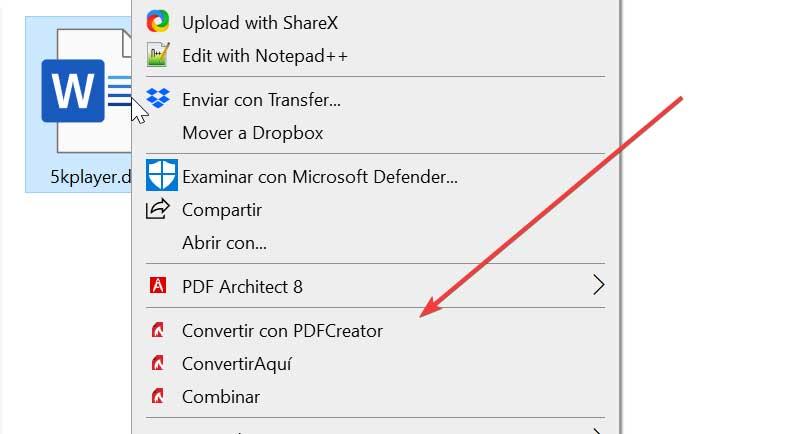 From the Print option
The third method that we have to carry out conversions with PDFCreator is by opening the document that we want to convert to PDF with its corresponding program (for example, a Word document). Later, once opened, we go to the "Print" option.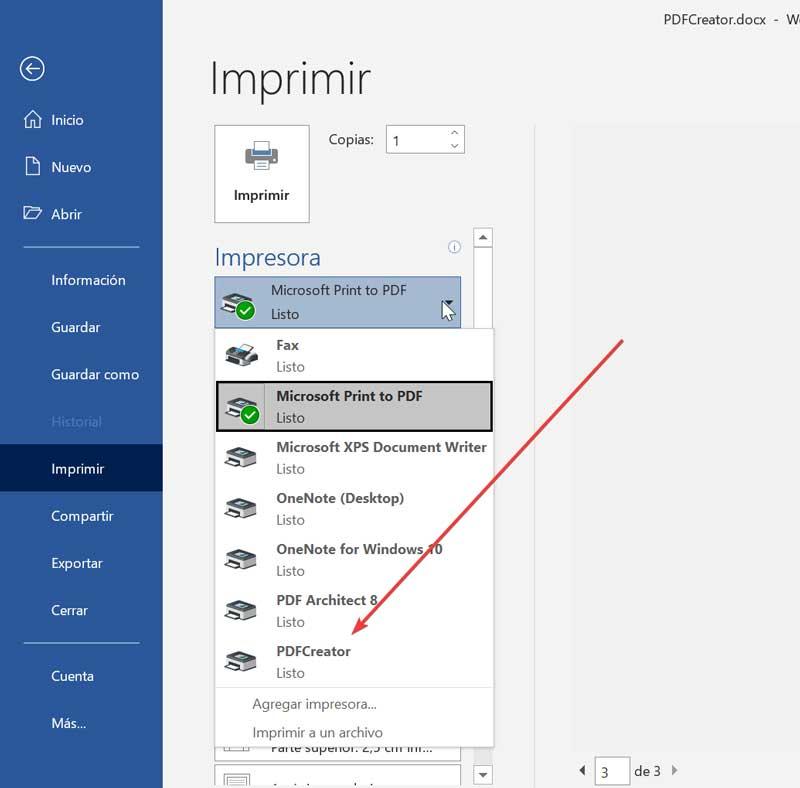 Now we only have to change the default printer for the virtual printer that PDFCreator has created. Once this is done, click on Print and the configuration window will appear again to be able to make the adjustments for the conversion of our file to PDF.
Conclusions: is PDFCreator worth using?
As we have seen, PDFCreator is an excellent option for converting different documents to PDF. It is a very simple tool to use and is in Spanish. It has up to three different ways to be able to carry out the conversions. We can do these from its own menu, from the Windows context menu or from the Printing section of the program with which we open our document to be converted. Although it has a paid version, it is not worth much, because with the free version we can make conversions in exchange for displaying a small banner in the main window of the program.
Free Download PDFCreator
PDFCreator has a free version with which to convert PDF documents and that we can download from its website . It also has a paid Professional version that is ad-free, easier to administer, allows you to receive free updates, and includes priority email support. Its price starts at $ 16.90 for a unit. The application is compatible with Windows 10, Windows 8 and Windows 7 SP1.
The installation of the program is done in a simple way through its wizard that will only ask us for the language in which we want to install it, being able to choose Spanish. Once the installation is finished, if we access the "Printers and scanners" section in the Windows "Settings" menu, we can see that a virtual printer will create us that will be in charge of converting our documents to PDF with PDFCreator.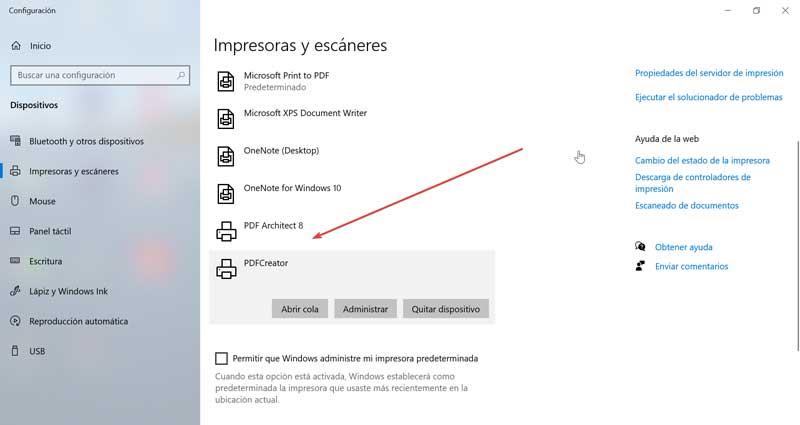 Alternatives to converting PDF documents
If we are looking for an application with which to convert PDF documents into other formats, we can choose some of these alternatives to PDFCreator.
Wondershare PDFelement
We are facing a professional PDF editor that will allow us to do all kinds of backing, such as creating a PDF, editing it, encrypting it, combining with different files and making conversions. From its own menu we find a tab called Convert, from where we go up to one of the most important functions of the application. From here we can optimize a PDF and make conversions to Word, Excel or PowerPoint, as well as make conversions as an image or as plain text. We can download a free trial version from this link . Its price starts at 69 euros.
Soda PDF
It is a complete tool that will allow us to work with PDF documents, being able to create, edit and convert any file. If we need to convert to another format we can do it to a Word, Excel, HTML format or create an image. We can also perform functions to divide a document, merge several documents or export them in Word, Excel, Powerpoint or image format. If we want to try Soda PDF we can download a free demo version from its website. Its price starts at 6.75 euros per month with annual billing.