Applications
Create a bootable usb for linux distros for free with unetbootin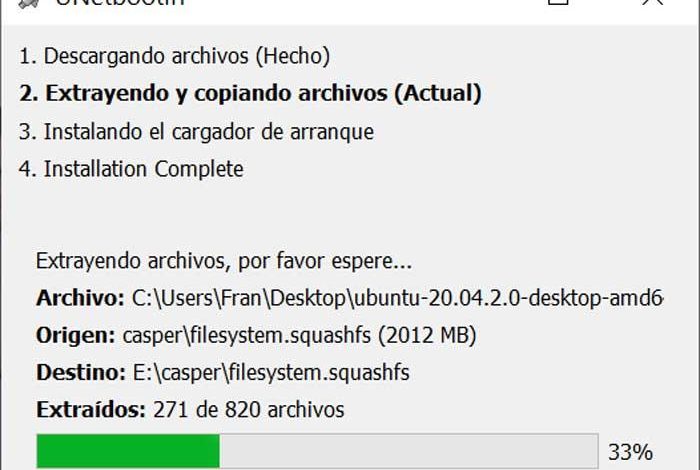 Within the operating systems that we find for computers, Windows has always been the most popular and used. For all those who do not want to be limited to the Microsoft operating system, find Linux and its many distros, a free and open source system. To store our favorite Linux distributions we used to use CDs or DVDs, but this is something that can pass away using a program like UNetbootin, which we will talk about below.
The use of optical discs such as CDs or DVDs in computers is increasingly obsolete. We will hardly find a laptop that incorporates it, restricting its use to desktop computers or some portable players. At present its use dedicated to the installation of applications has been replaced by USB storage units such as pendrives or external hard drives.
UNetbootin main features
That is why UNetbootin is a tool that will be very useful to us since it allows us to create bootable USB drives for Ubuntu and other Linux distributions without the need to burn it to a CD / DVD. The application supports the installation of 40 most popular distributions, each with numerous versions. It is possible to use both standard USB sticks and external hard drives that are connected via USB.
One of its most interesting functions is that it allows us to download one of the many compatible distributions or use our own Linux ISO file with which we can create our own bootable USB Live. It also has the ability to create our own Live-CD systems for our convenience. Thanks to this we can load our Linux distribution on a USB stick and use it to start our computer without having to install the operating system above the one we have installed on our computer.
Supported Linux Distributions with Download Support
UNetbootin offers full compatibility with the following distributions available for Linux that can be downloaded and uploaded. In addition, it is compatible with other distributions that we have downloads in ISO format.
Ubuntu
Kubuntu
Xubuntu
Lubuntu
Debian
openSUSE
Arch Linux
Damn Small Linux
SIitaz
Linux Mint
Zenwalk
Slax
Elive
CentOS
FreeBSD
NetBSD
3CX
Fedora
PCLinuxOS
Sabayon Linux
Gentoo
MEPIS
LinuxConsole
Frugalware Linux
xPUD
Puppy Linux
Compatible system units
Along with these Linux distributions, we can also use UNetbootin to load various system drives, including:
Parted magic
SystemRescueCD
Super Grub Disk
Web Antivirus
F-Secure Rescue CD
Kaspersky Rescue Disk
Backtrack
Ophcrack
NTPasswd
Gujin
Smart Boot Manager
FreeDOS
Create a bootable USB in a few steps with UNetbootin
Once we run the application, its main menu appears automatically, with a fairly simple interface, so it can be used by all types of users. which we could say is divided into two parts: "Distribution" and "ImageDisco".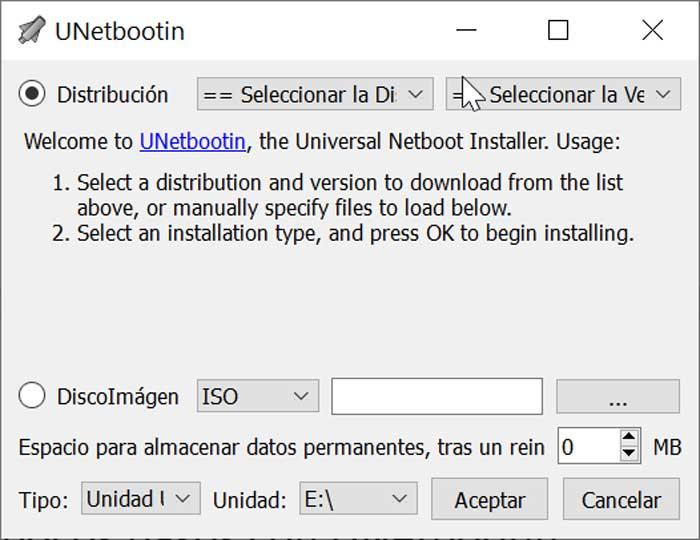 From the "Distribution" section we can download a large collection of compatible Linux distributions, as well as the version we want. Once chosen, a brief description appears, as well as its website and some notes for its subsequent installation.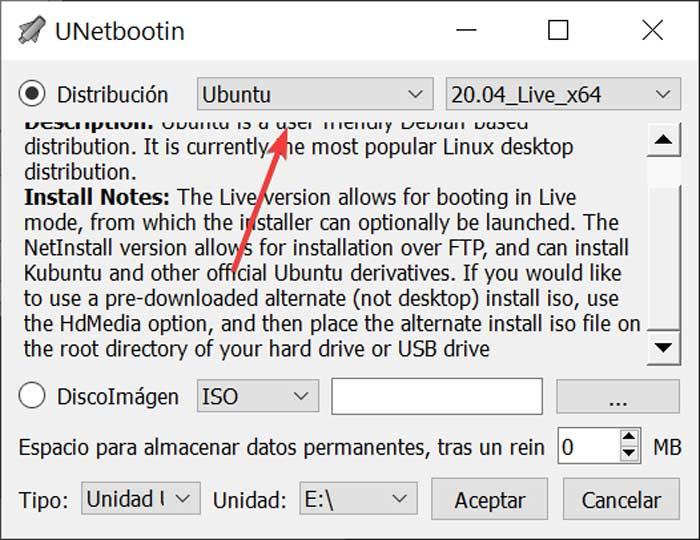 In the event that an ISO image of the Linux distribution that we want to install is already downloaded to our hard drive, we will use the "ImageDisco" function. Clicking on the three ellipsis button, Windows Explorer will open, which will help us locate and select the file. Finally, we only have to select the type and the unit. Once finished, click on OK to start creating our bootable USB Live.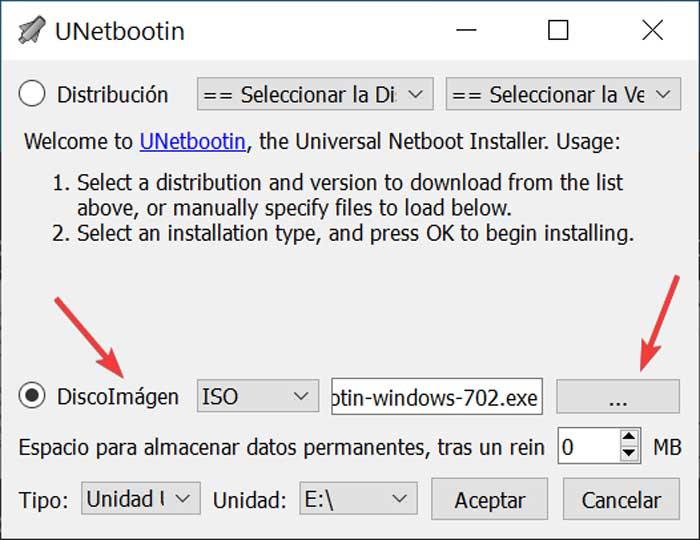 Once we click on "OK", the program will begin by downloading the files (if we have chosen that option), as well as extracting and copying the files from the ISO image. Later it will be in charge of installing the boot loader on our USB drive and once finished we will have our boot drive ready for the Linux distribution that we have chosen. The process is automatic and unless you have to download the distribution, which, if it requires a little more time, the rest of the steps are completed in just a few minutes.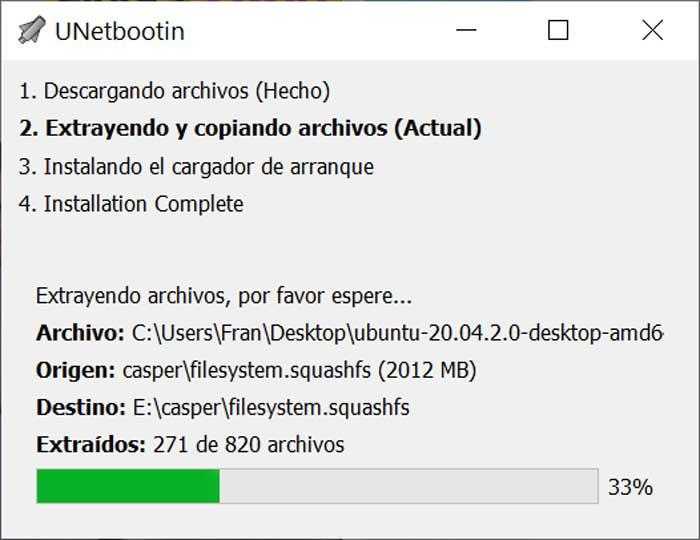 In general, this process must be carried out in a simple way, but we must take the following into account. And is that not all Linux distributions support USB boot, and other options may require additional boots or other modifications, so there may be ISO files that do not work correctly. Also, this program is not compatible with other operating systems than Linux, such as Windows or macOS, so it will not work with ISO files from these systems.
Free Download UNetbootin
UNetbootin is a completely free application, available for Windows, macOS and Linux computers, which we can download from its website . It is a portable tool, so it does not require installation on the computer, preventing it from making modifications to the Windows Registry. In addition, it is possible to save it and run it from an external storage device such as a pendrive or a hard disk.
Alternatives to UNetbootin
If we need a program with which to create a bootable USB for Linux, we propose a couple of alternatives to UNetbootin that we should know
Universal USB Installer
It is a free program developed to allow us to download and install Windows and Linux on a USB memory in a few simple steps. It is compatible with a wide number of operating systems, also allowing us to copy any ISO image to a USB. It also allows the download of any of the Linux operating systems that it officially supports, being carried out from its official websites. We can download Universal USB Installer from this link .
Rufus
We are facing one of the most complete programs to create bootable USB memories, as it is compatible with any operating system, including Linux. The program offers us total control over the partitions and the file system that we want to use, as well as the possibility of downloading any operating system from the program itself. We can download Rufus for free from here.