Applications
Convert the text of any photo or pdf to word with thesese ocr programs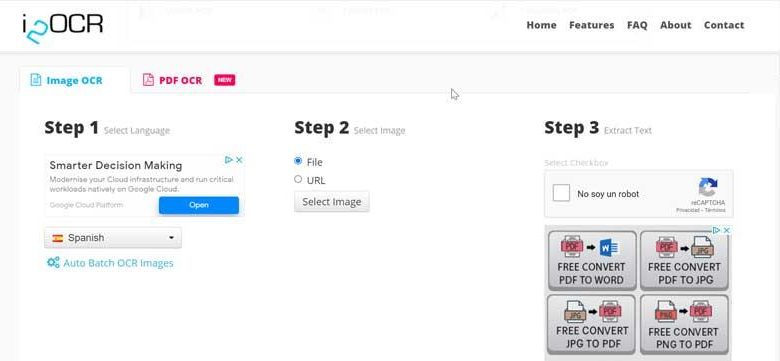 Surely on more than one occasion you have encountered the problem of needing to digitize notes or handwritten texts to edit them on your PC . The same happens when we find certain texts that we want to edit, but they are in image format. In these cases, what we will have to do is use optical character recognition software, also known as OCR programs .
These are programs that are in charge of analyzing the text that we have written by hand, in a scanned document or that is inside the images or PDF, and they convert it into editable text.
There are simpler and more complex ones, everything will depend on the additional functions that they integrate. It must take into account that often are not 100% effective, so discuss some errors of interpretation. That is why we can find some of these proposals that even make a spell checker available to us . It is for all this that below we are going to show you some of these solutions that will surely be of great help.
Free OCR Programs for Optical Character Recognition
Although in the past optical character recognition was an advanced technology, and quite expensive, today we can make use of it completely free of charge thanks to a large number of public programs like the ones we are going to see here.
SimpleOCR, the simplest way to transfer a photo to Word
This is the case of SimpleOCR, a free proposal of this type that you can use on your desktop computer. It is one of the best known solutions of this type and that has been with us for a good number of years. The program uses its own function that tries to make the best character recognition, even if the handwriting is somewhat faulty.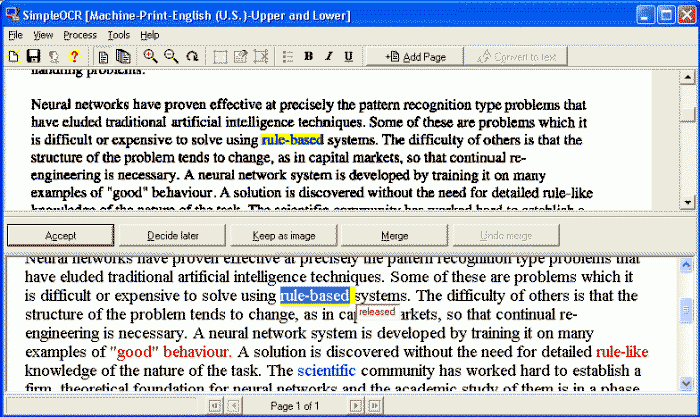 Say that the program recognizes about 120,000 words, a figure that we can increase ourselves by adding new ones. It is also characterized by being a fast tool in the process and can even deal with batch documents, which will save us time.
SodaPDF, a program with Ribbon interface
Continuing in the line of applications of this type, we also find SodaPDF . This is an OCR software that is responsible for extracting the text from any file in PDF format and making it editable. To do this, all we have to do is drag the corresponding file to the program's interface to start the conversion process, something that only takes a few seconds.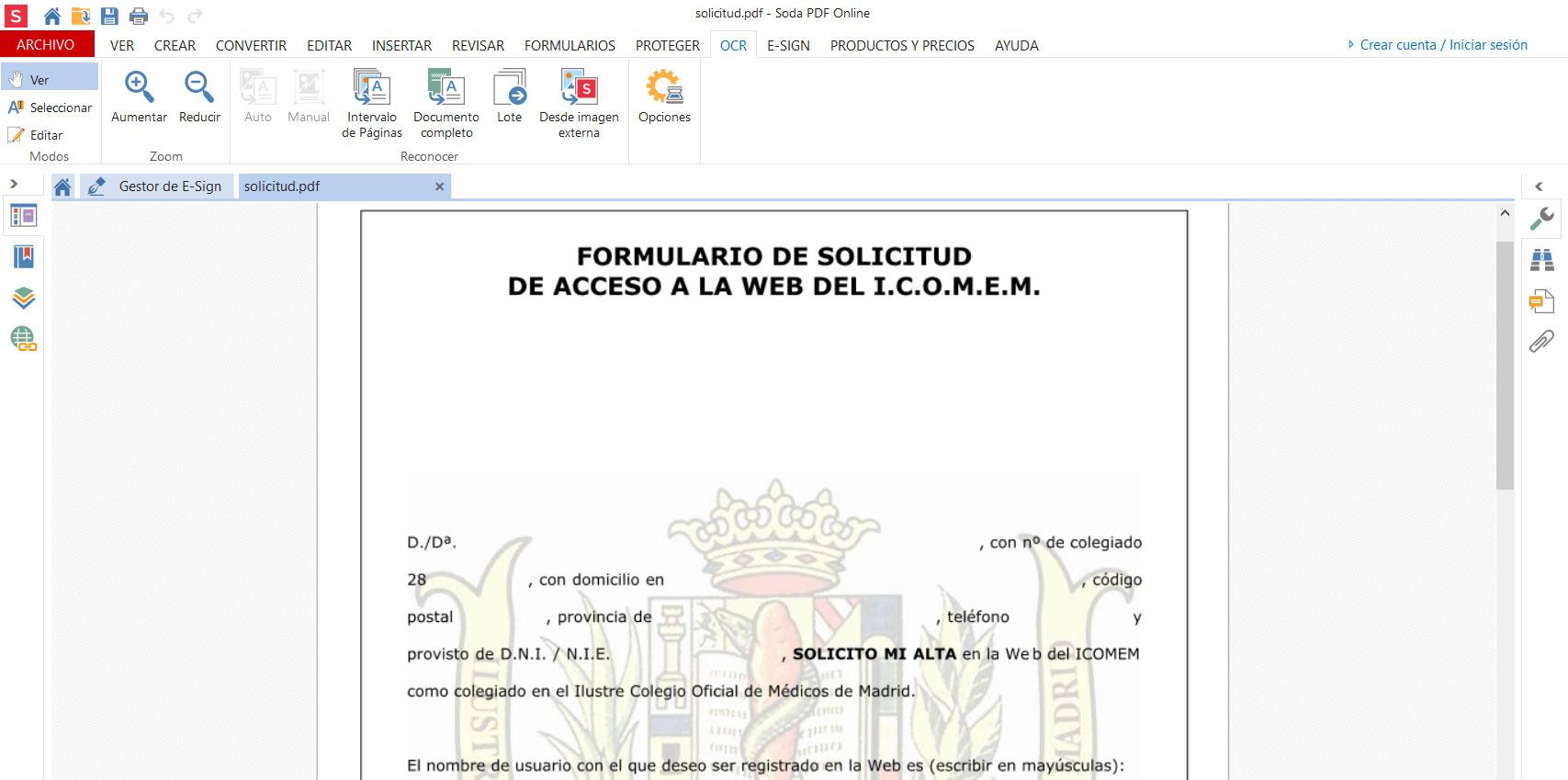 If we do not want to download software on our PC, we can also resort to the online version, which we can use from the browser.
FreeOCR, the light and fast option to convert photos to text
Another of the free proposals that we are going to talk to you about in these lines is FreeOCR, a software for Windows that hardly consumes resources. It has been designed so that we can identify the texts contained in images and files in PDF format, and it is characterized by how fast the process takes place.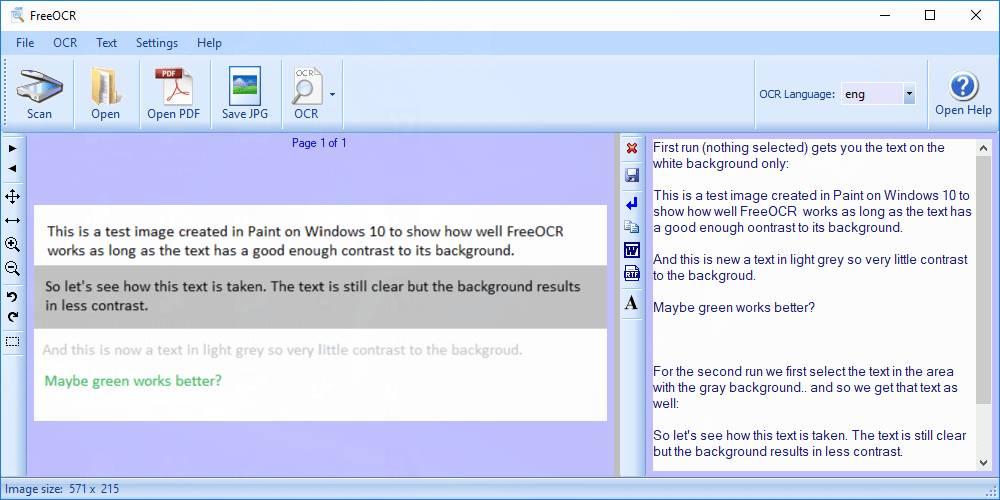 Of course, the internal technology that it uses presents many errors when it comes to recognizing handwriting, so it better recognizes the characters of a machine. However, this represents a good proposal if we need a program at zero cost to recognize the texts of any photo or PDF and make it editable.
Tesseract, an OCR library written in JavaScript
Tesseract started operating in 1995 as a free project. However, since then, it has grown to become one of the best digital optical character recognition tools. This software is completely free and open source, so it is common to see it included in many of the free programs, and OCR websites.
Normally, this application can be a bit complicated to use. It lacks an interface, so we must use it from the terminal, or from a CMD window. However, its accurate results make it worth spending time getting familiar with this interface.

We can find an installation and use guide, as well as its download, from its main GitHub page . This application is available for Windows, Linux, and macOS.
GImageReader, a frontend for Tesseract
We have said that the main problem with Tesseract is that it must be used from a terminal. This is where GImageReader comes in. This is a frontend, or interface, that this library uses and allows us to take advantage of its virtues in a much simpler and more intuitive way, that is, from a window. We will have all your configuration and adjustment options at our mouse's fingertips.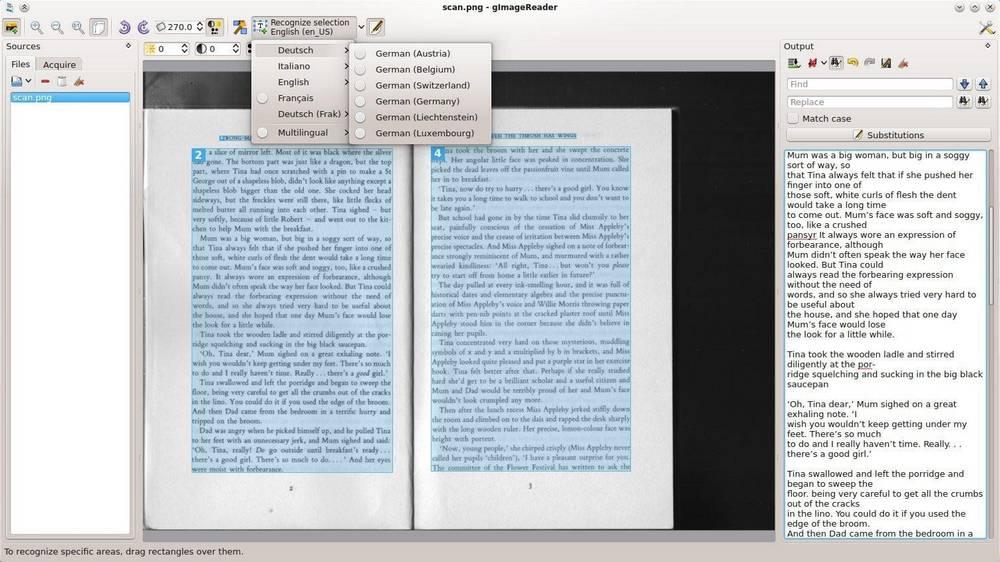 GImageReader is available for Windows and Linux, and we can download the software from the link below .
Free OCR to Word, a more free alternative
Although we leave open source programs aside a bit, another option that we must also take into account is Free OCR to Word . This software allows us to recognize characters from different file formats, such as JPG, JPEG, PSD, PNG, GIF, TIFF and BMP, among others. It will also allow us to import them into a Word document so that, by doing so, we can already have them fully editable and avoid the task of having to rewrite the documents.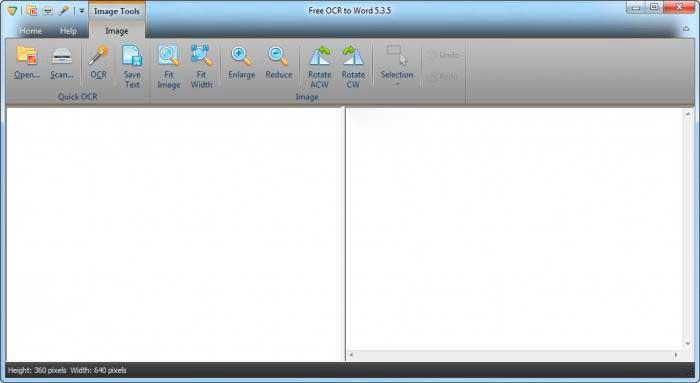 We can download this free application from its main website .
OnlineOCR, get the text in a few seconds
We are going to continue with this selection of programs to obtain text from a PDF or image with this other interesting proposal. The first thing we must do to take advantage of the benefits that it presents us, is to access its official website, specifically this link . Once here, what we do is load the content we want to work with. As we can see in the user interface that we find, in this proposal we have the possibility of working with PDS files, and images of the most common formats.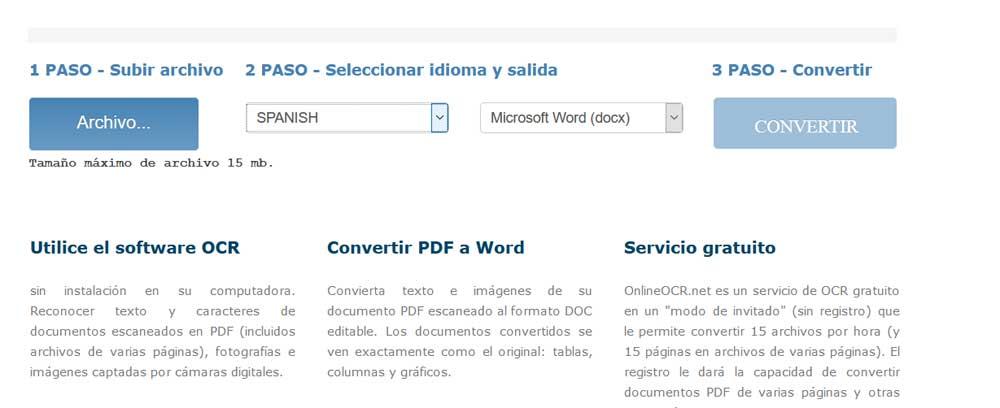 We achieve this through the File button, and then select the language in which the text we want to extract is located. At the same time we have to indicate, in the following drop-down list, the output document that we need to obtain in this case. It can be a DOCX from Word, an XLSX from Excel, or simply plain text in a txt file. Once the parameters that we have mentioned have been defined, to finish we just have to click on the Convert button.
Boxoft Free OCR, with the possibility of editing OCR text
This is a completely free software with which we can extract text from all kinds of images. The program will be in charge of analyzing texts with several columns and is capable of admitting several languages, including Spanish, English, French, German, etc. With it we can scan our paper documents and then the ORC content of the scanned files in editable text immediately. It has two windows, one next to the other, to be able to edit OCR text intuitively within the same interface (cut, copy, paste, select, etc). Once the OCR text is finished it can be saved as a TXT or ZIP file.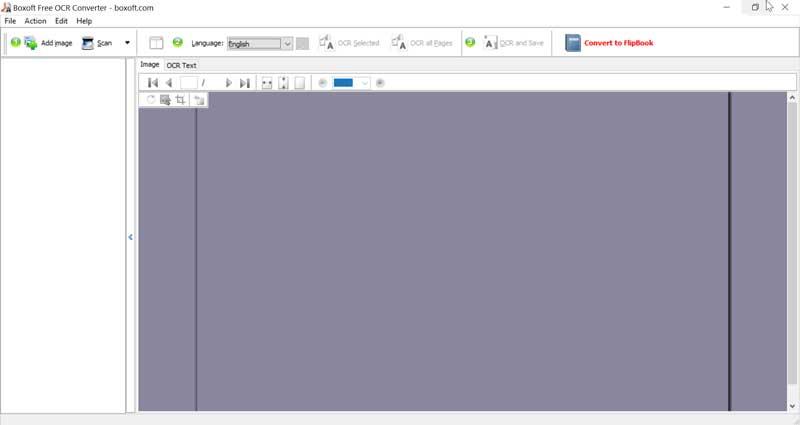 We can download Boxoft Free OCR for free from this link.
Professional OCR Programs
If the previous options give us problems and have many errors, then it is better to opt for one of these professional alternatives, since they are much more precise when it comes to recognizing text.
ABBYY FineReader, one of the most complete OCR programs
ABBYY FineReader is an OCR application that will allow us to automatically recognize all the characters in an image or a PDF document. By doing so, it will allow us to extract and copy them to work with them as if they were plain text. This is one of the oldest and most effective tools within this type of software, offering a very high hit rate and compatibility with more than 190 text languages.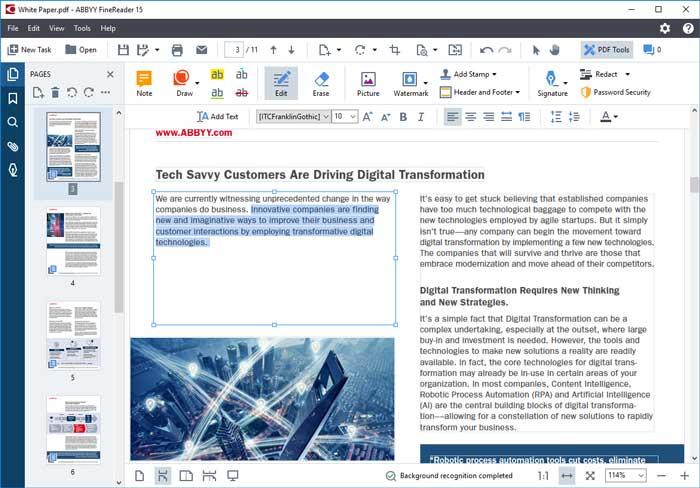 In addition to having its own window, it integrates with Microsoft Word so that, if we scan a document, we can automatically have it in the form of text in Microsoft's word processor.
Although it is probably the best OCR program that we can find, this is a paid software, and not exactly cheap, since its most basic license is around 200 euros. Therefore, if we are looking for a program that allows us to convert our scans to text, and we can assume a certain range of errors, we can try any of the other free alternatives.
Readiris 17, another professional OCR software for Windows
Rather, Readiris is a software for editing and layout of all kinds of documents, especially in PDF format. However, this program includes, among its many functions, an OCR technology that will allow us to recognize multiple characters and convert them to editable text format. The optical recognition engine in this program is very powerful and has very high levels of precision.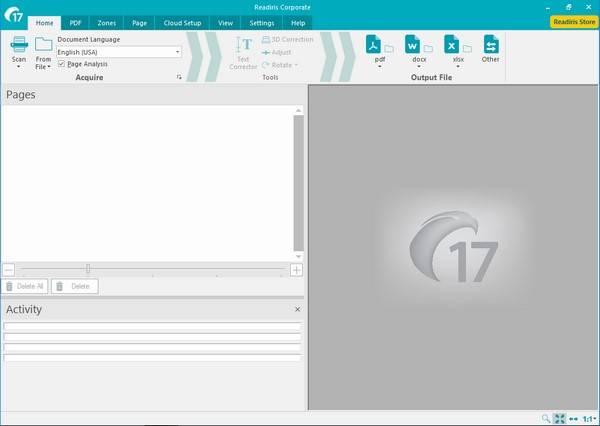 Of course, we must bear in mind that we are facing payment software. We can download a trial version of this software here .
Go from image to text using web services
And if we do not want to use the programs that we have seen in the previous point, in this way we will be able to do the same, for free, from our web browser.
Google Drive, the alternative to Word in the cloud
There are some of the big current firms dedicated to software that also want to help us with these issues. As an example of all this, Google, which has some tools that can convert handwriting into text. For this we can use Google Drive  using a very simple and efficient method.
For this we will only have to upload the file we want to convert to Google Drive. It can be an image or a PDF. The only limit is that it does not occupy more than 2 MB. When we have the file in the cloud, we right-click on it and choose the option to Open with> Google Documents. At the moment said image will be opened within a new document. And, in addition to the image, at the bottom we can see all the text that included said image, or said PDF file.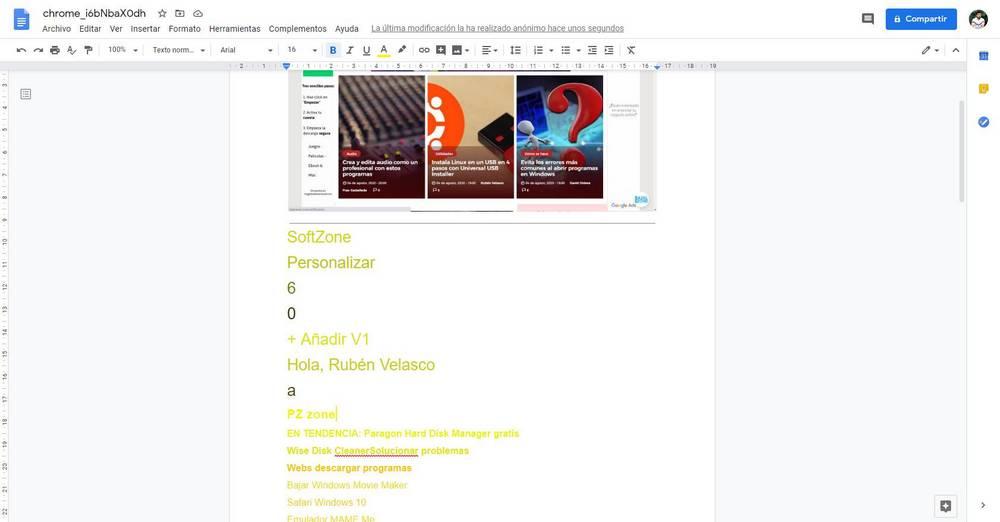 OneNote, Microsoft's notes software
Another of the most important firms, such as Microsoft, also offers us its own solution for character recognition. Specifically, this is something that we can carry out from its note-taking platform, OneNote . This is a signature tool that has its own OCR function, as well as very easy to use, as we will see now. As you know, this is a tool that focuses on creating personal notes in which we can integrate all kinds of elements.
Well, to make use of the OCR function, what we have to do in this case is add the image with which we want to treat one of these notes. We do this from the "Insert" menu of the program to add the photograph in question. Thus, once we have it uploaded to the platform, we only have to click with the right button of the mouse on it and select the option " Copy text from the image ".
Then the program itself will take care of extracting that text from the image and leaving it on the clipboard so that we can edit it. We remind you that OneNote is part of the Office suite, so it will come installed along with the rest of the office suite programs.
Online OCR, a quick and easy solution
We find something similar with Online OCR, although in this case it is a web application that we use from the browser. Here, the first thing we do after uploading the PDF or the image with the text is to choose the language with which we are going to work. There are many supported by this program, so there will be no problem. In addition, the process is carried out in a few seconds with a very good character hit rate. We must also know that this web application can be used without registering and without paying anything, although it is also true that we have other more effective solutions at our disposal in this regard.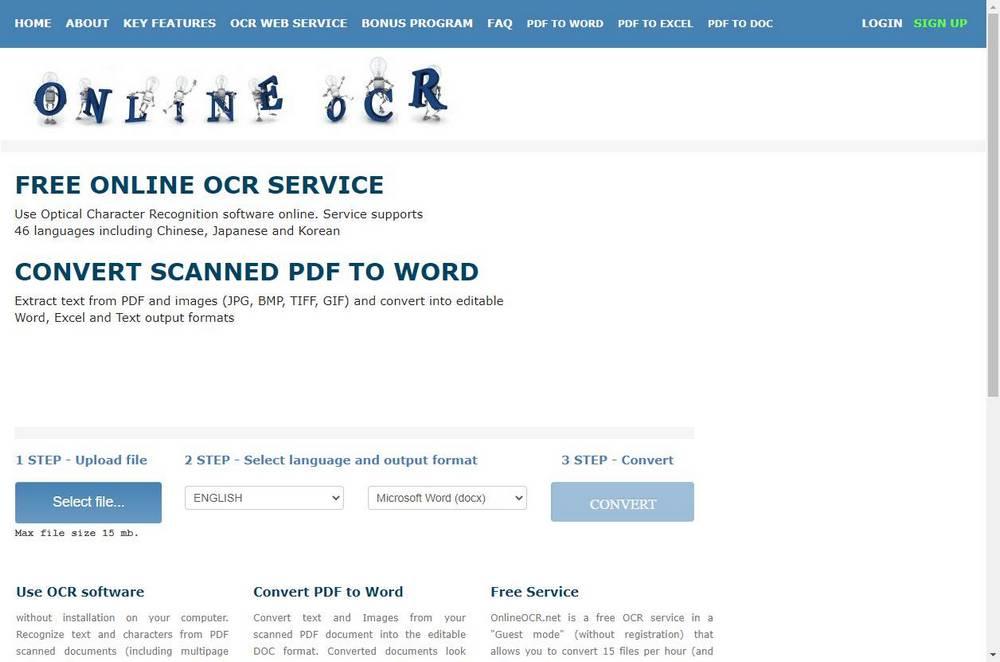 Convertio, another web-based alternative in Spanish
We can also opt for the option proposed by Convertio, another OCR platform for optical character recognition. Here we will only have to select the files to be treated from the hard disk or some storage service in the cloud. Once we have added it, we will be able to select the language of the text, by default it already comes in Spanish, or the pages to be treated.

In the same way, we can select the output format from among the many that this specific application supports. In addition, it has an extension for Chrome to be able to have this function always at hand.
Free OCR API, an online OCR system
This is another of the free web programs that will allow us to go from photo to Word. One more alternative, which is also open source. This option also has a very high precision and, in addition, it can be executed directly from the browser without the need to install any additional software.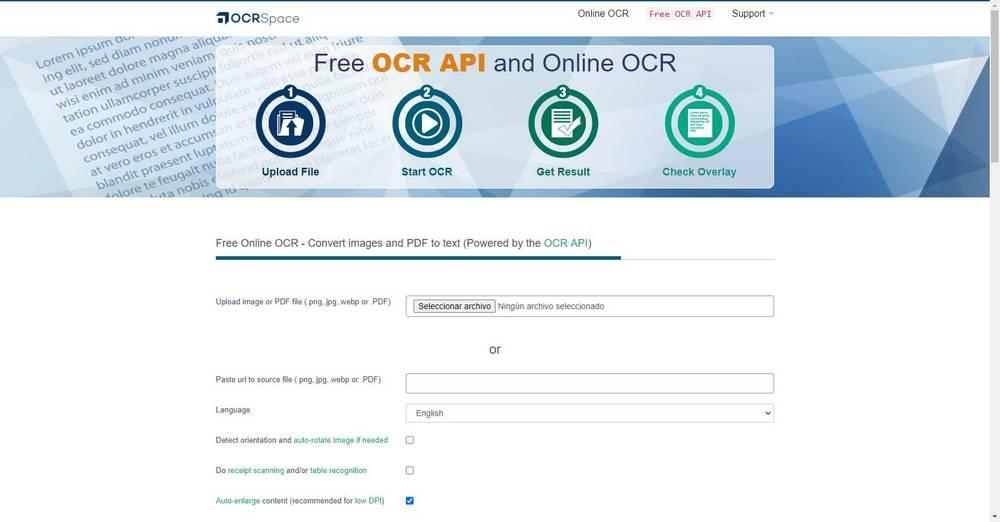 We can use this tool from our browser on the following web page . And, if we prefer, we can download a free client from the Microsoft Store (for Windows 10) and an extension for Google Chrome.
i2OCR
It is a free online optical character recognition (OCR) application through which we can extract text from images and scanned documents so that they can be edited, formatted, indexed, searched or translated. It supports more than 100 languages ​​and performs document analysis in multiple columns. The application supports the main input image formats such as JPG, PNG, BMP, TIF, PBM, PGM and PPM, while the extracted text can be downloaded in Word, PDF, PDF / A and HMTL format. It allows us to load the input images from a URL or directly from our hard drive, taking care of analyzing the design of the document to extract text in several columns.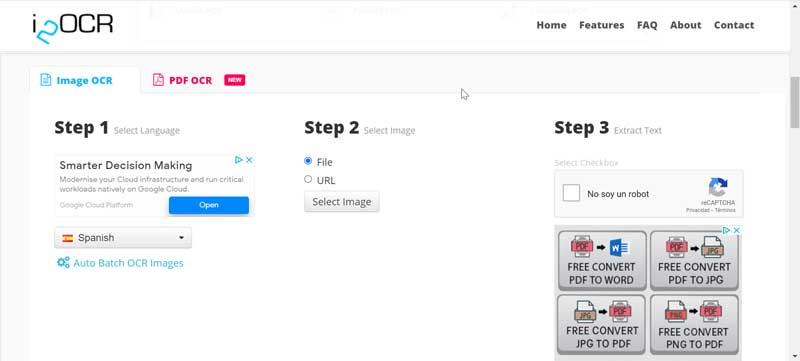 We can use i2OCR for free and without registration by accessing its website.