Applications
Convert text files to voice with these tss programs and websites

At some point we have not had time to read a text while we had other pending tasks to do and we have needed a program to convert text to speech . For this, there are many tools available that can help us read text while doing other tasks at the same time. There are very good free tools, others paid and many websites that do not require the installation of programs and are ready to use just by visiting the website.
TTS or text-to-speech programs are those that we use to convert text to audio, so that any type of text can be read to us in our language. These programs and web pages help millions of people with eye problems or who have some type of dyslexia that makes it difficult for them to read text on screens.
Programs to convert text to speech
When it comes to converting text to speech, we can use programs developed for this. Some are completely free and others have a trial version so that we can check which one best suits our uses and needs.
Balabolka
It is a program that allows us to read texts, in addition to having different voice configuration options and having support for Microsoft Word DOC files, Adobe PDF or HTML to read web pages. It has SAPI 4 (Microsoft Speech API) support with eight different voices to choose from and SAPI 5, with two different voices, or you can directly use the narrator built into Microsoft Windows. You can adjust the tonality, speed and volume to create a voice that suits our needs.
Apart from reading, you can also save narrations in audio files in a wide format of options such as MP3 and WAV and for very long documents you can create bookmarks so that it is easy to jump to the different sections of a text and has tools to help you customize the pronunciations of the words to the taste of each one. In addition, it has a spell checker for the text and supports multiple languages, including Spanish.
You can download Balabolka completely free of charge from its website, being compatible with Windows computers, from XP to Windows 10.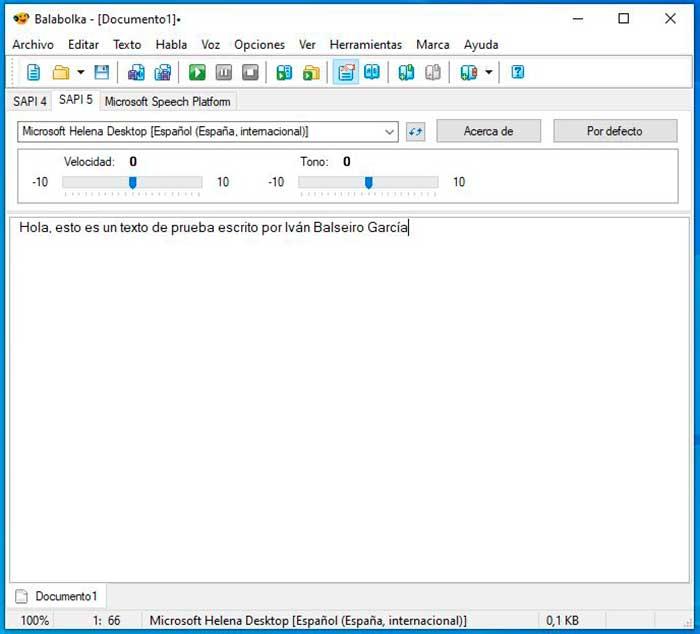 NaturalReader
This text-to-speech converter has built-in OCR functions, lets you change the interface, has a built-in browser, as well as typeface specified for dyslexics. It also includes a library to upload documents, so that we can order them and have them all saved. In addition, it supports a large number of file types including the ePub format so that our electronic books can be read to us. It has integrated OCR that allows us to upload a photo or scanned text and the program will read it.
NaturalReader has a free version that we can download from its official website . It has unlimited free voices, allows you to read text in other applications, includes a pronunciation editor and works with PDF, DOCX, TXT and ePub files. It also has several paid versions that we can buy from 90 euros, with additional functions, such as converting text to MP3 or up to 5000 images a year for OCR scanning.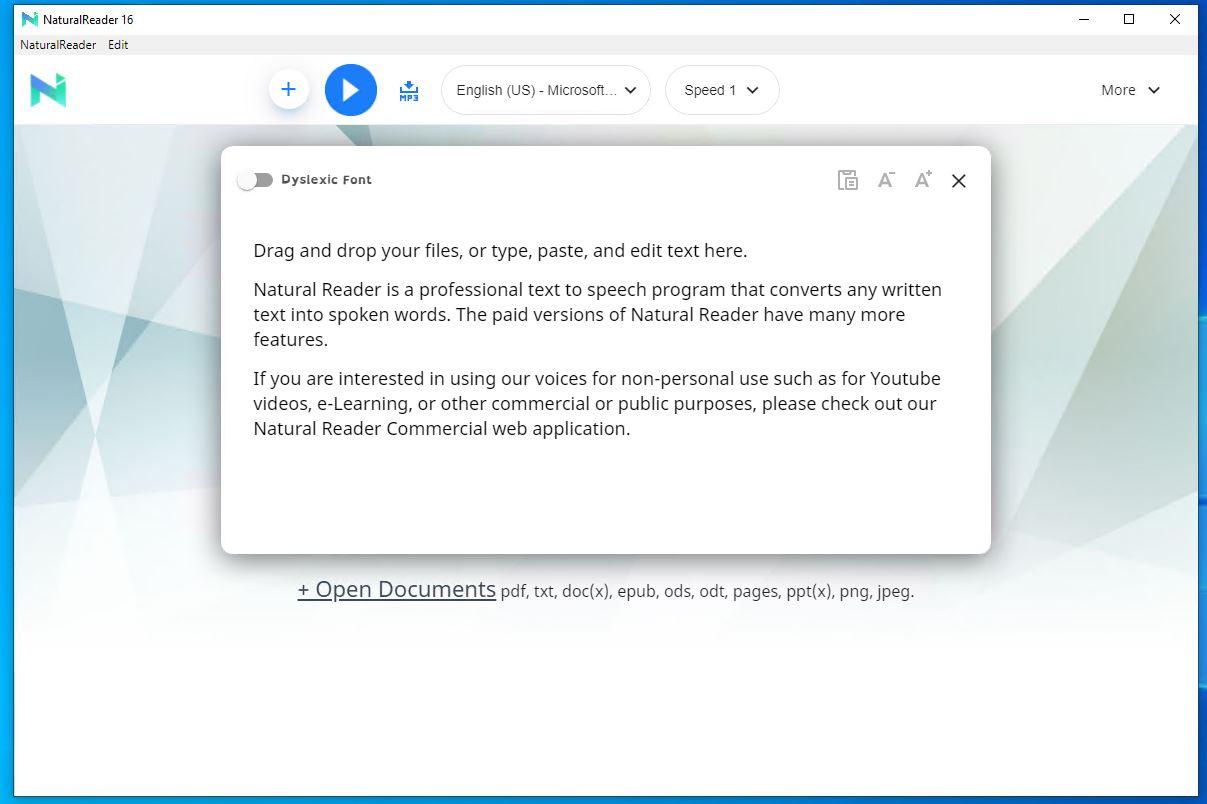 Panopreter Basic
We are facing a program that accepts both plain text, Word documents or web pages and with which we can export the results in WAV and MP3 formats . With the default settings it works very well for quick tasks, but if you spend a little time configuring it, it allows you to change the language, the location where the audio files are saved or change the interface color among other options. In addition, it allows you to play a piece of music when you have just read a text, which is a very nice feature that other free text-to-speech readers do not integrate.
Panopreter Basic is a free application that we can download from the developer's website . Additionally, if more advanced options are needed, a Premium version is available for about 25 euros that offers tools that integrate with Microsoft Word and Internet Explorer to be able to select text and also includes extra voices.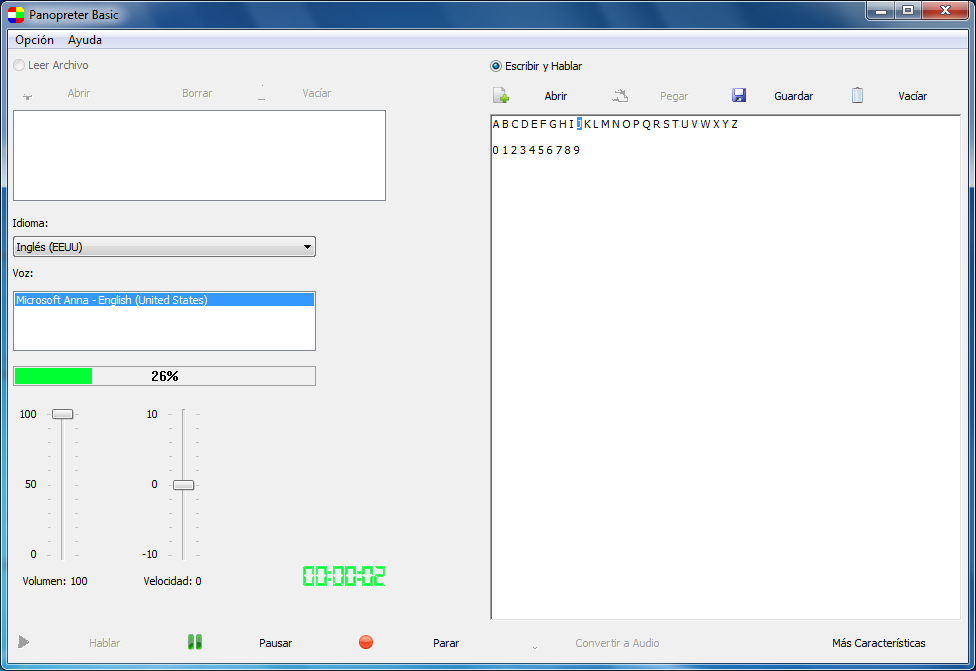 Wordtalk
This program is developed by the University of Edinburgh and integrates with Microsoft Word as a toolbar, being compatible with all editions of Word since 97. Wordtalk offers a very basic functionality, although it supports voices of SAPI 4 and 5 and they can be configured to our liking. It is a valid tool for all those people who need keyboard shortcuts to access functionalities that it offers easily and quickly.
It has support to read entire documents, paragraphs or words, allowing the underlining of the text as you read. It also allows you to adjust the underline, change the voice type and its reading speed, as well as convert text to WAV or MP3 files. Wordtalk can be downloaded for free from its website and is exclusively compatible with Microsoft Word running on the Windows operating system.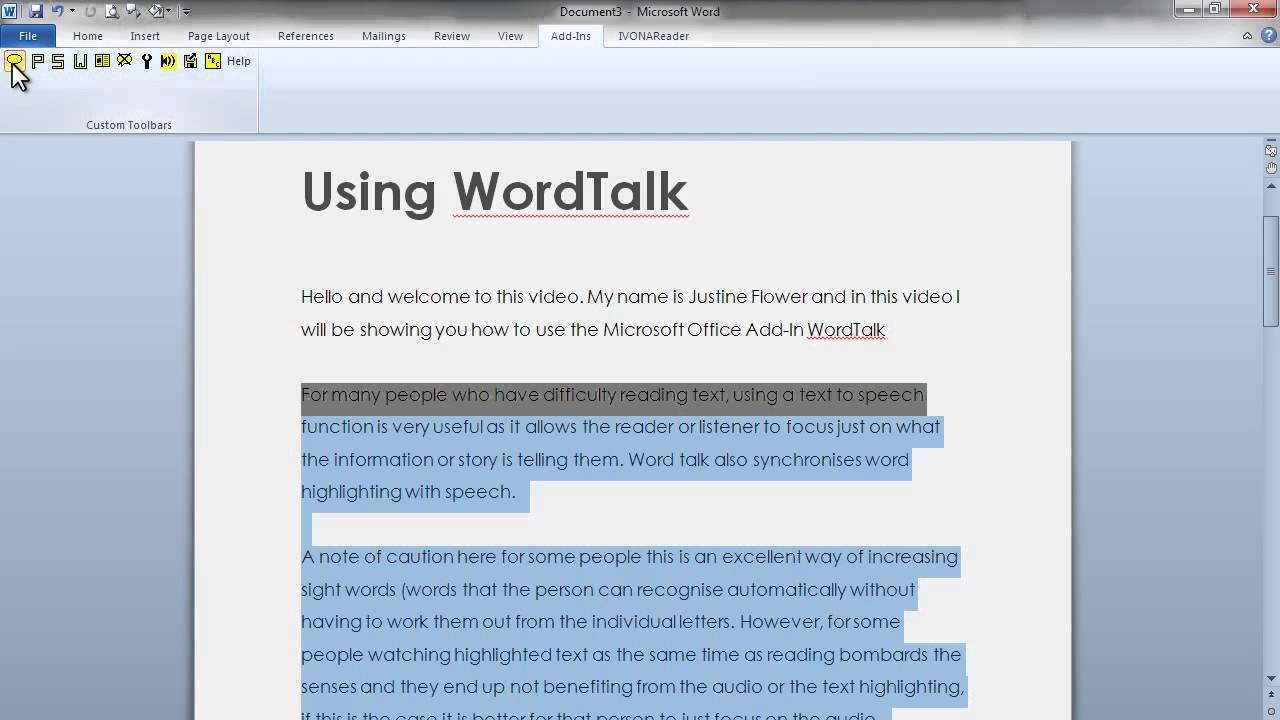 Capti Voice
We are before an application that allows us to read texts changing their appearance, and listen to them with a natural sound and voice that we can customize to our liking. It can be used on any web page to listen to selected texts with an extension for Firefox, Brave / Chrome and Safari, it supports Google Docs, Office 365 and PDF documents and also allows you to save web articles and only keep the important text. We will also be able to write, annotate and underline in the documents and translate to more than 100 languages of which approximately thirty offer the capacities of text to speech. In addition, being focused on students, it allows us to share content, send a playlist, monitor progress, share notes and review student annotations.
Capti Voice has a free version, which has all the text-to-speech functionalities, and that we can download from the website . Additionally, it has a Pro version and an Educational version with which we can unlock additional functionalities.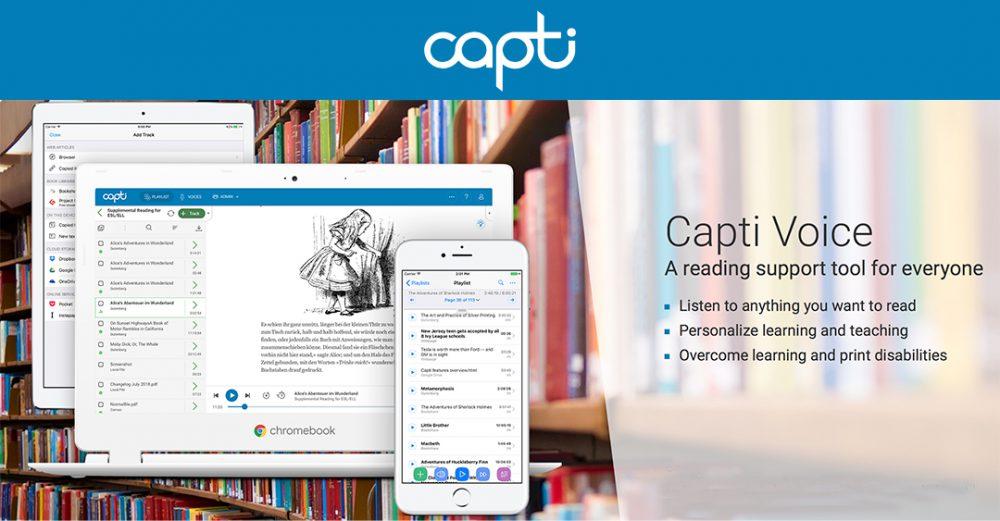 eSpeak
It is a free and open source software that uses "formant" speech synthesis that allows multiple languages ​​to be reproduced in a small space with clear sound. It can be used at high speeds, but it is not as natural or fluid as recording-based synthesizers are to people who are larger. It includes different voices that can be customized to our liking and save voice files in WAV format . It also allows you to convert text to phonemes with pitch and length information, allowing it to be adapted as an interface to other speech synthesis engines.
If you want to try eSpeak you can download it for free from the developer's website, offering compatibility with Linux, RISC OS, Mac OS and Windows computers.

NextUp TextAloud
This application takes care of converting text from documents, web pages and PDF to natural sound. TextAloud is responsible for helping people with dyslexia, reading problems or vision problems, since it allows you to underline the words while reading them . It has extensive integration with Internet Explorer, Outlook, Firefox, Word, Windows Explorer and Chrome browser. In addition, it allows us to save the texts in different audio formats to be able to listen to them anywhere.
TextAloud is a paid application, and in order to use it we will have to buy its license which has a price of 33 euros. If we want to try it before deciding on your purchase, we can download a 20-day free trial version from its official website.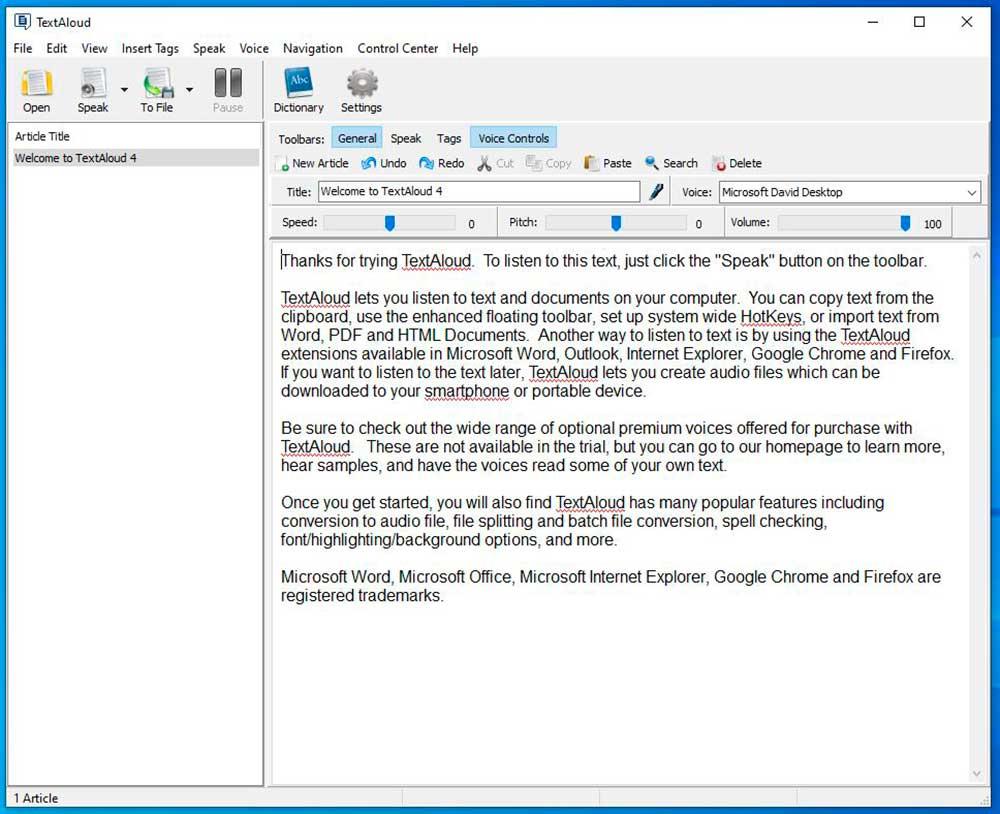 Windows built-in narrator
Windows brings by default a narrator that reads us all the actions we perform and that also reads us everything we write. It is perfect for blind people since it tells absolutely all the actions that are carried out, making it the ideal companion. Although it does not work as perfect as it should when it is reading letter by letter what we write and it lacks a function to save the texts or paragraphs that we want in an audio file.
We can also use Windows' built-in Narrator in case we need it for physical reasons, as it will help us simplify various tasks or, at least, make them more comfortable. To start running the application, all you have to do is type Narrator in the Windows 10 Start bar and select the application.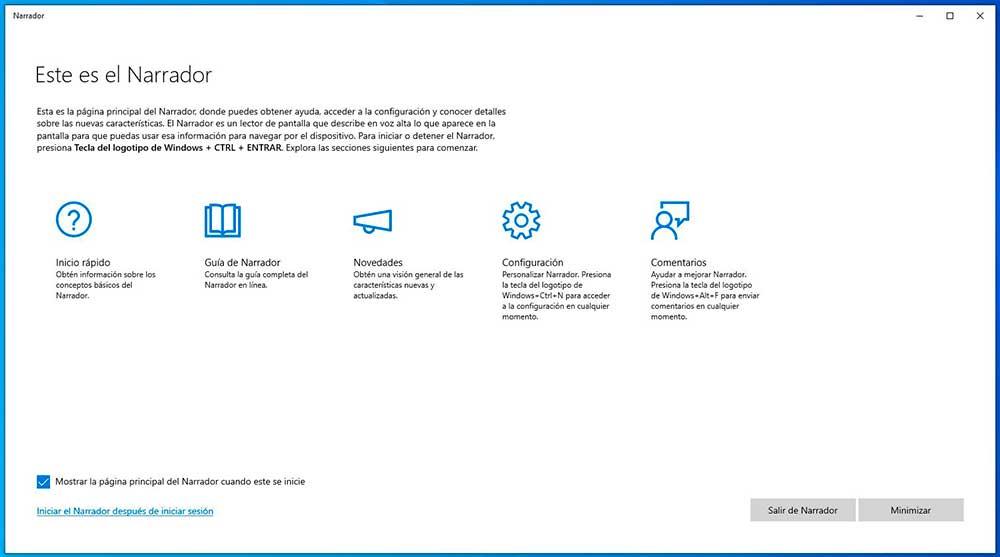 Web pages to convert text to speech
For all those people who want to stop having programs on their computer, there are many web pages available that perform the basic functions of converting text to speech and we are going to analyze the main ones.
NaturalReader Online
This application is the same that we have previously analyzed as a program and is available for free in web format. This web format is the best of all online options for converting text to speech, whether they are written text or documents. It has direct reading of what we write, it has typography for dyslexics and it allows you to upload all types of documents online. It has over 100 natural sounding voices, available in 16 different languages.
To be able to convert text to speech with NaturalReader Online, all you have to do is access its website .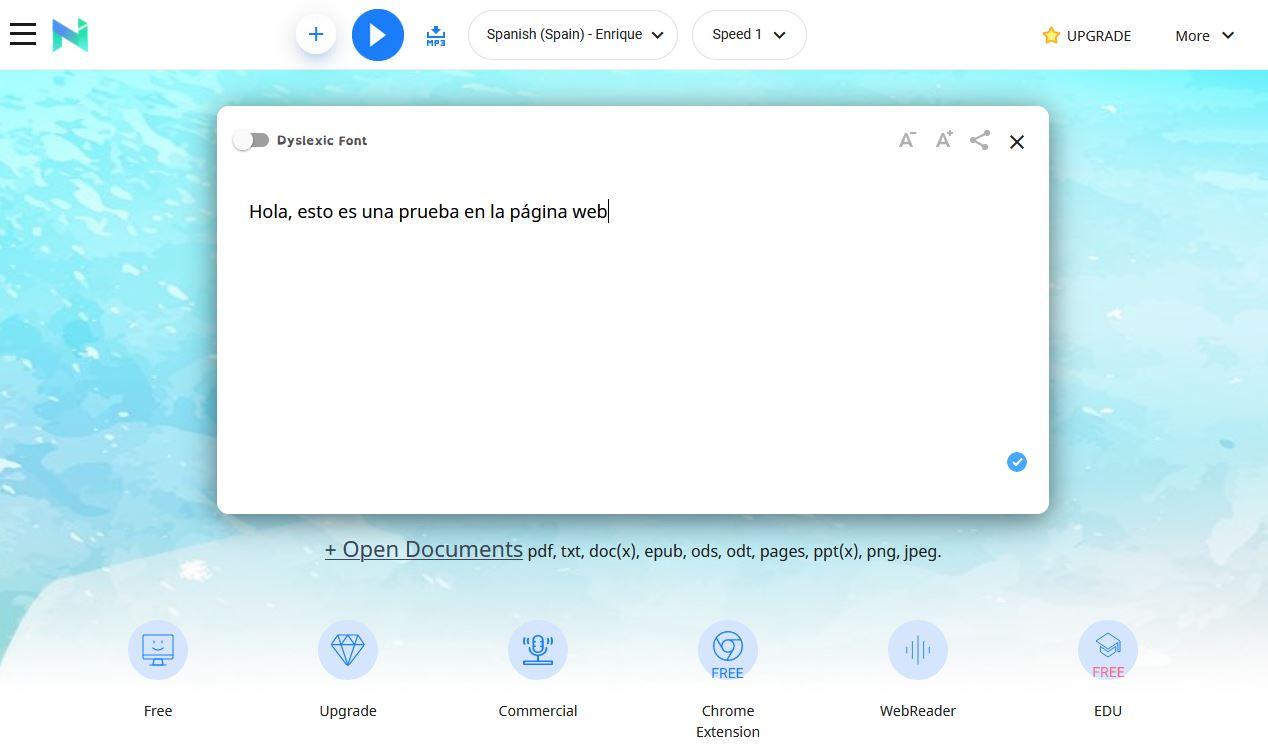 text speech
It is a web page with which we can convert any text to speech in MP3 audio format and it allows us to download it for free. It is compatible with eight languages, including Spanish, and has five voices to choose from (three male and two female) to adapt to each case. We can also choose the reading speed between slow, medium, fast and very fast. In addition, it supports up to 500,000 reading characters.
We can convert text to speech with text speech for free by accessing its official website .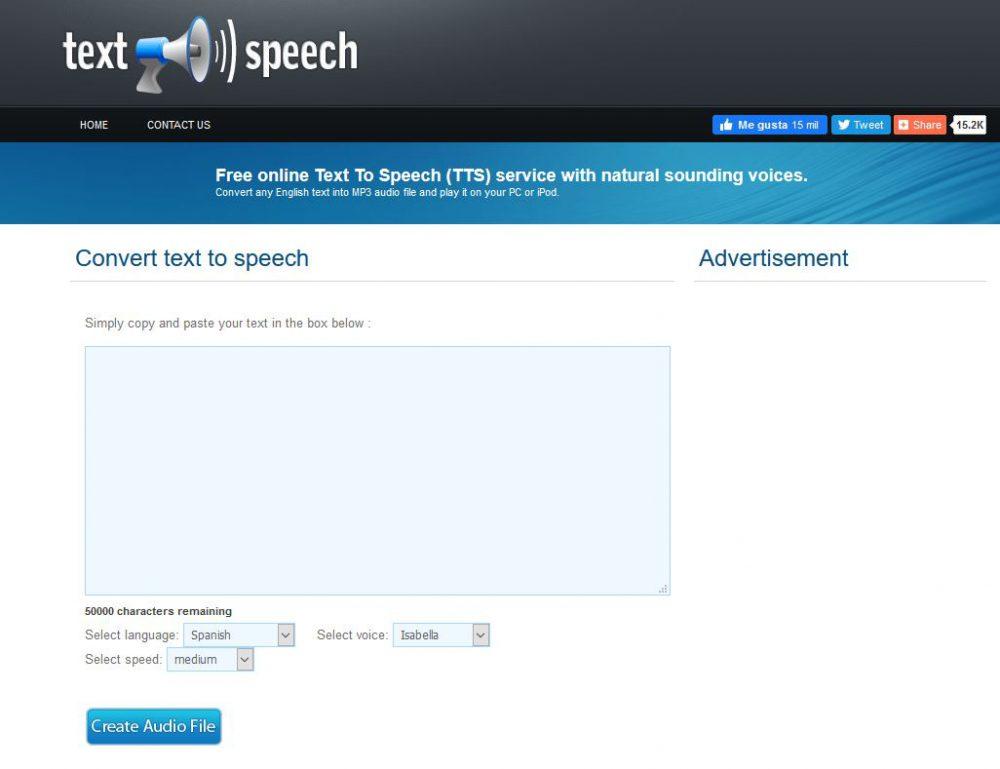 ReadSpeaker
It is a web page oriented to the professional sector that allows us to listen online to the text that we paste or that we write in the personalize your message section of the web. It has compatibility with multiple languages, including Spanish, where we will have female and male voices to choose from. ReadSpeaker is optimized for different sectors or industries (Automotive, Entertainment, health sector, etc). The website includes a speech synthesis and reading aloud for our company.
If we access the ReadSpeaker website we can perform a demo as a test to see how the service works. If we want to access their services, we must contact them.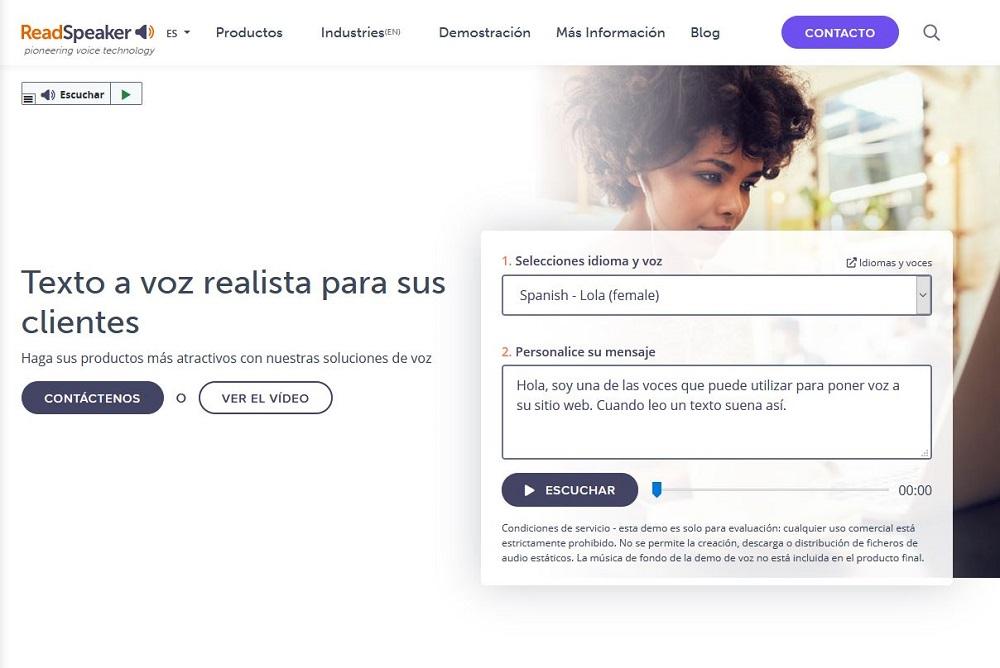 iSpeech
This page allows us to read the texts and convert them to speech in more than 27 languages, including Spanish. It has 3 different reading speeds to adapt the reading to the speed that suits us best. In addition, the registration allows you to download the audio in multiple formats, among which are: WAV, MP3, OGG, WMA, AIFF, ALAW, ULAW, VOX and MP4.
We can access the iSpeech page and perform a free trial of their service. We can also hire your text-to-audio conversion services, from $ 100 for 900 words.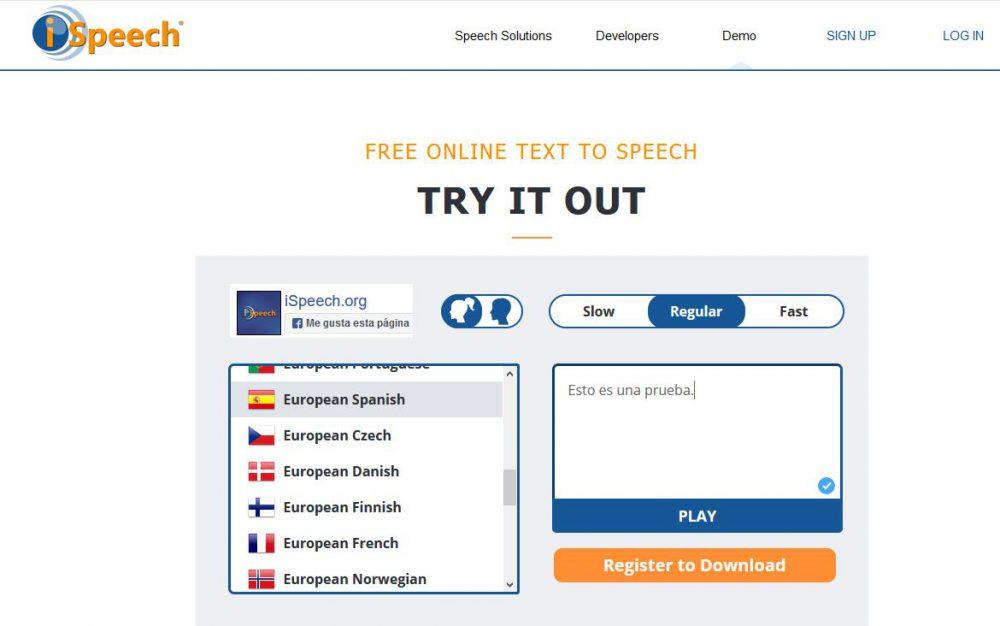 Text To Speech Robot
In this case we find another interesting proposal of this type that will allow us to pass our personal texts, directly to voice. Specifically, it is a web application that we use through our favorite Internet browser . For all this we only have to access it through this link . This will give us an intuitive user interface that in principle we even find in the language of Cervantes.
At this point it is worth noting that Text To Speech Robot has support so that we can use several languages, including Spanish. This selection is found at the top of the main interface, so we only have to click on the corresponding flag. On the other hand, one of the main characteristics that we see in this application is that depending on its use we can opt for the Karaoke mode or the MP3 mode.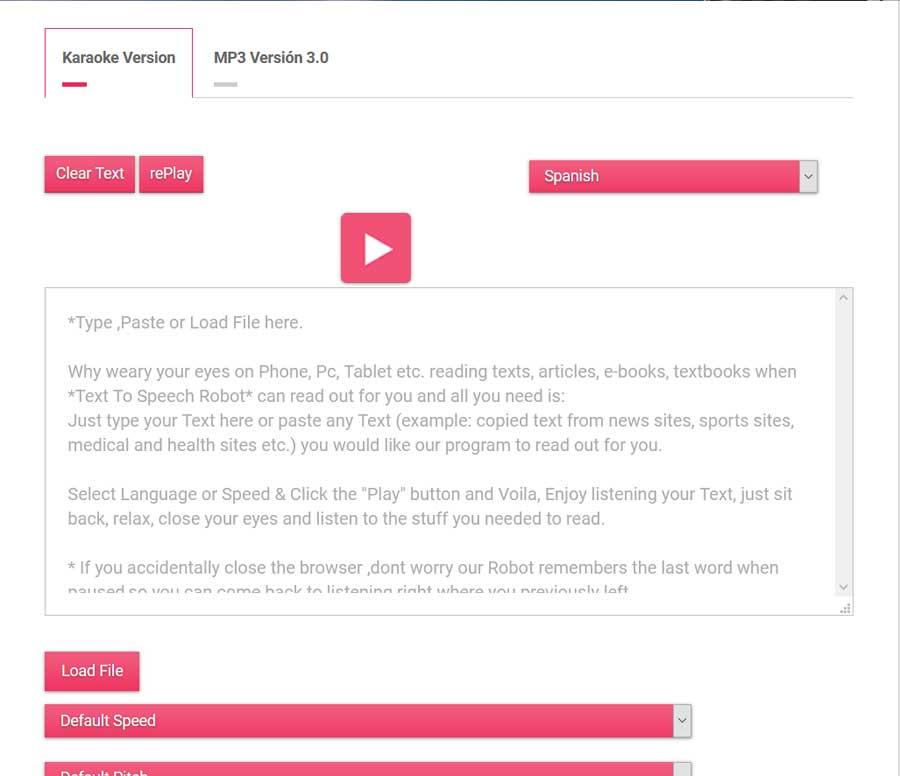 At the same time we have the possibility to choose between different voices, audio playback speed, download the file generated from the text that we have typed, etc. What's more, we can also upload a file directly to make everything faster.
Chrome extensions to convert text to speech
At the same time, if we do not want to install any program on Windows or use web platforms, we can also use some browser extensions. In this case we will focus on the most widely used proposal of this type in the world, such as Google Chrome. These extensions are actually small add-ons that we add to the main program to increase its versatility, as is the case. Therefore here we show you these Chrome extensions that have the purpose of converting our texts, to speech.
Read Aloud: Text to Speech
This is one of these extensions that we mention that will read us out loud everything we find on the web pages we visit. Thus we will not have to bother even to read those contents, since it is the extension itself that will read it to us. In addition, its use is very simple and we only activate it when we want.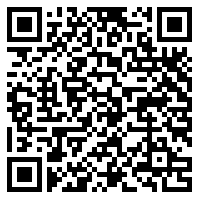 Talker: text-to-speech, many languages
This high-quality text-to-speech (TTS) speech extension that runs directly in our Chome browser, using Native Client technology. In this way we can read aloud any page, directly from within the page. Are you tired of reading? This extension allows us to select the text that we want to read and listen to it, converting the text into speech so that we do not need to read.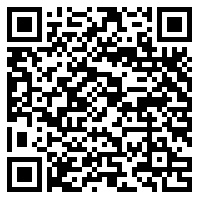 Simple Text to Speech
Another extension for Google Chrome that will allow us to convert text to speech, simply selecting the text we want to hear, right-click and select Read selection. The reading of the requested document will continue, even if we close the tab , unless we right-click and select Stop reading. In the event that we select a large text, it will take a few seconds to load into memory and then start reading.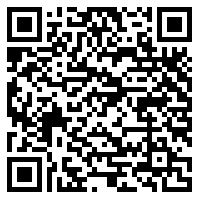 Select and Speak – Text to Speech
This extension is a text-to-speech converter with human characteristics with which you can read selected texts in the browser. It includes voices in different languages, allowing us to configure both the voice and the speed options, modifying the settings from its options page. Using it is very simple because we only have to select the text that we want it to read aloud to us. Then we click on the extension icon to start listening and once we want to stop listening we click on the stop button.