Applications
Convert any cd, image or folder to iso with anytoiso converter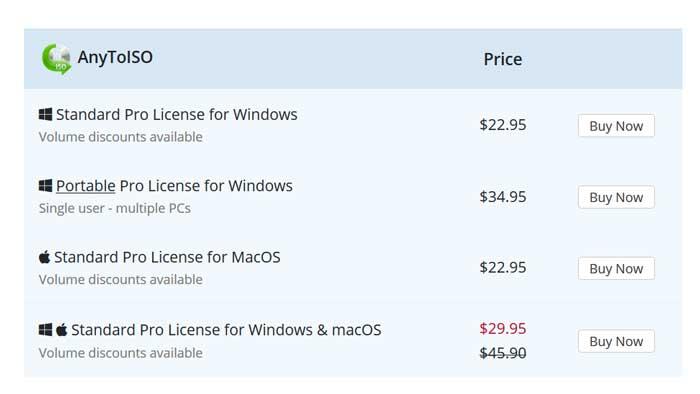 Sometimes we may need to convert CD and DVD images to ISO. Either because we have stored several discs with data that may be of interest to us, decompress it on our computer or to transfer it to other storage methods such as a hard drive, a pendrive or a cloud. We may also be interested in backing up our files to disk. To help us with these tasks, we can use AnyToISO Converter, an application with which we can transfer any CD or DVD image to ISO, as well as extract an ISO, among other functions.
Be that as it may, the truth is that these ISO images that we refer to here, can be extremely useful on many occasions and ways of working. Whether for long-term storage purposes, or to perform specific tasks with disk images, these items are often important. That is why having a program that facilitates them will never hurt. With this, what we want to say is that having an application of this type installed in Windows, such as the aforementioned AnyToISO Converter, can get us out of more than one trouble.
That is why in these same lines we are going to talk about a proposal that will probably be very useful for this type of task in particular. Thus, if we have any disk image, a large folder with many files or a CD, here we will quickly convert them to an ISO.
Advantages offered and how AnyToISO Converter works
Therefore, to say that AnyToISO Converter is a simple and free application with which we can extract and convert any disk image to ISO. In this way we can create an ISO file from conventional CD discs, DVD and Blu-Ray discs, as well as folders and files located on our hard drive. A common use is to group folders full of many files in an ISO to, for example, upload this single file to the Internet. Furthermore, this program is capable of converting images into multiple popular formats such as BIN, MDF, PDI, CDI, NRG, B5I and IMG. All of this can be converted to ISO format in a few steps, since at the same time it is compatible with any type of recorder. In the same way, we can also extract ISO images from any CD, DVD or Blu-Ray to increase its versatility.
AnyToISO Converter Features
Among the many functionalities that this veteran program presents to us, we are going to highlight some of the most important or main ones. Keep in mind that this is a software solution that has been with us for a few years, so it has experience in these tasks.
Extract / Convert to ISO: NRG, MDF, UIF, DMG, ISZ, BIN, DAA, PDI, CDI, IMG, etc.
CD / DVD-ROM images
Extract ISO, DMG, DEB, RPM files …
Create ISO from CD / DVD / Blu-ray discs
Create ISO from files / folders
Support command line
A very simple interface to create ISO files
Another aspect that is worth highlighting at this point is that the program's interface is very simple . It is worth mentioning that it only has three buttons on its main interface: one to extract files / Convert to ISO. Another to go from CD / DVD Disc to ISO, as well as a third to go from folders to ISO files that we have discussed. As we can see, the interface is very friendly and each tab comes with names that are self-explanatory, which makes everything quite easy even for beginners.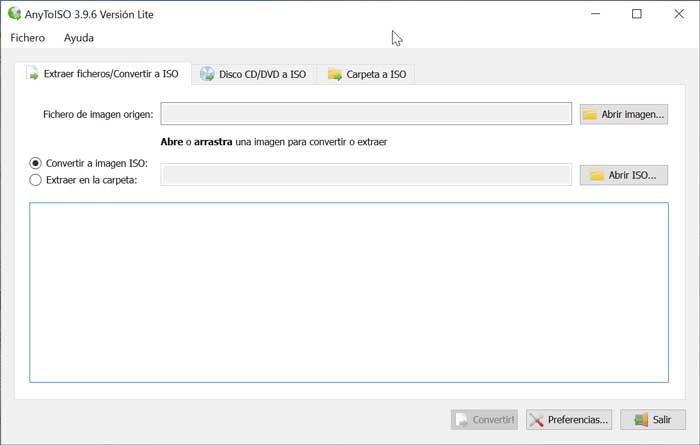 Its use is extremely accessible, since we only have to indicate where the path of the file we want to convert is located or select it from a list. From there, we only have to take a folder from where to make the conversion and that's it. From there, AnyToISO Converter will take care of everything, performing all tasks fairly quickly, without stressing our CPU too much, and using only a moderate amount of resources throughout the entire process.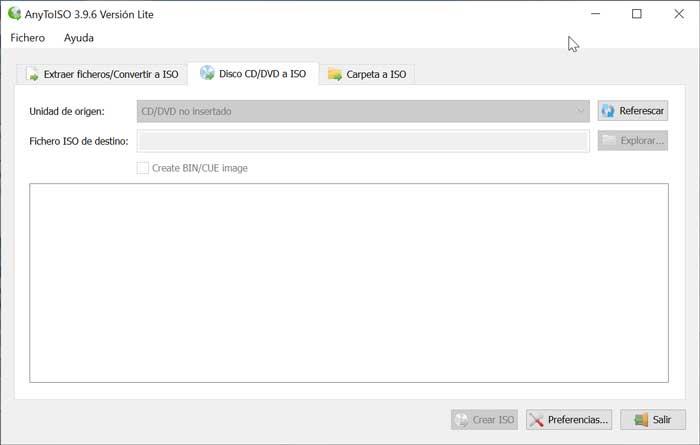 Alternatives to AnyToISO Converter
PowerISO: this is another proposal similar to the one we have told you to create ISO files from various sources. At the same time, it offers us a series of additional functions to make it more useful. Among these we find that we can also edit or convert this type of files in particular. At the same time, it is also worth noting that the program itself offers us an integrated function that will allow us to extract the audio tracks from any CD that we have saved. Well, to be able to test it first hand, you can do it from this link .
UltraISO: in this case we are talking about another software solution specially indicated so that we can work with ISO images. At the same time we will have the opportunity to edit its content in order to extract files or insert others. In order to access the versions offered by its developer, we will do it from here .
ISO Burner: here we find another useful as well as simple tool with which to burn an ISO image in a simple way. We can make use of it completely free of charge and it is worth mentioning that we can download it from this link .
Download AnyToISO Converter
AnyToISO Converter is a free application , although somewhat limited. It is translated into Spanish, it is compatible with both Windows and Mac OS operating systems, and we can download it from this link . It also has two paid versions: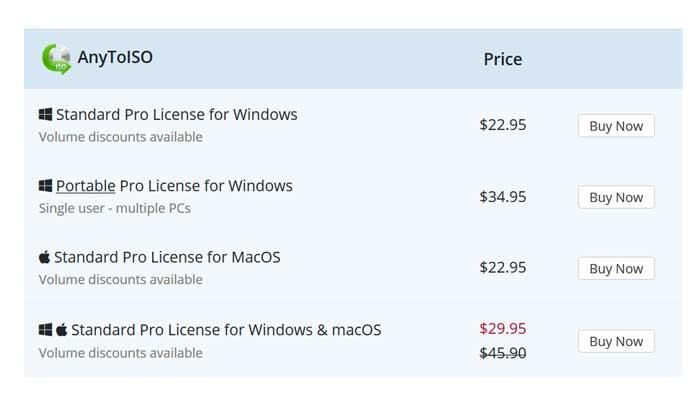 Pro version : which we can buy for $ 22.95, and includes a license for a computer and technical support for life.
Pro Portable Version : It can be purchased for a one-time payment of $ 34.95 and is designed to be used by a single user on multiple PCs. It requires no installation whatsoever, can even be run from a USB flash drive, and includes lifetime technical support.
Both the Pro version and the Pro Portable version have free minor updates, as well as a 50% discount for major updates (2.x -> 3.x).