Applications
Control the use of your internet programs with netlimiter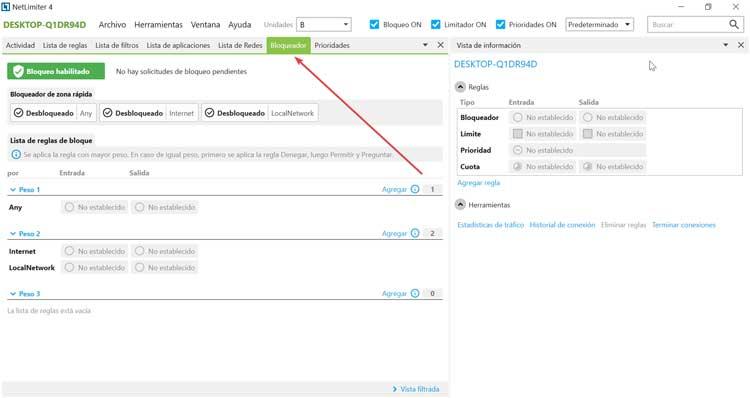 When we connect to the Internet from our computer, the programs we are executing occupy a bandwidth of our speed that in many cases we are unaware of. Circumstances may arise that applications with access to the connection without our knowledge are limiting our bandwidth, thereby slowing down the connection. To take control of it, we can use a tool like NetLimiter which we are going to talk about today.
NetLimiter is a software developed to control and monitor Internet traffic on our computer. Through it, we can establish transfer speed limits for both uploading and downloading, both for applications and to optimize the traffic of our Internet connection. For this, it has a complete set of statistical tools to measure traffic in real time and even by application in the long term.
With this program we will have a complete tool, of which we can highlight the following characteristics:
Total control of traffic : we can establish exact limits on the upload and download speed for any application or give a higher priority to one program over another, so that we can ensure that we always obtain sufficient bandwidth for our needs.
Monitor Internet traffic : allows us to control the amount of data we transfer to or from the Internet through customizable graphics.
Block connection : this program allows us to specify which applications can connect and have access to our Internet network and under what conditions.
Quotas : we can establish data transfer quotas for the applications or filters that we have selected. If we reach the maximum quota, we can enable the limit, the blocking rule or establish other rules.
Control internet traffic
Once we run the application, its main menu appears, the configuration of which can be done quickly since it does not require any special attention on our part. It has a fairly clean interface and has been translated into Spanish, which helps its use and understanding of its functions. It is divided into two main sections, one that shows the running applications and services on the left and a right panel where we can get more details, review the history, view the rules and make the appropriate decisions.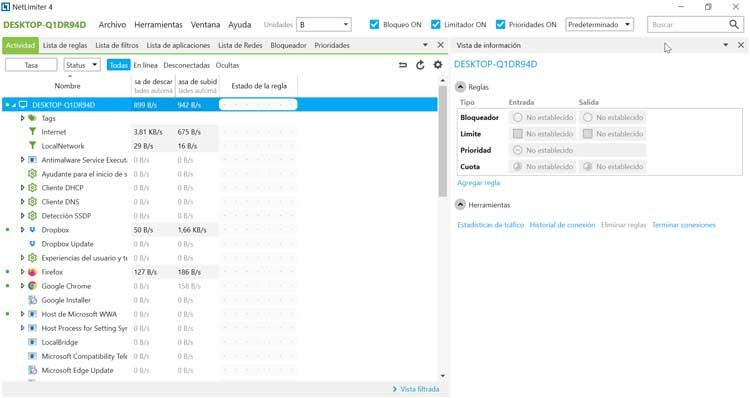 In the section on the left we can see the traffic monitoring that allows us to verify the upload and download speed in real time of any of our applications that are connected to the Internet. If we find that there is a particular connection that uses up all of our bandwidth, we can set a limit or simply remove it.
Create rules for applications
To set rules, simply locate the desired application in the left panel. If we click on it we will see how if we hover the mouse pointer over the column of "Rule status" it shows us 7 icons that correspond to Priority, Upload limit, Download limit, Block input, Block output, In quota and Exit fee. If we click on each of them we can configure it. For example, we click on the upload limit button and we can set a maximum amount.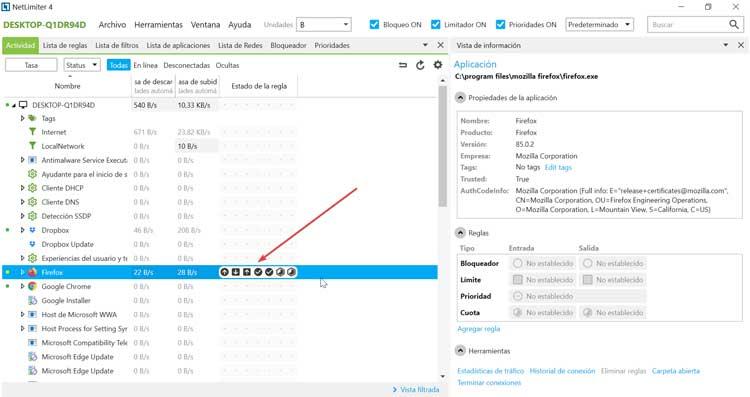 In the right column we can see the properties of the application and just below we have the " Rules" section . Here we find the types like Blocker, Limit, Priority and Quota. If we click on them, the possibility of configuring it appears in the same way as with the buttons on the left.
Just below we have the option to "Add rule" for this element. In it we can configure the area where it will be executed (Local or Internet), the type of rule that we are going to establish (Limit, Blocker, Priority, Quota, Ignore), the address (Entry, Exit or Both), as well as establish a value limit.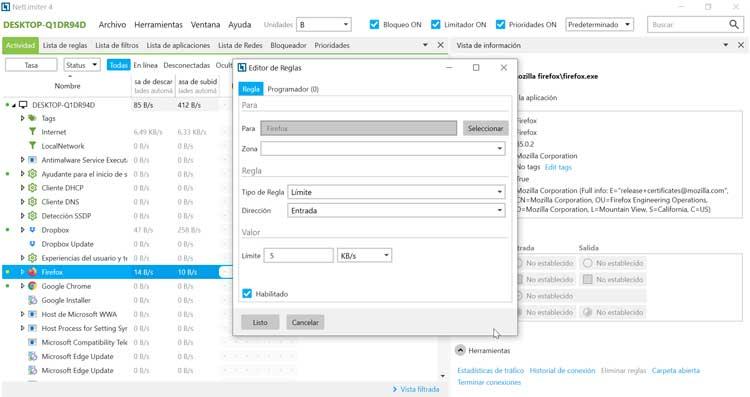 In addition to real-time traffic, this program offers us long-term data collected statistics, which can help us to identify any viruses or unwanted applications that may be feeding on us. This is something that we find in the "Blocker" function that we find in the upper tab in the toolbar. It acts as a firewall, allowing us to manage the applications and what functions can connect to the Internet.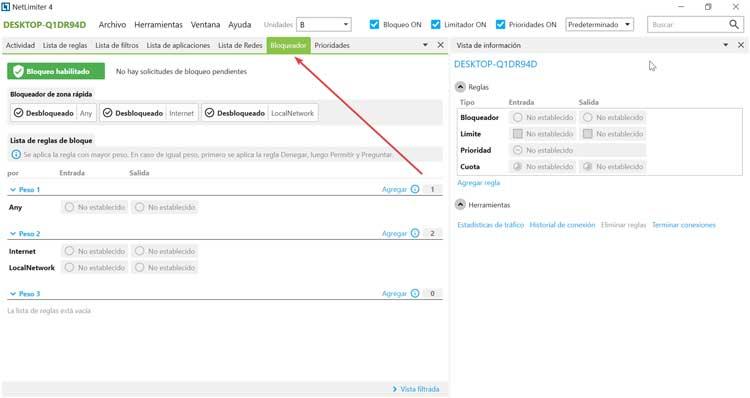 Download NetLimiter
NetLimiter is a program that has a commercial license, so you will have to go through the box to be able to use it permanently. It is possible to test it for 28 days by downloading a free trial version from its website . Once completed, it will be necessary to acquire your license either through your Lite or Pro subscription depending on our needs. Its latest available version is 4.1.6.0 corresponding to February 16, 2021, so it has a great support and update policy from its developers. It is compatible with Windows 7, 8 and 10 in 32-bit and 64-bit versions.
Differences between the Lite version and the Pro version
When purchasing the application, we must choose between the Lite version or the Pro version depending on the one that best suits our needs. These are the characteristics that we will obtain with each one of them.
NetLimiter Lite : it has Internet traffic monitoring, allows you to set traffic priorities for applications, transfer speed limits for applications, graphics to show traffic data, as well as information tools about the Internet connection, the filter application that we select. Its price is $ 19.95 .
NetLimiter Pro : the most complete version of this program has all the features of the Lite version to which some additional functions are added. It has a connection blocker for applications, long-term data statistics and a custom filter editor to filter traffic, IP, etc. It also has a time scheduler for a particular rule (limit, priority), remote control and displays information about connections grouped by IP address and in real time. Its price is $ 29.95 .
When choosing between one or another version we must take into account the use we want to give it. For normal domestic use with the Lite version we must have enough. In case we are going to use it more intensively to exhaustively control our entire Internet connection and how the applications should use it, we must opt ​​for the Pro version, as it does not have that much difference in price.
Alternatives to NetLimiter
If we are looking for a program with which to control and monitor the Internet, we can choose one of these alternatives to NetLimiter:
NetworkUsageView
This simple application is responsible for displaying network usage data every hour including the following information: name and description of the service, the name and SID of the user, the network adapter and the total number of bytes sent and received by each application. We can download it for free from its website.
BitMeter OS
The main mission of this software is to show a detailed breakdown of the use made by Internet applications, being able to configure alerts in the case of reaching data use during a certain period, showing us all the details graphically. BitMeter OS is free and we can download it from this link .