Applications
Configure bitspirit to download torrent filks faster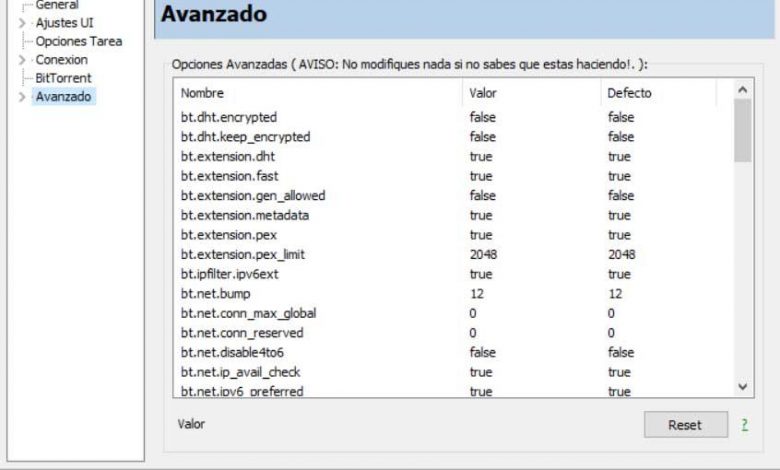 When it comes to downloading content from the Internet, these days we have several ways to do so. We have the conventional downloads that we carry out from the browser, or those that we carry out in P2P networks, among others. The latter are carried out from clients through their corresponding clients, as in the case of BitSpirit .
We must bear in mind that at this time we have the possibility of using many programs that act as P2P clients . These can be downloaded and used if we need it, some more popular than others. At the same time there are those that are updated every so often, or others that have not received updates for years, but that continue to work perfectly, as is the case. Specifically in these same lines we are going to talk about the proposal called BitSpirit. This is a client that despite the time it has been with us, still maintains a very interesting interface and performance.
And it is that when we talk about this type of software solutions, we are actually referring to a series of programs that have been widespread throughout the world for years. Millions of users use them daily to download all kinds of torrent files . That is why below we will talk about how to correctly install and configure the aforementioned solution, BitSpirit. In principle we must bear in mind that this type of input software is already configured. This allows us to use it from the first moment, but many want to go a little further.
Download and install BitSpirit
With this, what we really want to tell you is that if what we want is for the program as such to work in a more effective way, we must make changes. By this we mean that most of them, as is the case, allow us to make some personal adjustments to their configuration to adapt the program to your needs. Thus, as a general rule we find that the software itself offers a good number of parameters, as is the case with BitSpirit.
Of course, before starting with all this that we comment on and that we will show you below, first we must know how to download and install the program as such. To do this, as is easy to imagine, we first have to get hold of its executable, which in this case we can get from this link (https://www.usitility.com/es/bitspirit/). First of all we will tell you that despite the time it has been without receiving updates, the P2P client is fully compatible with Windows 10
In addition, contrary to what happens with many other proposals of this type, we find that we can use BitSpirit in a multitude of languages. This is something that is obvious from the start just by choosing the one that interests us in the application installation process.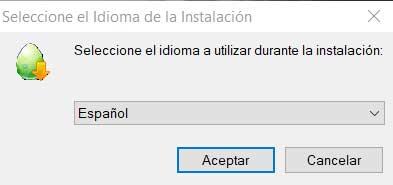 From there, the installation process is the classic in this type of application . With this, what we want to tell you is that the wizard will present us with a new window in which we can customize a series of options that allow us to specify the shortcuts to create. In the same way, and for the program to work in the best way, we have to allow the entries in the firewall, as well as the types of files associated with the program.
Start-up and first steps to take in BitSpirit
Well, once the installation process as such has finished, the program will start working. This is when we can take a look at its main interface on the screen . To begin with, we will tell you that it is the usual one in this type of program. Thus, those who have ever worked with this type of program will know what we are talking about.
This is because they will be used to its interface and, as is usual with torrent clients, it in BitSpirit is divided into several panels.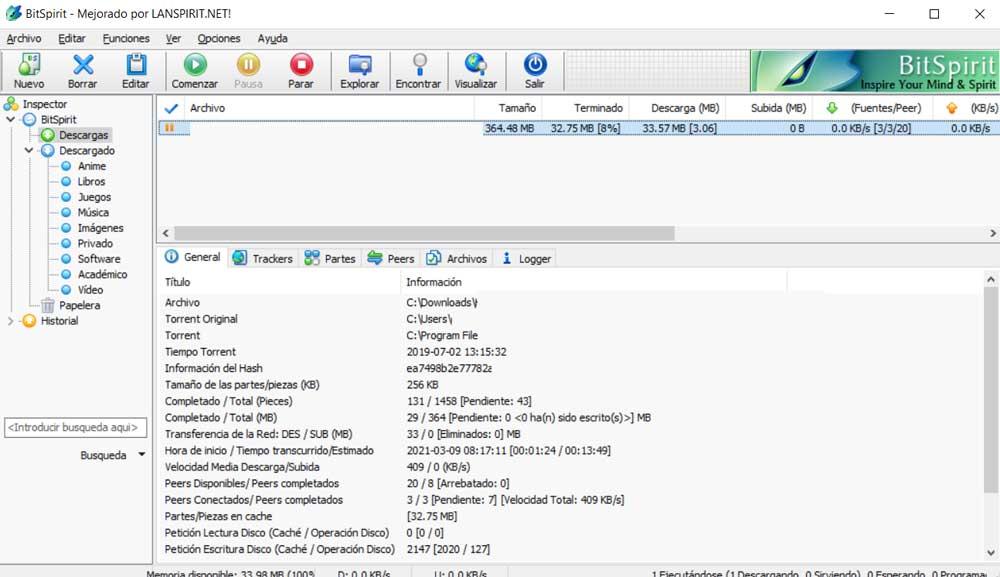 From it we manage the uploading and downloading of files of this type to make it as comfortable and simple as possible. In addition, its main control panel has been designed to facilitate this type of action, so it is not complicated at all. In turn, as we mentioned before, the client has several functions with which to optimize and customize its operation, as we will see later.
Torrent client main interface
In order to download our first torrent, we just have to go to the menu of the main interface. It is worth mentioning at this point that this proposal does not allow the actions of dragging and pasting content in its interface directly. That is, we cannot load the torrent directly from File Explorer. But we do have the possibility of accessing the menu option File / Open torrent file, or File / Open torrent link.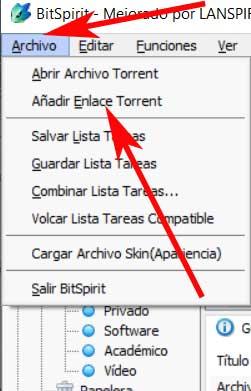 As we mentioned, one of the main tasks of the program's interface is to make things easier for us as much as possible. To do this, the central panel is where the torrent files that we load in the program are located for later download. On the other hand, something we want to be attentive to is its lower panel. And it is that in the lower part of the main interface, we find a huge amount of information about it. This will actually allow us, if we have certain knowledge in this type of work, is to see what parameters we are interested in changing in the program. To a large extent it will depend on the connection we have, or the use we make of the PC during the download process .
We are also interested in taking a look at the side panel of the program, since in it, by default, we find a series of categories. These correspond to the type of content that we are downloading in torrent form. They will be of enormous use to us when it comes to conveniently classifying everything that we are downloading in BitSpirit.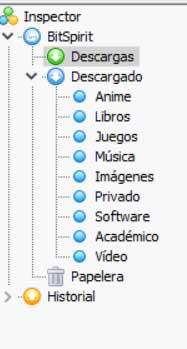 In the event that what we really need is to interact with each of these files that we are downloading and loading, it is very simple. To do it individually, we just have to click on each of them with the right mouse button . As soon as we access it, we find a complete contextual menu. Say that this will give way to a series of actions that only concern that specific entry. The menu will allow us to pause the download, stop it, change its priority, edit the torrent as such, or copy the link to the clipboard.
Configure and customize BitSpirit from its internal options
As we mentioned at the beginning, the BitSpirit input client is already configured to start working from the beginning. With this, what we want to tell you is that the program, once downloaded and installed, will not need any additional configuration to function and download content of all kinds. Thanks to all this, users who do not have experience with these types of clients can work with the program without having to touch anything.
What's more, it is important to know that after loading the torrent file in its interface as we saw before, it will start downloading automatically. On the other hand, if we want to go a step further and customize the operation of the application, we will help you to do so. We could say that BitSpirit presents us with a good number of options for all this. All we have to do is take a look at the parameters that you put at our disposal in this regard. Therefore, to configure the program in depth, what we do is go to the Options / Preferences menu.
general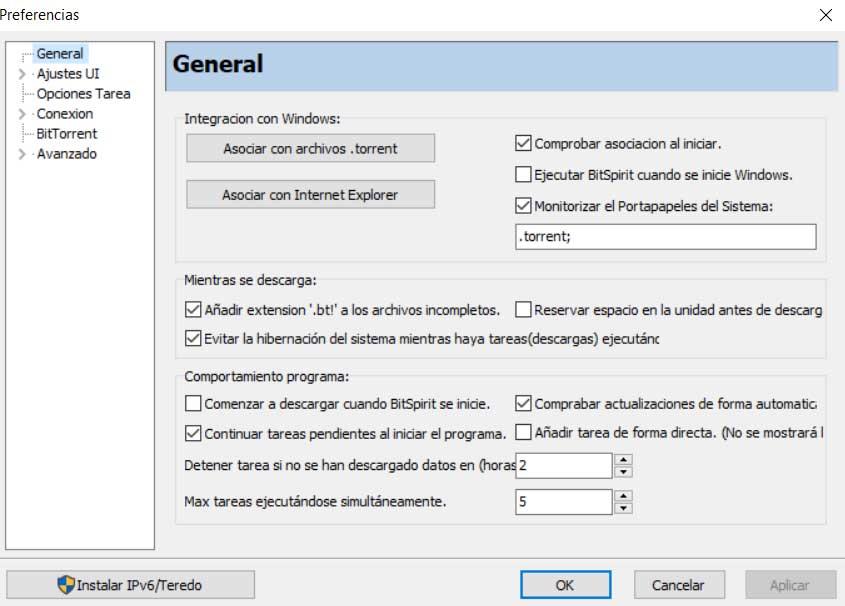 First of all, in the configuration section of the program we find the tab called General. From it we can directly associate the torrent files that we have on the disk drives so that they are executed here. In turn, we can indicate that the client starts with the operating system itself , or prevent the system from hibernating when we are sharing content.
At the same time we can let BitSpirit update automatically if a new version is released at some point.
UI Settings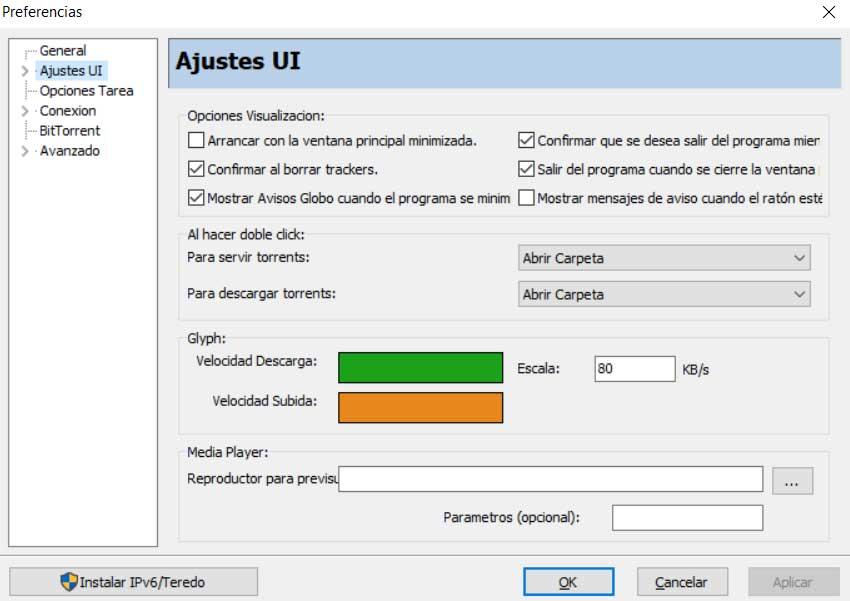 As we mentioned before, the user interface of this type of program plays a very important role. Thanks to it, an attempt is made to facilitate the downloading of all kinds of content via torrent as much as possible . That is why the client we are talking about in these same lines, allows us to customize it. This is something that we achieve from the tab called UI Settings. From here we can modify the colors that do not indicate both the rising and falling values, or modify the scale that we will see on the screen.
We can also specify the multimedia player that we want to use here for the preview of video content. Likewise, the program allows us to customize the actions to be carried out when we double-click on the entries loaded in the application.
Task options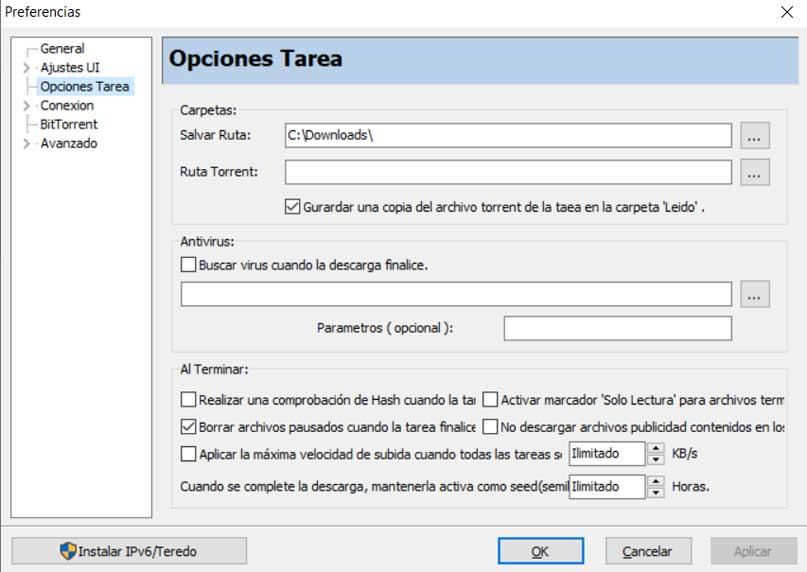 On the other hand, we find this other configuration tab that will also help us when customizing the program. And it is that for example it is here where we have to indicate the folders of the hard disk that are used by default to save the downloads. We can also configure a function that searches for possible malicious codes or viruses in the files that have just been downloaded, which is a good protection method.
Another extremely important aspect that we find in this same window, at the bottom, is what to do with the downloads already completed.
Connection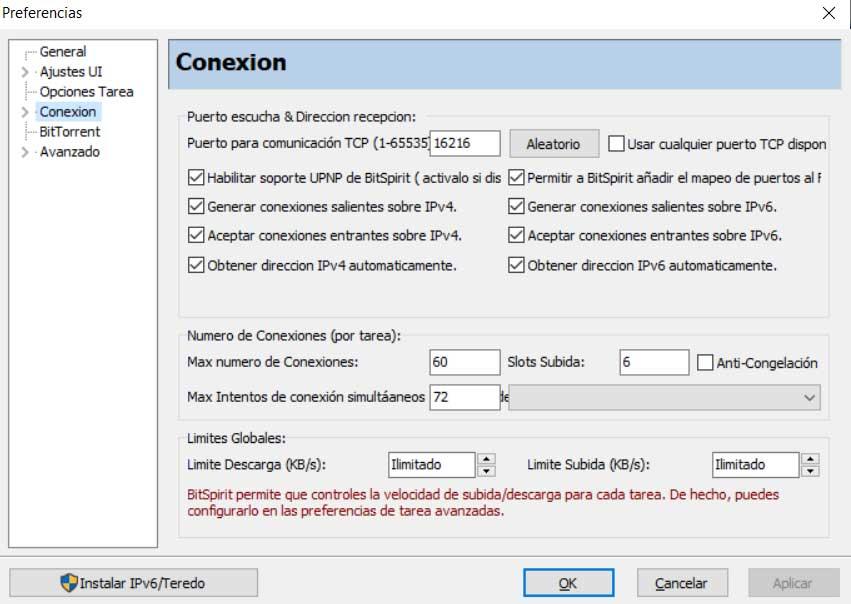 This is one of the most important sections that we must take into account when configuring this torrent client. We say this because the parameters specified here will have a direct relationship with the operation of the rest of the computer's applications while we download torrents . The reason for all this is that in the Connection tab, on the one hand we indicate to BitSpirit the maximum number of connections we want to use here.
In the same way, we tell the program the port of the router that we want to use for this type of specific task or the type of connections that we want to use. Thus we can accept, use, or generate both incoming and outgoing IPv4 or IPv6 connections, depending on the needs of each one. It is also important to know that from this same section, we indicate the maximum bandwidth that we are going to allow BitSpirit to use, both upstream and downstream.
Advanced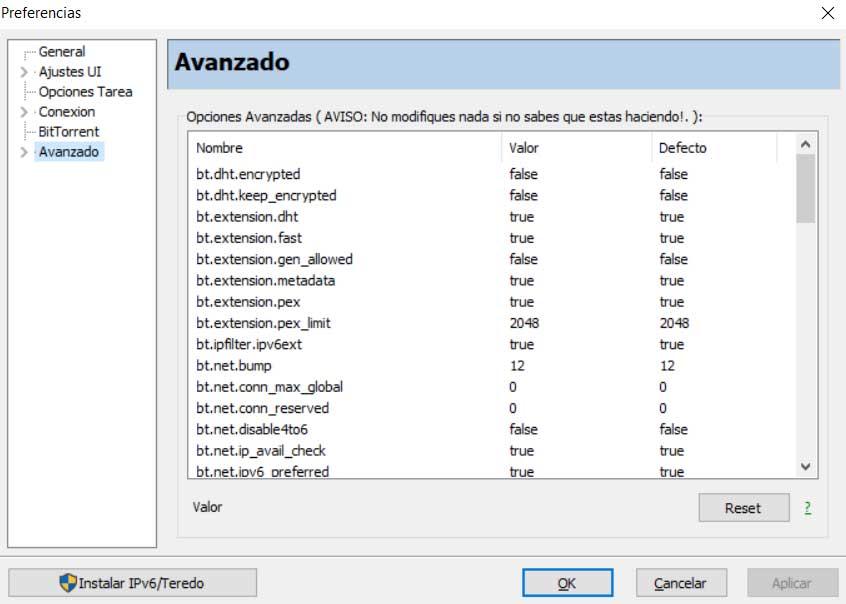 To finish we will talk about the tab called Advanced, which as we will see is something different from those previously reviewed. We tell you this because the only thing we find in it are a series of options in the form of a list to which we can assign the value of True or False. It is worth mentioning that as their name suggests, these are available to those users who really know what they are doing.
What we want to tell you is that changes to these parameters directly affect the internal functioning of BitSpirit. Therefore, if we modify something that we should not touch, this can negatively affect the general operation of the application as such. Therefore, this is a section aimed especially at users who are more expert in this type of torrent client.