Applications
Configure bitcomet to optimize torrent downloads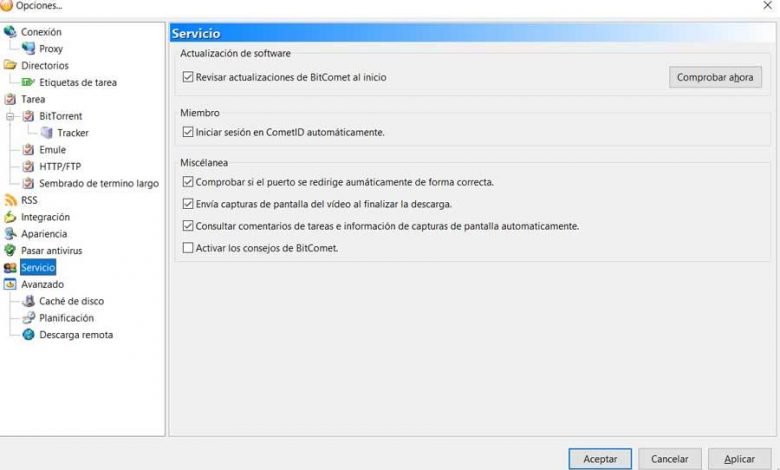 Over time, the number of users who regularly use software solutions focused on P2P, are increasing. And it is that these specific programs can be used for a multitude of uses, both domestically and more business. This is the case, for example, of BitComet, an alternative that we will talk about in depth in these same lines. We will also teach you how to download, install and configure it in the best way and in a few minutes.
It is true that many users directly relate this program and others like it directly to the world of piracy of copyrighted content. But that's not all we can do with them. In fact, these particular application formats are used for a multitude of other things. Many companies use them to share large files both publicly and privately, for example.
And we must bear in mind that if we focus on the P2P network sector, for many years we have the possibility of using multiple clients. These have not stopped improving based on updates and new versions that are made available to us. Thus, as we mentioned, these have grown in popularity for most. That is why we can highlight such popular and long-used programs such as BitComet, which we are going to talk about.
To say that this type of torrent files have been with us for many years, so there are many developers who have entered the sector. In addition, as we mentioned, everything related to torrent clients and P2P networks is surrounded by a lot of controversy. But at the same time you have to know that not all its use is related to piracy, but quite the opposite.
How to download BitComet to PC
As is customary in most of the programs we use on the PC, the first thing to do is download its executable file. At this point we will tell you that it is best to do this from the developer's official website. And it is that on many occasions you can find the same application on third-party websites, but it is preferable to do it from the official one. In this way what we do is make sure that we get the latest version of it and without surprises such as some type of malware. Therefore, all we have to do is access this link and click on the Download button of this link .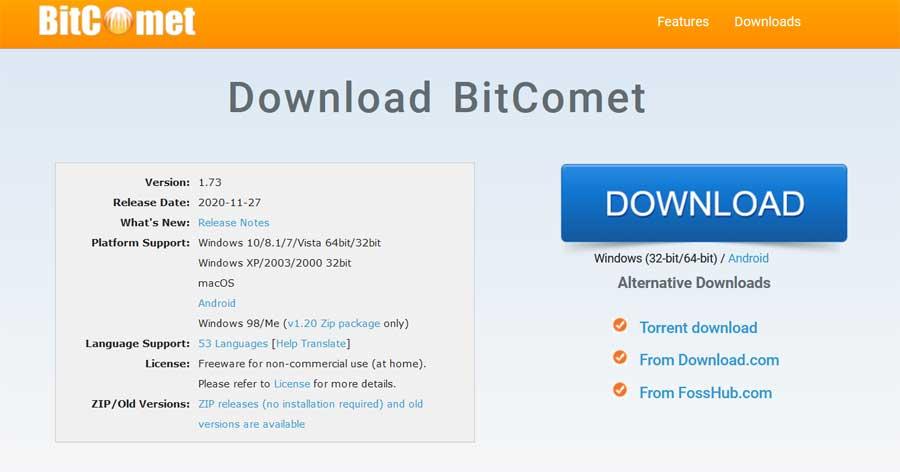 Then from that moment on we already have the executable file of the program as such on the PC. Then we will only have to double click on it so that it is installed on the computer. Of course, as a warning we will tell you that we must be attentive to the installation process of the program itself. The reason for this is that the wizard proposes the installation, in parallel, of another application that may not interest us. This is something we can accept or reject, it is the Avast antivirus, so we must pay attention to the windows that appear.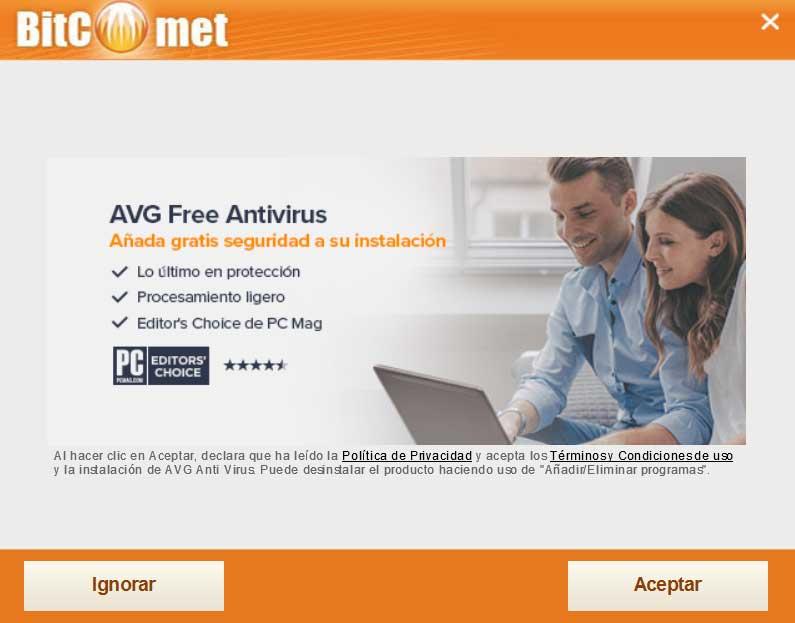 First steps with the BitComet P2P client
In this way, once the installation of the application is finished, as is usual in this type of program, we find an intuitive user interface . At first, it offers us everything we need to manage the upload and download of torrent files, which is its main task. In fact, it could be said that this interface has been designed to facilitate this type of action with the program. In turn, the application offers us a series of functions with which to optimize and customize its operation, as we will see in these same lines.
It could even be said that the developers of this type of program, such as BitComet, try to facilitate its use through its simple but effective interface. Serve as an example that to start downloading one of these files, just drag it to its central panel from Windows Explorer . With this, what we achieve is that the download begins as such, all automatically and without doing anything else.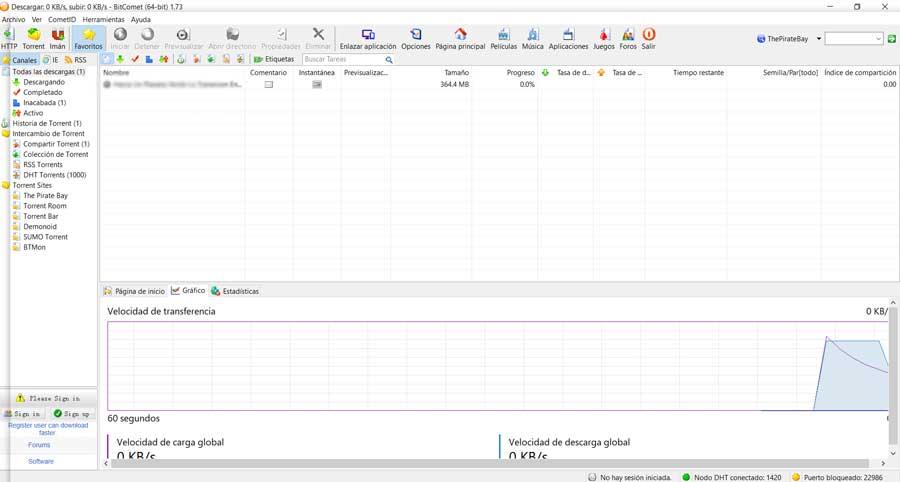 BitComet interface
To give us an idea of ​​what we are saying, it is worth mentioning that in the central panel of the BitComet interface the torrent files that we load are located. At the same time at the bottom we find information about it divided into several tabs. Perhaps the most interesting thing here is in the Statistics section. In it we will find very useful information about the download that we have selected at that moment.

On the other hand, it is also worth knowing that if what we want is to interact with each of these files, it is also very simple. To do this, it is enough that we click on it with the right mouse button to access the contextual menu of the program. It will present us with a series of options that only concern that specific entry that is being downloaded. To give us an idea, from here we will have the possibility to pause the download, change its name, open the destination folder, delete it, etc.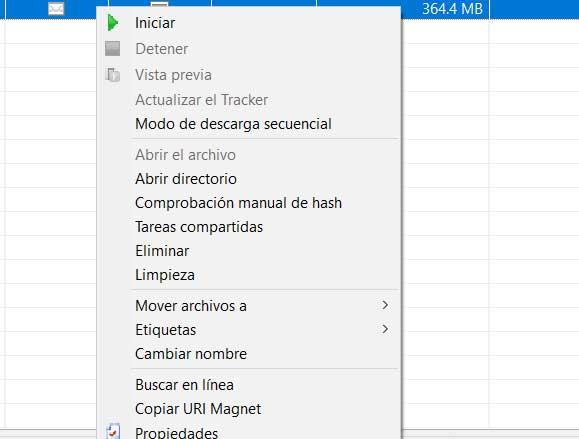 As we can see, its operation is very simple, even for those who have never worked with applications of this type. But of course, in addition to novice P2P users, there are others who want to have much more control over the downloads that are made from here. For this, the program itself presents us with a series of parameters that we can use to customize its operation, as we will see.
Configure BitComet from its options window
We already know that BitComet is a program that in principle will not need any additional configuration to work. Thus, those less experienced in these matters can work with the program and download torrents directly. Although that is not always the case, since many users want to go one step further and customize the operation of the application to the maximum. Thus, to say that this is a proposal that offers us a good number of options for it.
At first what we should do is take a look at the menu options that we find at the top of the interface. Therefore, in order to configure the program, what we do is go to the Tools / Options menu.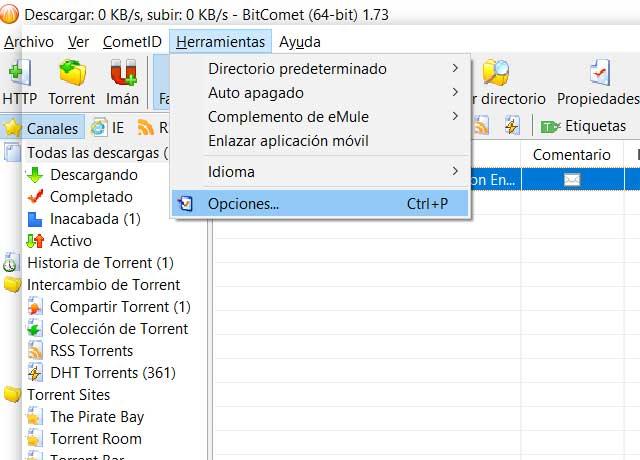 This movement gives way to a new window that is divided into two parts. In the panel on the left we find all the categories into which the BitComet configuration is divided. In this way, as we access each one, the options available for each one appear in the right part of the window .
Connection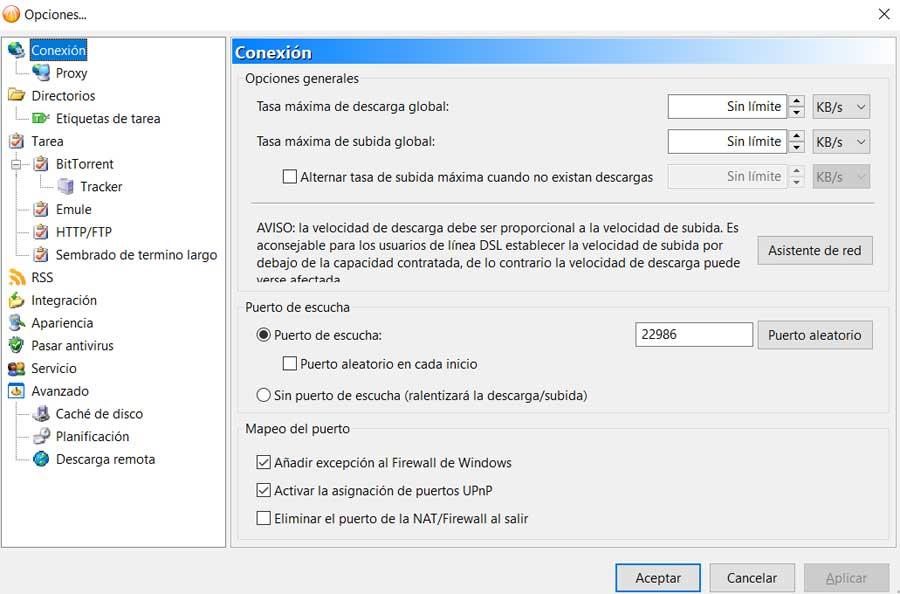 As its name allows us to glimpse, in the first of the sections that we find here we are going to customize parameters related to connectivity. It is extremely important since, for example, from here we will have the opportunity to establish limits of use. We are referring specifically to the upload and download bandwidth that BitComet will be able to use.
In the same way, this window will allow us to specify the port that we will use, the one that comes by default, a random one, or a custom one, it depends on the router of each one. We can also assign UPnP ports, something we recommend, or add the program as an exception to the firewall, also very necessary.
Proxy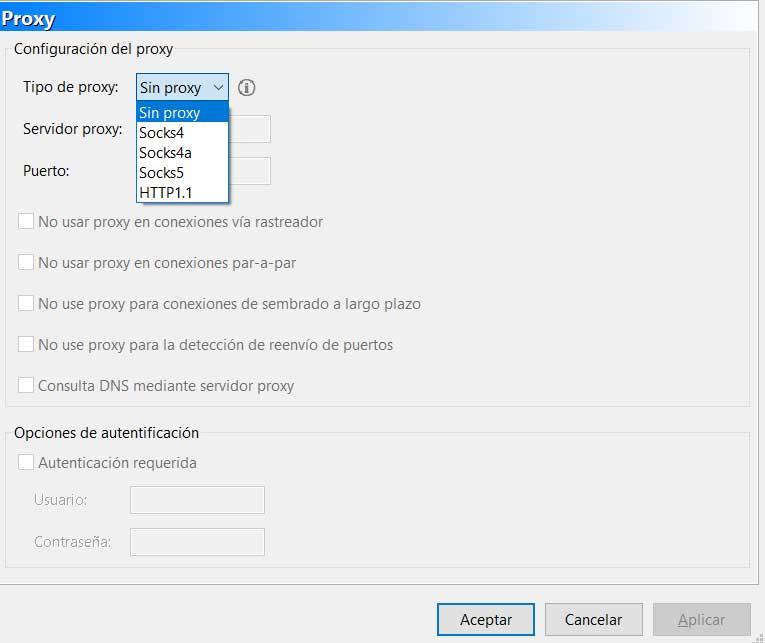 As you can imagine, in this section we have the possibility of configuring a proxy connection for the use of this P2P client. It is worth mentioning that this is an option that the most advanced users in these struggles can use to customize the BitComet connection.
Directories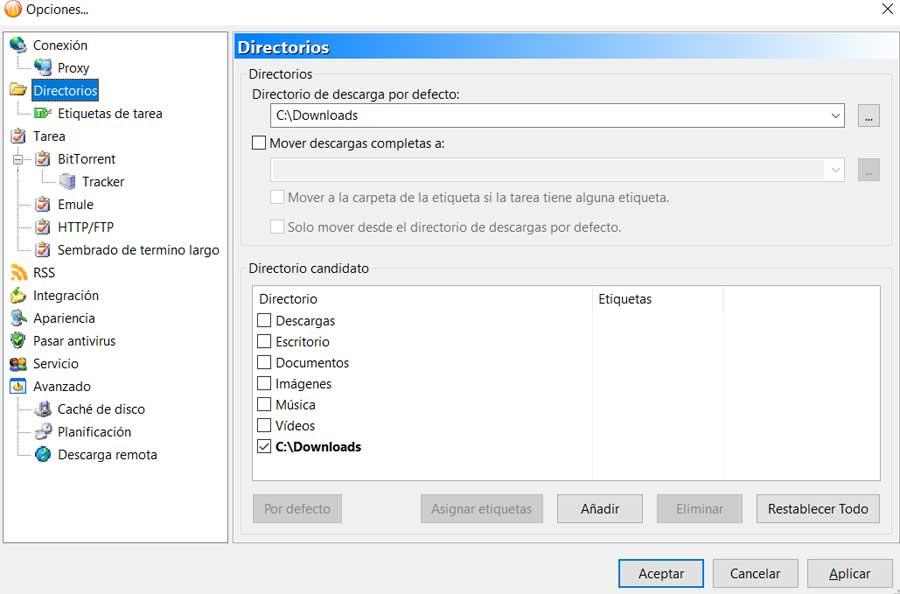 Another interesting section in this sense is found precisely in Directories. We tell you this because from here is where we have the possibility to specify the folder that we are going to use by default to save the downloaded torrent . In the event that we are going to use many of these, this option will help us to have them much better organized. This is something that we will surely appreciate in the future.
Similarly, we can specify a specific folder for those downloads that have been completed and tagged before. And speaking of labels, in Task Labels, it is where some of these predefined ones come that we can delete or edit . In turn, how could it be otherwise, we can also add new ones of our own. Among these we find the usual image, video, applications, etc.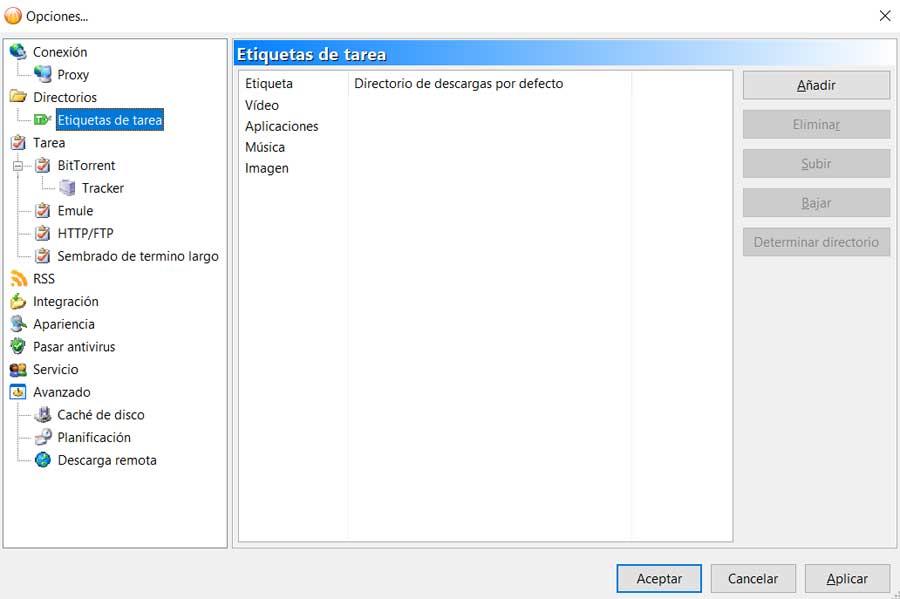 Bittorrent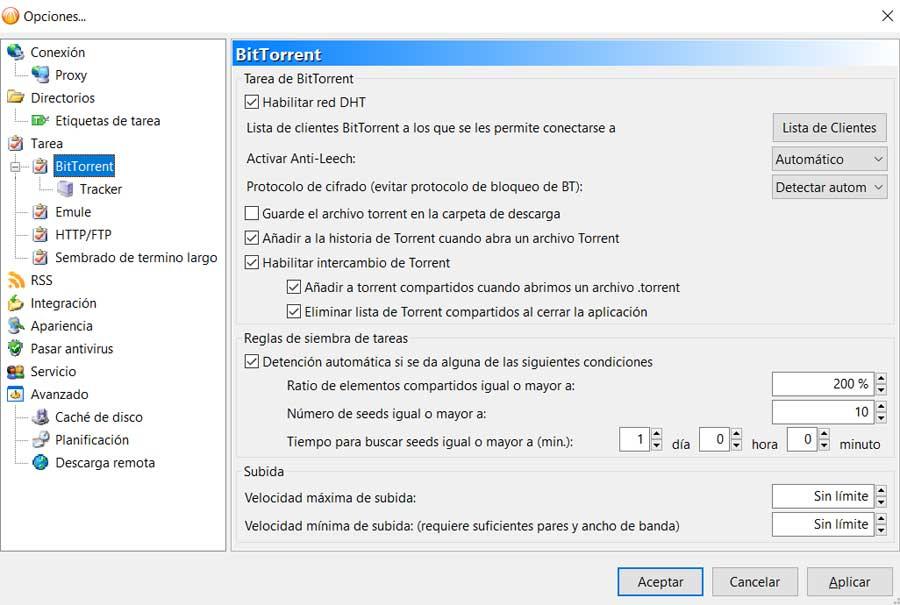 Here we find one of the most important sections for configuring the P2P client, especially if you plan to share your own content. If you are not advanced users, we recommend that you leave the default parameters. This is because the application developers send it to us configured in the most optimal standard way.
However, from here we will have the possibility to specify the number of simultaneous seeds, the ratio of shared elements, or activate the DHT network. We can also specify the maximum and minimum speeds for uploading content .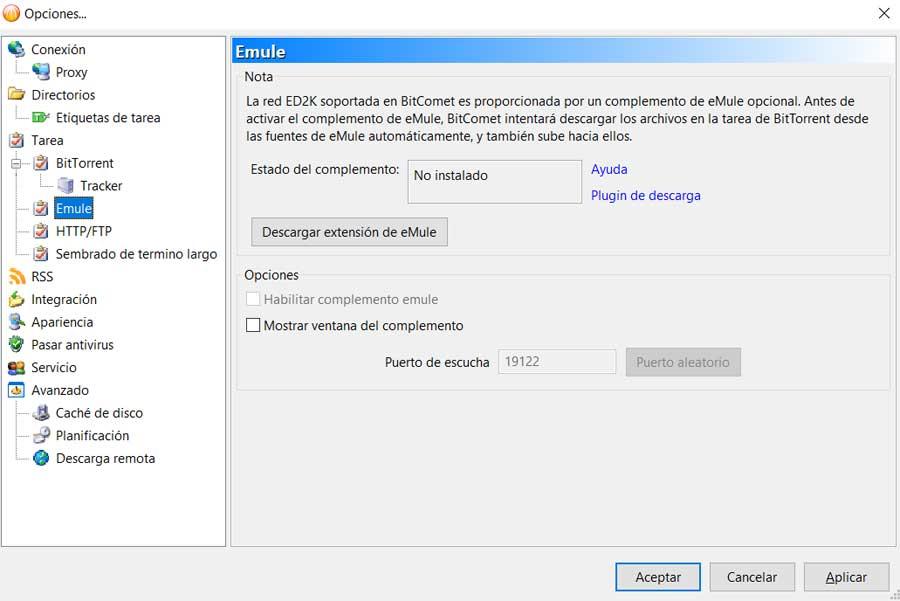 We also find a section to be able to use the Emule ED2K network through a special add-on.
Integration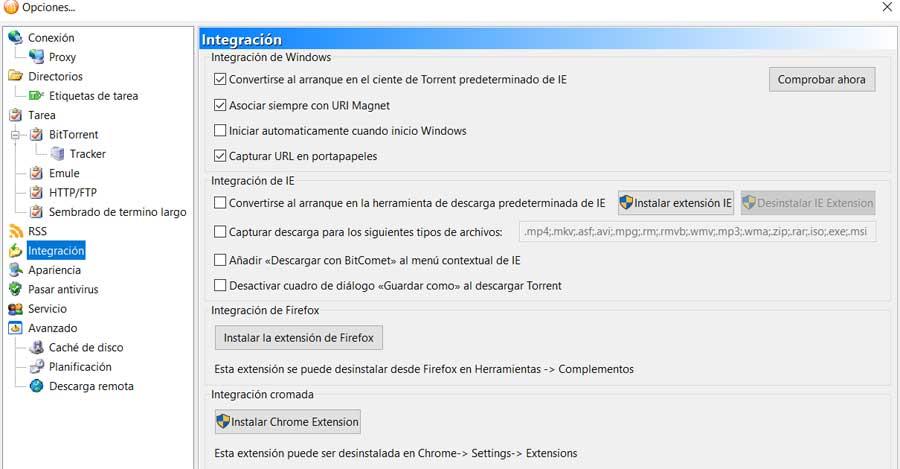 Changing third, the integration of the operating system with the program we are talking about here is also very important. Thus, from this section we can make BitComet start together with Windows or associate the torrent and magnet directly with this application. In the same way, we can get a Firefox or Chrome extension to greatly facilitate downloads from here.
Appearance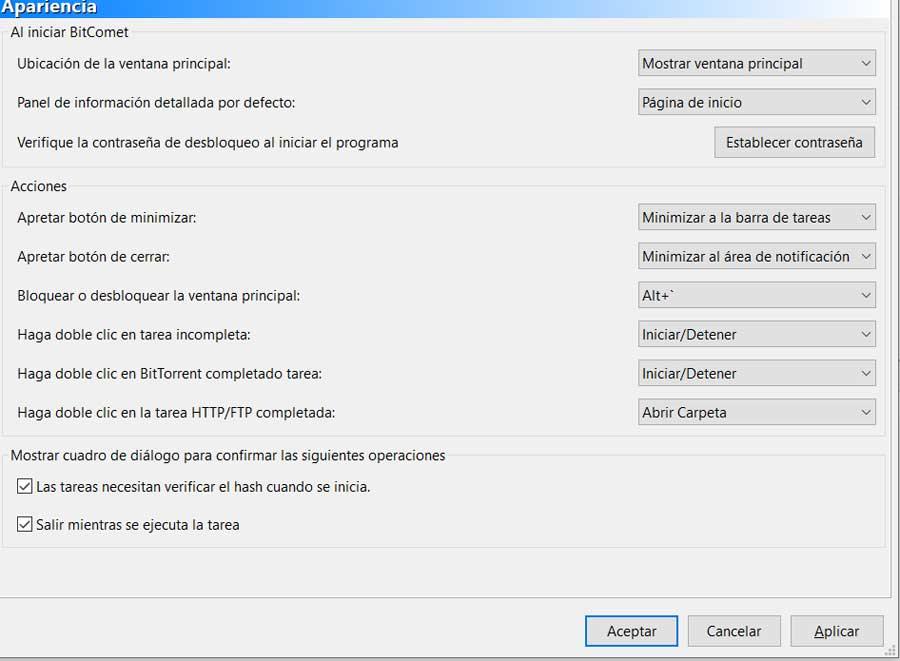 Another factor that we must take into consideration when configuring the program we are talking about is customizing its interface. In this way, what we do is adapt the program to our needs and be able to work with it in a more effective and productive way. This is something that we achieve from the Appearance section.
Therefore, from this section, we will have the possibility to locate the main window of the program, establish an access password or the information to view. On the other hand, we can also establish a series of program behaviors by minimizing it, closing it, ending downloads, etc. The use of a password here is recommended in the event that there are several users who use the same computer.
Pass antivirus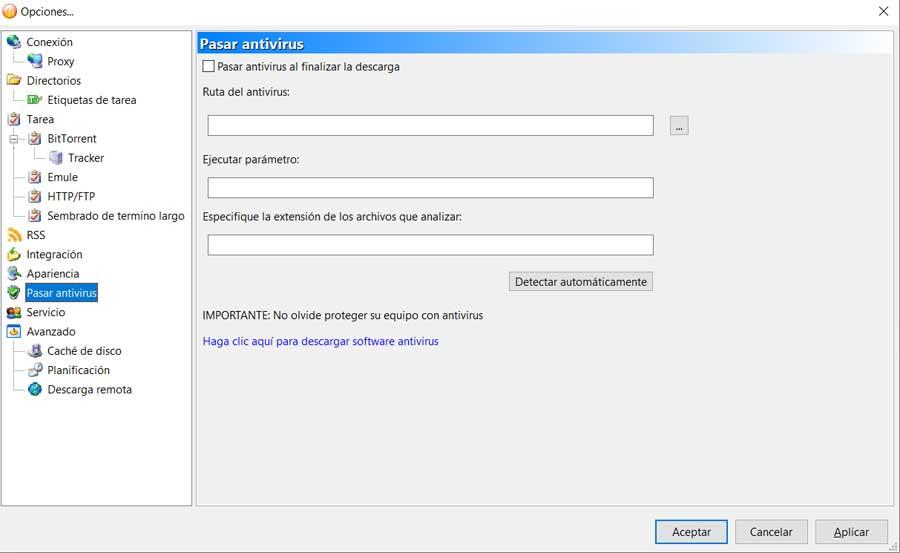 As is usual in most cases, security here is also a fundamental section. That is why BitComet allows us to add an antivirus that we have already installed in the system in order to protect ourselves from malicious downloads that we may receive in this way. At this point, we must bear in mind that it is not that the program as such already has an antivirus, but that we have to integrate the system one.
For this, we only have to indicate the disk path in which it is located so that both software solutions can interact.
Service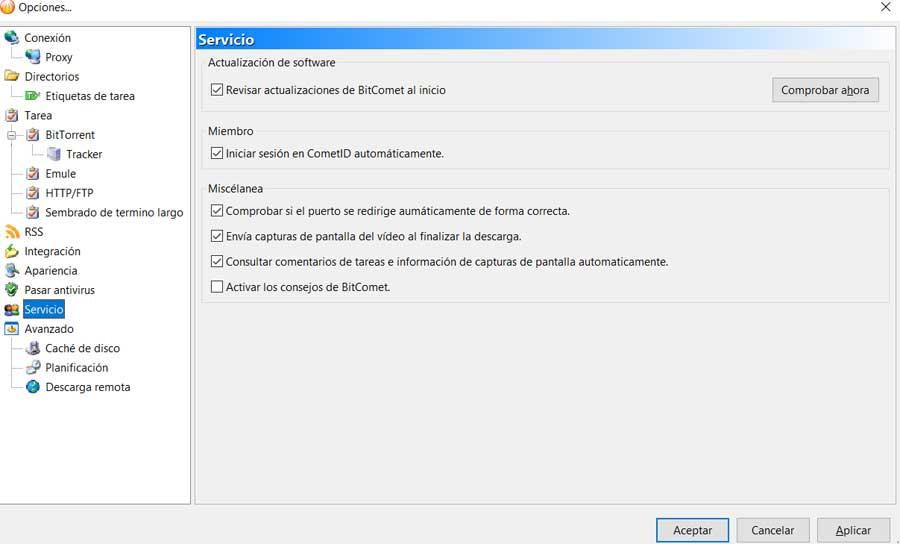 And continuing with everything related to security, this is a section that we must also consult. The reason for this is that keeping BitComet updated at all times will also help us most of the time. This is something that we can precisely customize from here. Thus, we will have the possibility to tell the program to update itself whenever possible.
At the same time in this same window we find other additional functions. For example, we will have the possibility to send captures with the downloads completed or perform a port check.
Therefore, as we have seen, this program offers us a good number of functions and parameters that we can adjust. Of course, it is possible that for many, the default configuration is more than enough. We say this because making some modifications without knowing very well what we are doing, can be detrimental to the general functioning of BitComet, rather than to improve it.