Applications
Compress your pdf without losing quality with thess programs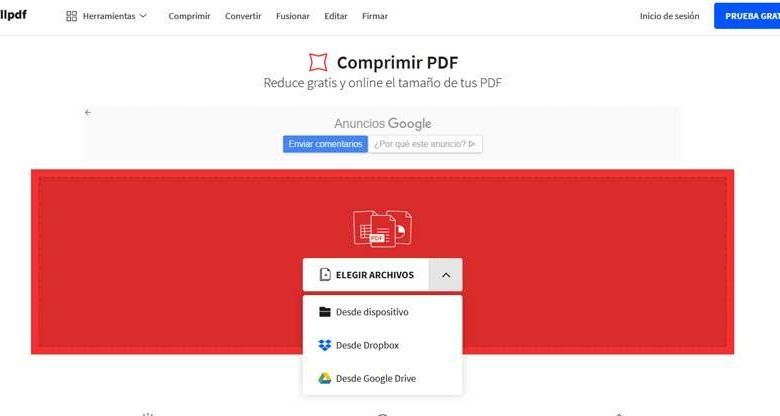 PDF files can be quite large if their content is large enough, and especially if it includes images. For this reason, many users look for a way to compress PDF, since they may have problems due to the size to send their files through services such as Gmail.
Many services limit the storage or the size of the sending of our files and this is why many users look for a way to reduce this weight without losing the highest possible quality, in the case that they contain images.
And this can be easily achieved with the programs shown below.
Programs to compress PDF in Windows
This list does not keep any order, all those mentioned below contain characteristics that differ from the others, and it is the user who decides which one to use.
Jsoft PDF Reducer
This tool is easy to use and also complete, since it not only allows us to compress and reduce the size of our PDF files, but it also allows us to combine several files into one.
Although it allows us to join them, in the case of wanting to separate a PDF document in two, it also gives us that function, or to delete pages and select the one we like or want to have. And although these functions are not available in any viewer or editor of PDF files, it includes more options such as adding watermarks, rotating the pages or even rearranging them among many other options.
This program is available in two languages ​​(English and French). We can download it at the link shown below the image.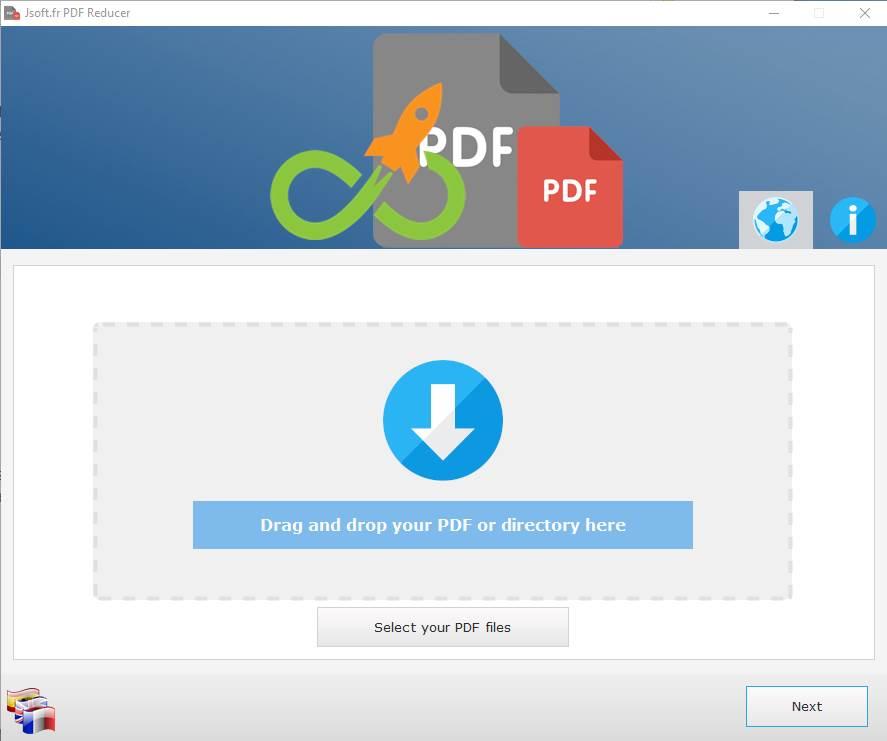 PDF Reducer: Download here
Disadvantages of Jsoft PDF Reducer
The main drawback of this program is some translation problems. It also lacks a portable version, and the reduction process is a bit slow.
ORPALIS PDF Reducer
This PDF reducer is quite advanced as it incorporates automatic color detection and design analysis. This is to reduce the design considerably and without noticeable quality losses.
Resamples images to reduce their quality so that they still look just as good. This is because many images that we input incorporate too much unnecessary quality, and that is why it is reduced to a point which still has quality.
The procedure is done quickly, but this includes using higher CPU usage by momentarily reducing performance while the process is running.
This program is not free, but we can access its trial version in the link shown below.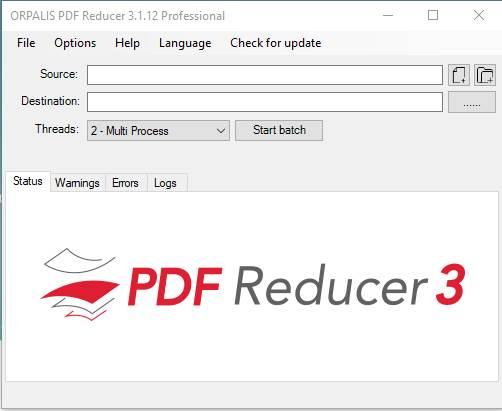 ORPALIS PDF Reducer: Download here
Disadvantages of ORPALIS PDF Reducer
Its main drawback is that we must pay to enjoy all the features. In addition, the program is in English.
PDF Compressor
The compressor has a fairly simple design, but with an attractive and visible interface. It allows us to compress our PDFs in batches, that is, several PDFs at once.
They promise a fast compression without loss of quality or format, which perfectly fulfills since it gives us the option to adjust these parameters in your program. We can get the free version or the paid version, both perfectly fulfill their function without any apparent problem.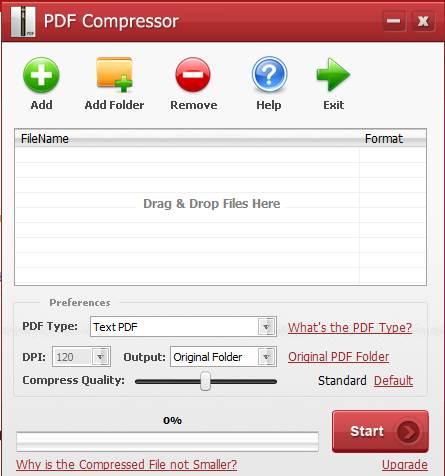 PDF Compressor: Download here
Drawbacks of PDF Compressor
The main drawback of the program is that it is entirely in English, which may pose a problem of use for some users
NXPowerLite Desktop
Program that incorporates the compression function, which is quite powerful and allows us to compress our files up to 95% from their original state. Its interface is also quite simple, but at the same time complete.
It allows us to add both files and folders, and also some interesting options such as creating copies for greater security, and choosing whether these will also be optimized.
Something curious is that its installer allows us to choose whether we want to use the full version or lighter versions, in order to occupy the least possible space on our hard drive.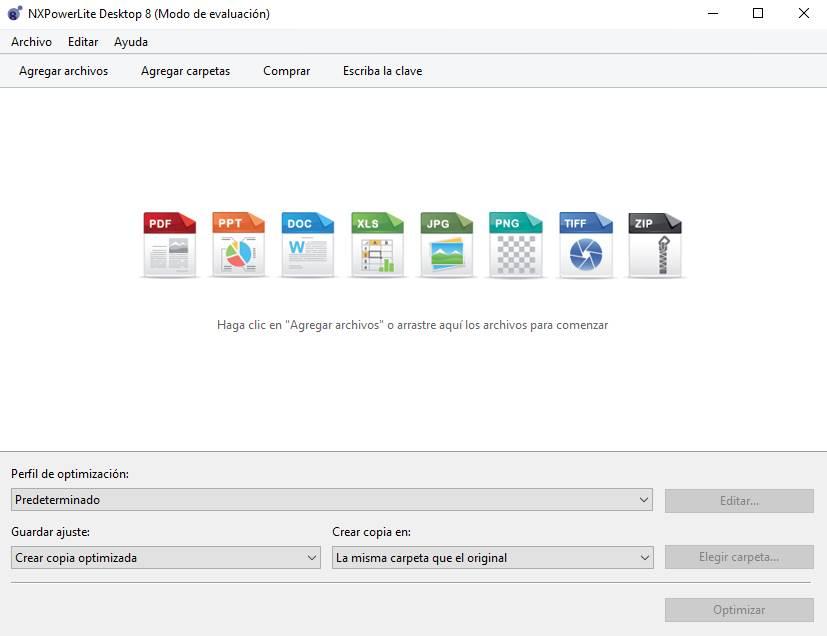 NXPowerLite Desktop: Download Here
Disadvantages of NXPowerLite Desktop
Its main drawback is regarding batch conversion. While we can put a complete folder full of files, it is not possible to put a complete external hard drive or a nested folder structure in the application.
Nice PDF Compressor
This compressor has a peculiar interface and, once installed and started, it shows us the same interface as an installer.
Its functions are simple, that of converting a file, or that of converting an entire folder. It uses the "Flate or RunLenght" algorithm to understand our files, as well as allowing us to decompress them and return them to their original size.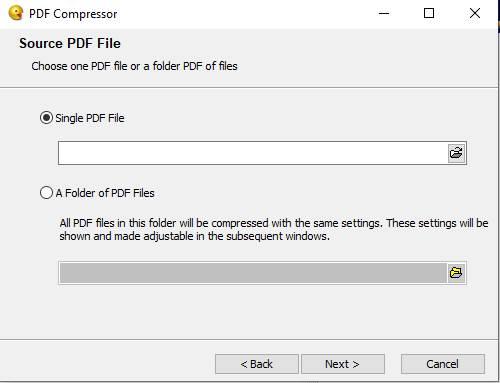 Nice PDF Compressor: Download here
Disadvantages of Nice PDF Compressor
Its main drawback may be its interface, which we may take to get used to. In addition, it is only available in English.
Free PDF Compressor
Another one of the simplest PDF file compressors available on the list is this one. The options that we have available to compress our files are 5, which we see in the following image.
With the progress bar that appears at the bottom of the program, we can guess how long this process will take. The resource consumption of this program is minimal, so it can be used on almost any computer with low performance.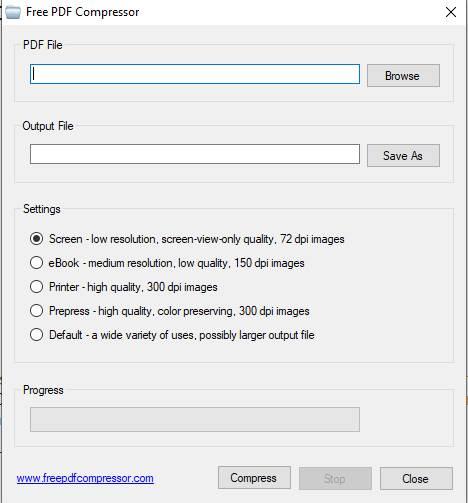 This program is completely free, which we can download at the following link:
Free PDF Compressor: Download here
Disadvantages of Free PDF Compressor
The main disadvantage of this program is that it is in English, which can be a handicap for many users. Also, its compression process is not the fastest.
Compress PDF online
In addition to the previous alternatives to compress PDF files, we will also be able to use different websites whose main purpose is the same, that is, to compress PDF files to reduce their size.
I Love PDF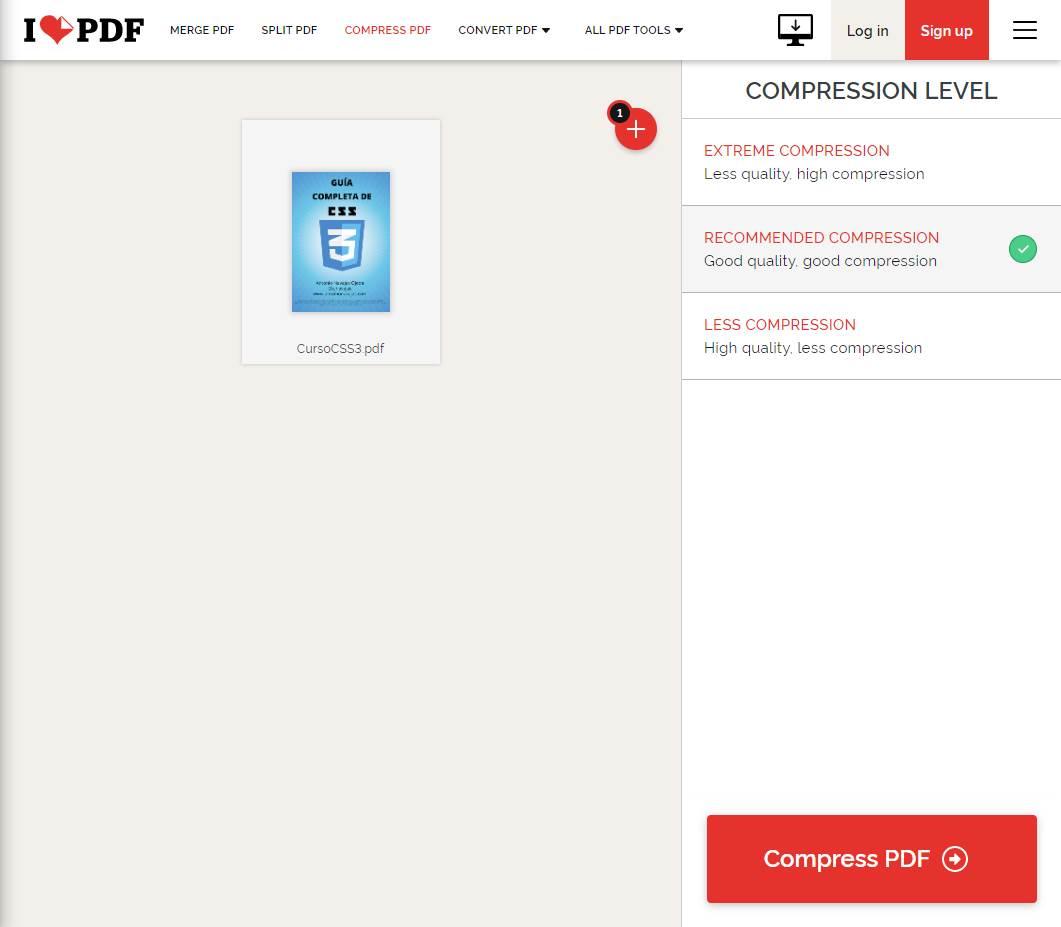 This is one of the most popular websites designed for this purpose. Its use is very simple. All we have to do is drag the PDF files that we have on the computer to the web (or access them from Dropbox or Google Drive) and the page will compress them properly. We can choose 3 different compression levels depending on the size we want and its quality.
We can access this website from the following link .
Disadvantages of I Love PDF
The website is entirely in English and the compression process is a bit slow.
PDF Compressor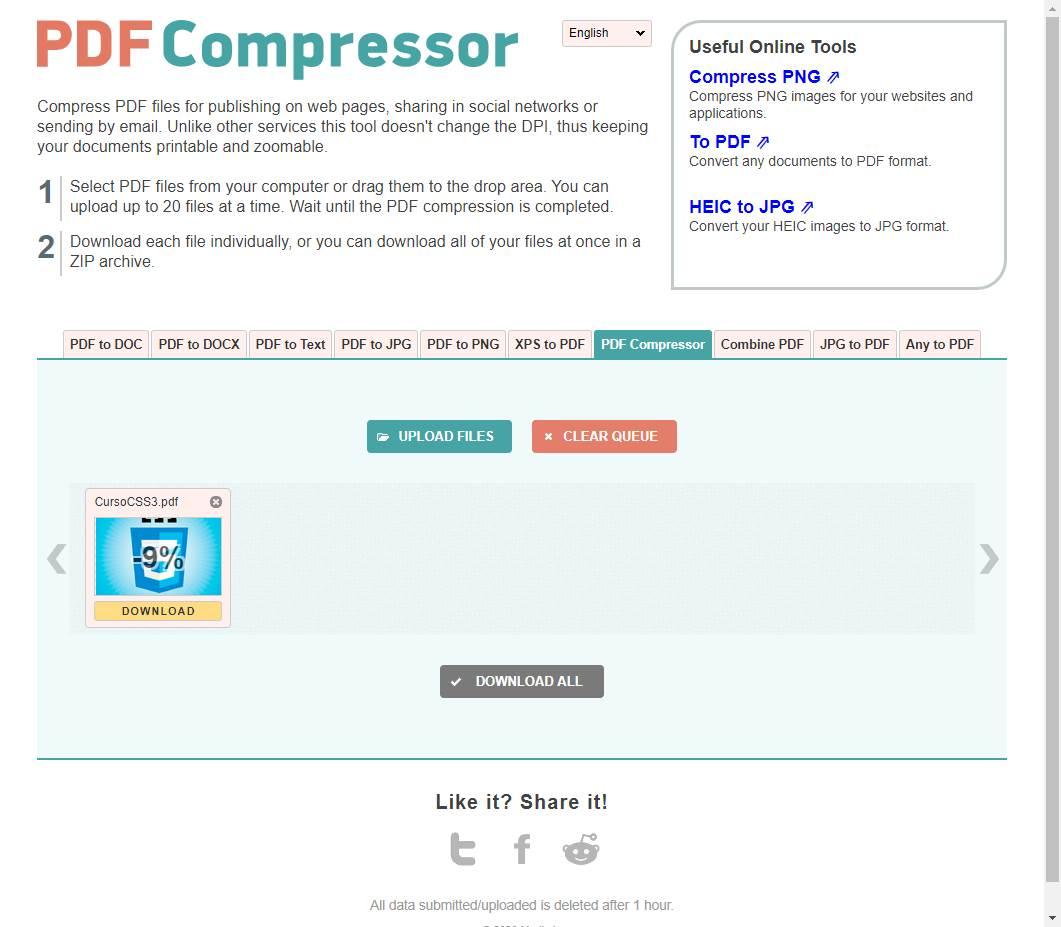 This is another of the most popular websites for converting and compressing PDF files. Besides allowing us to convert our documents to other formats, one of the most popular functions is to compress PDF documents.
Its use is very simple. We simply have to upload the document to the web and it will directly process it. When it is finished we will be able to see how much has been compressed and download the new reduced version to our PC.
We can access it from the following link .
Drawbacks of PDF Compressor
The website is in English and sometimes it doesn't work properly. Heavy file compression is somewhat slow.
SmallPDF
Here we find another online platform similar to those mentioned above that, in a few steps, will allow us to compress files in PDF format. In fact, as these are online applications, we will not need to install any software on the PC locally. To get the most out of this office automation alternative that we are talking about, we just have to drag the file in question to the program's interface, it's that easy. In the same way, we have the possibility of clicking on the Choose files button to select the source from which we want to load the content. Here we can choose between local files, or saved in the cloud.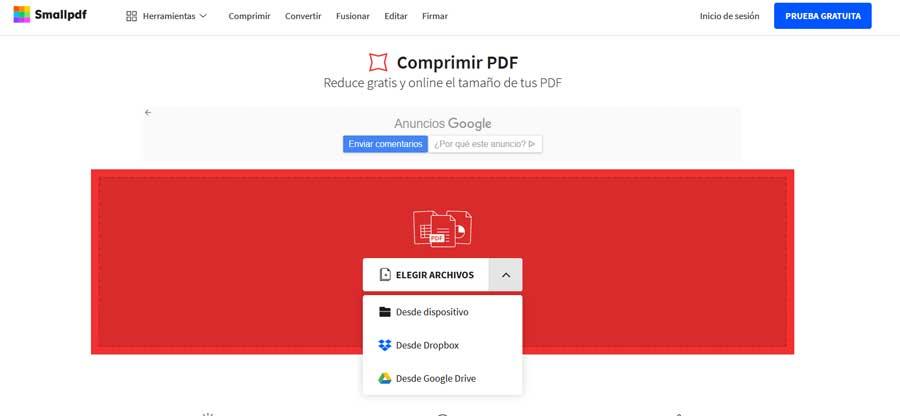 Once the file with which we are going to work has been loaded into the program, we only have to choose the compression mode that we want to carry out here. This way we can choose whether the office file will occupy more or less space. Of course, the more we compress it, the worse its quality will be. Therefore this can become especially serious if the document contains many images.
Disadvantages of SmallPDF
Its main disadvantage is relative to the quality of the export that can usually be improved, as well as the time it takes to compress large files. Likewise, other compatible formats are missing.