Applications
Choose the monitor to run your games and programs on windows 10 with tvgamelauncher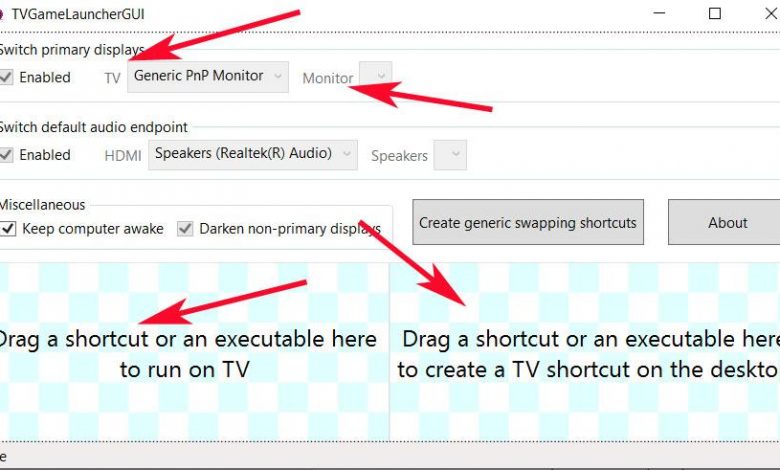 In these times, there are many Windows 10 users who work with several monitors simultaneously. That is why being able to manage the work with these components in the best way will make us more productive. In addition, and in order to get even more out of both hardware components, we can use certain specific programs such as TvGameLauncher.
To begin with, you have to know that in the most used operating system such as Windows 10, as a general rule, applications should remember on which monitor they were launched. This of course happens in the assumption that we have more than one screen installed. Thus, when opened, they must run on the same monitor that they were previously open on. That's how it should work, at least in theory, but the problem comes because it is not always like this. In fact, this is something that is especially evident when we are running games, more than with other types of software applications.
Play on one monitor vs on several
If we have two or more monitors connected to the computer, is it better to play on one or more? Well, it all depends on several factors.
The first thing to keep in mind is that there are many games that are not designed to work with two or more monitors. Therefore, if we try to play one of them with both screens, it is most likely that we will see it wrong, or that we only see it on one of them.
On the other hand, there are games that are designed to use two or more monitors. Shooting games, or racing games, are usually prepared for it. Using both monitors gives us a new gaming experience. However, we must bear in mind that, by having to move a much larger number of pixels, we must have a more powerful computer.
We can change the monitor settings using the Windows + P keyboard shortcut, or with the program that we are going to see below.
Advantages of using TvGameLauncher when working with multiple monitors
And it is that with games, this is a bit more complicated, since they tend to run in full screen and moving an application in full screen between different monitors, is a somewhat more complex task. That is why in these same lines we are going to try to help you control the execution of applications and games if we have several monitors.
There is a tool that allows us to manage the execution of an application on a specific Windows 10 monitor. Therefore, for all this we are going to use the tool called TvGameLauncher that will be very useful in all this.
It was originally designed to manage the operation of games, but it works with any other desktop application. Therefore, for this, the first thing we will do is launch it and then run the game or any other application through it, and to manage the monitor that we are going to use in each case.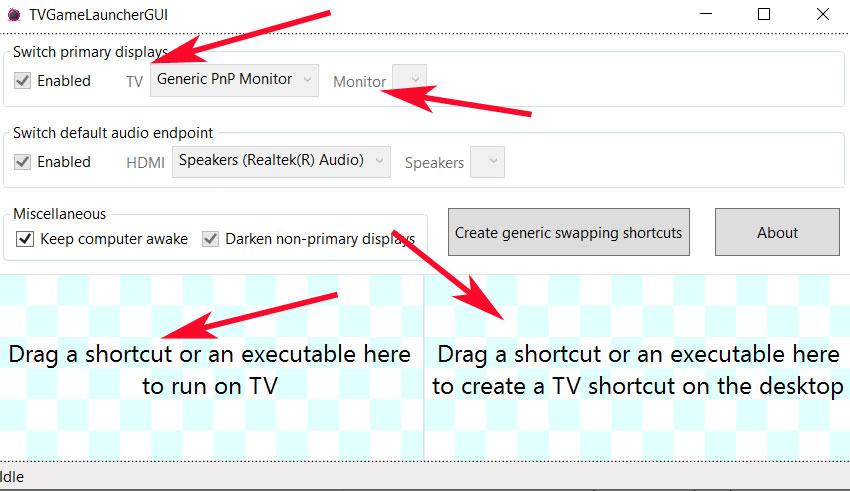 Control the execution of programs on multiple monitors in Windows
Therefore, to access the program's interface, we execute the file called TVGameLauncherGUI.exe. At this point, the first thing to do is make sure that all screens are detected by the program. Once they have been detected, we specify to TvGameLauncher which screen we are going to use as "TV" in the corresponding section, and which one we will use as "Monitor".
At the same time, next to these two settings, we find an "Enabled" control that initially comes as marked. Well, we recommend deactivating it, although this is not mandatory. However, it is advisable to deactivate it, since if we leave it activated the program will change the main monitors, something that as a general rule we will not want. Working with several screens simultaneously is very good and can be very useful for us. But at the same time we must be a bit organized to get used to them on a day-to-day basis with the team, otherwise work like this can be a bit chaotic. What's more, the TvGameLauncher program, if it is misconfigured, will help increase that chaos.
And is that in most cases, we tend to configure the largest monitor as the main monitor, so we will not want to change it in most cases. Therefore, once this is done, then we can drag and drop the EXE of the application or game in the corresponding box at the bottom of the interface .
Get the most out of TvGameLauncher on Windows
In this way, if we drop it in the section on the left, that is, in the one that is reflected as TV, the app will execute the application on the monitor that is configured as TV. On the other hand, if we place it in the section on the right, it will create a desktop shortcut that, when clicked, will run the application or game on the monitor specified as TV . In this way and as we can see first-hand, the use of the application as such could not be more intuitive once we have installed it. Thus we only have to place the program or game in question, on its corresponding screen.
At this point, it is also worth mentioning a small inconvenience that we find here. And it is also true that with this system we will need to run TvGameLauncher every time we want to run an application or game on a specific monitor. However the best we can do is create a shortcut for it. In this way, as we have shown you before, this is a good way to control and speed it up and thus save time in the process. In fact, it is advisable to create several shortcuts with the applications that usually give us problems in this regard.
Download TvGameLauncher
Say that TvGameLauncher is free software that we can download from this link. It is compatible with the Windows operating system and does not need installation, since it is portable. This allows it to be run from any external storage device, be it a pendrive, memory card or hard drive, without having to make modifications to the Windows registry. Its last update corresponds to November 2017, so it currently lacks support from its developers.
Alternatives to TvGameLauncher
If we are looking for a program that allows us to choose on which monitor we want to run the games or applications, we present a couple of alternatives to TvGameLauncher that we should know.
Fullscreenizer
This program allows you to force a program or game to work in borderless window mode. In this way, we can drag it to the monitor that interests us and then extend it to run full screen on that monitor. To use it in any program, just open it and click on "Fullscreenize". In the event that we run a game we must establish in its settings that it works in windowed mode. It will also be necessary to change the resolution of the game to that of our desktop. We can download it from this link .
Ultramon
This application allows us to select which is the main monitor and which are the secondary ones. It also allows moving windows efficiently and maximizing the windows on the desktop, as well as managing more applications with the taskbar. In addition, we can control the positioning of the application with respect to the shortcuts. UltraMon has a free 30-day trial version to test the product that we can download from its website .