Applications
Check and correct the spelling of texts with the help of these websites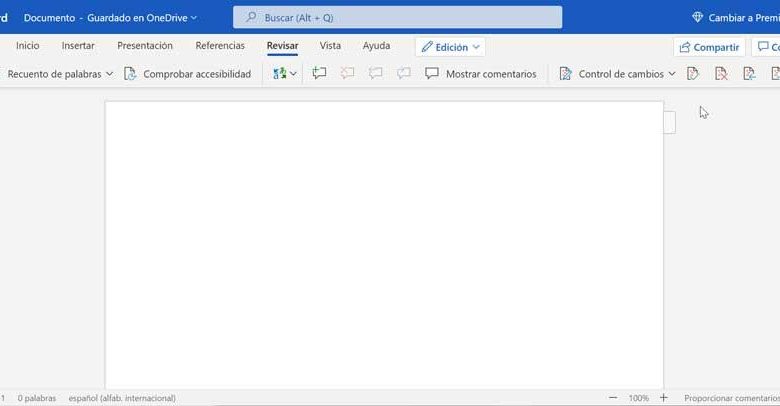 When writing texts from our computer, one of the details that we must avoid the most is making spelling mistakes. No matter how accustomed we are to writing, rush and stress can cause us to include some unwanted misspelling, which can cause us to leave us in a bad place. For this reason, today we are going to see a series of websites that have the necessary tools that are in charge of checking, improving and correcting the spelling of our texts.
If we want to give our writings an image of professionalism, it is important that we avoid any type of misspelling. To do this, it is recommended that we review it carefully, rereading it as many times as necessary to ensure that it is well written.
Another option to ensure that our text does not contain any type of misspelling is to use some of the following online tools from our browser, which have been designed for this type of task, so that we can be sure that our text is well written and without fault.
Spanish checker, correct spelling and grammar
This web application has a spelling and grammar checker in Spanish, which will help us to correctly write all our texts without spelling mistakes. In this way we can correct both the spelling and the grammar of our texts easily and quickly. It is possible to write the writer from its interface, such as pasting the text already created with another application, so that it begins to work and detects any failure that we may have had. Once the application finishes the process, it is in charge of highlighting all the possible errors detected in different colors. Similarly, it also offers us some suggestions to correct them.
You can start correcting your writings with Spanish Corrector for free by accessing their website .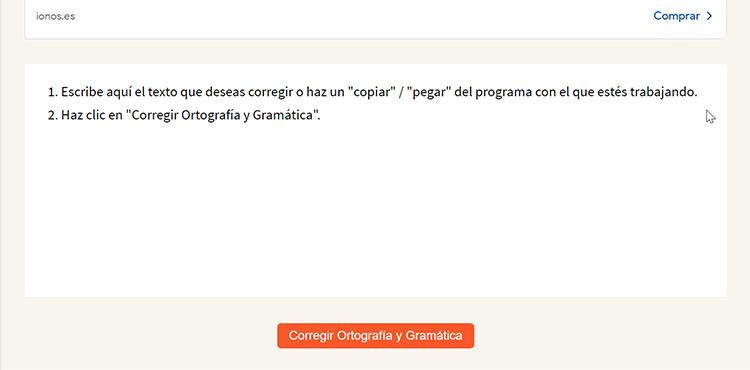 CorrectorOnline.es, eliminates grammar errors
This web tool will help us detect spelling errors and some other basic grammar and style errors for texts in Spanish. It will be enough to write in its own interface or paste the this that we have written directly in the box. It has a box that we can check to automatically correct all errors when possible. This will display a list of all corrected errors on the results page. Once we have the text written, we only have to click on «Send». The process is fast, although not instantaneous, since we will have to wait a few seconds to obtain the result. Words that contain spelling errors will be underlined in red.
Using CorrectorOnline.es is free and does not require any registration, so to use it, just enter the official website .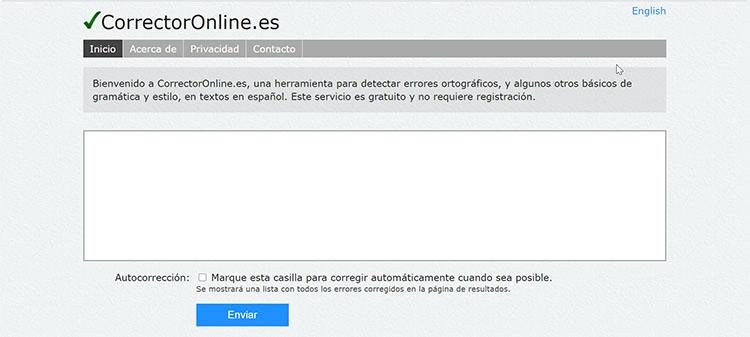 CorrectorOrtográfica.com, with support and correction for 11 languages
Another great option to check the spelling of our texts is to enter Spell Checker.com. This online tool will check the spelling of our texts quickly. Its main advantage is that it has compatibility with up to 11 languages, including Spanish. It also corrects the texts that we have written in English, Danish, Catalan, German, French, Italian, Polish, Dutch, Portuguese and Swedish. The steps to follow are very simple since we will only have to select the language, enter the text we want to correct and click on the "Correct" button. Next, the missing words will be highlighted in red . If we click on it, it will offer us suggestions to correct it.
If you want to use Spelling Corrector.com to review and correct your texts for free, just click on this link .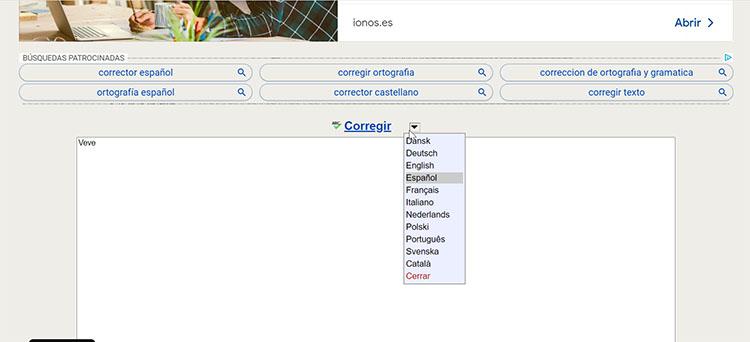 Plagiarism, stands out for its complete integrated editor
This on-line checker will be of great help to us to correct both the spelling and the grammar of any text that we can write directly in its editor or paste it. It also has ten languages ​​including Spanish to make corrections. To highlight its complete integrated editor, which will remind us of some word processors like Word. We can choose the font, the font style, italicize, bold or underline. We can also insert lists, subtitles and emoticons, among others. Once finished, click on the «Correct spelling» button and the program will take care of detecting the errors and changing them. Of course, sometimes the word does not change in line with the sentence. For example, if we write "The child sees water" we change it to "The child sees water", so it is not always effective.
To start using Plagiarism to correct our texts for free, just click here .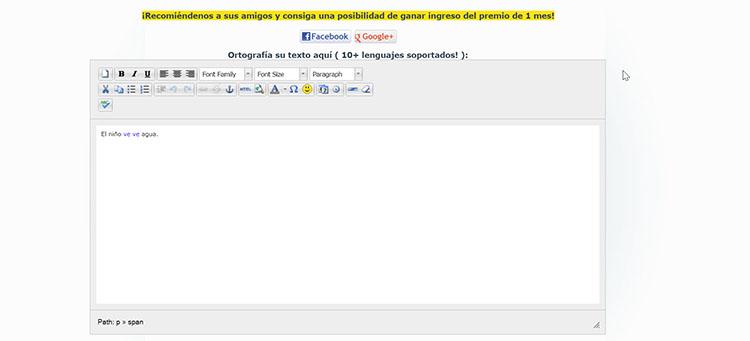 Copywritely, correct the spelling of texts and URL
This online text correction tool is very interesting, because not only does it allow us to review and correct grammatical and spelling errors in the texts that we paste into its interface, but we can also insert URLs . This website will be in charge of giving us advice on which words and phrases may contain grammatical errors and how to solve them. In this way we can make changes to the text using your online editor and the tips that we see. The application supports a maximum of 2500 words . Once we have written our text, click on Check to begin the review.
To use Copywritely's spell checker it is necessary to access their website and register . In addition, it has several payment options that start at $ 18 per month.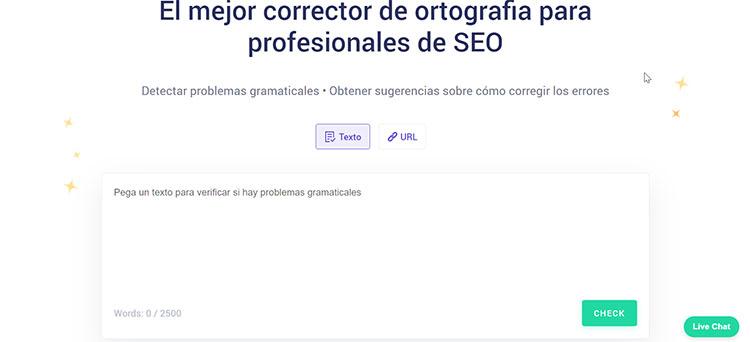 LanguageTool, detects errors, typographical, spelling and grammar
This website will help us to face some of the difficulties of writing such as grammar and spelling. It includes tools that will allow us to detect typographical, spelling and even grammatical errors. In addition, it has add-ons that we can install in our Chrome and Firefox browsers, as well as add-ons for Google Docs, Microsoft Word and LibreOffice. Once we have the written text, click on the Review the text button and the misspelled words will appear shaded in red. If we click on it, different options will appear to correct it.
Using LanguageTool to check spelling is free and we only need to access its website . It also has a Premium version of payment with many more options for 59 euros per year.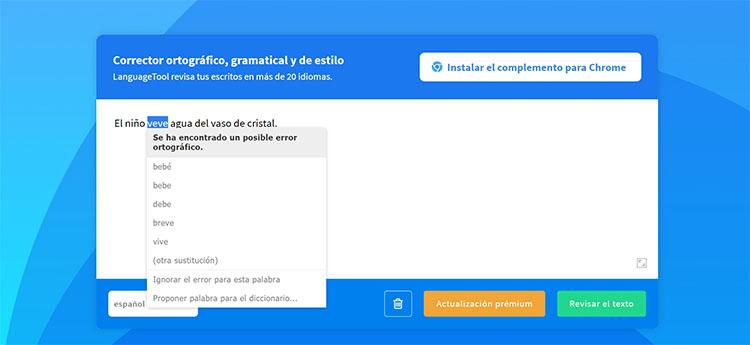 Orthographer – Language, proofreader with more than 5 million words
This spell checker has a complete lexicon consisting of more than five million words . It includes technical terms from different areas such as agriculture, biology, commerce, among others. It is also capable of recognizing all possible forms of the phrase, as well as diminutives, augmentatives, suffixes and prefixes . In addition, it includes a suggestion engine to detect typographical and spelling errors, as well as a list of suggestions to replace errors made by users.
To start using this spell checker for free, just go to its official website .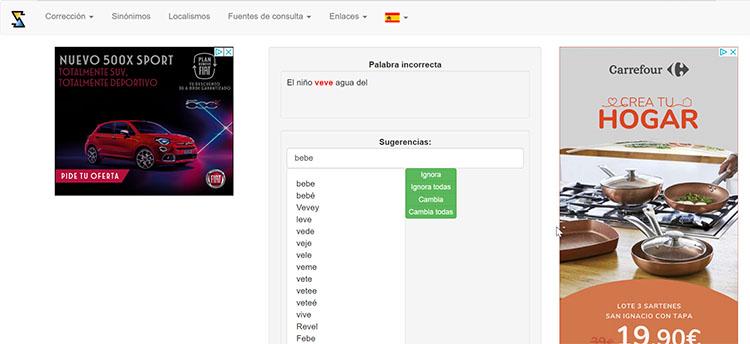 Google Chrome corrector, ideal for correcting while we write
Beyond the web pages dedicated to spell checking, Google Chrome offers its users an advanced checker that claims to be one of the best on the market. To do this, it is only necessary to activate it from "Settings> Advanced Options> Languages> Advanced spell checker". In this way, when we are writing on any website from Chrome, in case we write a word with spelling mistakes, it will appear underlined in red . If the word used does not match the rest of the text, a gray line will appear. It is usually very useful since its failure rate is quite low.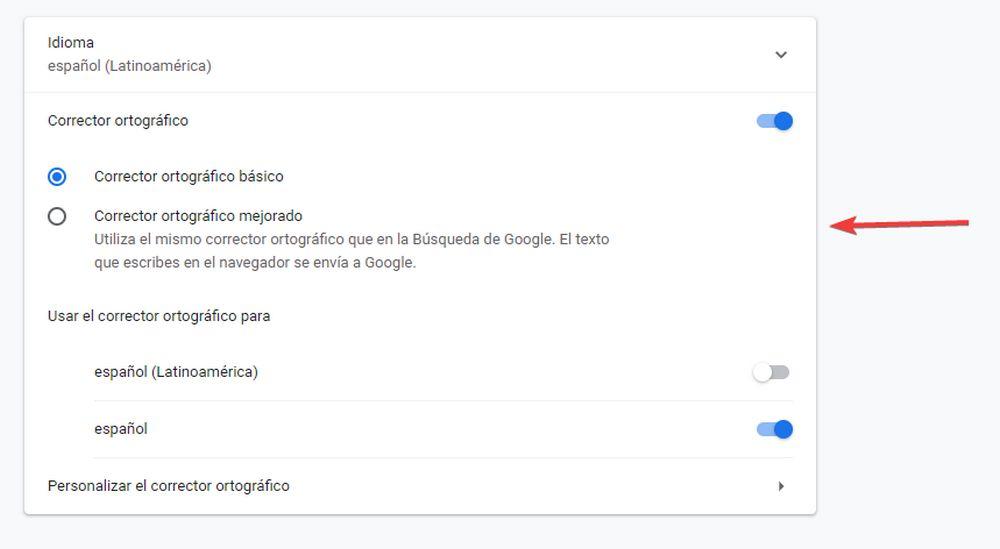 >Word Online, Microsoft's cloud processor
It is a free Microsoft application to run Word in the cloud, something like a limited and free version of its word processor par excellence, since it does not have all the options that the paid version of Word has for computer. To use it, it will only be necessary to log in with our Microsoft account. It will help us to write text documents, letters, etc, and we can add images, tables, graphics, etc. It also has a spell checker that will correct the wrong words on the fly. It also has the "Review " function to check that our text is perfect.
We can access Word online from this link .