Applications
Capture and record your pc screen with chrispc screen recorder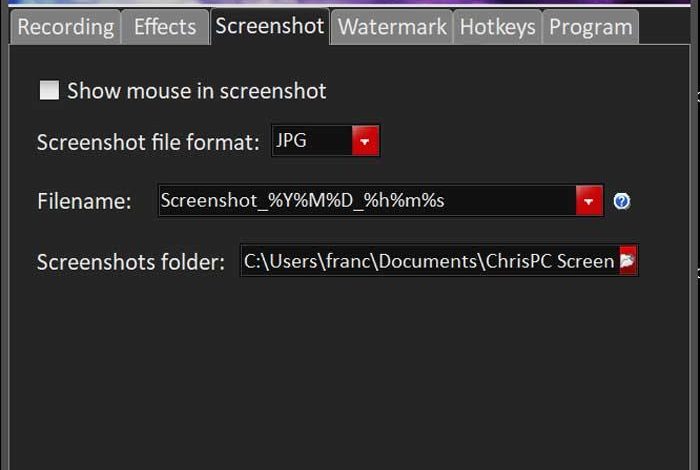 When working with our computer, we may sometimes need to be able to record everything that happens on our screen. This is something that can be very useful if we are teachers and want to record our classes or make video presentations. It can also be interesting to create our own videos or tutorials to upload to our YouTube channel or record the games of our favorite games. To do this, we can use a tool like ChrisPC Screen Recorder, which we will talk about next.
ChrisPC Screen Recorder is a software with which we can record silently and with many options everything that is on the screen of our monitor . With this tool we will not only be able to save videos and take screenshots, but it will also allow us to save video sequences that cannot usually be saved or downloaded from our browser.
This application offers us full screen recording, through application windows or by selecting a rectangular area in the form of a window or without borders, which makes it ideal for recording both games and videos, since it also has audio support. In addition, it has options to edit and cut parts from the beginning or end of the recorded clip, so that we can decide how the final version will be.
Another important feature is its ability to configure different ways to recode a video file . In this way we can optimize the quality of the video, the selection of the frames, the audio codecs, as well as easily customize the name of the files of our recordings and establish the routes where they will be saved. In addition, we can add custom text (font, color, position) or a watermark to indicate the source of the recording and give our video a professional touch.
Minimalist menu and basic options
Once we run the application, a simple bar will appear from where we will have available all the options that we can perform. In it we find three buttons: «Record», «Screenshot» and «Setting».
Record
If we click on the «Record» button, a small list of three recording options will appear . We can record in full screen, select a recording area or make the recording of a specific window, which could be an application. Along with these three options, their corresponding keyboard shortcuts also appear to be able to perform actions more quickly. Once we select the recording option, the program will begin to record all the content that we have selected.

Once the recording is finished, the application will open a simple window so that we can edit the video that we have just recorded. In it we can view the video, offering us its total duration. If we are not interested in any part we can use the «Cut Video» button to eliminate it and in case we have made a mistake when cutting we can always return to the starting point by pressing the «Reset Setting» button. It also has the option "Load" from where we can load another video to be able to cut it.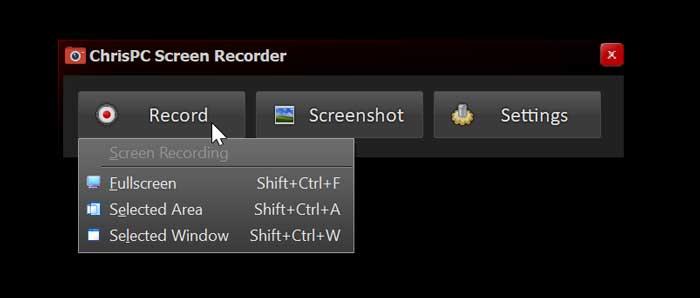 Screenshot
The second tab, the "Screeshot" is the one we will use to be able to take screenshots . If we click on it, three options will appear to choose from: «Fullscreen», with it we will take a full screen capture of our screen. We also have the option of "Selected Area", from where we can make a capture by selecting an area or part of our screen. Finally, we have »Selected Window», with which we can capture a specific window of an application.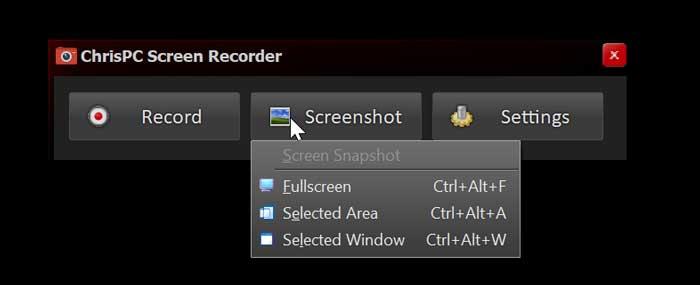 Settings
The last option that we find in the "Settings" tab, where we will have some application settings . If we click on it, the "Video Editor" option will appear, which we saw previously. We also find the "Open Recordings Folder" and "Open Screenshots Folder" options, from where we can access the folders where the videos and screenshots taken are saved. We also find the "Advanced Settings" function where we can configure various parameters for both video recording and screen captures.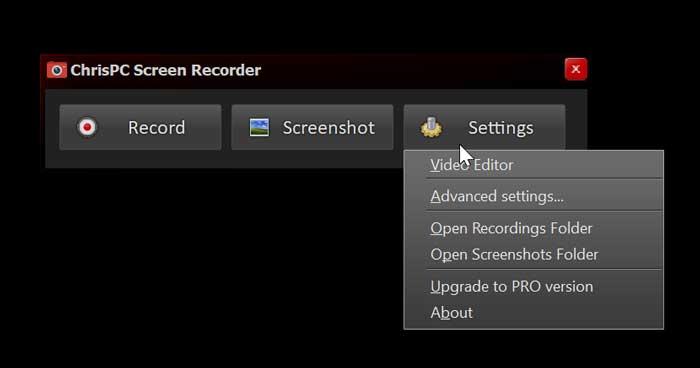 Among the parameters that we can configure in "Advanced Settings" are the recording speed, the video quality and the FPS . We can also choose the audio codecs and configure the folder where we want them to be saved. For the screenshots section, we can choose the image format, the name, as well as the path of the folder where they will be stored.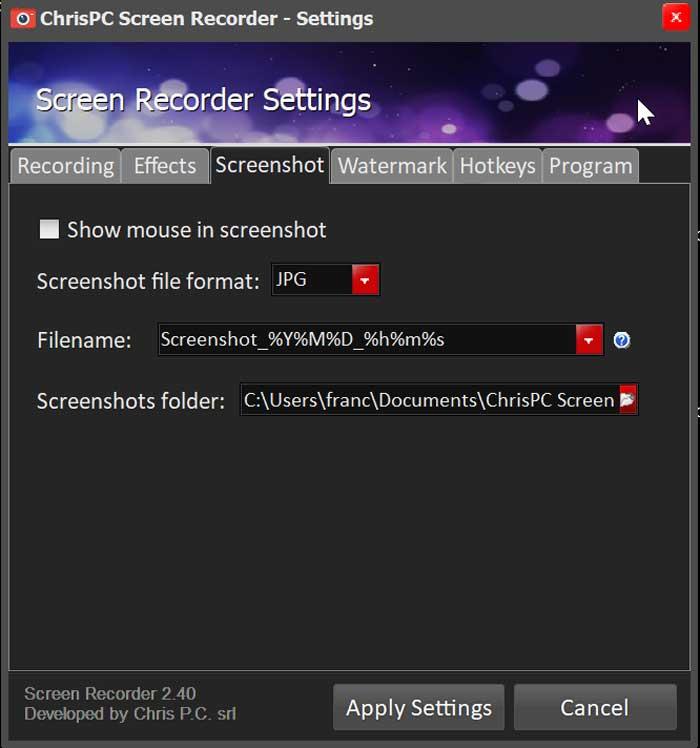 Download ChrisPC Screen Recorder
ChrisPC Screen Recorder is a program that has a free version and a commercial version, which we can download from its website . With the free version we can record video is restricted to a maximum of 10 minutes. In addition, the videos we record will have a small watermark at the bottom, although it should not be a problem if it is for personal use. The paid version has a cost of 24.99 euros and in addition to removing the restrictions, it allows us to cut videos, establish our own watermarks, free technical support and a license to use it commercially.
It is currently available in version 2.4 that was published on July 7, 2020, so it has a good update policy by the developer. We must install the application on our computer and for this we download a file that occupies 19 MB. The installation is done quickly without the wizard trying to install additional unwanted software at any time.
ChrisPC Screen Recorder alternatives
If we are looking for an application with which we can record everything that happens on our computer screen, we recommend a plan of alternatives to
Screencast-o-matic
It is an application with which we can make recordings of the PC screen. It allows an unlimited number of videos, although these are limited to 15-minute sessions. It is also possible to record the image from the webcam and make cuts after recording. In addition, it has voice recognition to insert subtitles automatically. Screencast-o-matic has a free version that we can download from its official website .
Icecream Screen Recorder
This program allows us to record any part of our screen or save a screenshot of it. With it we can play any application, games, tutorials or Skype calls quickly and easily. It is completely cross-platform, being available for Windows, Mac, iOS and Android. We can download Icecream Screen Recorder for free from its website.