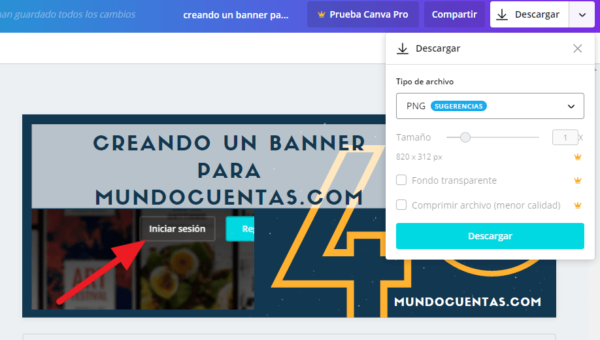 Canva is an online graphic design platform designed to be accessible to all audiences. In this sense, it works as a complete online software that allows you to create designs, use hundreds of templates and take advantage of the different editing tools. Unlike other platforms of this type, Canva seeks to be accessible to hobbyists and non-publishers. However, it also offers the levels of depth and customization that a designer needs to create high-quality designs.
It is important to note that Canva is a free-to-use platform. However, certain functions and tools are reserved for those users who opt for its Premium mode . In addition to this, it is worth knowing that unlike other software such as Adobe Photoshop or similar, Canva is only focused on the creation of communicative content, being ideal for the creation of advertising posters, banners, flyers and content of this nature.
One of the main characteristics of this graphic design tool is the fact that it allows you to create professional designs in a very short time. Thus, just take one of its thousands of templates or vectors, and give it the necessary adjustments to create a unique model. As a result of this aspect, Canva has grown in popularity since its appearance in 2012.
Characteristics
As a design tool, Canva has a number of unique features that are outlined in the following lines:
Canva is a completely online tool, so it is not necessary to download any type of software to be able to use it. This, at least in its PC version.
Canva is multiplatform, and it has versions available for Android devices, iOS and computers.
It has more than 15 million fully customizable templates and arranged for free for its users.
It has tools to modify text, images and figures.
Makes it possible to save creations within the Canva account itself. In this way, it is possible to save a project and continue it later without losing any progress.
Canva is free. However, it also offers some paid features that add extra value to the platform.
Canva's interface, as well as the intuitive way in which its tools are used, make it a comfortable platform for professional creators and casual users.
What is it for?
As a graphic design platform, all of Canva's uses are geared towards creating visual content using vectors, templates, and other built-in tools. Thus, Canva's visual authoring tools are ideal for creating all kinds of content for advertising purposes. From posters and flyers, to business cards and notices. Using Canva's many customizable vectors, you can create matching designs, images, shapes, and colors in a convenient way. All in order to create content that is attractive to the eye and capable of attracting attention.
In the same way, it is possible to create all kinds of images and designs for use in web pages, since Canva offers many standardized templates to generate covers, banners, bullets, buttons and more.
That said, it should also be noted that Canva is a versatile tool that is available to professional designers and amateur creators, so it is possible to make all kinds of basic edits to share on social networks, perform school assignments and basically, any type of design that adapts to Canva tools.
How to use
To start taking full advantage of Canva, it is essential to create an account within its platform. This can be done completely free of charge and here's how to do it step by step.
Create Account
To create an account on Canva, start by logging into Canva.com.
Upon entering the platform, you can start the registration process. To do this, you have the option of registering through your email account. Remember that you can speed up the process by registering through your Google or Facebook account. In this case, we have opted for the option " Register with your email ".
Then, all you have to do is fill out a regular form and click "Get started now, it's free! "
After waiting a few seconds, your account will be created successfully.
Log in
To log in to the platform, you must access Canva.com and press the " Login " button located in the upper right corner of the screen.
When you do the above, the login form will be displayed, in which you are asked to enter your email and password. You can also access through your Google or Facebook account.
If you choose to log in regularly, enter your user details and click " Login ".
After your application is processed, you will have successfully accessed the Canva design platform.
Start creating
After logging into Canva for the first time, a tab will appear in which you must select the potential use you will make of the tool.
By doing so, Canva will offer us the option to try Canva Pro for free for a period of thirty days. For now, we can skip this step by clicking " Maybe later."
Now Canva will display a new menu in which it will ask us to find what type of design we want to create. In its search engine, we can choose between different categories until we find the one that fits what we want to create.
After choosing the type of design we want to create, we can choose a template that adapts to what we want to design.
Once the template is chosen, we can start the editing process. To do this, we can add and edit text, choose fonts, colors, sizes and more. The same happens with the different elements that are part of the template.
If you wish, you can add an image hosted on your computer and integrate it into the design. To do this, click Uploaded files> Upload files.
Once we are satisfied with the generated design, we can download the image by clicking " Download ". You can also share your design on other social networks and platforms if you wish.
By clicking on this option, Canva will allow you to choose the format in which you want to download your file, its dimensions, and other parameters.
After choosing the desired options, all you have to do is wait for the file upload process to finish and it will automatically be downloaded to your computer.
Advantages and disadvantages
Despite being an extremely useful and beneficial tool for many purposes, Canva also suffers from a number of limitations that need to be considered when venturing into graphic design. For this reason, the following are the advantages and disadvantages of Canva.
Advantage
Canva is comfortable and practical to use, making it possible to create highly finished designs in just a few minutes.
It's a free-to-use tool, so you don't need to spend money to purchase graphic design software.
As it works online , it is not necessary to download any type of installer or executable file.
Its multiple functions make it extremely versatile to make all kinds of creations.
It is highly integrated with social networks, allowing you to create and share designs in a few seconds without the need for annoying processes.
It can be used by casual users and graphic design experts.
Allows you to download designs in multiple formats.
Disadvantages
Despite being a free-to-use platform, some of its functions and templates are reserved for users who opt for the Premium plan.
It is not such a complete tool when compared to other design and editing software.
Being a tool that works through an internet connection, users without access to this medium will not be able to use Canva.
Not all web browsers are compatible with Canva.