Applications
Burn files and make backup copies with ashampoo burning studio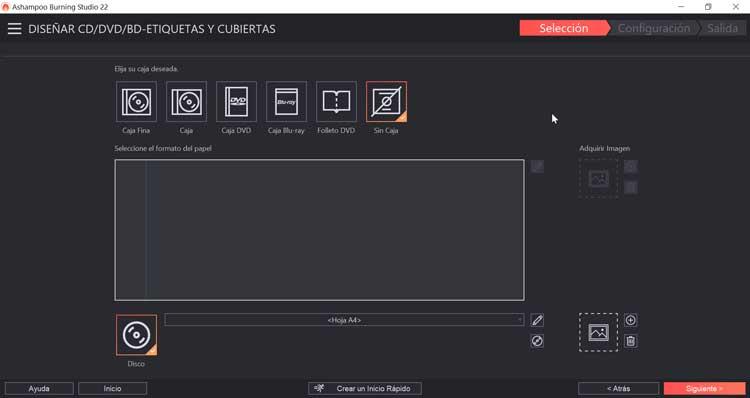 There was a time when burning CDs, DVDs, and Blu-rays was pretty common. Whether it is to burn backup copies, music CDs or DVDs with videos to play them on other devices, the truth is that the optical disc resists dying. That is why recording disc is far from becoming a thing of the past and there are many users who still require the possibility of making recordings. To do this, we can use a tool like Ashampoo Burning Studio, about which we will talk below.
Ashampoo Burning Studio, complete burning program
Ashampoo Burning Studio is a complete application with which to make recordings and copies of CDs, DVDs and Blu-rays, for which we will not need great knowledge, since the program is in charge of guiding us throughout the process. It also has other additional functions, since it incorporates its own photo album editor and an integrated video editor, through which we can design the menu for our DVDs, edit the duration of a clip, add titles and subtitles, etc.
Main features
Burn data CD / DVD / Blu-ray and image copies
Burn Audio CDs to MP3
Delete irrigable units
Extra audio tracks from CD to hard drive
Back up folders on your hard drive
Allows you to create covers
Integrated video editor
One of the strengths of this program is its ability to make recorded videos compatible with any type of player. For this, it is capable of converting the file into the appropriate format since it has compatibility with MPEG4, H.265-HEVC and AAC along with the most popular sound formats such as OGG, WMA and MP3.
When it comes to recording our data on CD, DVD or Blu-ray, this program allows the greatest versatility and security since disc copies are made without complications and admits modifications on the brand. Includes scratch protection to ensure our most valuable data can be readable even on scratched surfaces.
Everything you need to record and backup
Once we run the program, its main menu appears, which has a fairly intuitive and modern interface, which we can choose to have a white or dark background . This interface, which is customizable, is in perfect Spanish and includes a menu bar and a navigation panel in the center of the interface arranged horizontally. In it we will find all the options that we will have available so that you can easily access its functions. With each function it also shows us a brief description of it.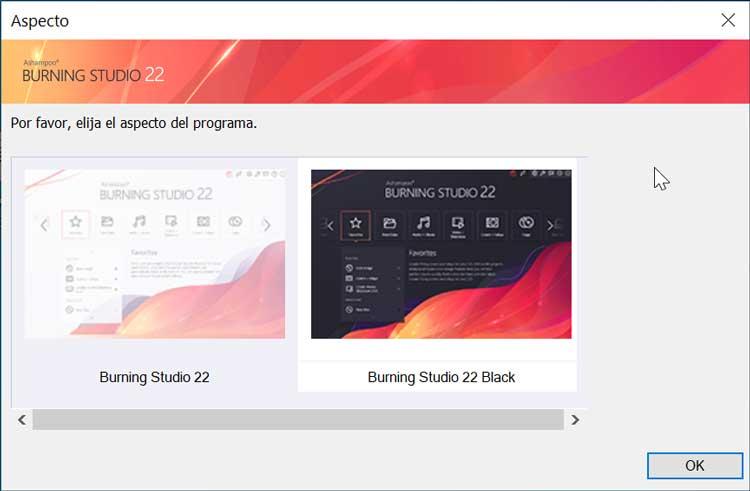 From its Burn data function, it allows us to quickly record all kinds of data on discs, providing a structure in the form of folders and an assistant that guides us through the entire process. Within this function we find the possibility of encrypting the disc by means of a password, updating the content of a CD or DVD and creating a disc protected against scratches.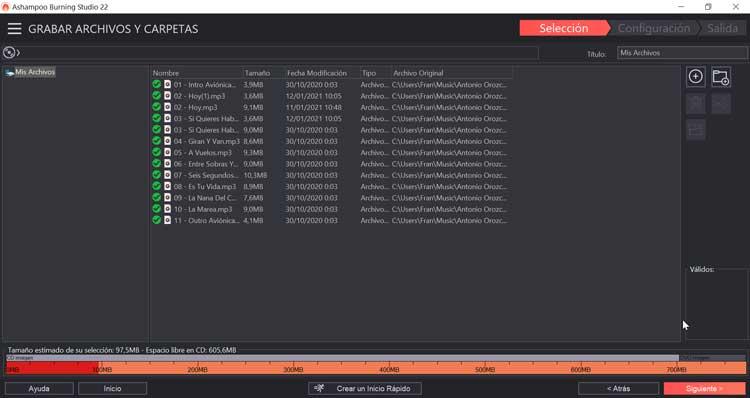 With this program it is also possible to make backup copies of files and folders, regardless of whether they are inside a hard disk or in an external storage device, such as a USB memory, a USB disk or even make a copy of our mobile phone . In addition, it has the possibility of scheduling automatic backups that we can configure to record content as often as we select.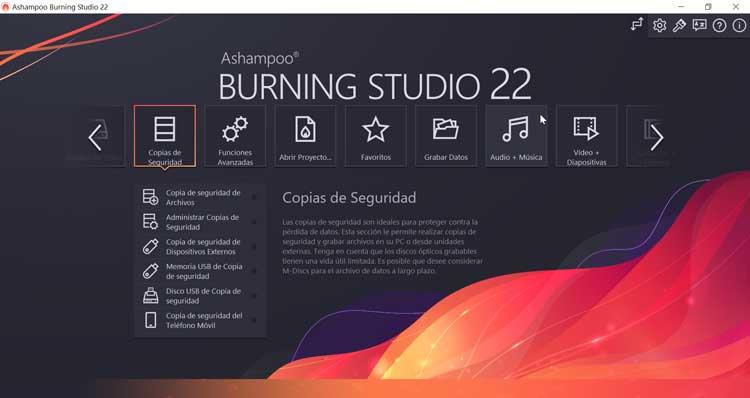 This powerful application also has an audio CD extraction tool , and another option with which to create covers, cases and brochures for our CDs and DVDs, even allowing us to edit the paper format in which it comes. It is also possible to create ISO, IMG and CUE images, as well as create bootable discs. In addition, it includes the ability to make a modified copy of an existing disc, erase a non-rewritable one, or finalize it.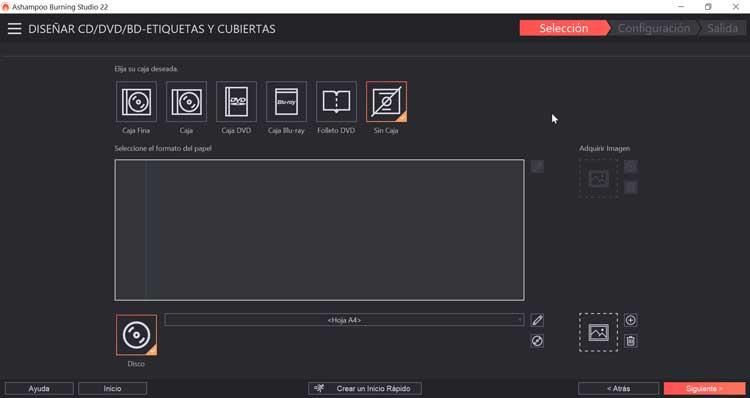 Conclusions
Ashampoo Burning Studio can be considered one of the best and most complete programs for burning optical discs given the large number of functions it has, and which are adapted to the needs and requirements of the vast majority of users. It stands out, above all for its interface, capable of grouping all its functions so that they are easily accessible by all types of users. This complete set of functions can also become its main disadvantage for those who only need to burn CDs or DVDs and do not require more extra functions.
Download Ashampoo Burning Studio
Ashampoo Burning Studio is a commercial program so in order to use it we must pay for its license. If we want to try it, we have a free trial version available that we can download from its website . We can use it for 10 days, extendable to 30 days through an unrestricted registration. The application is compatible with Windows 7, 8 and 10. Its normal price is 49.99 euros, but it is currently on sale and we can buy it for only 29.99 euros in a single payment. With this we obtain the right to use the program and receive unlimited updates.
Currently the latest version available is number 22.0.0.21, which has been available since last December. The installation process runs smoothly quickly as it does not feature third-party product offerings and no changes are made within our web browsers.
Minimum system requirements
Operating System : Windows 10, Windows 8, Windows 7
Software : Windows Media Player 10, Microsoft .NET Framework 4.5 and DirecrX 9.0
RAM : 2 GB RAM
Hard disk space : 250 MB for installation; up to 9 GB for temporary files (DVD); 25/50 GB for temporary files (Blu-ray); 100 GB for temporary files (Blu-ray XL).
Others : an internet connection is required to activate the program
Alternatives to Ashampoo Burning Studio
If we are looking for a program with which to make CDs, DVDs and Blu-ray recordings, we leave you a couple of alternatives to consider:
IMGBurn
With this program we can make backup copies by recording on CD, DVD and Blu Ray discs. Audio CDs, DVD video discs (from a VIDEO_TS folder) and Blu-ray discs (From a BDAV / BDMV folder) can be easily created. We can download it for free from this link .
CDBurnerXP
This software allows us to make all kinds of CD, DVD and Blu-ray recordings completely free of charge. It has functions such as creating and burning ISO images or creating bootable discs to start operating systems. We can download CDBurnerXP from the developer's website.