Applications
Browse the internet safely and privately with avast antitrack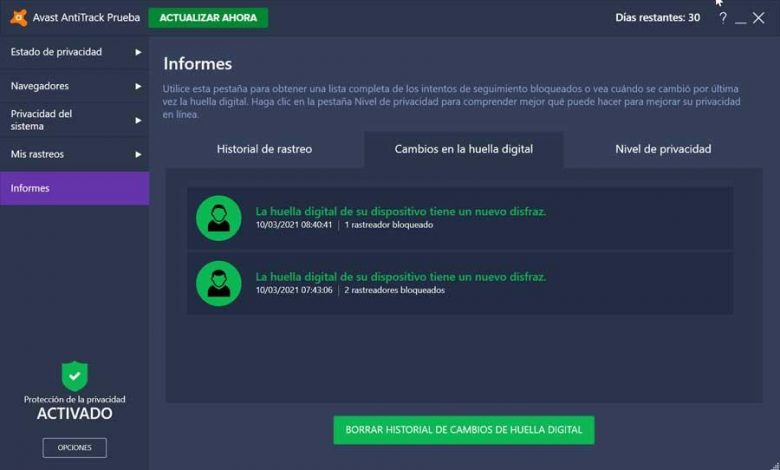 One of the biggest concerns for users when connecting to the Internet is their privacy. And it is that today it is difficult to maintain our privacy on the Internet because browsing anonymously is almost impossible. In the event that privacy is a real concern and we don't want our data to end up being spread across the network, we can use software like Avast AntiTrack, which we are going to talk about today.
Avast AntiTrack is software developed to hide our identity when we surf the Internet by hiding our identity online for greater privacy. For this, the program is responsible for introducing false information in the data that make up our fingerprint, modifying the information trackers and third parties that can see it. It also clears all tracking cookies, as well as other tracking data used by our browser.
The fingerprint is formed by our habits when browsing together with the options of our device and browsed. Through this fingerprint, advertisers can identify us and send us unwanted personalized advertising. To avoid this, Avast AntiTrack will warn us every time they try to track our data and avoid it. In this way, we can get third parties to see, follow and collect information about our Windows 10 PC.
Unlike other options such as ad blockers, the incognito mode of our browser or VPNs, this Avast program does manage to end online tracking, hiding our browsing history and protecting our favorite browser, whether it is Chrome, Firefox , Safari, Edge, Internet Explorer or Opera.
This is how Avast AntiTrack helps us regain privacy on the web
Once we run the program, its welcome screen appears where it informs us that we can use the free trial to block online trackers or subscribe to block them permanently. In the following screens a brief tutorial will appear on how the application helps us with network protection and invites us to install the extension for Chrome or Firefox.
Of course, we must bear in mind that these extensions are in constant operation, so they consume system resources. This is something that will be especially evident in equipment that is somewhat old or limited in terms of internal specifications.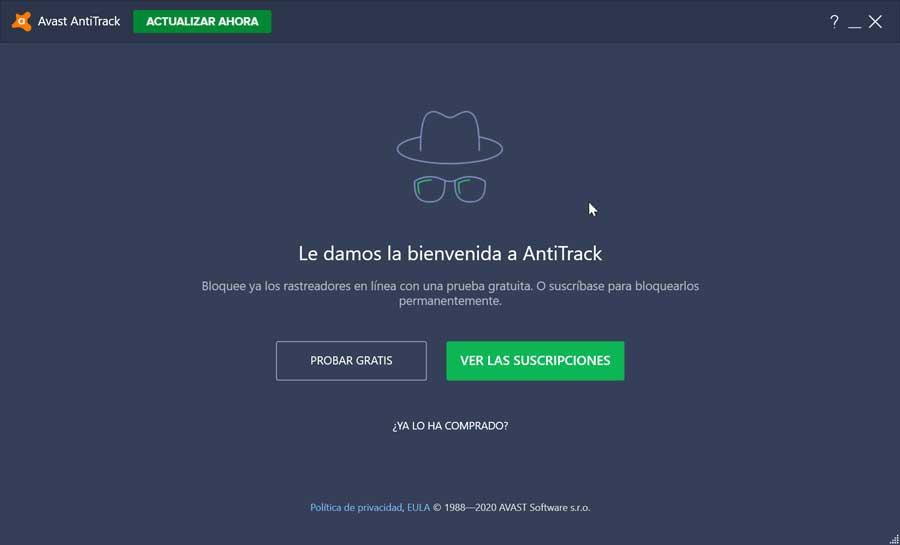 Once the presentations are finished, its main menu appears with an attractive interface and completely in Spanish, although perhaps too loaded with options, which can overwhelm many users. In the left column is the Privacy Status where we can see the Browsers, System Privacy, My Tracks and Reports.
Privacy Status
Currently the screen shows us the Privacy Status, where it shows us the level of our privacy and a very large green button to «Improve the level of privacy». By clicking on it, the Reports section appears directly, where we can see a list of blocked tracking attempts, as well as the Tracking History. From here we can activate or deactivate different privacy measures . It also informs us of the protected browsers, as well as the entry of lists of allowed cookies.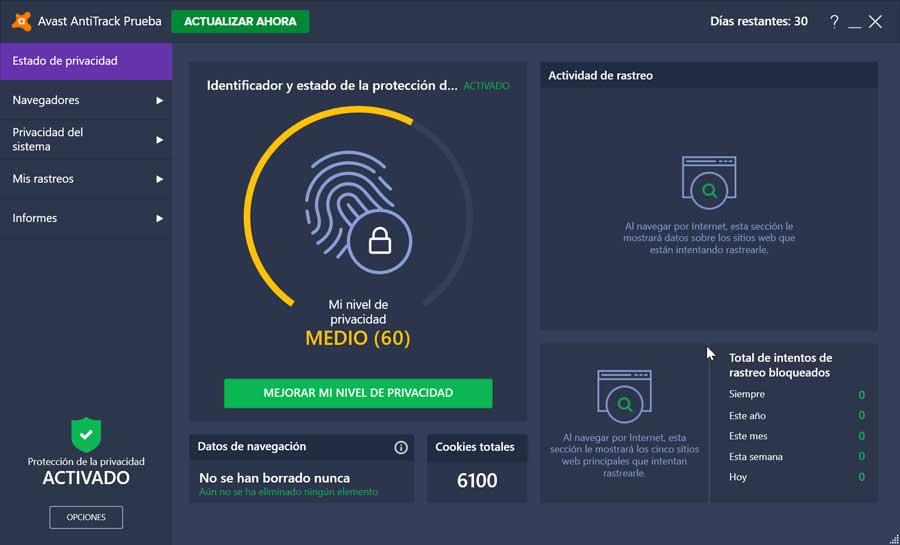 Browsers
From the "Browsers" section we can improve their privacy. Here we can activate or deactivate the browser protection to protect our identity and our personal data when browsing the web. A list appears with all the browsers that we have installed. Just click on the buttons on the right to activate (green) or deactivate (red) the fingerprint protection when we use them.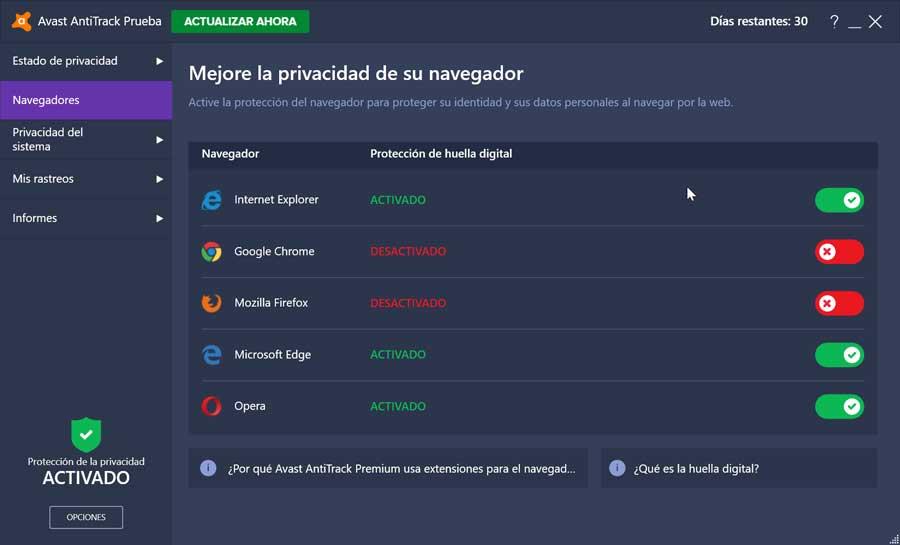 My traces
In the "My traces" section we can erase all our traces and stop the advertisements directed towards us such as cookies and other files that are dedicated to tracking all our movements online. The program recommends that we erase our data on a regular basis to stop the ads and be protected. In the Cookie Cleaning tab we can establish an automatic deletion frequency (never, every 3 hours, every 6 hours, every week, etc). On the right we can use the "Clear data" button to perform this option manually.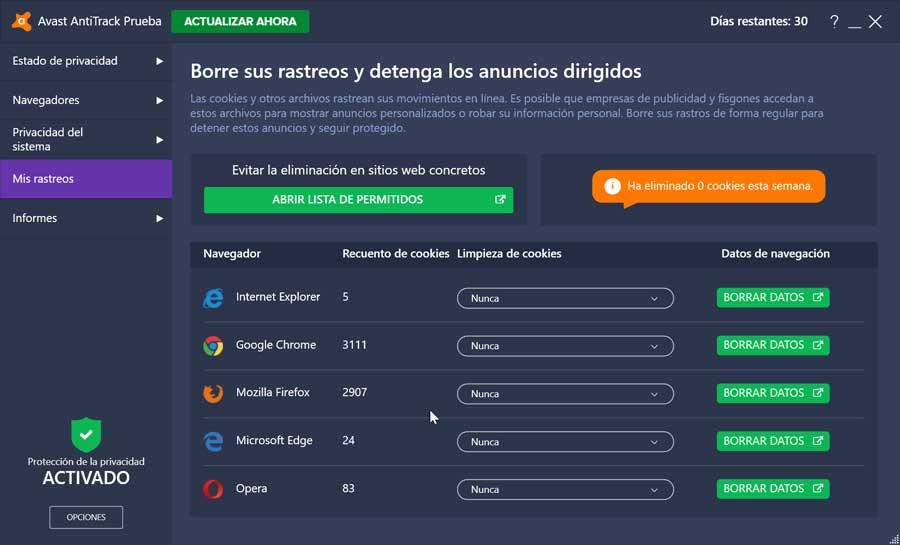 System privacy
From the Privacy tab of the system we can prevent our team from leaking personal information. This system prevents our operating system or third parties from following the activity of our device. It also prevents third parties from accessing our personal files, such as photos and videos. In addition, it prevents hackers from taking control of our equipment. Just click on Start to activate it.
Of course, something we must keep in mind is that being completely invisible on the Internet is almost impossible. Yes, we can make things a little more difficult for web and tracking companies, as is the case at hand here. But with everything and with it, at the same time we should take our own precautions in order to improve safety.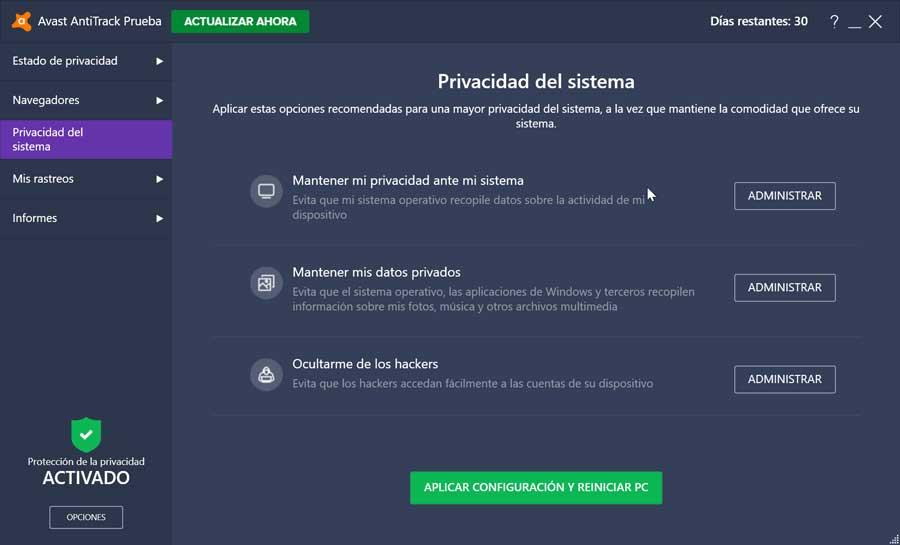 Reports
Finally, in the "Reports" section we can see a complete list of blocked tracking attempts, changes made to our fingerprint or the level of privacy. In the event that we want to erase all the change history of our fingerprint, click on the button «Delete fingerprint change history» at the bottom of the screen.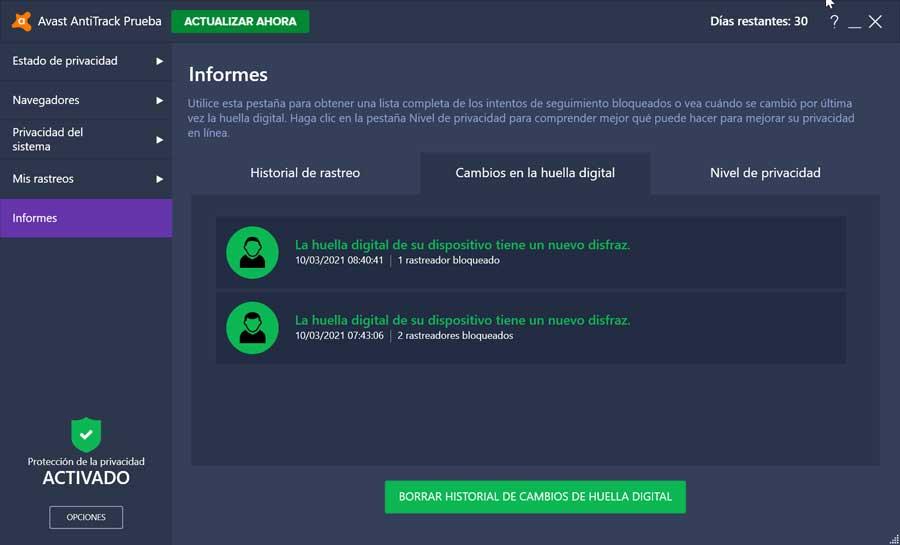 Download Avast AntiTrack
If we want to use Avast AntiTrack to protect our privacy on the Internet, we will have to acquire its license. But first, we can try it for free for 30 days by downloading a fully functional trial version from its website. The application is compatible with both Windows computers, macOS and Android phones. Once the trial period is over we will have to pay 49.99 euros per year to continue using it on a device. Or we can also choose to pay 59.99 euros per year and be able to enjoy its advantages from 10 different devices.
Keep in mind that in this case we do not have a free version, although it is limited in functions, as with other proposals. Therefore, to use Avast AntiTrack, we will have to opt for one of the payment methods that it proposes.
The minimum requirements are:
Windows 10 except Mobile and IoT Core Edition (32 or 64 bit), Windows 8 / 8.1 except RT and Starter Edition (32 or 64 bit) or Windows 7 SP1 or later in any edition (32 or 64 bit)
Fully Windows compatible PC with Intel Pentium 4 / AMD Athlon 64 processor or higher (must support SSE2 instructions)
512 MB of RAM or more.
300 MB of free hard disk space.
Alternatives to Avast AntiTrack
If we are concerned about our privacy when browsing the net, we will tell you some alternatives to Avast AntiTrack that you should know:
AVG AntiTrack
It is a privacy application designed to keep our identity protected against the latest online monitoring techniques, as well as to ensure the privacy of the system. This program is responsible for introducing false information about the data that make up our fingerprint. It also clears tracking cookies and browsing data from browsers. We can download a trial version from this link .
Tor Browser
When it comes to privacy, security, and anonymity on the web, a must-have program is Tod Browser, the official web browser designed to navigate the Tor network. It is compatible with Windows, Mac, Linux or Android systems. To use it, we only need to access its website and download it for free .
Keep in mind that here we find one of the great references in terms of anonymity on the Internet. This is a browser that has many among us and that offers us a much safer way to navigate, and all this at no cost. That is why many users around the world use it as the default browser to move around the web.