Applications
Best programs for windows that cannot be missing from your pc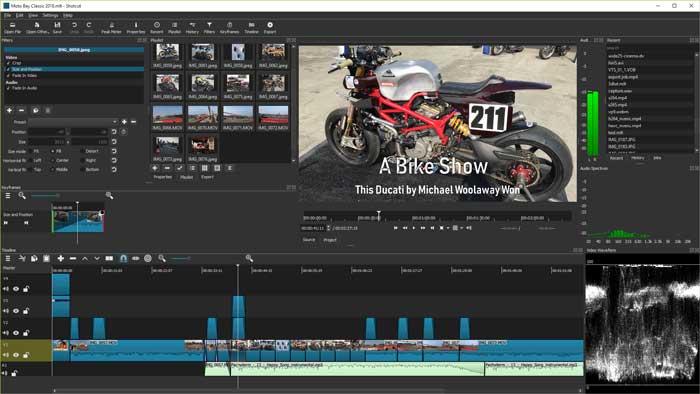 Although when we install Windows this system comes with a collection of programs and applications to start using it, the truth is that these are insufficient for an ordinary user. As part of the configuration and start-up of Windows, the first thing we must do as soon as we install the operating system is to download and install all the programs that we usually use, or that we will need later, for example, to work.
On the web we can find an infinity of different programs. However, most of them are not necessary for most users. And installing programs that we do not need the only thing it does is take up space and make our PC go slow.
However, there are a number of applications that we can consider as "essential" that should be on all Windows computers, since they are the ones that will allow us to work normally and carry out all day-to-day tasks.
Next, we are going to see which are these must-have programs for Windows .
Better web browsers
The browser is the program that will allow us to surf the Internet and visit web pages. Windows comes with a browser by default, but we can also install others so that we can use the one that best suits our needs.
Google Chrome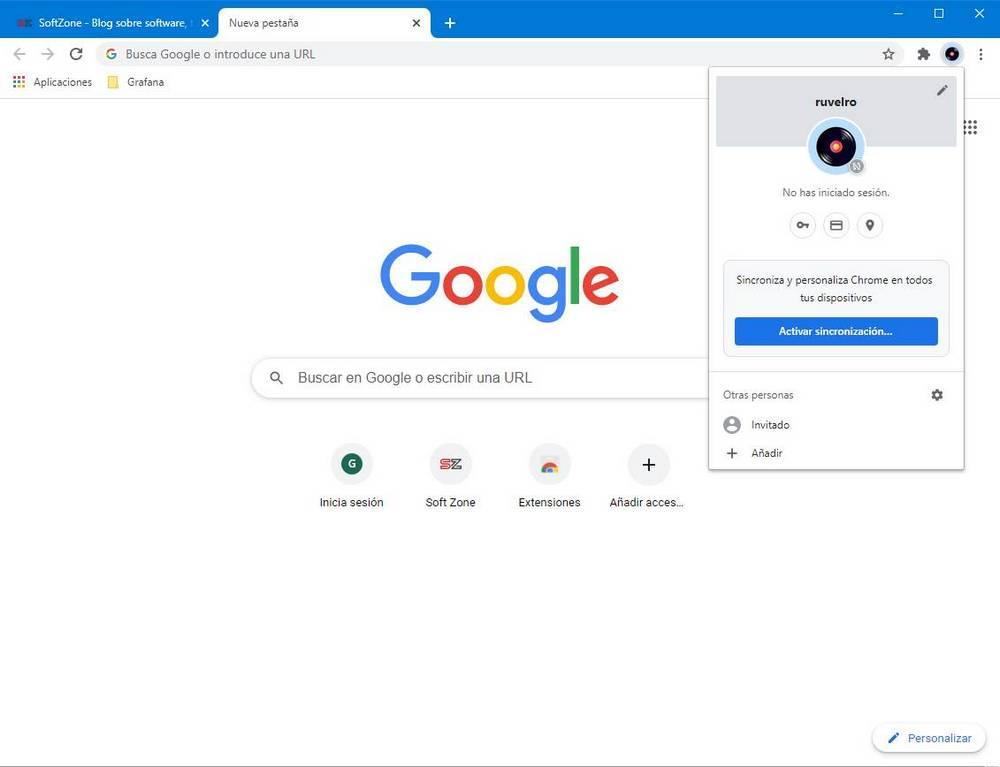 Of course, the first program that could not be missing on our computer is Chrome. Google's browser, the most used in the world. This browser is essential for all those users who make use of the services of this company (such as Gmail, password synchronization, etc.) and want to always have everything safe and synchronized between PCs and mobile devices. It is not exactly the most private browser that exists, nor the one that consumes the least resources. But it is true that it is one of the most comfortable to use. Therefore, 7 out of 10 people use it on their PCs.
Microsoft Edge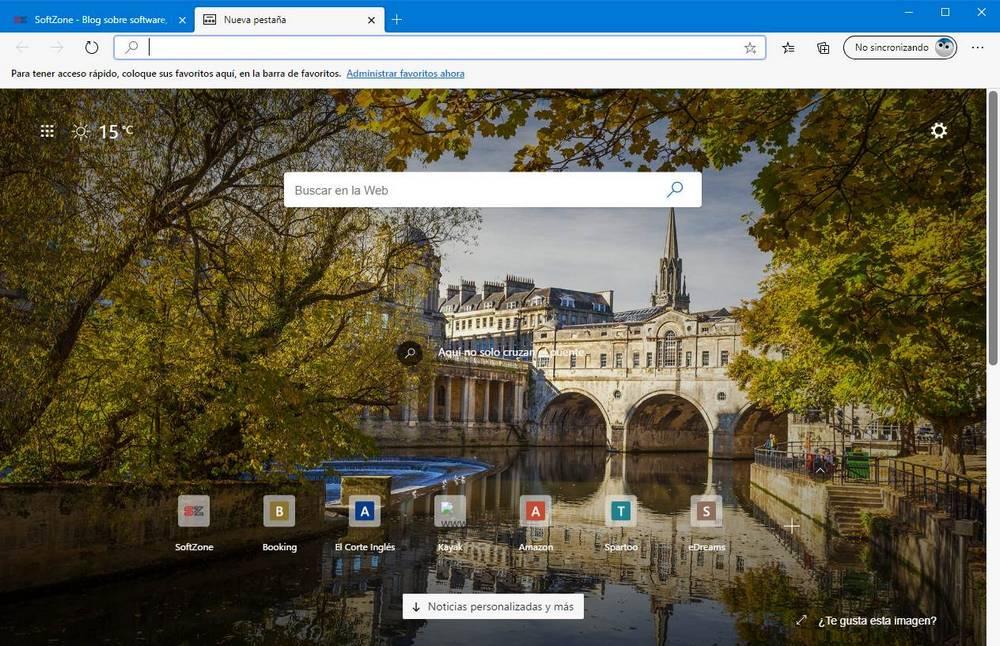 Edge is Microsoft's browser included by default in Windows 10. Until not long ago, this browser was considered a program that we should avoid. However, newer Chromium-based versions (like Chrome) have proven to be on par with Google's browser. And if we do not want to be under the control of Google, Edge becomes an excellent option to consider. A fast, simple and light browser with which we can navigate while respecting our privacy.
Firefox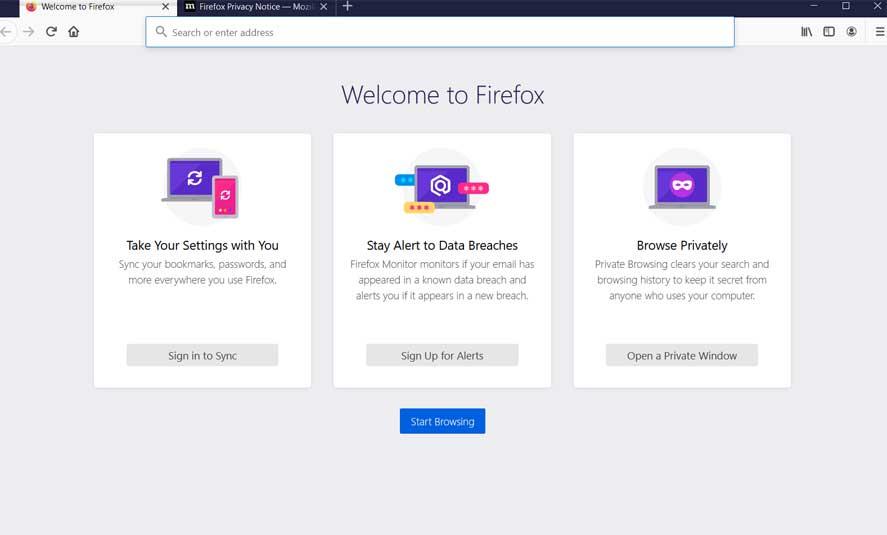 Firefox is Mozilla's browser. Its main characteristic is that it is an open source browser, designed above all for the privacy of users. Firefox does not follow the same philosophy as Chrome or Edge, but uses its own engine to offer users a totally different browsing experience. In consumption, more or less shakes hands with Chrome, although some users say that when the load of webs is very high it consumes less and works faster.
Essential antivirus
Connecting to the Internet today without an antivirus is not recommended at all. The network is full of threats and hackers waiting for the slightest opportunity to attack users. Therefore, in addition to using common sense, it is necessary to have a good antivirus to protect us from these threats.
Windows Defender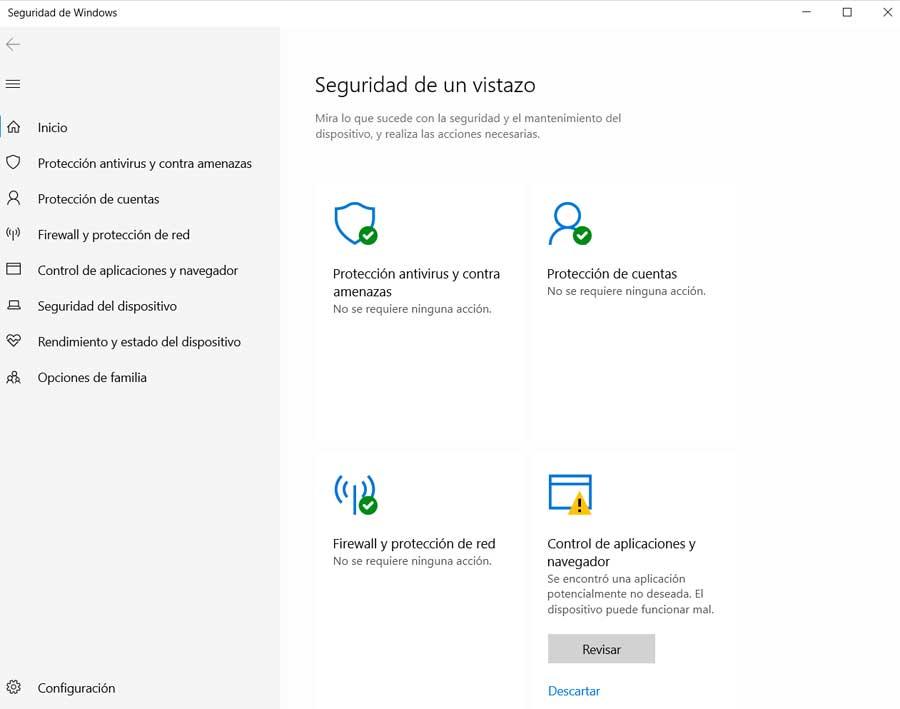 Windows Defender is the default antivirus that is installed in Windows 10. This security software has a protection engine, which is updated in real time, a firewall, and other security shields that help us to always be protected from all threats .
To be honest, this antivirus is the best we can install on Windows 10. Security tests have shown on multiple occasions that it offers perfect protection and excellent performance. In addition, it is the one that will give us the least problems with operating system updates. Therefore, it is the only antivirus as such that we are going to recommend using.
Windows Defender does not download, it comes by default in Windows 10.
Malwarebytes Anti-Malware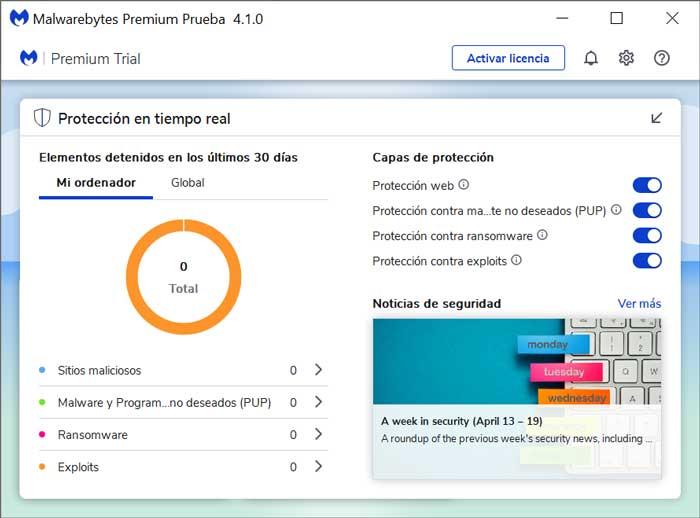 Antiviruses are capable of detecting the most dangerous viruses, worms and Trojans. But there is another type of unwanted software that can be hidden on our PCs. Therefore, it is also necessary to have specialized software for this other type of second-division malware, such as Malwarebytes Anti-malware .
This free program allows us to analyze our PC in search of all those small threats that our main antivirus has overlooked. In addition, it can be run alongside it without there being any type of conflict, so it is also ideal to have a second opinion on whether our PC is clean or not.
Download Malwarebytes Anti-Malware.
Best backup programs
Data is the most valuable thing we keep on the computer. Losing a program does not imply anything, since we can download it again at any time. But losing a job, document or personal photos is quite painful. And although there is software to try and recover deleted files, there is no better protection than a backup.
OneDrive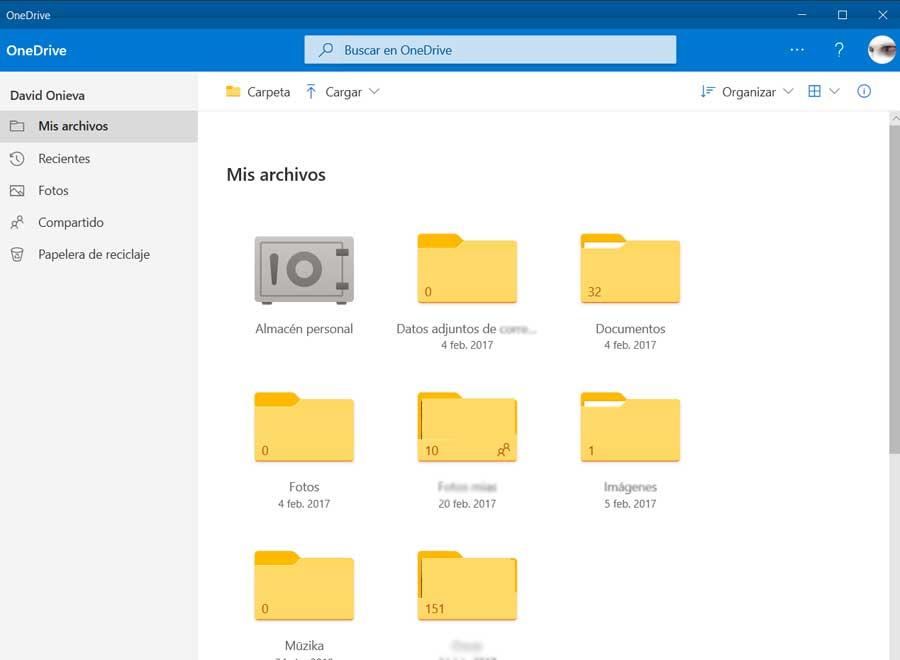 OneDrive is Microsoft's cloud. Just by having a Microsoft account we can have 15 GB free to save what we want in the cloud. This storage service is fully integrated into Windows 10, so we can use it as if it were another folder on the computer. All data will be safe, and we can access them from any device.
Microsoft gives us 15 GB of OneDrive for free, but we can get 1 TB of storage by buying the Office 365 subscription, which will also give us access to all Office programs.
OneDrive is installed by default in Windows 10. But we can access its website from here .
Google drive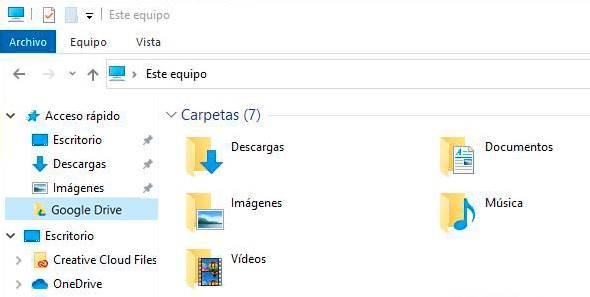 If we have an Android mobile, or we simply want all our data to be centralized within Google, then we can replace OneDrive with Google Drive . Broadly speaking, what this program offers us is the same as OneDrive offers us: a storage space in the cloud to keep a backup of all the data we have on the PC. However, Google Drive is much less integrated with the cloud and, therefore, the task of making the copies may be more manual and we depend more on the browser.
With Google Drive we have 15 GB free to save what we want, and we can pay 2 euros per month for 100 GB, 3 euros per month for 200 GB or 10 euros per month for 2 TB. We can share this storage with family members.
EaseUS Data Recovery Wizard
The simplest and simplest application, but no less powerful and, on the other hand, also recommended, is EaseUS Data Recovery Wizard. We have the possibility to test its power with a trial version but that makes it clear to us the possibilities that the Pro offers us, capable of recovering any type of file (documents, photos, videos, images, etc.) almost after any scenario: erasure, disk formatting, operating system crash, malware attack, data loss from a partition, etc.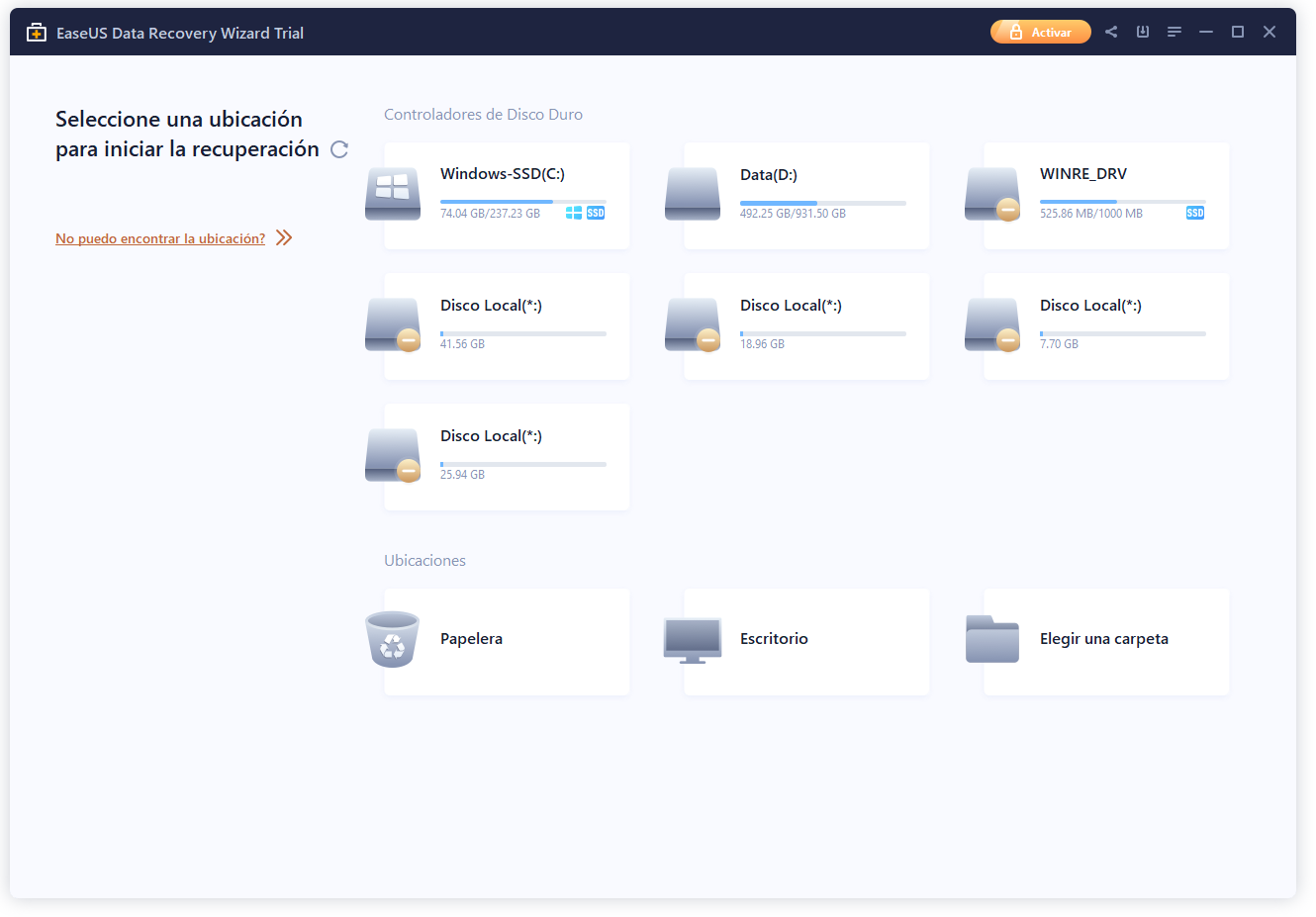 The way to use it is as simple as when installing it, the screen that you can see above appears, in which we choose the unit that we want to analyze to find the documents that we have lost.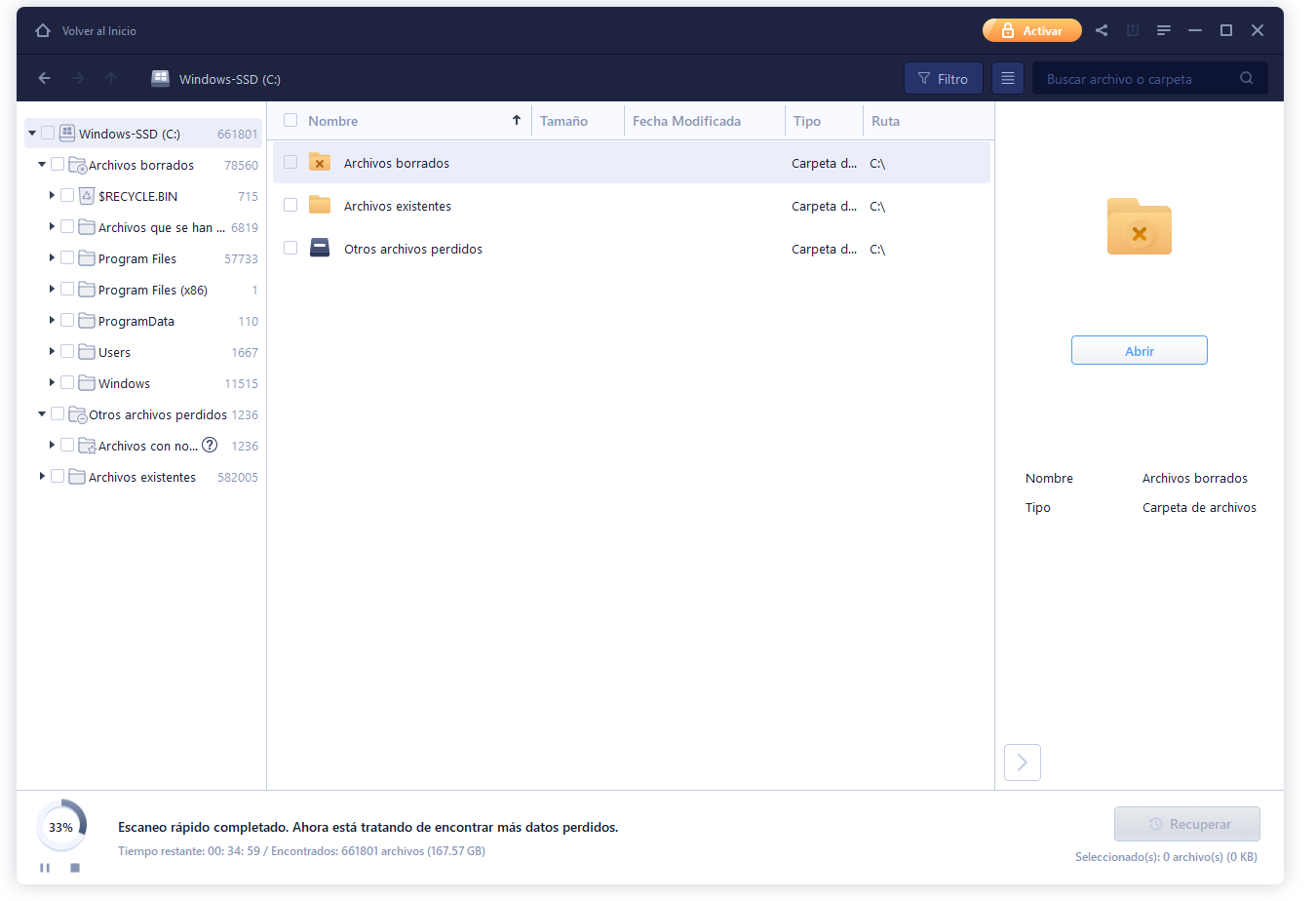 After this, the folders with the deleted and deleted files that we can rescue will appear. We just have to go browsing through the directories, looking for those that we need and that we believed were irrecoverable. With this program, that will never be a problem again.
Download EaseUs Data Recovery Wizard
Acronis True Image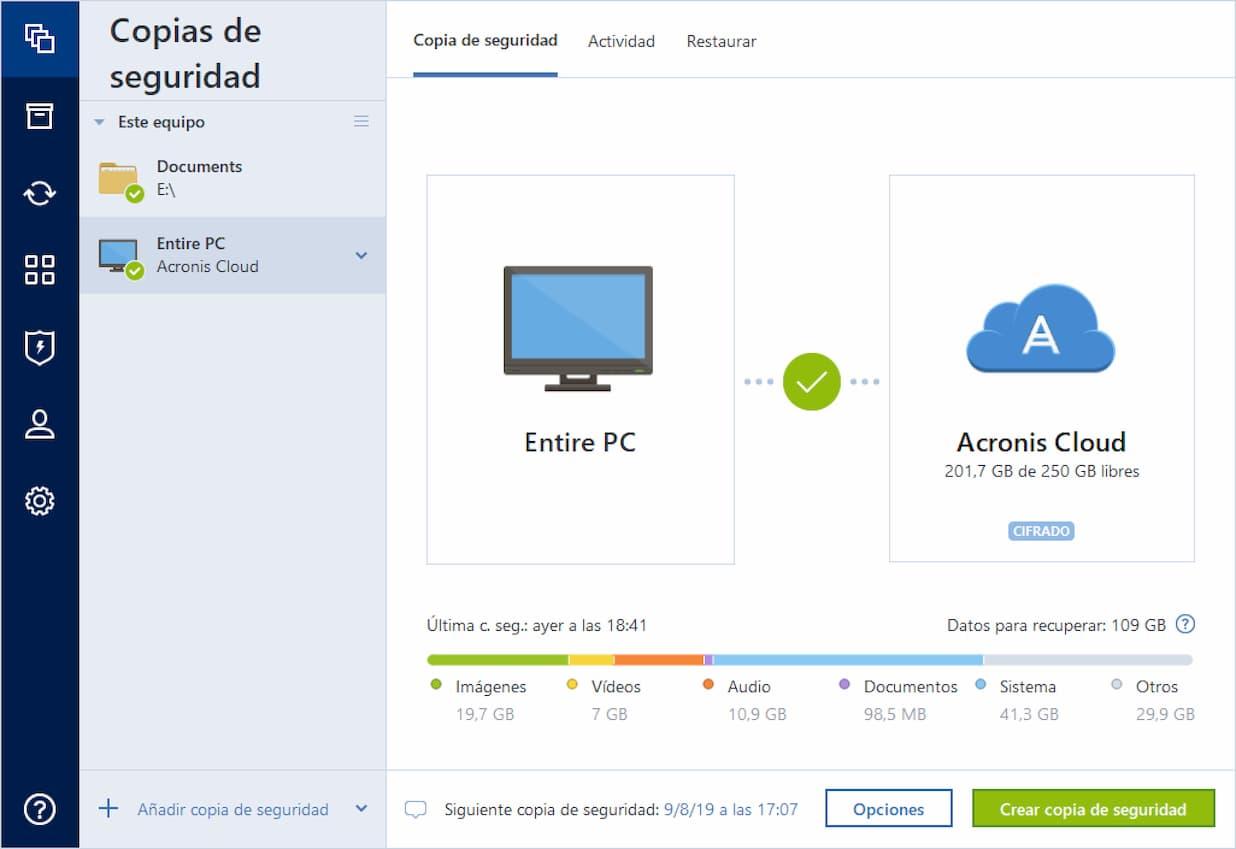 If what we are looking for is to be able to make local backup copies (for example, on an external hard drive, or on another drive), an excellent program that we can find for this purpose is Acronis True Image . This software is very easy to use and allows us both to make manual backups and to schedule them to run automatically and we don't have to worry about these copies anymore.
With Acronis we can always have our data protected (in addition to being encrypted, to prevent others from accessing them) and, in case we have to recover any of them, we can do it individually, something that many programs do not allow.
Macrium Reflect

If we are looking for a program similar to Acronis, but that we can use for free, without paying, then we can turn to Macrium Reflect . This software allows us to create manual or automatic backups that we can save on both local and remote hard drives, and even in the cloud. A very complete, safe and easy-to-use solution thanks to which we will be able to have all our data always under control.
Office suites to work
Whether to write documents, keep an accounting or make presentations, it is necessary to have a good office suite on our computer. In the network we can find a good variety of them; some free, and others paid. Next, we are going to see which are the best ones that we can install in Windows 10.
Microsoft Office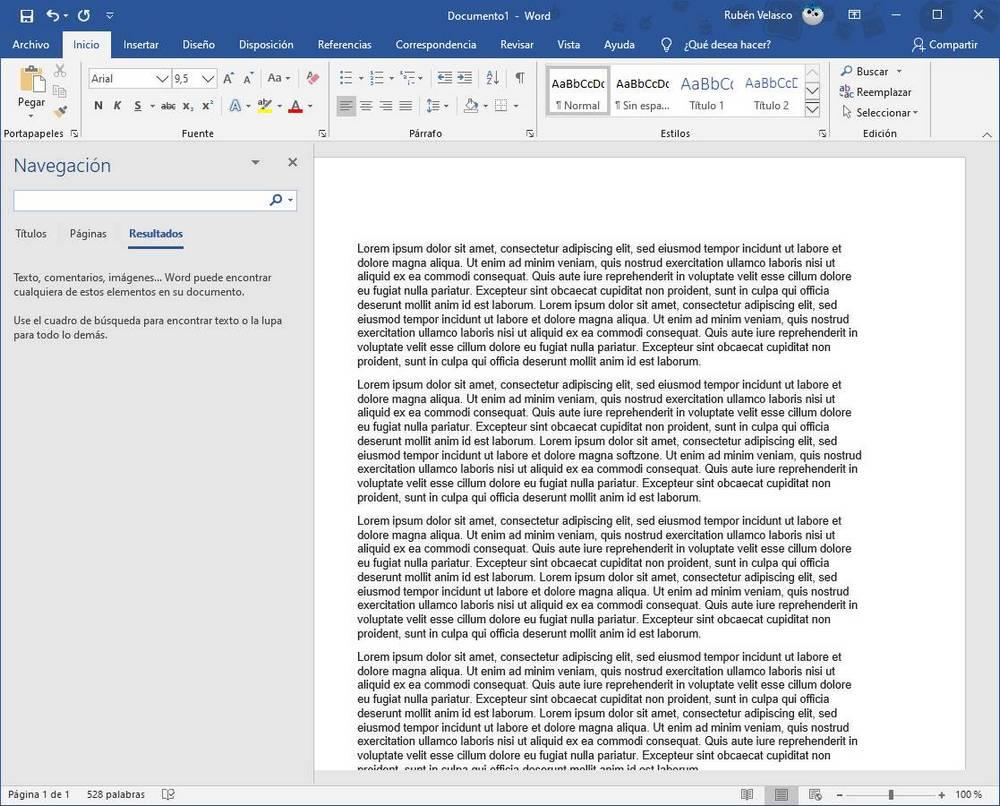 Office is Microsoft's office suite. This is the one that will allow us to install Word, Excel, PowerPoint and other programs with which we will be able to write documents, make spreadsheets or create slide shows. Most users, and almost all companies, use this office suite, so betting on it is a guarantee of compatibility.
Microsoft Office is a paid program. We can buy a single license to use the latest version, or subscribe to Office 365 through a monthly or annual payment that, in addition to giving us unlimited access to Office, gives us additional advantages, such as 1 TB of storage in OneDrive. In addition, we can share the Office 365 license with 5 more family members, each of them having 1 TB of independent storage.
LibreOffice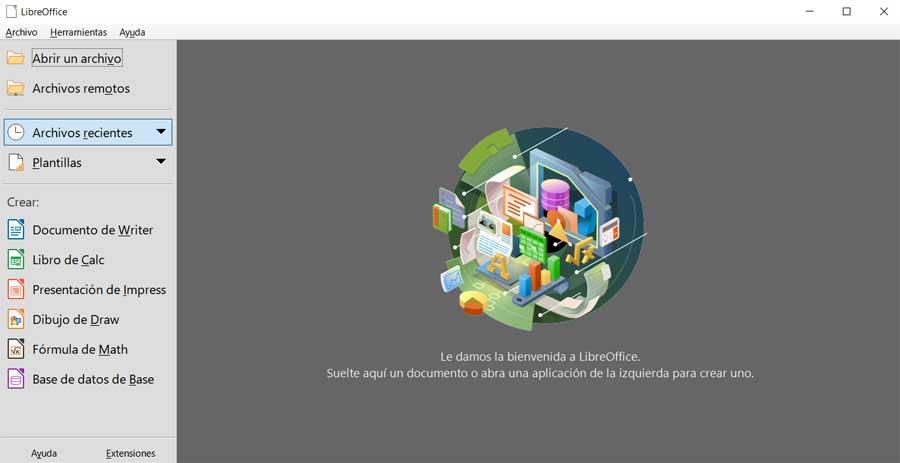 If what we want is a free suite, that we do not have to pay, and that is compatible with Office, then we must install LibreOffice on our computer . This open source suite has a word processor (Writer), a spreadsheet program (Calc) and a tool for making presentations (Impress) that will allow us to replace expensive Office programs, but without turning our backs. to compatibility with this suite.
PDF viewer and editor
The PDF format is one of the most used when it comes to working. This document format, created by Adobe, is characterized above all by preventing unauthorized editing, by maintaining proportions and style, and by including all the elements, including the font, that shape the document.
Adobe Acrobat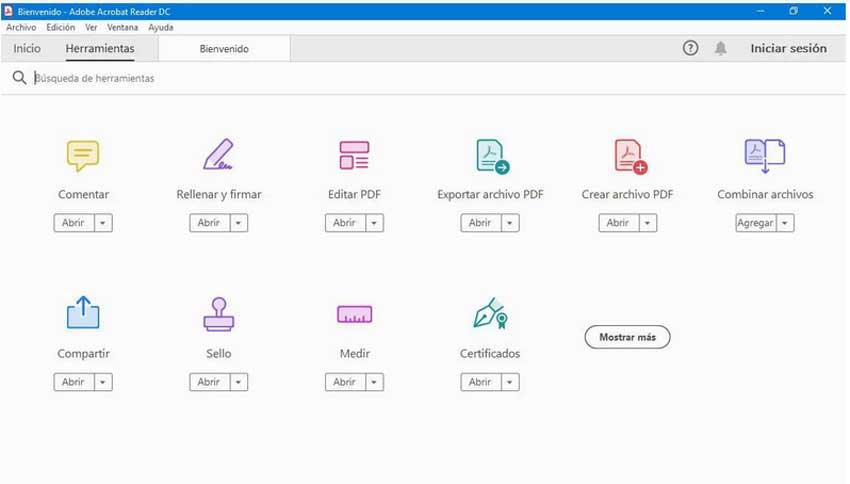 Of course, the first of the programs that we are going to recommend is Adobe Acrobat . This is the official software to work with all these types of documents. On the one hand we have the Reader version, totally free, which will allow us to open all kinds of documents and interact with them at a basic level, for example, to fill in forms or make simple annotations. And on the other hand we have Acrobat, the official program to create and edit all kinds of documents in this format, being, without a doubt, one of the most complete that we can find.
Microsoft Edge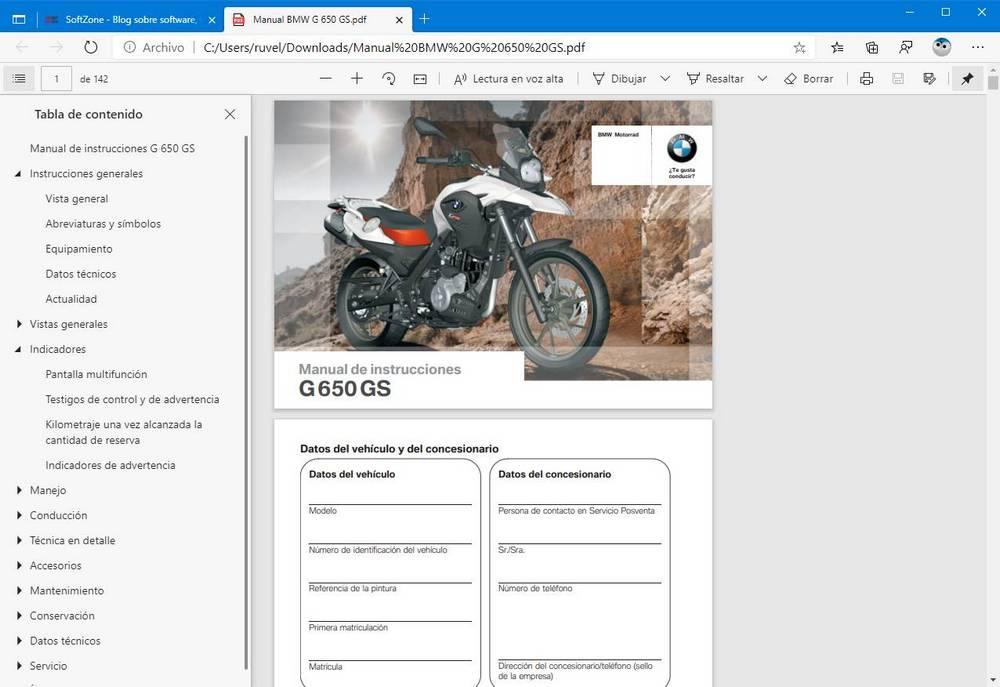 If we are one of those who like to keep the system as simple as possible, and with the least number of programs installed, we can take advantage of the new Edge Chromium and use it as the default PDF viewer. The new versions of Edge include one of the best free PDF viewers. With it, we will be able to open any document and we will have access to a series of simple editing tools that will allow us to make some basic adjustments to the program. Edge is totally free and open source, so it can help us avoid installing other programs on the PC.
SumatraPDF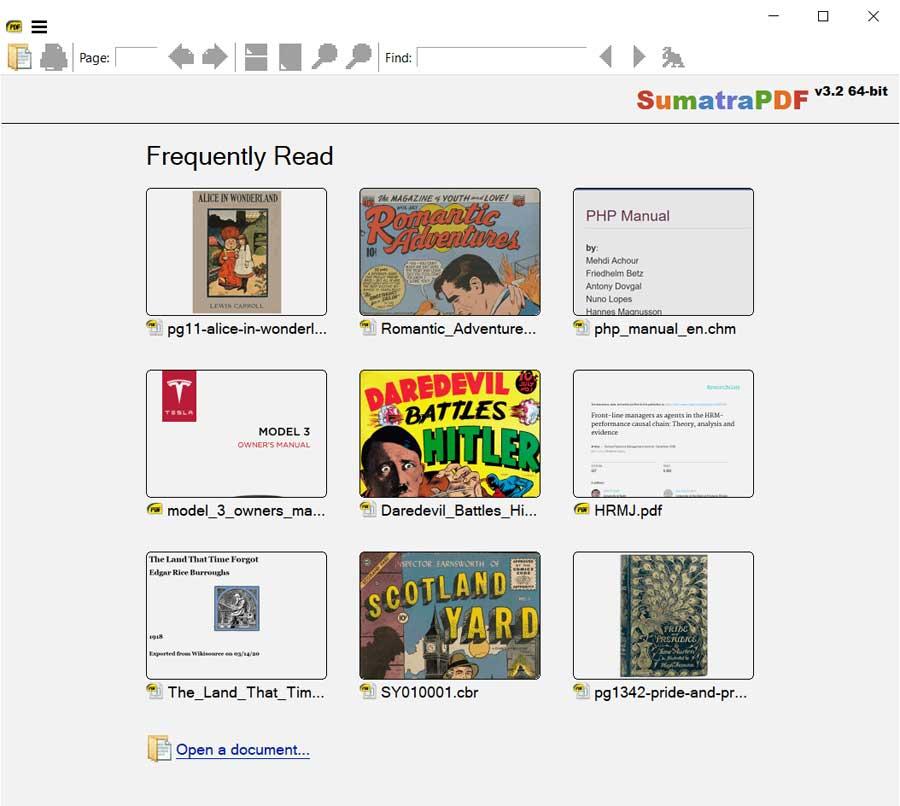 If what we want is a simple and totally open source program, then the best option we can find is SumatraPDF. This program basically focuses on opening all types of PDF documents (and also electronic books), and it has only the basic functions that allow us to open the document, view the index, select text and little else.
Music and video
The multimedia reproduction is also another of the most important factors of our computer. Whether for leisure, or as a company while we work, most of us surely use our computers to listen to music. Just like we do to watch all kinds of videos, series and movies.
Spotify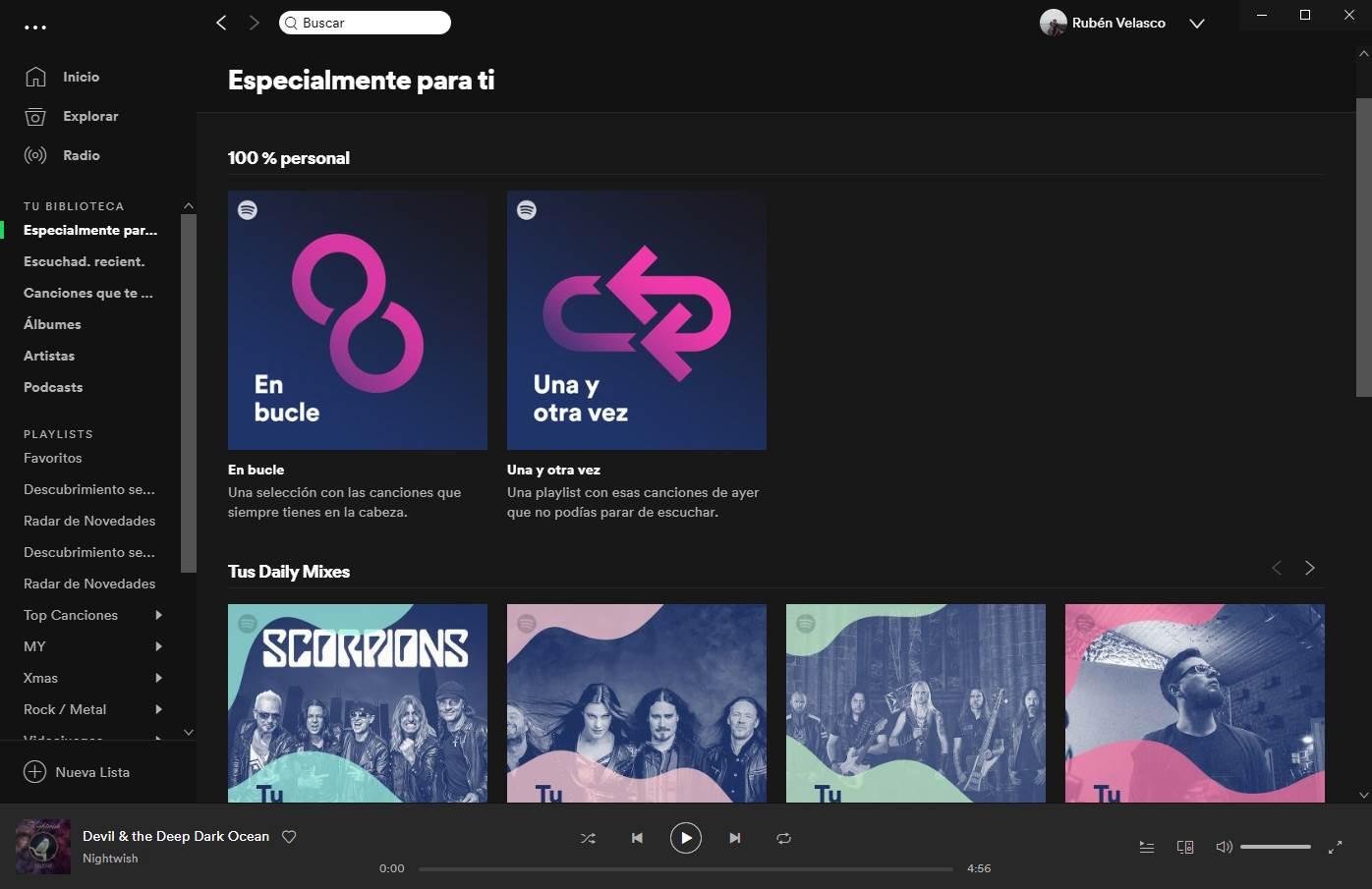 If you like music, and you usually listen to it while sitting in front of your PC, without a doubt the essential program that we cannot miss is Spotify. This is the largest platform for streaming music that we can find on the net. In it we can find absolutely any group or song that we want to listen to. If we don't mind listening to commercials (like on the radio), we can use this program completely free of charge, and without limitations. But if we don't want to, we can pay for the Premium subscription and be able to listen to all the music we want without a single ad.
VLC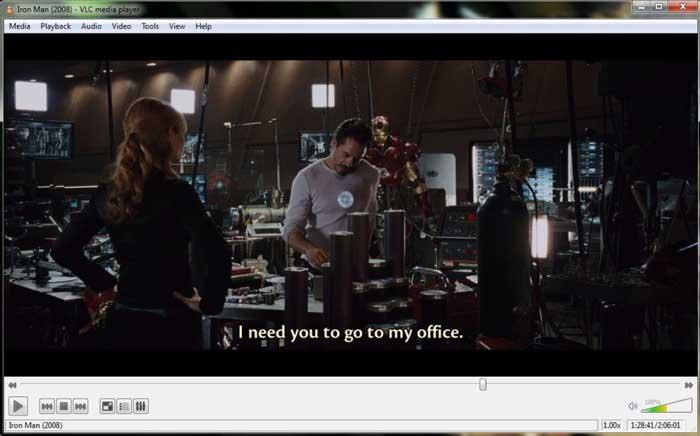 And if what we like is watching videos, without a doubt we will have to install VLC. This is the best free video player we can find for PC. In addition to being free and open source, its main feature is that it includes codecs by default to open any audio or video format without any problem, without configuration and without having to install anything at all.
Also, if you are one of those who still keep your small collection of music in MP3, or physical CD, VLC can play it too.
Image edition
An also very common use of the PC is the retouching of images. Whether at a professional level, or at a very basic level, surely we have ever used the computer to retouch or modify a photo. In Windows we can find an infinity of programs for this purpose, but some of the most important are the following.
Adobe photoshop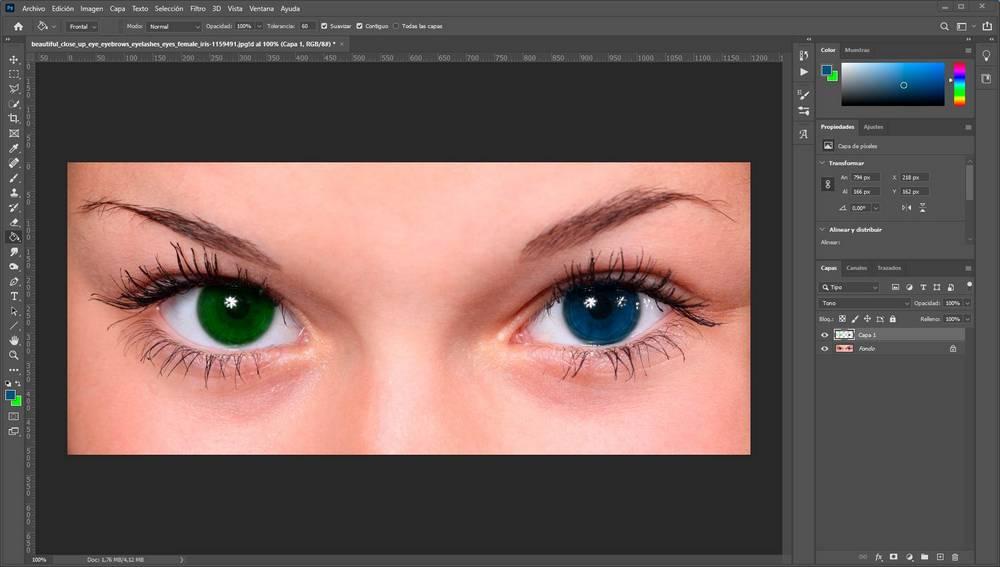 Photoshop needs no introduction. Adobe's professional photo retouching software is the most complete that we will find. Thanks to all the functions and tools that this program offers, we will be able to do literally anything with it. Of course, it will depend on the time we have, our knowledge and our skills. Photoshop is a paid program, and to be able to use it we have to pay the subscription to the Adobe photography plan every month.
GIMP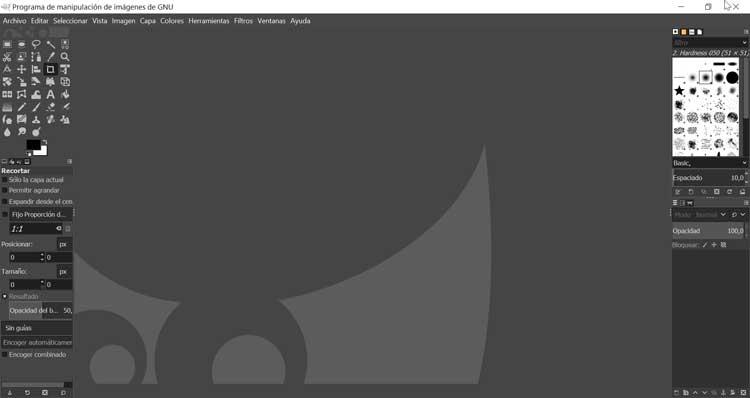 If you are looking for something like Photoshop, but that you can use for free, then your program is GIMP. This open source software brings us many of the functions and features of Photoshop so that we can use them without having to pay. Although it can be worth us on a personal level, for professional and very advanced jobs it can leave a little to be desired. Especially when working with layers or using AI tools. But as a program it is excellent, and we can also download and install it for free on any PC operating system.
Paint.NET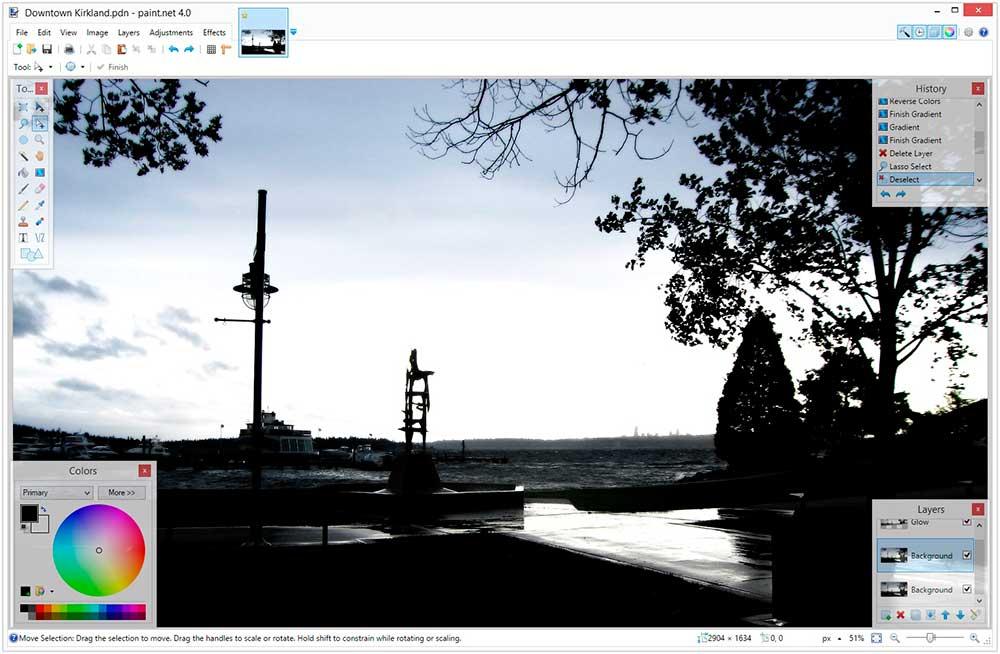 Paint is the drawing program that is included by default in Windows 10. This program is too simple and basic, and hardly anyone uses it except for quick edits. But if we want something simpler than the previous two programs, also free, and similar to Paint, then we can try Paint.NET . This software is roughly an "improved" version of Microsoft's Paint, with more tools and functions to allow editing without reaching the level of Microsoft software.
ShareX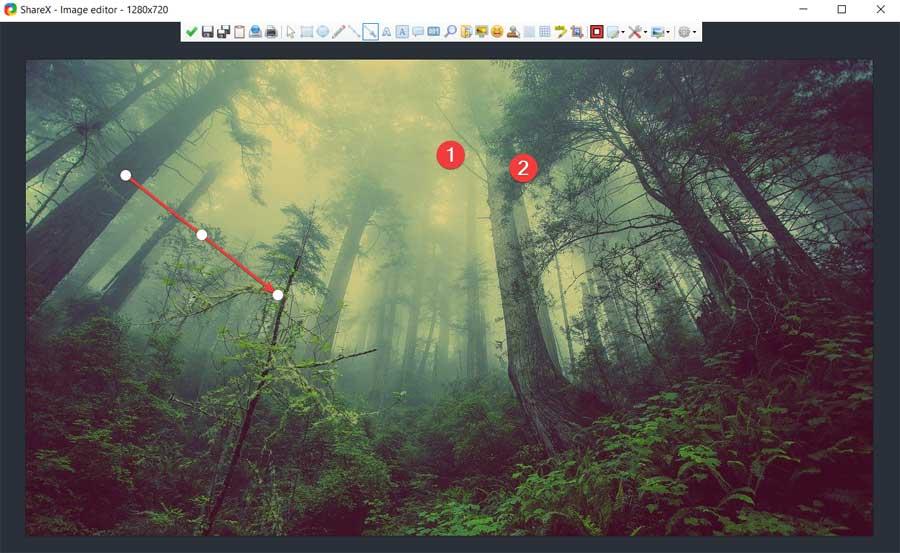 ShareX is not an editing program as such. But if what we usually do are screenshots, it will undoubtedly be very helpful. This completely free and open source program automates the task of taking and saving screenshots. It also allows us to select the space we want to capture (instead of capturing the entire screen) and has some basic tools to paint on the screen before capturing, such as a pencil, arrows and even a tool to blur or pixelate.
Download files
Do you usually download files from the Internet? Web browsers have their own download manager that allows us to download files from servers. But these managers are very basic, and they fall short in functionality. In addition, they are not compatible with certain protocols such as torrenting. Therefore, other programs that we have to install as soon as we have the opportunity are:
Transmission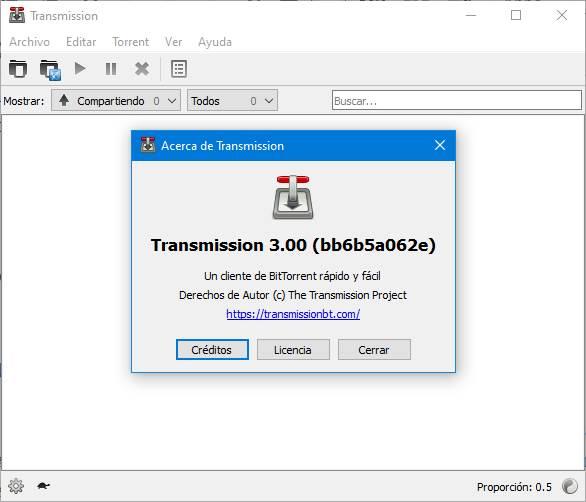 Transmission is one of the best torrent downloaders we can find. This client has nothing to do with uTorrent, since it is a very simple to use program, without advertising, totally free and open source. One of the best if we often download torrent files and what we want is basically that, that they be downloaded and nothing else.
JDownloader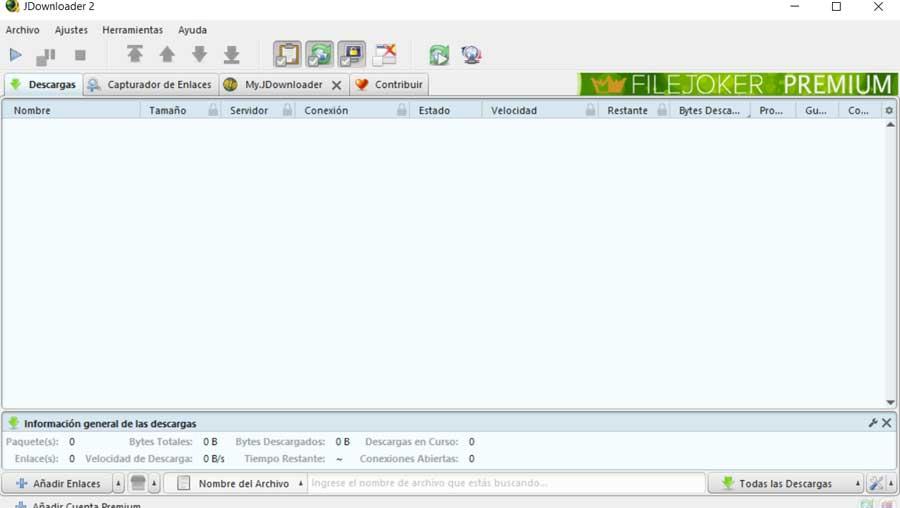 If we often download files in direct download, jDownloader will help us in this task. This program is also free and open source, and it will allow us to automate the download of all the files we want from any server. In addition to direct download, jDownloader will allow us to download files from popular hostings, such as Mega or Google Drive, with the benefits of Premium accounts, and even from private servers that require a password. Although you have many options, and it may seem too chaotic, it does the job perfectly.
qBittorrent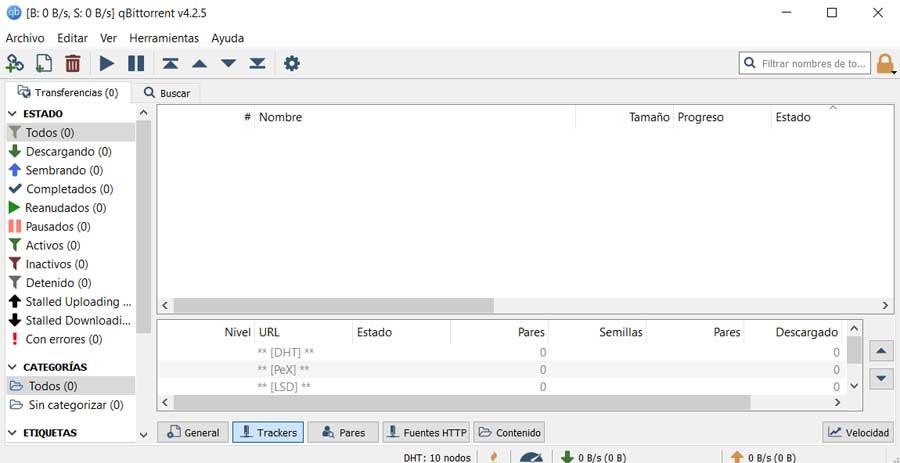 Although with Transmission we should have plenty, another excellent torrent download manager is qBittorrent. This program looks a bit more, aesthetically alone, like uTorrent. But it is a very light program, totally free, without ads and open source. A great option if Transmission does not convince us, or if we are looking for an even lighter program even at full performance.
Password managers
Passwords are one of the most important personal items today. Thanks to them we prevent unauthorized people from accessing the websites and impersonating us. However, today it is necessary to use complex and different passwords for each website. These passwords are usually difficult to memorize. Therefore, a good password manager is necessary (or at least highly recommended).
1Password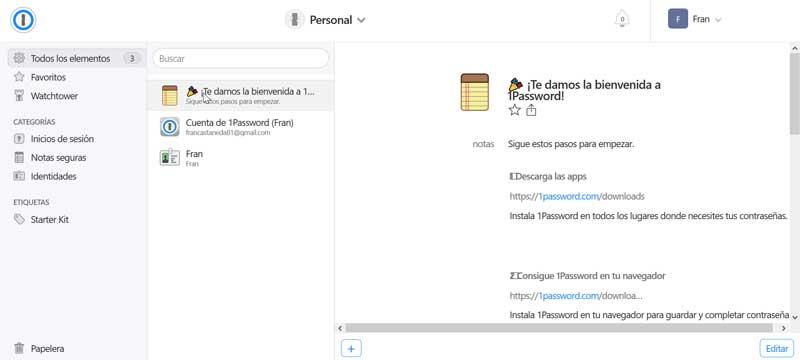 1Password is one of the most popular password managers that we can find on the web. This allows us to keep all our passwords synchronized on our devices, and even share some with our relatives in a simple way. It has clients for PC and mobile devices, and even extensions to have passwords at hand in any browser. Of course, this service is paid, and we will have to pay a monthly fee (not very expensive) to be able to use this tool.
LastPass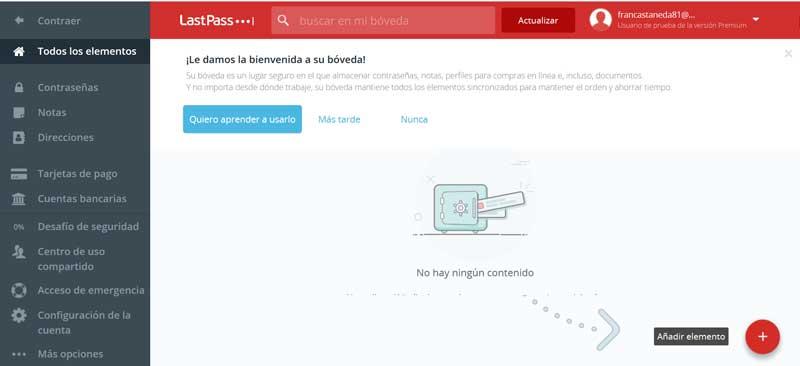 LastPass was one of the first secure password managers in the cloud to gain popularity. Although this program has always been paid, today it has a free version, for personal use, which is more than enough for us to save all the passwords we want and synchronize them with all our devices. An excellent online solution for those looking for the easy way.
KeePass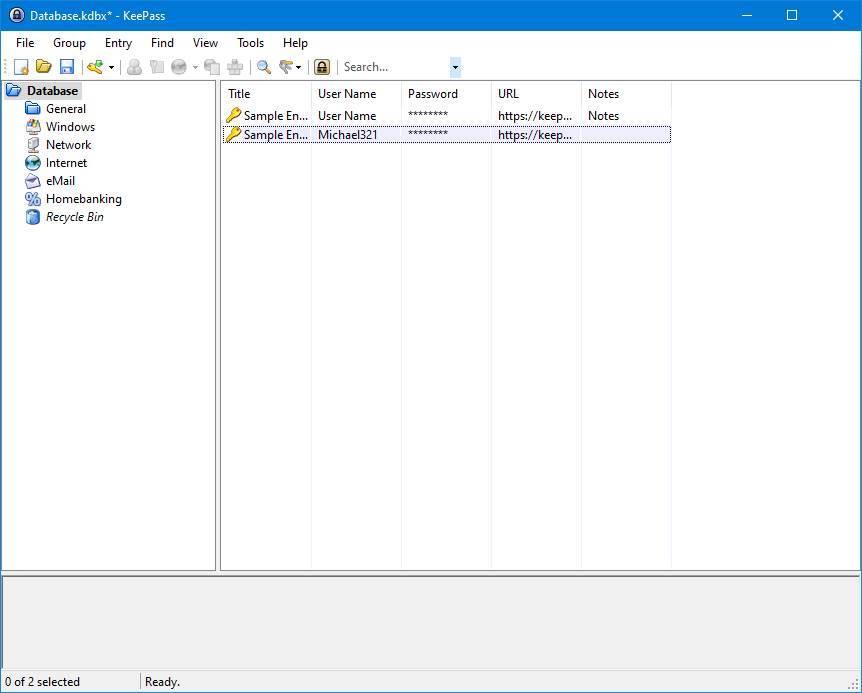 If we really care about our passwords, we would never give them away to two private companies, like 1Password and LastPass, with totally opaque servers that can do whatever we want with our keys. Therefore, as an alternative to the two previous services, we recommend using KeePass. This program is completely free and open source and allows us to create a secure and encrypted database that we can manage ourselves, without depending on other companies or other servers. In addition, thanks to its plugins, we can manually add synchronization in the cloud through an FTP, OneDrive or Google Drive. The best way to keep all our passwords safe and away from the control of third companies.
File compressors
Whether we download files from the Internet, or if we usually share files with other people (by email, in the cloud, etc.) it is very important to have a good file compressor. Windows 10 is capable of opening ZIP files, and compressing to that format, without the need for additional software. However, if we want support for more formats, we will have to resort to other specialized programs.
WinRAR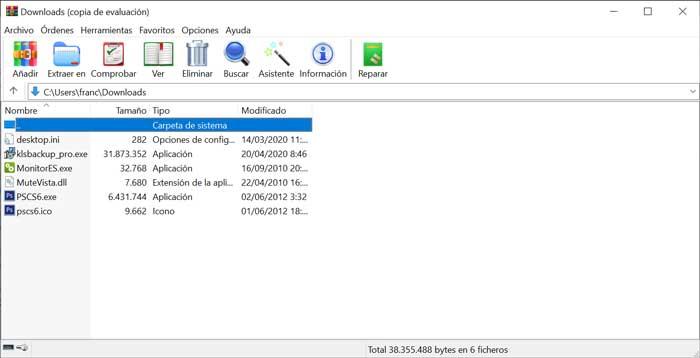 WinRAR is the file compressor par excellence. This program is the original of the RAR format, although it also allows us to open many other formats without problems, being an all-in-one in terms of file compression and decompression. Although any program can open RAR files, WinRAR is the only one that can compress to this format. And it is also the only one that supports the new improved RAR5 format.
Although it is paid, the 40-day trial of this program never ends, so if we do not mind seeing a message that asks us to pay, then we can use it without limits.
7Zip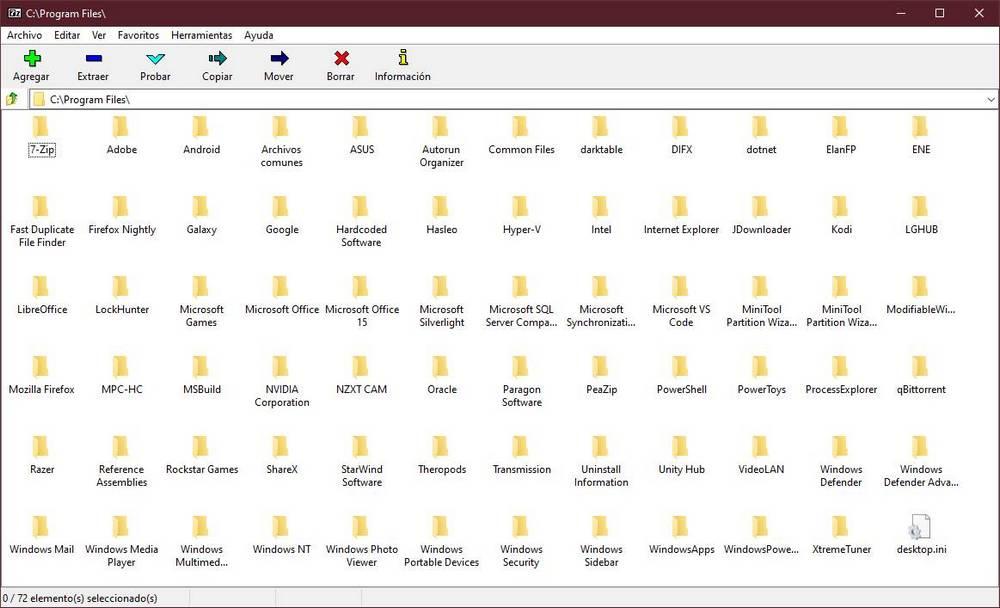 If we have ever seen a file in 7z format, then we must know that it has been created with the 7Zip engine . 7Zip is a totally free and open source file compressor that will allow us to work with its own format (also open) and both open and compress files in other formats. The problem with this program is that its interface is very simple, and many are put off. But it is a very simple, light and free program that we can use to compress and decompress any type of file.
PeaZip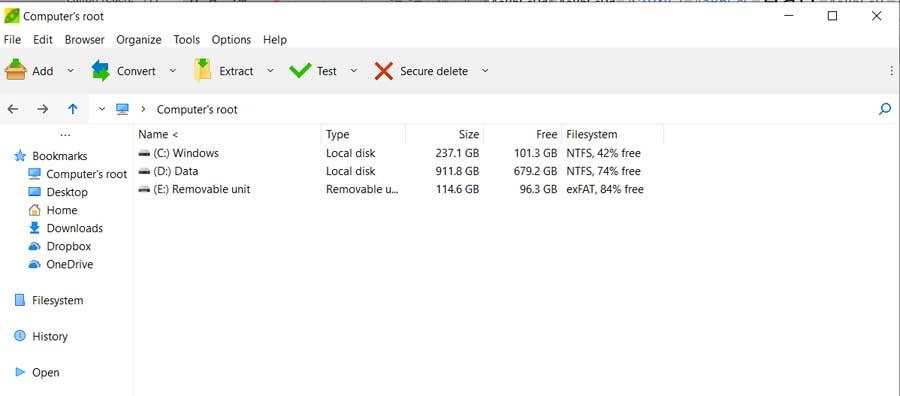 If we want a program similar to WinRAR, but free and open source, then without a doubt we should opt for PeaZip. This file compressor uses its own libraries, but it also uses the 7Zip engine to be able to both open and compress files to any format, even RAR5 (read only). In addition, it also has a large number of options and features that make it, without a doubt, the best free and OpenSource file compressor for Windows.
Video editors
As long as we like to record videos either with a professional camera or through our mobile, surely we want to have the possibility of retouching it. For this, it is important to have a good video editing program that helps us to retouch the image, add filters … in short, obtain the best possible result with the recording.
Adobe Premiere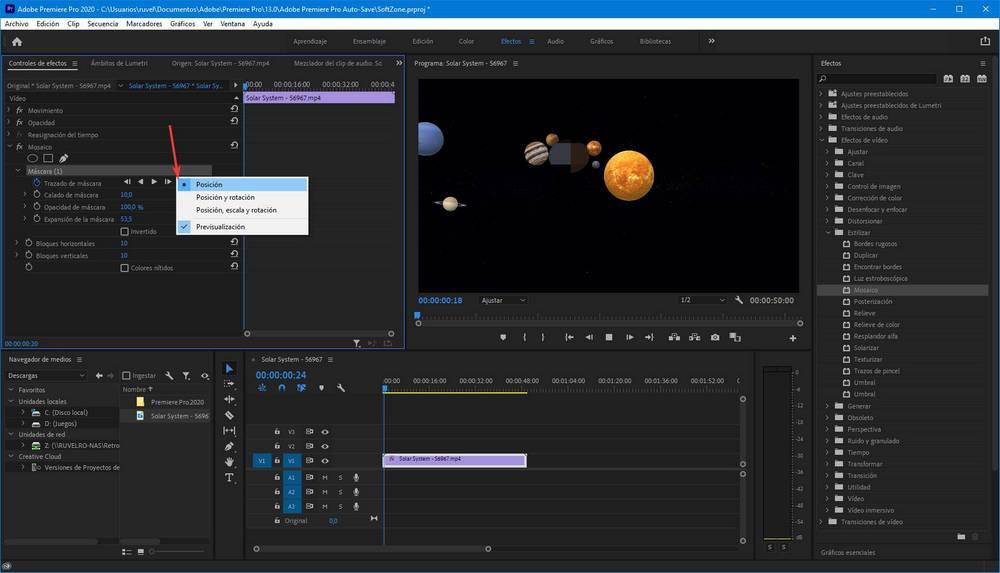 Adobe has its own professional video editing program, which is none other than Adobe Premiere . Without a doubt we are facing an advanced program since it has a wide variety of functions and features. Its interface is completely customizable, although it is somewhat complicated, especially if we do not have previous knowledge. We will have all kinds of filters, effects, transitions to create and retouch our videos.
Kdenlive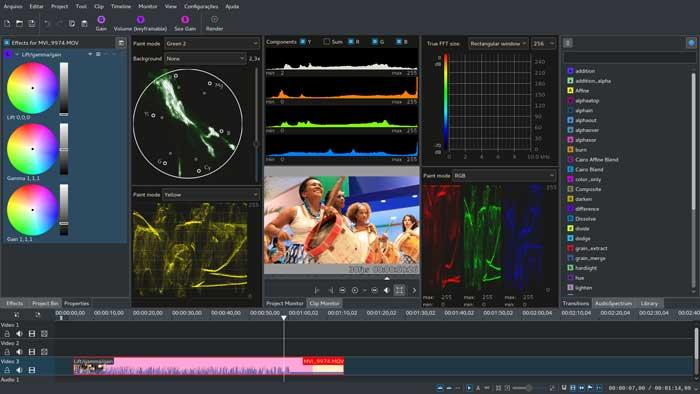 Another great tool to edit video and also free. Kdenlive is characterized by having a wide variety of tools and options for our videos. It has all kinds of effects and transitions, as well as a wide variety of tools to create 2D titles. Another feature to take into account is the possibility of making automatic backups every five minutes, so that we never lose the work done.
Shotcut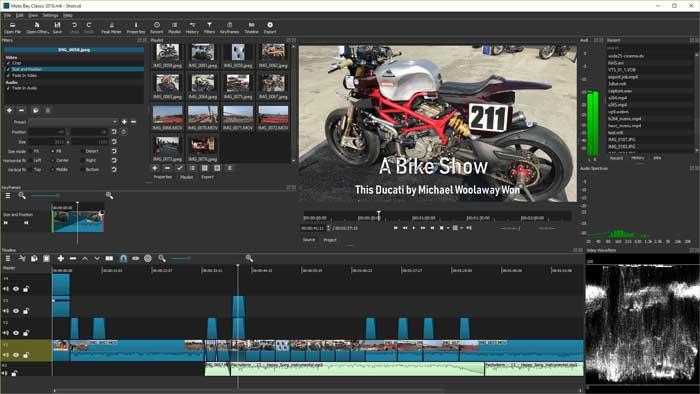 Another program to edit video that we must take into account is Shotcut . It is a free and open source software, characterized by its simple and intuitive interface. We can start editing videos by just dragging and dropping the clip into its file manager. It offers support for up to 4K resolutions, as well as captures from SDI, HDMI, webcam, and Windows DirectShow devices. In addition, it has dockable panels, filter panel and coding panel.