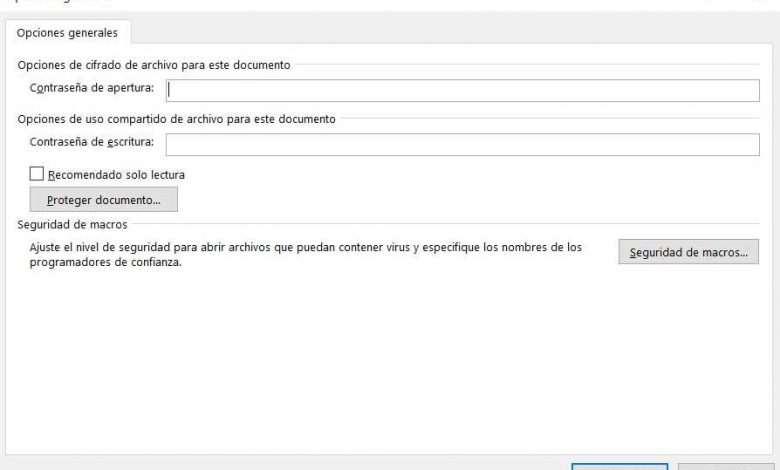 In the office automation sector, there are several types of files that we use on a regular basis. Here we can make a special mention of the DOCX of Word, or the XLSX of Excel . In addition, we cannot forget the PDFs owned by the giant Adobe, of which we will now talk about their security notices.
It is in the latter format, PDF or Portable Document Format, that we want to focus on these same lines, since its use has not stopped growing over the years. One of the main characteristics of these file formats in particular is the enormous versatility that they present to us. Thus, they can host all kinds of content such as texts, images, tables, videos, hyperlinks, etc.
It is precisely for all this that all those related to security in these, is something basic. More than anything because almost no one wants any user to be able to access these contents, sometimes more than sensitive or personal. Hence certain protection measures that some implement from the outset in their personal PDFs . An example is the use of access passwords that we use so much on a day-to-day basis with the PC.
Manage PDF security advisories
Despite the obvious advantages that these protection systems that we are talking about provide us, sometimes we can also find some drawbacks. An example is the case that we are going to talk about in these same lines. We tell you this because on certain occasions, when we are about to open a file in PDF format on our PC, it shows a security warning on the screen.
What the security notices mean
It should be mentioned that if we are faced with this situation, we must know that this is a warning that is displayed in certain files. Specifically, we will see the message in those PDFs that are transferred or run programs and macros internally. As with the popular DOCX in Word, for example, these add-ons can certainly be harmful to the computer and installed applications, hence we are warned.
It is for all this that some specific programs for these files are prepared to help us with all this. To give us an idea of ​​what we are telling you, serve as an example that software solutions such as Adobe's Acrobat Reader can detect potential risks in this regard. These could trigger a warning when you click on a link, website, or an action that could transfer a virus.
Of course, these programs we are referring to cannot tell us if the website has insecure content, the warning checks the URL to make sure it matches the expected website. Due to the enormous penetration and use of these files that we are talking about in these lines, you have to be careful that they are not dangerous. And, as we mentioned before, they are used today in many environments. They can be turned into e-books, scanned documents, official forms, etc.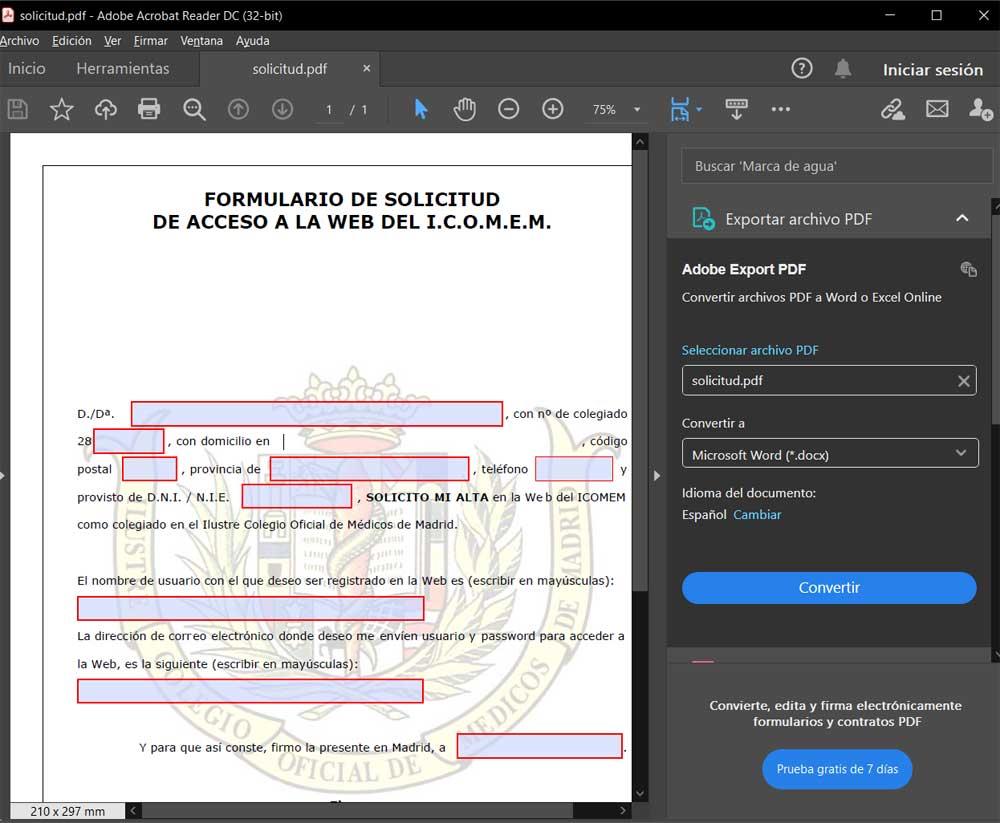 Disable security warnings
Well, for one reason or another, in certain cases, for example in official documents, we may need to disable these messages. For all this, below we are going to show you the easiest way to manage and, if necessary, deactivate these notices. For this we are going to use one of the best known programs in these parts, such as Adobe Acrobat Reader DC . This is a software solution specially designed to carry out a multitude of tasks with these contents owned by the same software giant. So if you want to download it, you can do it from this link .
Well, for all this that we tell you, the first thing we do is run the Adobe program that we refer to. Then we can open any document from the File / Open menu. However, what interests us in this specific case, we see in the Edit menu, where we choose the Preferences option.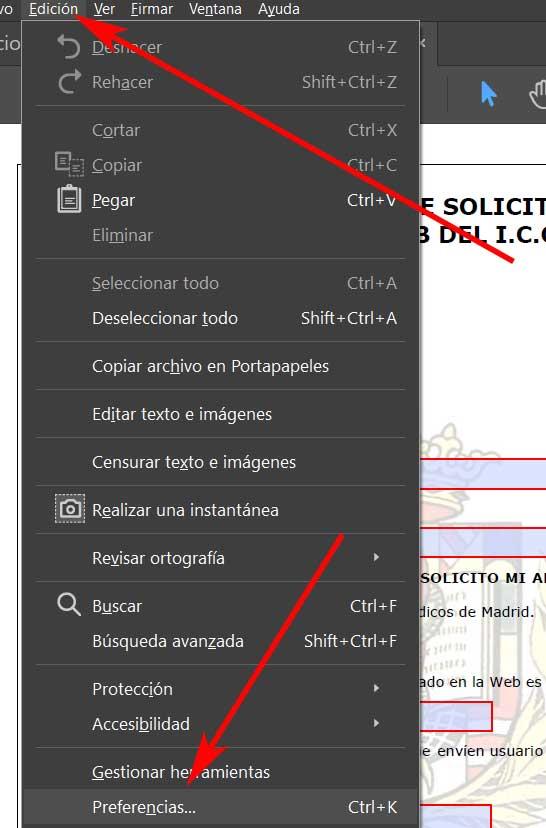 Customize security notices in Acrobat Reader
Once we find the new window that appears on the screen, we locate the entry called Trust Administrator, where we click. In it we have to take a look at the section that says Internet access from PDF files outside the web browser. Here we see a Change settings button, which is the one that interests us.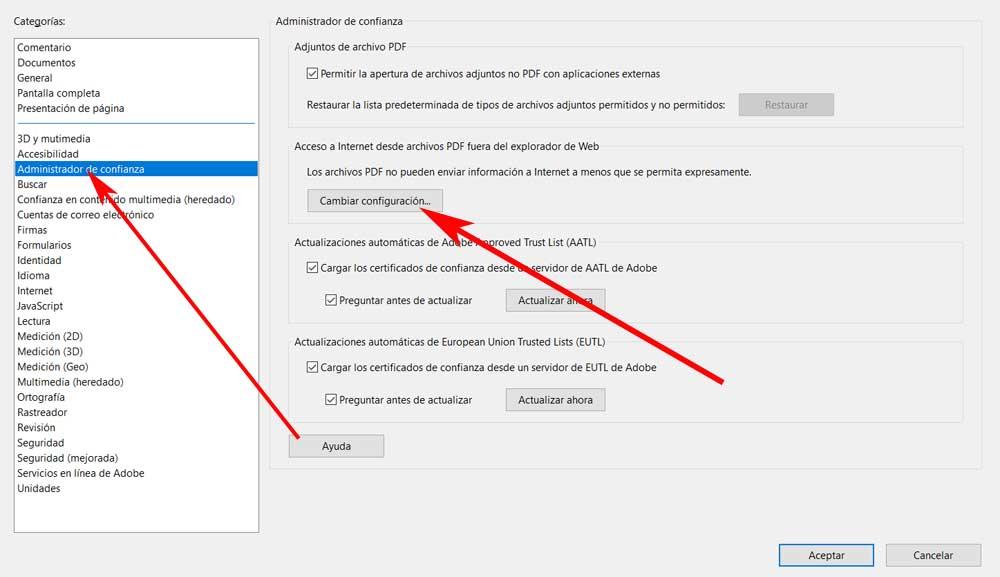 This will lead us to a new window, where at the bottom, we see a section called Default behavior for websites that do not appear in this list. Well, since the attached list is blank, we mark the Allow access option to avoid PDF security notices.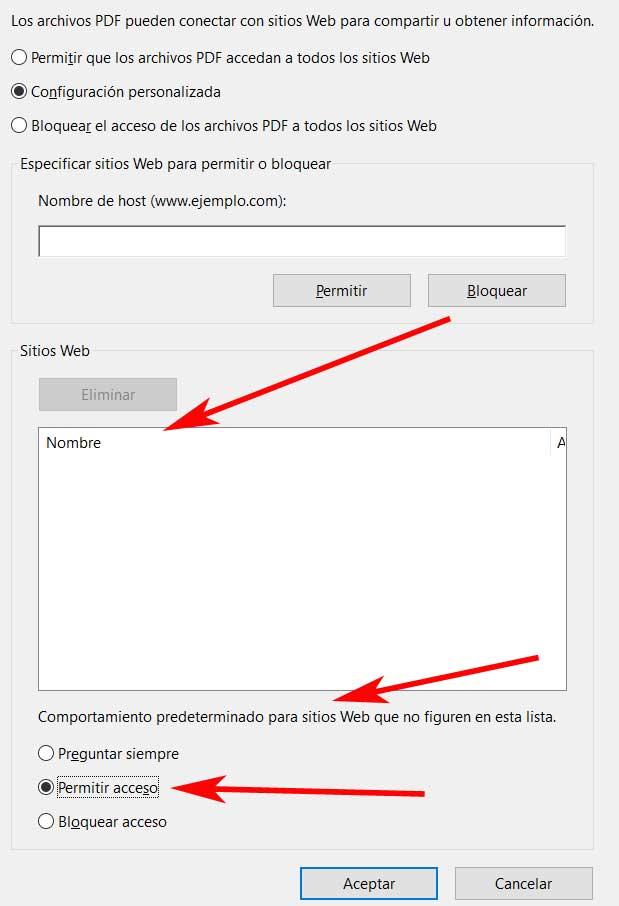 For all the changes to be saved, we just have to click OK, and thus avoid the annoying security notices in the PDF.
Ways to protect a PDF
There are several methods that we have at the time of protecting a file of these that we comment on. Perhaps one of the most effective methods in this regard is to do it through a password. As you can imagine, with this what we achieve is that anyone who wants to access the content of the PDF as such, will need to know that access code.
Say that there are many programs with which we achieve this, for example from the same Adobe Acrobat Reader DC that we just talked about. To do this, it is enough that we place ourselves, once we have opened the file, in the File / Password protected menu.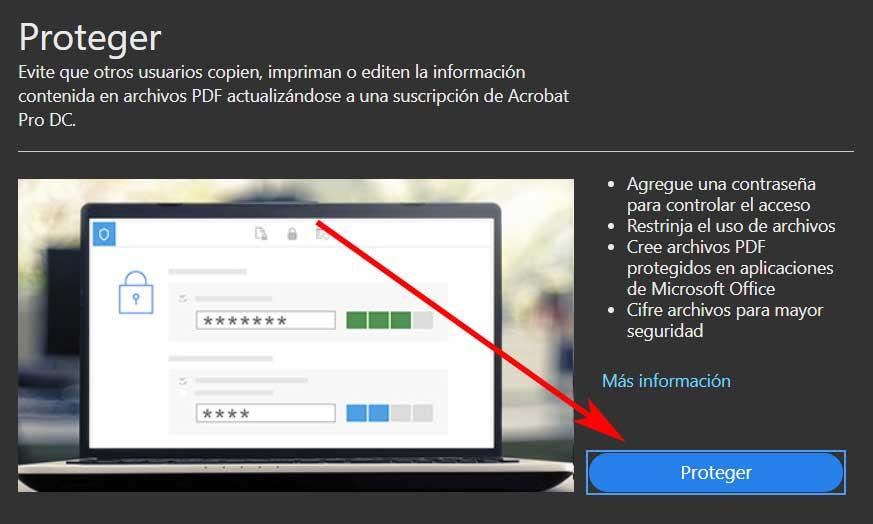 Here we will have the opportunity to assign that access key that we need, which will be exclusive for the PDF open at that moment. But as we mentioned, this is something that we can do from many other commonly used office programs. This is the case, for example, of Microsoft Word, from where we can also protect one of these files in a simple way. To do this, we just have to go to the File / Save as menu. In the drop-down list that appears, we choose the format that interests us here, PDF, and then click on Tools / General Options.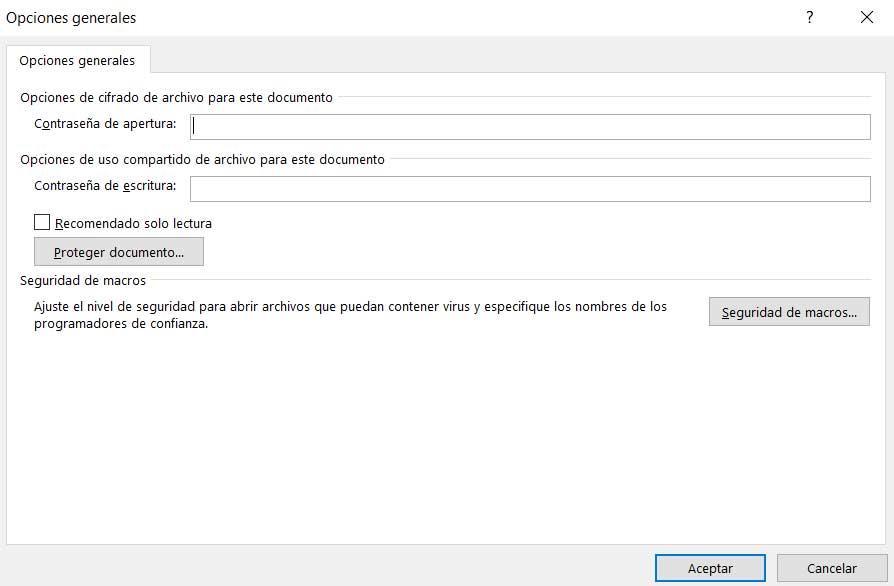 In this simple way, we will have the possibility of adding an access password to that new PDF document.