Applications
Automatically disable caps lock key in windows 10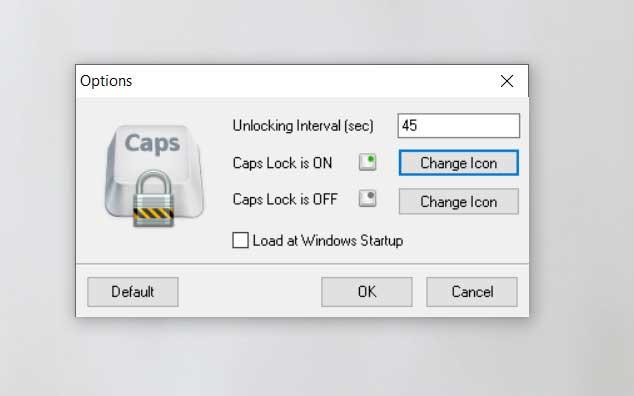 When we have to write fluently on our computers, all the aids are good if we are not very knowledgeable in typing. That is why sometimes we can use certain applications that will help us in these tasks.
An example is the assumption that we need to write capital letters, for which we can always activate the caps lock key or hold down Shift. As you know, both options work perfectly for this, but with Shift pressed we can also write secondary characters of the keyboard that are not letters. Using one method or another is going to be a matter of taste or customs. But at the same time you have to know that there is a great difference between the operation of one and the other.
While the second of them only works while held down, the second is activated and deactivated with a touch of the key. Therefore, as it is logical to think, if we turn it on, sooner or later, we will have to turn it off as well. But we must know that we can also automatically deactivate this caps lock after a certain number of seconds.
CapsUnlocker: automatically view and disable caps lock
This is something that we will be able to achieve through a simple third-party application, as we will show you below. Specifically, we refer to the program called CapsUnlocker, a small free application to configure this key that we are talking about. The first thing we do is download it from this link and run it, after which it is placed in the Windows 10 toolbar. The icon that is located here tells us directly if the caps lock is activated or not.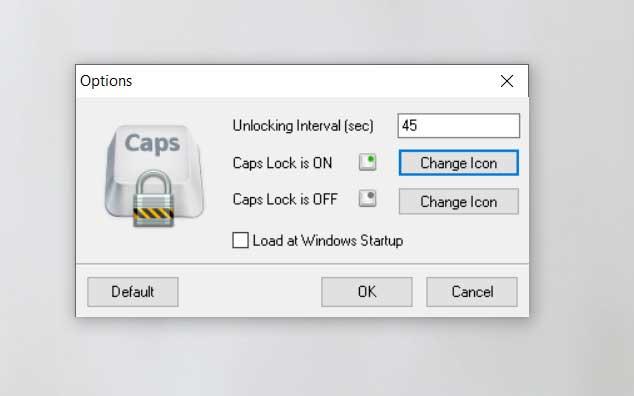 Configure CapsUnlocker
That can be useful in certain circumstances, but that is not its most important feature. To see this, we must click on its icon and select Options. Then a new window will appear on the screen to customize the app. Thus, in it we will have the possibility to enter the time that the caps lock key must remain activated before CapsUnlocker turns it off.
It is worth mentioning that the specified time is in seconds and, by default, it is set to 30. In this way we can increase or decrease it to suit our needs. To say that the icon as such could be a little more striking when it comes to indicating the status of the key, but we can also choose another from the system. Similarly, as an advantage we will highlight that it does not consume system resources, and it stays running in the background for when we need it.
It is for all this that if we use caps lock often, this application will be of great help to us to be able to type with a little more ease. Also, if something characterizes this solution that we are talking about, it is its simplicity of operation and configuration. At the same time we will tell you that although it has not been updated for a while, CapsUnlocker works perfectly with the most recent versions of Windows 10.
Never lose sight of the lock keys
In addition to this excellent program, which allows us to easily deactivate the caps lock when we activate it inadvertently, there are also other very interesting programs that allow us to always have the status of these lock keys in view. Something very interesting when our keyboard does not have status LEDs.
The first of the programs that we are going to see is TrayStatus. This program will show us a series of icons in the notification area of ​​our Windows so that we can always see the status of these icons. If they appear green, the lock is activated. Otherwise it will be disabled.
Another very interesting program for this purpose is Keyboard Leds. This software allows us to show in the notification area different indicators for «Caps Lock», «Num Lock» and «Off Lock». It has important customization options that allow us to adjust the appearance and operation, and it can also display floating warnings on the screen and even play sounds.
Finally, yet another alternative for this same purpose is NumCapsScroll. This program is much simpler and allows us to add a series of icons to our desktop that indicate the status of the different locks on our keyboard. If the previous option seems complicated to us, this, without a doubt, will be one of the best alternatives that we can use.