Applications
Always have the weather forecast in view with you windows 10 widgets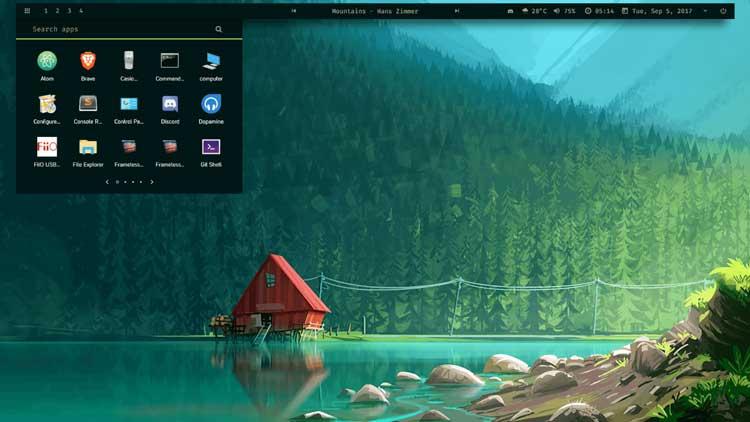 Probably from here we do not need much to tell you that we are spending a few days a bit cold in much of Spain. Well, to know what the future holds in this regard, we are going to talk about a series of widgets for Windows 10 that will help you.
Many like to be able to control the local weather in their area, which never hurts on certain occasions, such as the cold wave that runs through Spain. How could it be otherwise, technology can help us greatly, as we will see below. For this we are going to make use of the much-used gadgets that we have at our disposal in Windows 10.
How to install and use widgets in Windows 10
At first we will tell you that Microsoft removed this feature after the launch of Windows 7, so we will have to make them work ourselves. Because Windows 10 no longer has the gadget functionality that came with Windows 7, we will have to install some third-party application to achieve this. For example, this is called HD Widgets and we can find it in the Windows 10 store itself, the Microsoft Store .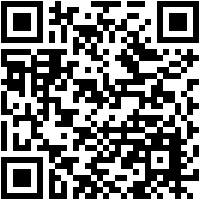 Developer: Chan Software Solutions
But this is not the only solution that we can use in this regard, since a similar result will be obtained from 8GadgetPack . This is another app to use widgets in Windows 10 that you can download from here . This proposal comes with some of the weather applications included like MSN Weather or My Weather.
Advantages of using Widgets in Windows 10
It is true that with the passage of time and the versions of Windows, these elements have gradually lost prominence, at least in the most modern versions of the system. However, its usefulness for some users is still very great. For those of you who do not know them, it is interesting to know that these are small programs that hardly consume system resources.
However, despite being light and simple, they offer great utility added and additional to the operating system itself. These widgets were very popular a few years ago in previous versions of the system such as Windows 7 or XP. However, in the most recent versions of Windows 10, they have practically disappeared. With everything and with this, we can always make use of them and implement them externally and through third-party developments, as we will see.
In addition, as a general rule, these are implemented in such a way that their functionality, whatever it is, is always in view. Thus, the usual thing is that we find them directly in view in an element so used in Windows systems such as the desktop, for example. This is the case of the elements that we are going to show you in these same lines and that refer to the state of the weather in real time. These will allow us to have in view at all times the weather in our area, as well as the forecast of it.
The best widgets to know the weather in your area
Next, we are going to see which are the best widgets for Windows 10, which will allow us to have in view at all times the weather in our area, as well as the forecast of it.
HD widgets
To begin, we will talk about the widget that you will find for free in the UWP application mentioned above. Although the software includes elements of this type referring to various types of use, we will also see a meteorological one. To start it we just have to select the widget in question so that it is placed on the screen. The truth is that in this case we find a fairly simple element that we can customize by adding our city to show us the weather .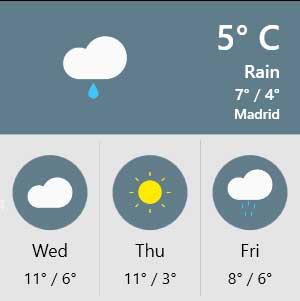 We can also move it as we want on the desktop and we will see the current weather and the forecast for the next 3 days.
Chameleon Widget
To be able to use this widget, the first thing we have to specify is our city of origin so that it shows us the weather forecast in the bar that is located on the desktop. At the same time, in the first instance, it presents us with the forecast for the next three days, in addition to the local time on a customizable clock . Of course, we have some customization options that we access from the wrench-shaped icon on the right.
Say that this is an item that is included in the aforementioned 8GadgetPack application.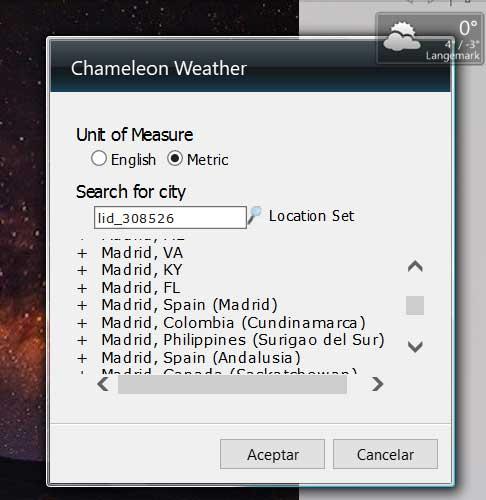 Weather Meter
As in the previous case, another addition that we can use in Windows 10 and that we find in the 8GadgetPack application . This solution has a slightly more attractive design than the one mentioned above and also shows us the meteorology of the area. It should also be noted that it allows us to customize the colors of the fonts to use, as well as the data that we will see on the screen. These refer to relative humidity, wind, rain, moon phase, etc.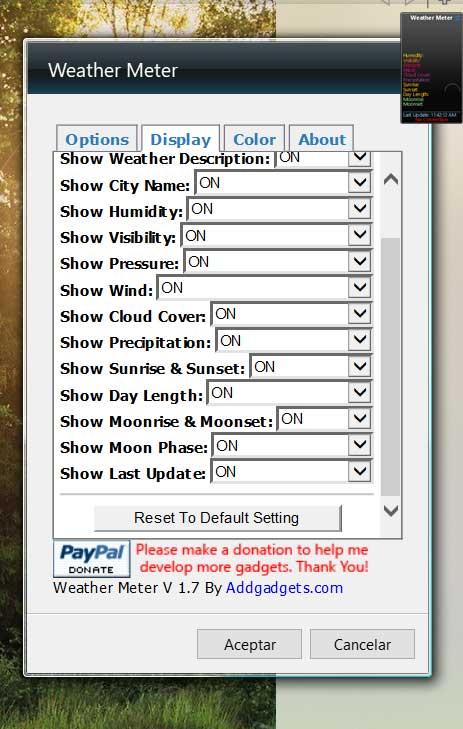 Main Weather
This is another gadget of this type that offers us a unique interface and a configuration menu that allows us to customize its appearance and operation. This way we can change the display aspect of the exposed data, the font color , the type of icons, or the background color. How could it be otherwise, we will have to specify the area or region with which we want to deal, and the temperature can be seen in Celsius or Fahrenheit .
To finish we will tell you that it shows the speed and direction of the wind in kilometers or miles per hour. In addition, to make use of this element, you will only have to execute the file of the compressed file that we downloaded. Then the widget will be executed as such, as long as we have previously installed the 8GadgetPack application. We can get hold of this gadget from here .
AccuWeather
Perhaps this is one of the most popular proposals of this type, since it has been with us for a good number of years. Thus, we find a very pleasant user interface as well as simple to understand where, as usual, we find several customizable options. Therefore we will have to specify the city in which we are, in addition to the unit in which the data will be displayed.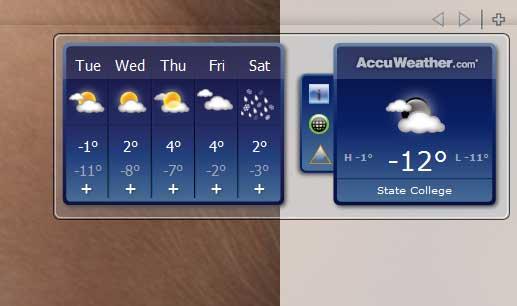 To say that it also offers us direct access to the official website of the app in order to maximize all the meteorological information that we can access. This is an item that we can download from this link .
Sunligth World Map
But in case you want to have a more global perspective of which parts of the world are currently enjoying sunlight and which from the moon, this will be very useful. We tell you this because Sunligth World Map, as its name suggests, shows us an image of the world with the areas that are illuminated, dimmed, or dark at that moment. In this way we can know, at a glance, the time of day in which the different areas of the globe are. This is a solution of this type that you can download from here .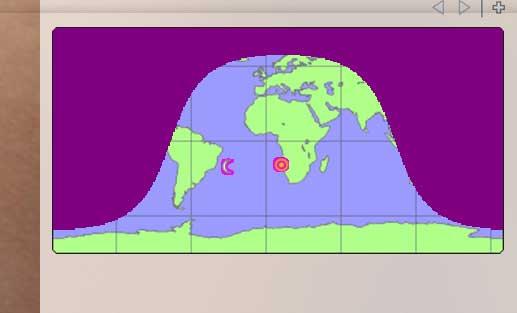 Forecast Weather
And we are going to finish this section of meteorological widgets with one of the most used at the moment in a multitude of platforms and applications. In this way and visually, we can see the weather forecast of the moment and the days to come with just a glance. It also has support for the configuration of a huge number of cities around the world and in the upper left corner it presents a Details link.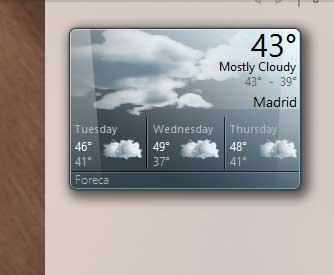 If we click on it, as is easy to imagine, we will find information related to wind speed, rainfall, the time of nightfall, etc. This is a widget that you can download from this link .
Rainmeter
We are now talking about a free and open source program, which has been developed to allow us to customize the Windows desktop to the maximum. For this it has a wide variety of skins, from where we can choose different elements in the form of widgets that we can place in any section of our desktop. In addition, we can change the appearance of any of these widget with different downloadable skins compatible with the application. Each skin has a specific purpose, and it would be the equivalent of the old Windows gadgets, or the Android or iOS widgets that we find today. Inside them we will find a wide variety oriented to know all the meteorological information available and have it always at hand on our desk.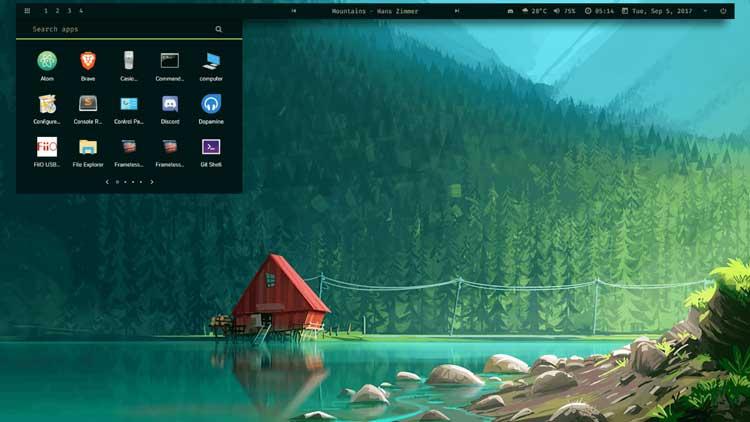 We can download Rainmeter for free from here .
Gadgetarian
It is a tool that will allow us to carry the classic Windows 7 gadgets to be able to enjoy them in Windows 10. As we would not expect otherwise, we will find the classic weather widget to always be aware of all the weather news. Its main function is to re-enable native Windows gadgets without affecting system performance. Its use is very simple because once installed, it will only be necessary to click with the right mouse button to activate the contextual menu and use the Gadgets option to select the one that we consider appropriate.
We can download gadgetarian for free for Windows 10 from this link .