Applications
All your passwords always safe and protected with bitwarden

Despite all the years that they have provided us with a useful service, passwords are still more than present. These are in charge of protecting access to our equipment and platforms in the best way, although we have programs that help us manage them. This is the case of Bitwarden, a solution that we will talk about in depth below.
We must bear in mind that these protection elements that we are talking about could be said to be the lock that protects our data and accounts from people who should not access them. But of course, over the years the number of passwords that we define is increasing and is added to those that we already have created. And it's not just about creating any access password that we can easily remember, far from it.
The most advisable thing if necessary is that we have strong and secure keys that prevent attackers and pirates from finding out. With this, what we do is really protect our personal data from unauthorized access. It is true that today many users still have a bad habit of using these passwords . By this, what we really mean is that many use simple passwords so that they are forgotten, contrary to what is recommended.
It is true that remembering dozens of complex passwords is almost impossible, but we have alternative solutions at our disposal. For this we can use the so-called password managers, such as Bitwarden, which we will talk about.
What benefits do we get from using Bitwarden
The first thing we should know at this point is that these password managers are applications that store the new keys that we create. As you can imagine, in this way what we save is having to memorize them. Actually all of them are protected by a master key, which we do have to remember, and which gives us access to all the others. At the same time, these programs usually offer us an encryption system to keep them safe in the best way.
Therefore, as is easy to guess, in password managers, we only memorize the master key that we define and that gives us access to all the others. And if we take into account that these elements are becoming more and more complex, the usefulness of solutions like Bitwarden is beyond doubt. Well, the application we are talking about here is an online solution that works in the cloud. Therefore the first thing we need is to register for the service. Here we define the user with our email, and the master key we are talking about.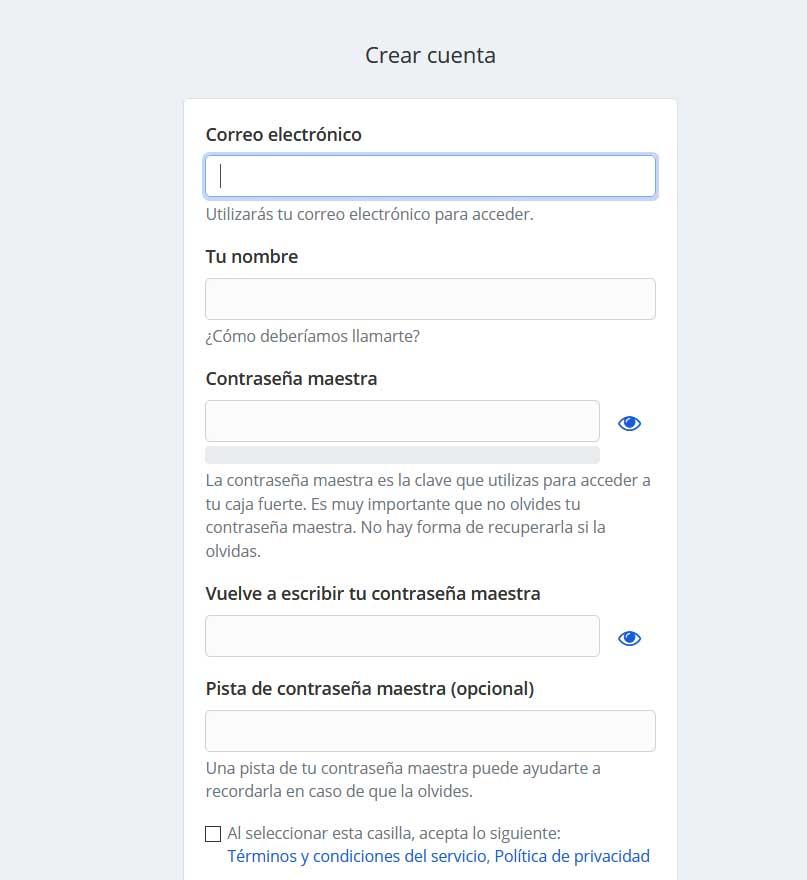 From that moment on we will have our own username and account in the password service. Therefore, in order to access it, we again enter the data and thus be able to access its main interface and start working. Similarly, from an email sent to us, we can download the program as such, either for the desktop PC or for mobile devices.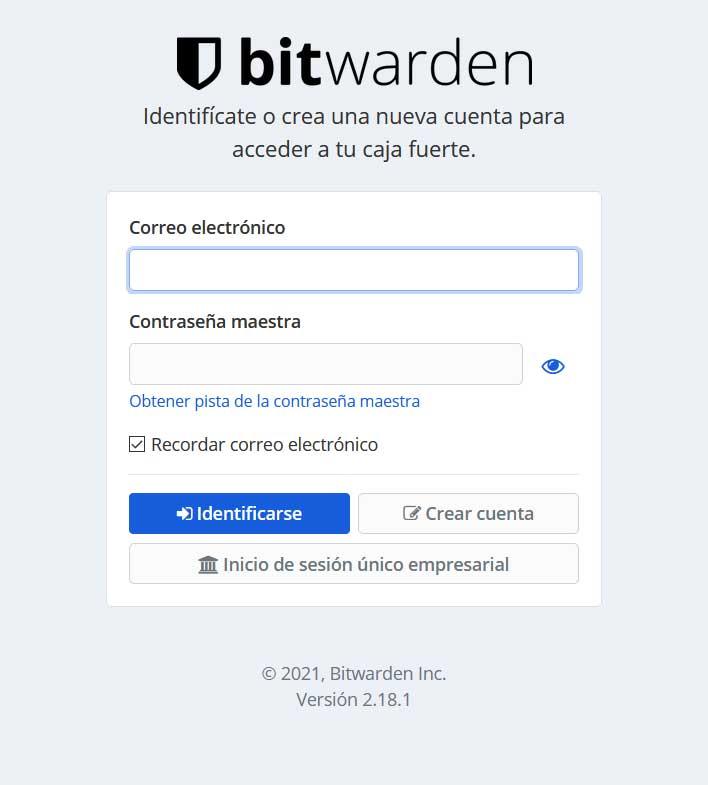 Use and take advantage of the Bitwarden interface
At first, when we first accessed our Bitwarden application space, we found that we did not have predefined elements. By this, what we mean is that we do not have passwords created, so we will have to start adding new elements. This is something that we achieve just by clicking on the Add element button. A new window opens where we have the possibility to specify various data that will be associated with that new password. This includes its type, user, the password as such, the folder where we save it if we wish, etc.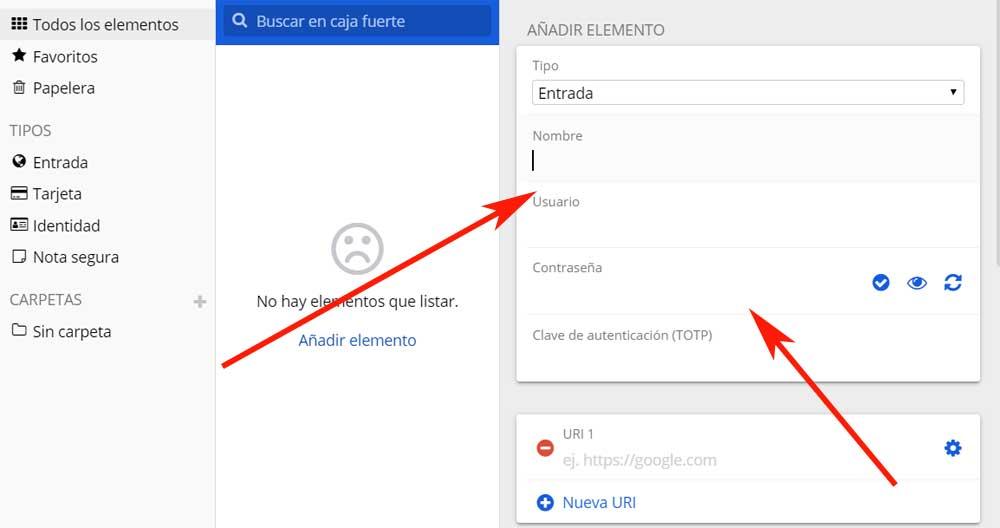 These entries can be classified by types, categories that we find on the left side of the main interface. This gives us the possibility to separate them if they are Login, cards, identities, a note, etc. In the same way, we can create our own folders that will allow us to organize ourselves better. That in regard to the section of My safe, which is where we store all this content that we are creating. Say that all of this is protected by encryption with a 256-bit AES algorithm .
Bitwarden additional features
But that is not all we can do from here, since as we mentioned before, these solutions usually offer additional functions. And this case was not going to be less, as we are going to teach you. We just have to access the view menu of the Windows client, to find a functionality that will be very useful. We refer to a strong password generator. These we have to use to better protect our new accounts and they are also automatically saved here.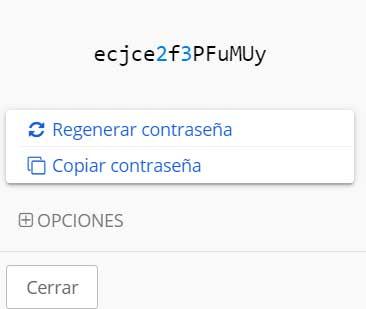 On the other hand, in the same menu we find a history of passwords created, or a search engine for these elements. It will be very useful to us as we store new entries in the program. Likewise, if we go to the Account menu, we will have the possibility of managing various sections of it. This allows us to modify the master access key, or add a two-factor authentication to it.

How to download Bitwarden
The first thing to know here is that Bitwarden offers us a free mode of operation. But at the same time, we can make use of the Premium mode that has a price of 10 dollars a year. This includes a gig of encrypted space, emergency access or two-factor authentication, among other benefits. Similarly, for $ 40 a year we can access the family plan where the possibility of using up to six users with Premium mode is opened .
In order to enjoy the plan that interests us the most in each case, we can achieve it from this link .
Alternatives to Bitwarden
LastPass
This is one of the best known proposals of this type. We are talking about a program that is responsible for managing our passwords and we will only have to memorize the teacher. It makes AES 256-bit encryption available to us in order to guarantee the best level of security. LastPass allows you to create automatic and random passwords for personal use. We achieve all this from this link .
1Password
Here we find another password management service that is responsible for storing our passwords safely. It has extensions for the main browsers and the database we create is encrypted with a 256-bit AES algorithm. To test this other proposal that we are commenting on, we do it from here .
Dashlane
This is another popular password manager so we can have our credentials well kept in a safe place. It uses AES 256-bit encryption and allows us to store information in a personal way such as program codes, WiFi keys, notes, etc. We can try this other alternative from this link .