Applications
Adobe acrobat reader fails to print pdf? Fix it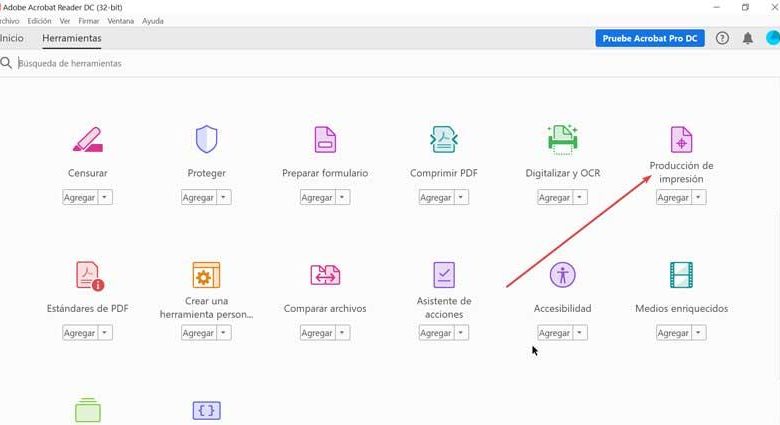 The use of PDF files has become more and more common. Whether for professional work, as a study or simply for sporadic use, the truth is that printing PDF files is the most common. To do this, we may use Acrobat Reader, Adobe's free tool. At times, we may experience problems printing PDF directly with this tool. This is usually the fault of a wrong file format or incompatible printer driver. Therefore, before putting our hands to our heads we can try some of the solutions that we present below.
Acrobat Reader is the free version for viewing and printing Adobe PDF files. It has everything you need to open documents, read them, print them, sign them and fill out forms to save them in this format. We can also zoom in and out the content, select and copy text, add notes, etc. In addition, it allows us to upload our documents to the Adobe cloud to be able to access them from any place or device, as well as open several documents in different tabs.
Despite all this, Adobe Reader is by no means a perfect application. Not a few users blame it for being a slow tool that often hangs to open a file. Although Reader also has the ability to print files, we can also run into problems with it. These problems can be due to the application itself, our printer or the PDF file. For this reason, today we are going to review the possible solutions that we can use in case we cannot print PDF with Adobe Reader.
Fix problem printing PDF with Adobe Acrobat Reader
If we have problems when printing our PDF files with Adobe Reader, we suggest some tricks that can help us solve the problem. For this, it will be necessary to see if the cause is subject to software problems on our computer, a problem with the printer or with the PDF file system.
Software related solutions
First, we are going to discuss the simplest solutions, which may be due to causes related to the computer's software.
Restart the system
Although it seems obvious, we can be surprised by the number of problems that can be solved by just restarting the computer. If Adobe Reader is not able to print a PDF file, before throwing our hands at our head, we must try once the computer has restarted the problem persists. And it is that, during the restart of our PC, the operating system clears its memory and its cache, which may be the cause of the problem. Once we restart we reopen the application and check if we can print.
Update Adobe Reader to use its most current version
If restarting the computer has not solved the problem, we must continue to make sure that we have the latest version of Reader available installed on our computer, since Adobe is responsible for offering free updates every three months . These updates provide solutions to common problems, so it can serve as a way to eliminate PDF printing problems in case it has arisen due to an internal application problem.
To do this, we open Adobe Reader and click on the "Help" tab. Next, we select «Check for updates». In case a new update is available, it will be installed automatically. Once installed, we proceed to restart the computer and check if the problem has been solved.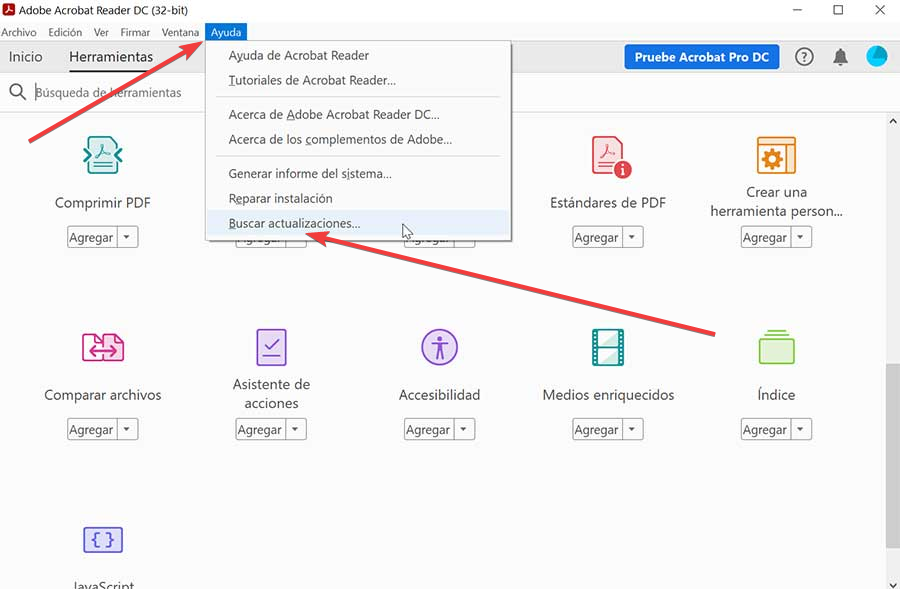 Repair Adobe Reader
If we only have problems printing when using Adobe Reader we can try to fix it by repairing the application with its built-in repair tool. This can be useful in case the application has deteriorated internally and therefore cannot print PDFs correctly. To do this, just open the application and click on the "Help" tab. Then click on "Repair installation" and let the application repair itself. Once finished try to print from it again.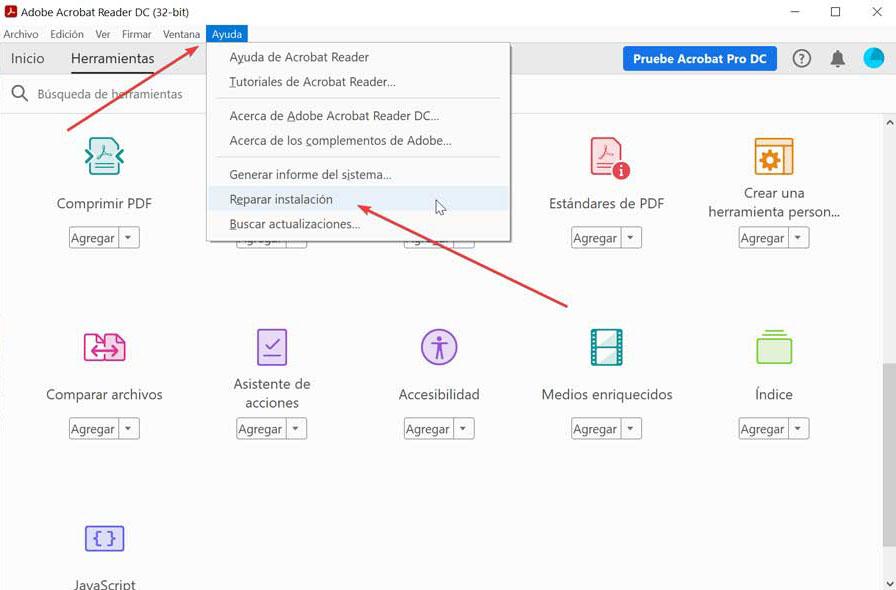 Printer Related Solutions
If Adobe Reader still cannot print PDF files, the cause of the problem may be given by the printer, so we will proceed to carry out a simple check to find out if this is solved.
Check the printer connection
The problem with printing PDF files may be due to the printer connection. To make sure we must check that the cable that connects the printer with our computer is well plugged in. In the event that the printer is connected to a USB hub, we must disconnect the cable from the printer and connect it directly to a USB port on our computer. Next, we turn off the printer, wait 30 seconds, and then turn it back on again. Finally, we try to print the PDF file again.
Update the printer drivers
In the case of receiving an error when we are trying to print something with Adobe Reader, it may be because we are using an old or incompatible driver for our printer. To try to solve it we must update the printer drivers in a few simple steps.
We press the «Win + r» key to open the «Execute» command. Next, we write "devmgmt.msc" and press "Enter" to open the Device Manager. Later we look for the section "Printing queues" and we expand it. A drop-down menu of devices will appear and we right-click on the printer device. A contextual menu will appear where we must select "Update driver".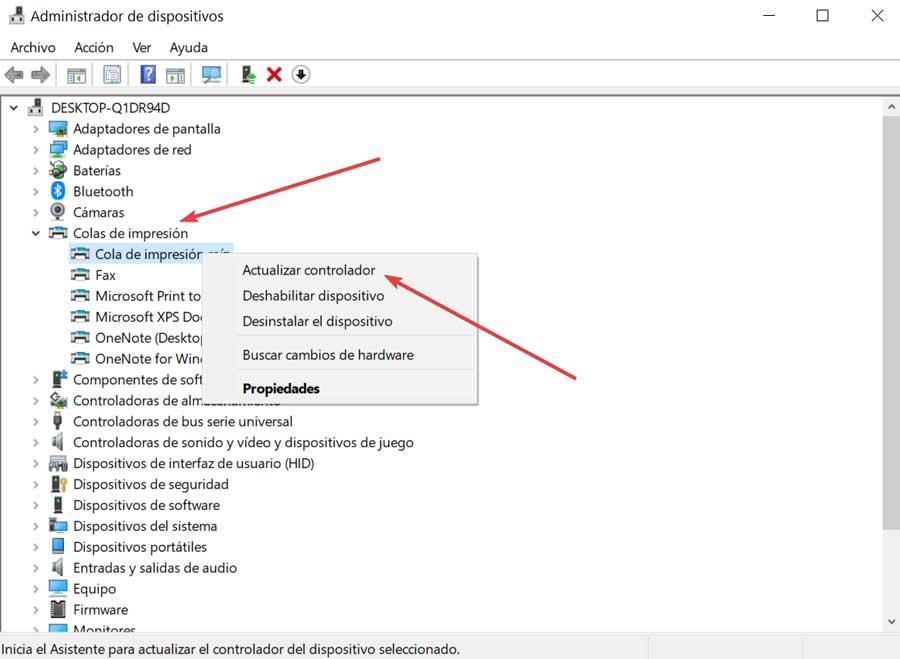 Subsequently, a window will appear where it will ask us how we want to find the drivers. Here we choose the option "Search for drivers automatically". We wait for Windows to find the driver compatible with our printer, download it and install it. Once finished, we restart the computer to see if the problem has been resolved.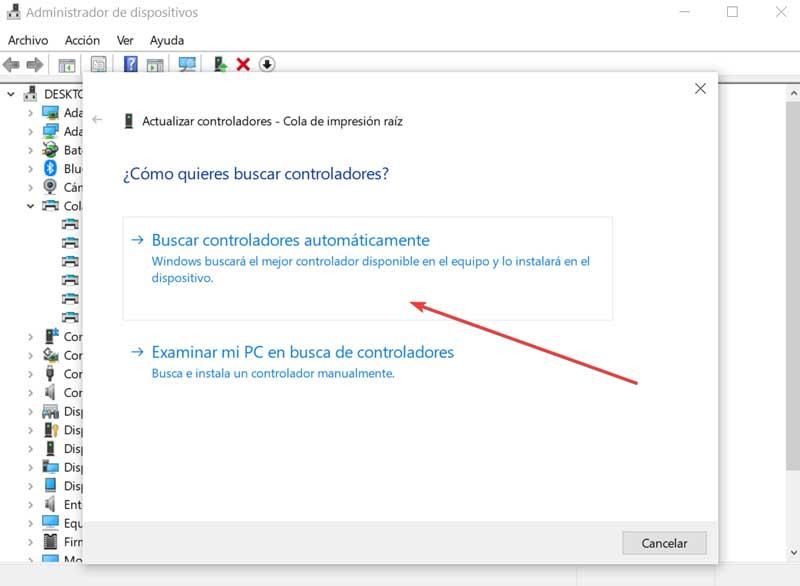 Sets the printer device as the default
The problem that Adobe Reader cannot print PDF may be due to the fact that the printer we are using is not configured as the default printing device for our PC. Therefore, we need to set our printer as our default printing device.
To do this, we must write "printers and scanners" in the search box next to the Windows start menu. Next, we select Printers and Scanners. Now the «Configuration» window appears where we will see the list of printers and scanners that we have available. Here, we must uncheck the "Allow Windows to manage my default printer" box. Finally, in the list of printers, we must select the printer we are using and click on "Manage". We restart the PC and verify if the problem has been solved.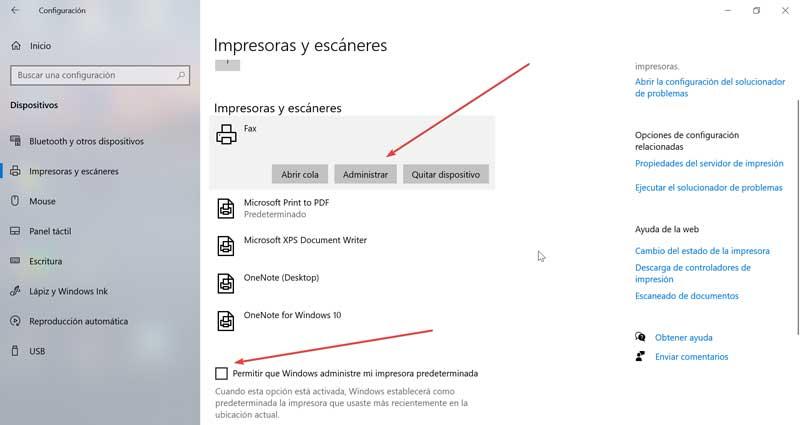 Restart the Spooler service
Another option to detect if the printer is the cause of printing problems with Adobe Reader is to restart the spooler service. To do this, we must press the «Win + r» key and the «Execute» command will appear. Here we will copy "services.msc" and press Enter to access the Services window.
Next, we must scroll through the list to find the "Print Queue" service. Once located, we must right-click on Print Queue and select "Restart." This will restart the Spooler service and fix any problems it may contain. Lastly, we close the Services window and restart the computer, to later check if the problem has been solved.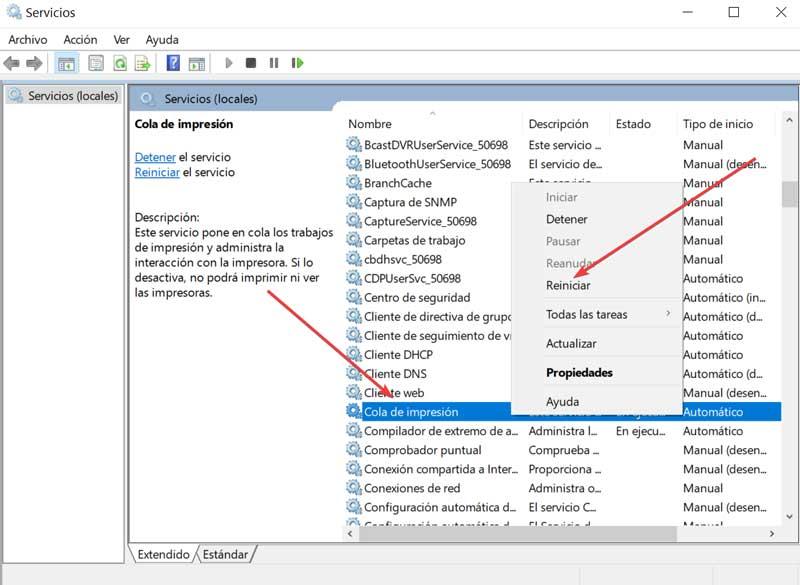 PDF file troubleshooting
Occasionally, it may happen that printing problems may be due to problems related to PDF files. Even if a PDF may appear to be perfect when displayed on the screen, it may contain data that is incomplete or corrupted.
Print file as image
PDFs are a great format for publishing and printing preserving the layout and format of the document. But, for some reason, the printer may not be able to print the text as it is displayed. Therefore, we have the option of printing it as if it were an image.
To do this we must open the PDF file with Adobe Reader and use the keyboard shortcut «Ctrl + p», to open the «Advanced printing settings» window. Later we click on the "Advanced" button and enable the "Print as image" option. We click OK and then Print.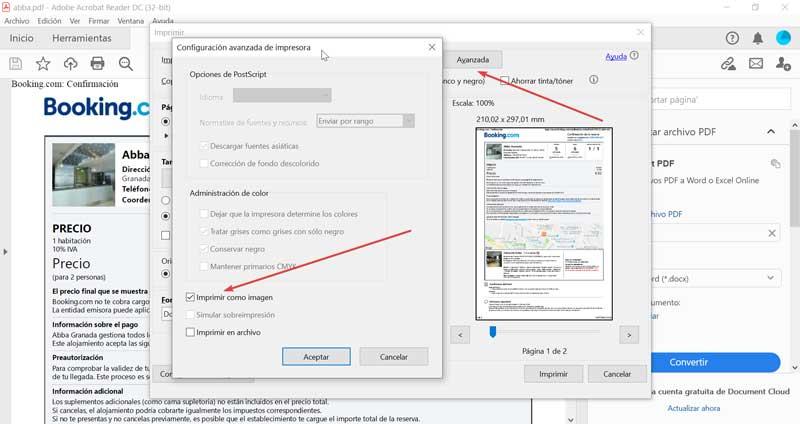 Copy or download the PDF file again
Sometimes we can find PDF files that are damaged or that contain any type of damage that prevents them from being printed correctly. That is why, if we download the PDF file from the Internet, we must download it again. In case we have received it by email, we must ask the sender to resend it. Later we copy the file directly to our hard drive, avoiding any portable or network storage unit. We open the new copy on our hard drive and try to print again.
Checking PDF files for printing
Acrobat Reader has the ability to perform a print file check to find out if there are syntax or programming code problems that are preventing you from printing the PDF file correctly.
To do this we must run Adobe Reader and open the PDF file to print. Next, we click on the "Tools" tab and select "Print Production" and select "Checks". Now, in the search bar of the preflight window, we must write «syntax». We select the profile «Report syntactic errors in PDF» and, finally, we click on «Analyze and repair». To use this tool it will be necessary to have the paid version installed.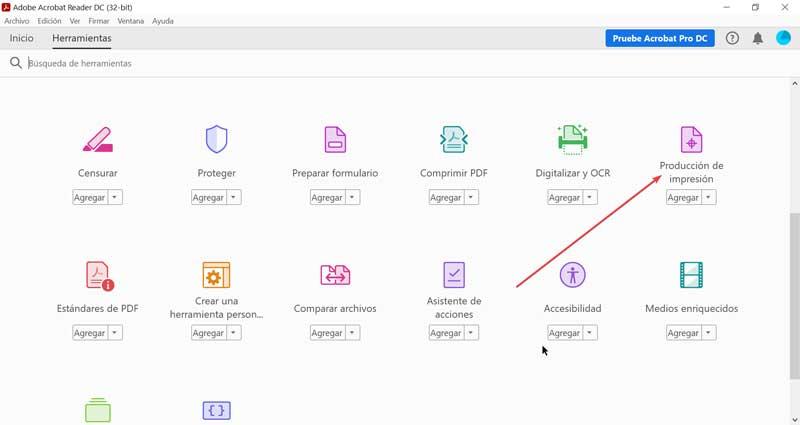 Use other alternatives to Adobe Acrobat Reader
Although Reader is a very popular application, especially because it belongs to Adobe, it is not the best application on the market for viewing and printing PDF files, since the problems that accompany it are usually common. That is why, if we have problems printing PDF and we cannot solve them, let's try some more interesting alternatives to Adobe Reader as a definitive solution.
Sumatra PDF
It is one of the best PDF viewers on the market, and it is also completely free. This program will allow us to open without problems any PDF file, as well as other formats of books or documents. Although we will not be able to perform editing tasks, it does have some tools to perform basic viewing tasks. In this way we can zoom, rotate, change the layout of the pages and print documents. Besides PDF, the application supports formats such as MOBI, EPUB, CBZ, CBR XPS, DjVu, FB2 and CHM. We can download it from this link.
Foxit Reader
We are facing a tool with which we can read and print PDF documents quickly and easily, allowing us to view them in full screen and have several documents open in the same window The application has a magnifying glass with which to zoom in and observe all its details. It also allows you to scroll to move through the document, add notes to all pages of the document and view PDFs in text format. Foxit Reader is a free PDF reader that you can  download from its website .
Ashampoo PDF
It is a very complete PDF file manager that has many functions such as the ability to scan books and documents in EPUB. It also allows auto paragraphs and online breaks, as well as converting documents into JPG, RTF, EPUB and HTML files. It includes a virtual printer that allows us to create PDF files from any Windows application that supports printing. In addition, it helps us fill out forms. Ashampoo PDF has a free version that we can  download from its website . It also has a paid version with which we will obtain additional tools for editing PDF files.