Applications
Access dropbox, onedrive, google drive and more clouds with air explorer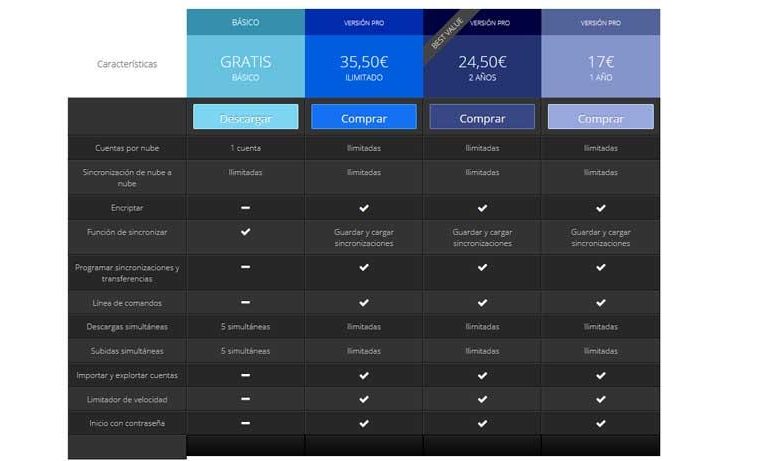 More and more users choose to have their most precious files safe in a cloud. This storage system is more and more implemented and it is likely that we even have more than one. If we have different files stored in each cloud, it will probably be a hassle to have everything well organized. To help us with this task, we have Air Explorer, with which we can manage all our accounts in the cloud from a single program. In fact, it could be said that these storage platforms have become the worthy successors of the legendary CDs or DVDs when it comes to storing and transporting files.
And it is that thanks to these platforms and storage services that we are talking about, we have the possibility of having our files, always. Whether we are on our PC or any other, even on our mobile or tablet, we can see those files from any web browser. Here we refer to programs such as Fiefox, Chrome, Edge, Opera, etc. By starting these and opening the corresponding URL of the cloud platform, with the access credentials, we can open those files.
As you can imagine, this opens up a wide range of possibilities when it comes to saving or taking this personal data to another site. In addition, all this is protected by the security and privacy methods that these companies offer us as a general rule.
Advantages of using the Air Explorer program for data in the cloud
As there are so many services of this type, at this time we can opt for any of them, or to use several simultaneously. Thus, Air Explorer is a program that will help us manage all the storage of our clouds in a multifunctional way. We will achieve this because we can manage all its content from a single application, being compatible with both Windows and Mac OS operating systems.
The first thing we should know is that this is a tool that is compatible with the most popular cloud storage systems of the moment. Here some widely used proposals come into play such as OneDrive, OneDrive for Business, Google Drive, 4shared, Box, Mediafire, Yandex, Baidu, Naver, Dropbox, Hidrive, pCloud, Mail.ru, Mega, WebDAV, Mail.com, Adrive, Magenta Cloud, Stack Storage, Datto Drive, SharePoint Online, FTP and SFTP. As you can see, among the most popular now, few will be missing in this list that we propose.
With this simple application we can manage and get instant access to all cloud services, working on the basis of direct management of all files in the cloud. We can transfer all types of files between the different platforms in the cloud or with our computer locally. It will be enough to drag and drop the file or copy and paste between our computer and the clouds or between the different clouds among themselves. It is also possible to encrypt the files to prevent anyone from accessing our files without an additional password. As you can imagine, the fact of being able to drag content between platforms will be very helpful.
In addition, we can synchronize the clouds with each other or between our computer and the cloud. We will have several synchronization models, being able to configure unlimited simultaneous synchronization tasks. In this way, it can also be used to make a backup copy of our files in a cloud.
Manage all online platforms easily
Another interesting option in Air Explorer is the possibility of scheduling all our file transfers, as well as tasks and synchronizations, so that all of them can be executed automatically without having to do them manually by ourselves.
Once we download and run the program, the first thing that will appear is a menu with all the available clouds, so we must select the ones that interest us and enter our username and password. Once we have registered them and given permission to the application to access them, they will appear in the main menu, from where we can interact with them.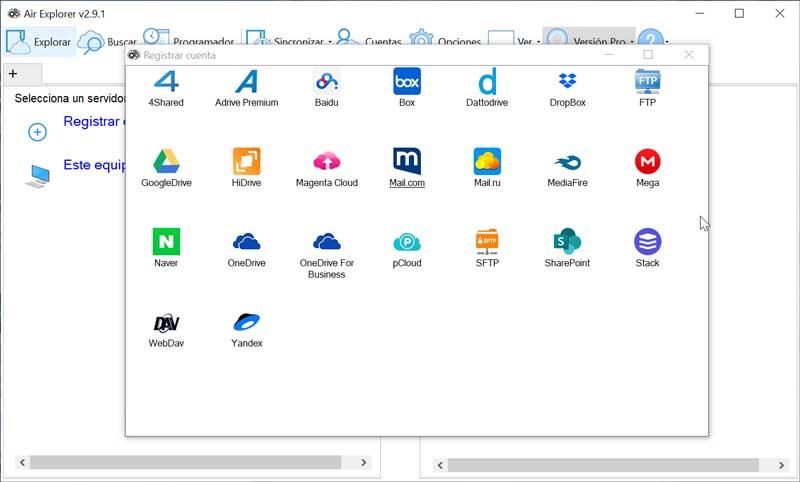 At the top we find all the available options: Search, Scheduler, Synchronize, Accounts, Options, View and contract the Pro version, in case we use the free version. Therefore, below we are going to show you some of the main functions that Air Explorer presents to us. These will help us to manage the content stored in all these online services, in the best way.
Search your own content in the cloud
From the Search option we can search for all kinds of files among the clouds that we have added. We can search for a specific name or for an extension, for example "JPG".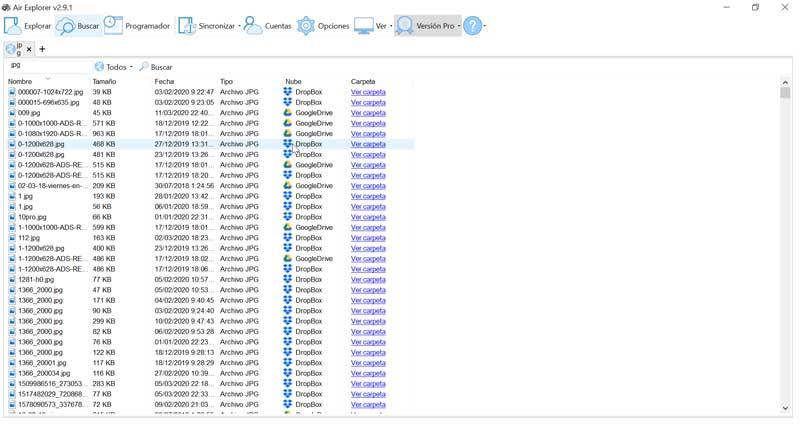 Task scheduler to copy and sync files
From the Scheduler tab, by clicking on New task, we access a menu where we can configure a scheduled task, such as copying or synchronizing. This option can be done between our computer and a cloud or directly between clouds.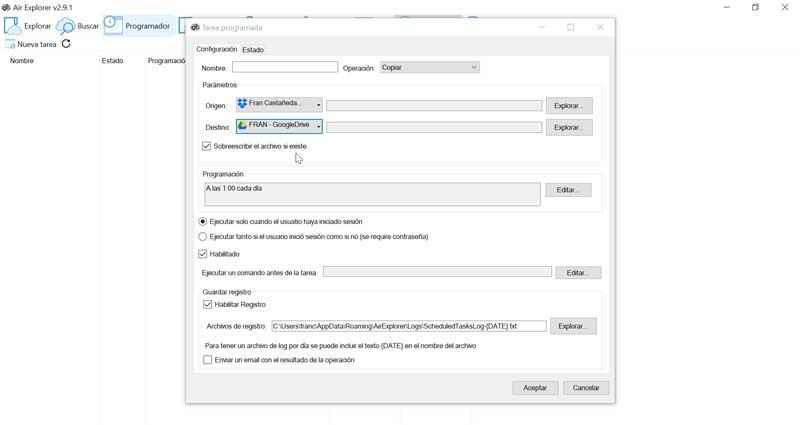 Synchronize files between storage platforms
With the Synchronize function, it will be possible to synchronize the current folders in five different ways: Mirror, Refresh Mirror, Refresh, Two-way and Custom. It also has the Load synchronization function, available only for Pro version users. In this way, as we add new content to an alternative, we will be able to synchronize it with the rest.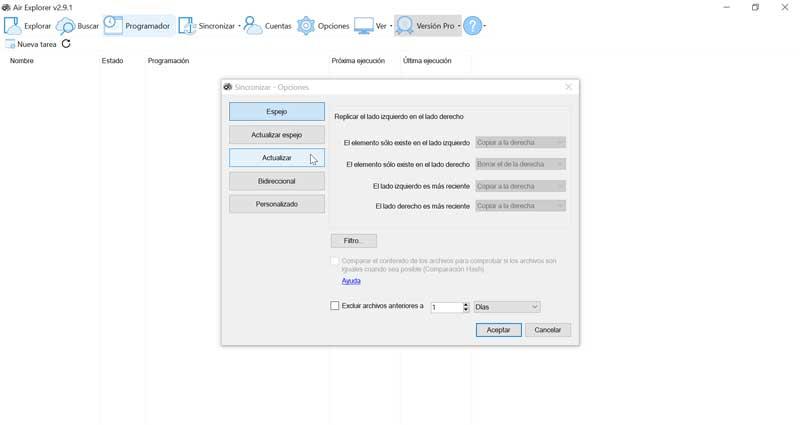 Manage all your accounts from one window
From the accounts section we can Add, Remove, Edit, Export or Import accounts from our clouds. Every time we want to add a new one, or remove it, we must access this section. The Export and Import options only work with the Pro version.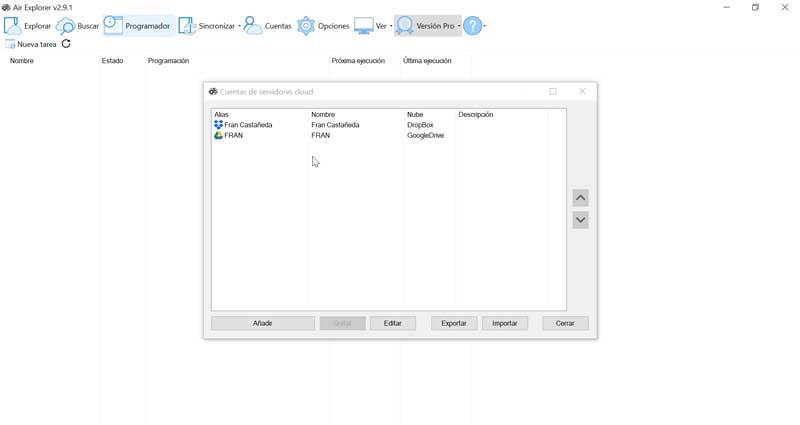 Additional configuration options
In the Options window we have all the parameters that we can configure the program, such as simultaneous uploads, transfer retries , limiting the upload and download speed of downloads, among other functions. All of this will be very helpful to us when it comes to personalizing and adapting the behavior of the program, to our needs. In this way, we can also take advantage of its full potential, especially if we work with several of these online storage services, simultaneously.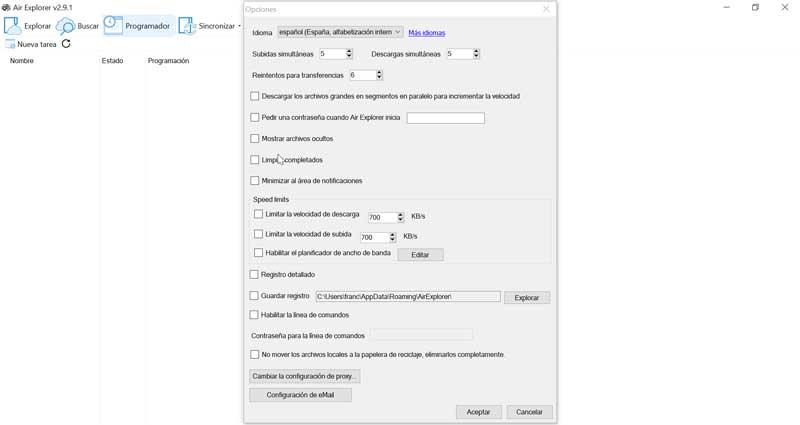 How to download Air Explorer
Air Explorer has a free version that we can download from this link with which we can manage an account. Additionally, it also has a paid Pro Version.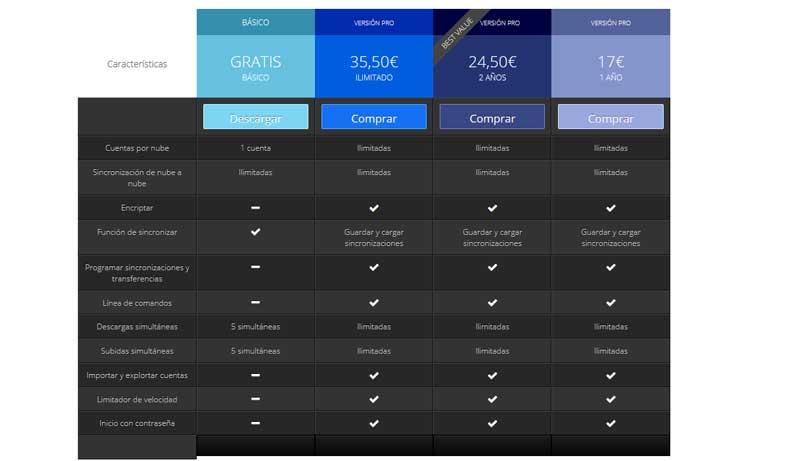 Pro version : It is available for 35.50 euros in a single payment with unlimited duration. It is also available for a period of 1 year for 17 euros, or 2 years for 24.50 euros . In this way we will be able to have unlimited accounts for cloud platforms, unlimited synchronizations, programs for synchronizations and transfers, unlimited simultaneous downloads and uploads, speed limiter and the possibility of establishing a startup password.